SOUTH SHORE — Putting on a large music festival is not cheap. Every year, organizers of one of the biggest events on the South Side — the South Shore Summer Festival — get a firsthand look at the cost of stage rentals, booking musicians and more.
This year, the cost of the annual festival skyrocketed. And last month, an employee of the South Shore Special Service Area, or SSA, the taxing district that funds services and programs in the neighborhood, was fired for "mismanagement."
When an SSA is formed, community members rely on the leaders of these groups to spend money in a way that best serves the neighborhood and lifts up local businesses. But in South Shore, that spending is shrouded in secrecy.
Program manager Kenneth Vasser was fired by the SSA's commissioners in September for failing to meet "employer expectations and deadlines," he told Block Club. He and Tonya Trice, executive director of the South Shore Chamber of Commerce, both denied that his dismissal was related to the South Shore Summer Festival's budget.
But questions about the budget have loomed large over the SSA's recent meetings. This year's festival, which featured headliner Robin Thicke, cost about $40,000 more than it did the previous two years, according to budgets obtained by Block Club through a Freedom of Information Act request.
South Shore Special Service Area #42, the event's tax-funded sponsor, has already paid festival organizer MGPG Events $114,000 to cover the initial budget and overages. Nearly $8,000 is still owed as of Oct. 24, more than two months after the festival ended.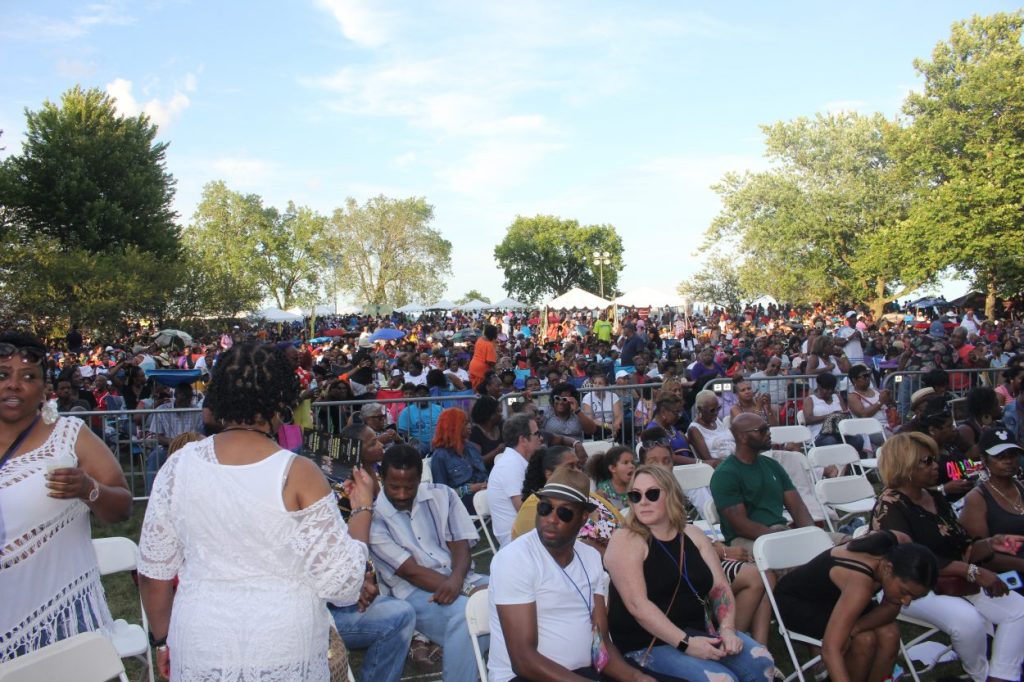 The SSA initially granted $80,000 for the festival, which was held Aug. 18 at the South Shore Cultural Center. Then, as costs continued to grow, SSA #42 paid an additional $34,000 in two installments, according to an expense report from MGPG Events.
The 2019 festival was the first one organized by MGPG Events. In previous years, Special Events Management acted as the event organizer.
The SSA has refused to provide year-over-year festival costs, despite saying such information would be released.
Equipment rentals for this year's festival cost nearly $23,000. That's more expensive than the equipment for past two years combined.
Tents, tables and chairs for vendors accounted for just over $21,000 of the 2019 equipment total. The same supplies cost $4,128 in 2018 and $4,529 in 2017.
The extra equipment costs stemmed from a desire to make the festival look more orderly, Vasser said.
"In the past, businesses could bring their own tent. It was a little bit of a weird look there — not aesthetically pleasing," Vasser said. "We wanted to make sure we gave our community something they deserved; something emblematic of success, professionalism and a thriving community."
In the midst of a discussion about the allocation of SSA funds for the festival during an Oct. 19 meeting, SSA commissioner Ayesha Amena Karim said Vasser was let go "for reasons of mismanagement."
Vasser and multiple SSA commissioners noted that Special Events Management owns stage equipment that MGPG Events does not. This meant the equipment needed to be rented at additional cost for 2019.
They cited the stage equipment and overtime payments to stagehands who worked through that day's thunderstorms as a major reason for this year's increased costs.
The "stages" budget was $2,850 in 2017 and $5,400 in 2018. The expense notes for this line item read "American Mobile Staging," a Schaumburg-based rental company.
In 2019, stage rental and overtime payments to Super Stage Inc. combined for $5,560, only $160 more than the year prior.
This increase pales in comparison to increases in other expenses for this year's festival, a few of which were more than triple the amount of similar expenses in past years.
Like the equipment rentals, the $18,000 in "electrical" expenses for 2019 was a drastic departure from the recent past. In 2018, "generators and other power equipment" cost $3,200; in 2017 it was just under $2,000.
The festival's expenses totaled $146,838 for this year. The $114,000 the SSA has paid out to date is about equal to its estimated annual spending on litter cleanup and landscaping.
This year's festival cost about $45,000 more than 2018, and about $38,000 more than 2017. The increases come despite Robin Thicke performing for the lowest rate of any festival headliner in the last three years.
Thicke and his band performed for $25,000, while $38,400 was spent to bring Jeffrey Osborne to town in 2018 and $45,450 was spent on Cameo and LeVert in 2017.
Merry Green, president of MGPG Events, did not respond to a request for comment.
SSAs are tax districts funded by a localized property tax levy that provide services like litter cleanup, security, snow removal and marketing to businesses within the district. The 73 SSA districts in Chicago are overseen by the city's Department of Planning and Development.
SSA #42 serves 71st Street from Kimbark Avenue to South Shore Drive; Stony Island Avenue from 67th Street to 73rd Street on the east side; and Stony Island from 67th Street to 79th Street on the west side.
Transparency issues
At an Oct. 5 meeting, SSA #42 violated the Illinois Open Meetings Act when chair Jared Lewis called an executive session, a non-public discussion allowed in explicit circumstances, in order to have a "candid conversation" with MGPG Events staff.
Lewis did not take the commissioners' vote to do so as required by law, instead informing the public that the room would need to be cleared.
During the closed session, commissioners discussed "expenditures and what was ethically or unethically spent," Lewis said, including "random expenses from the park district."
That day, Lewis said it was "perfectly appropriate" to meet in closed session because the conversation was "tied to who we are hiring to do work on behalf of the commission."
"We are not here doing anything with the intent of keeping things from the public, but we do need to know what we're communicating," Lewis said.
The Open Meetings Act allows closed sessions to discuss "the appointment, employment, compensation, discipline, performance or dismissal of specific employees of the public body," among other exemptions. The law does not consider independent contractors as employees.
Lewis later said he is not a legal expert nor is he paid to be a commissioner, adding that the situation was "an opportunity to learn."
As chair, Lewis said he is working on implementing "additional training on how certain things are supposed to be conducted."
Trice denied that the executive session was called to prevent the public from finding out about the extent of the overages. She said she requested Lewis call the executive session because she "wanted to review things prior to announcing them to the media."
"If the executive session was called inappropriately, that was just a mistake," Trice said. "If anything is inappropriate, it's inappropriate that communities like South Shore only have limited resources, and that the South Shore Cultural Center is a public place of amusement that is underutilized."
MGPG Events is still owed $7,815 as of Oct. 24, according to Trice. This number is dependent on $5,600 still "to come in" from sponsors and vendors, which would leave the SSA on the hook for the leftover $2,215.
The 2019 event contract states the Chamber "shall reimburse [MGPG] for any costs and expenses" incurred for the festival, indicating the Chamber is ultimately responsible if sponsors don't make good on their payments.
Trice said she didn't recall if the event had ever gone so far over its budget. She also said they didn't keep track of attendance at the festival.
The commission "had no way to determine the hard numbers on attendees" for 2019, but it was a "much bigger event" than past years and required additional expenses, Trice said.
Do stories like this matter to you? Subscribe to Block Club Chicago. Every dime we make funds reporting from Chicago's neighborhoods.