SOUTH SHORE — Veronica Kyle lives in a complicated neighborhood.
On one hand, South Shore has a "great vibe," cultivated by people "who have lived and loved in South Shore and want to be the change they want to see."
For her recent 44th anniversary, Kyle "refused to take people Downtown" or even to nearby Hyde Park, she said.
"I told [friends and family], 'Nope, we're going to do stuff right here in our own community,'" she said.
On the other hand, her house bears a bullet hole, received as a man was shot to death nearby. "Systemic problems" like a lack of literacy have led to drug sales, which have in turn increased the violence in her community, she said.
Aiming to change the neighborhood's culture through the return of "inter-generational reading on the porch," Kyle applied for and won a fully-constructed Little Free Library, a tiny library box built outside of her home stocked with free books neighbors can take to read.
She may not have known it then, but her library kicked off a wave of other little libraries that has come at an opportune time, as South Shore has gone without its public library for nearly the entire year.
Filling the literacy gap
The $2.5 million overhaul of the Chicago Public Library's South Shore branch, 2505 E. 73rd St., won't be ready until early next year. Renovations include a new recording studio, a teen media lab and space for teacher-assisted homework help.
"The remaining construction includes, but is not limited to, the final finishes and the construction of a new circulation desk," according to a library spokesperson.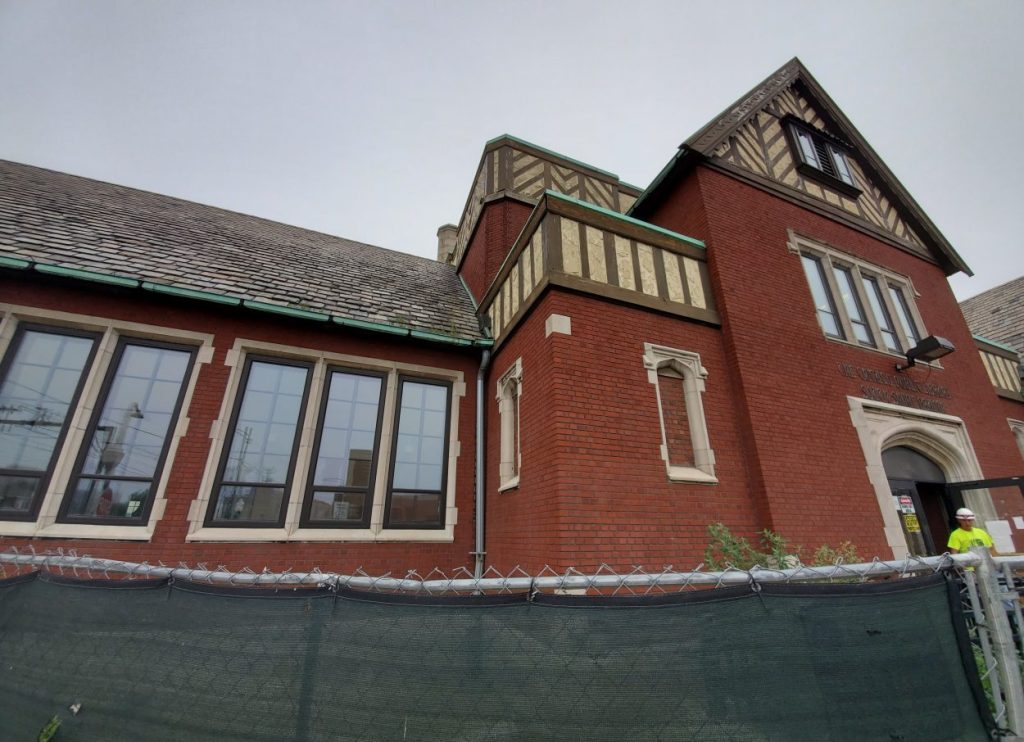 In the meantime, six Little Free Libraries have been or will be unveiled in the neighborhood — and Kyle said there could be more to come.
"My husband and I started going to alleys and street corners getting old, abandoned newspaper containers, and now we're priming two for anyone else trying to start a Little Free Library," Kyle said.
She got into the world of Little Free Libraries through Nancy Wulkan, the "founder, president and sole person" of the Neighbor to Neighbor Literacy Project. Wulkan's organization pushes to place little libraries in community spaces and on public property.
In Kyle's application, she told the story of how her home caught a bullet during a 2015 murder.
"I never thought I would actually live to see somebody that was gunned down," Kyle said. "One of the stray bullets hit my porch awning on my roof. It could've hit us."
Kyle's story won her an Impact Library, a special class of little libraries reserved for areas where "there just isn't the quantity or variety of books needed," according to the Little Free Library website.
She was awarded a replica of the first-ever Little Free Library in May, as part of the organization's 10th anniversary celebration.
The library sits near Kyle's home on the 2600 block of East 74th Place. It was the first Little Free Library in South Shore; they're more commonly found on the North Side, according to South Side Neighbors for Hope chair Erin Adams.
That appears to be changing. On Saturday, Adams and other organizers unveiled the newest little libraries, along 67th Street at Jeffery Boulevard and East End Avenue.
They're located next to two Jackson Park playlots, so kids can pick up a book to take home after they're done exercising.
Two more libraries, at Hasan Park and the Don Nash Community Center, 1833 E. 71st St., were approved by the Park District last Tuesday, according to Wulkan.
Another organized by Wulkan and mental health advocate Obari Cartman at the Quarry Event Center, 2423 E. 75th St., rounds out the half-dozen to be found in South Shore.
The density of little libraries in the neighborhood will ensure all "keen book-readers and lovers of literacy" have an opportunity to read, Wulkan said.
"Having Little Free Libraries right around the corner, in front of someone's house, brings access to books," she said. "There are no conditions, no library cards, no time limits, no fees — no one even knows you're taking a book."
'An opportunity to bring back some joy'
Kyle has been organizing positive projects in South Shore since moving into the neighborhood a decade ago.
After attending a Park District meeting in 2009 and connecting with a South Shore walking group, Kyle and fellow resident Mary Steenson hatched a plan to develop a "hospitality garden" at 75th Street and Coles Avenue.
Kyle used her connections as outreach director for statewide nonprofit Faith in Place to find landscapers, plant donations and other resources.
Carpenters built a 20-foot table that became a centerpiece, hosting pumpkin carvings, back-to-school giveaways and potlucks.
But as injuries and family health scares sapped Kyle and Steenson's energy to tend to the garden, its physical condition and status as a safe space quickly deteriorated.
"From that point on, it became like the opioid pharmacy," Kyle said. "It became very undesirable, there were shootings on the corner; it just became a very different place."
Eventually, the garden was mowed down under police supervision, Kyle said. After her experience with the garden, she was itching to find another outlet through which she could improve the "blighted" 75th Street corridor.
She's found a worthy successor in her Little Free Library. With the public library's closure, there's been a heavy demand for free access to books; Kyle said she's refilled the little library three or four times since its unveiling a few months ago.
"Some of the same people that were sitting at the 75th Street garden — who were part of what we consider the problem — have been some of the people who say they love reading, love the books," Kyle said.
Kyle and her neighbors have been "almost terrorized" by violence and drug sales in recent years, but that's only one aspect of South Shore's story, she said.
There's "so much good" to be found as well, and she is inspired by the work of the women in her community — like Steenson, entrepreneur Yvette Moyo and Kyle's friend Sharon Louis Harris — to continue her push for change.
The Little Free Library "is my way of bringing positive energy to the community," she said. "Everything is not bad, and if we can put a library up, we can put anything up."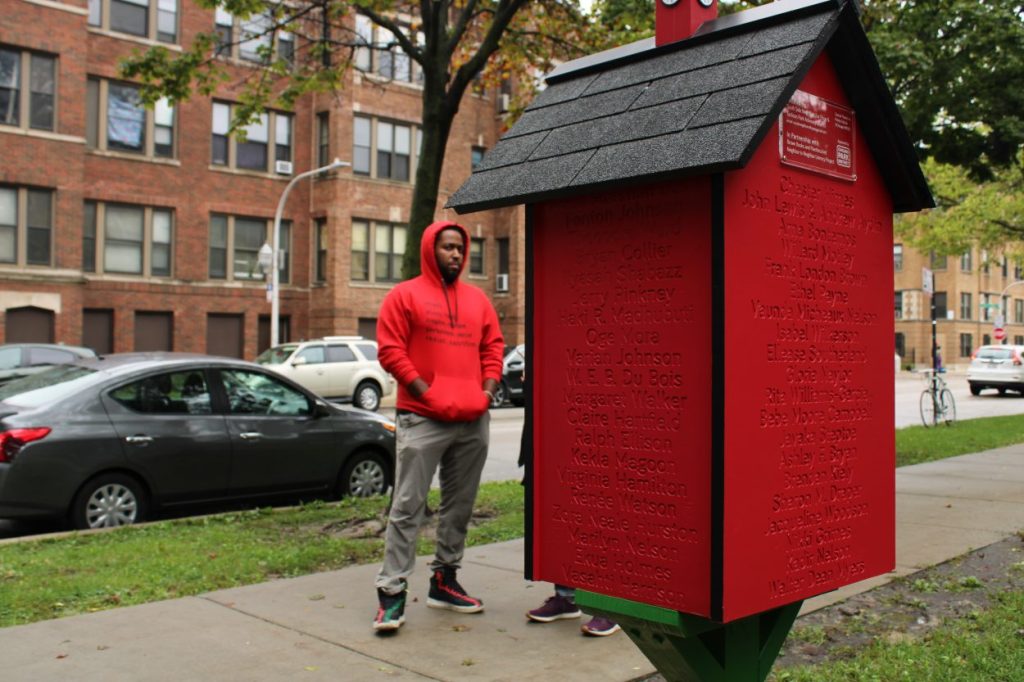 Play in the park, then pick up a book
Residents braved a cool, misty Saturday morning to celebrate the two newest libraries, located along the southern edge of Jackson Park. They're engraved with the names of more than 100 black authors and illustrators.
Candice Washington, founder of nonprofit Brown Books and Paint Brushes, was the event's main organizer. With so many online distractions, reading a book is probably not at the front of every child's mind, she said.
Washington hopes the libraries and their eye-catching red, black and green color schemes — a nod to the Pan-African flag — can help to change that.
"Literacy and art is the number-one pathway to the culture," Washington said. "I create events around the books to bring them to life, so that they can be more appealing to children."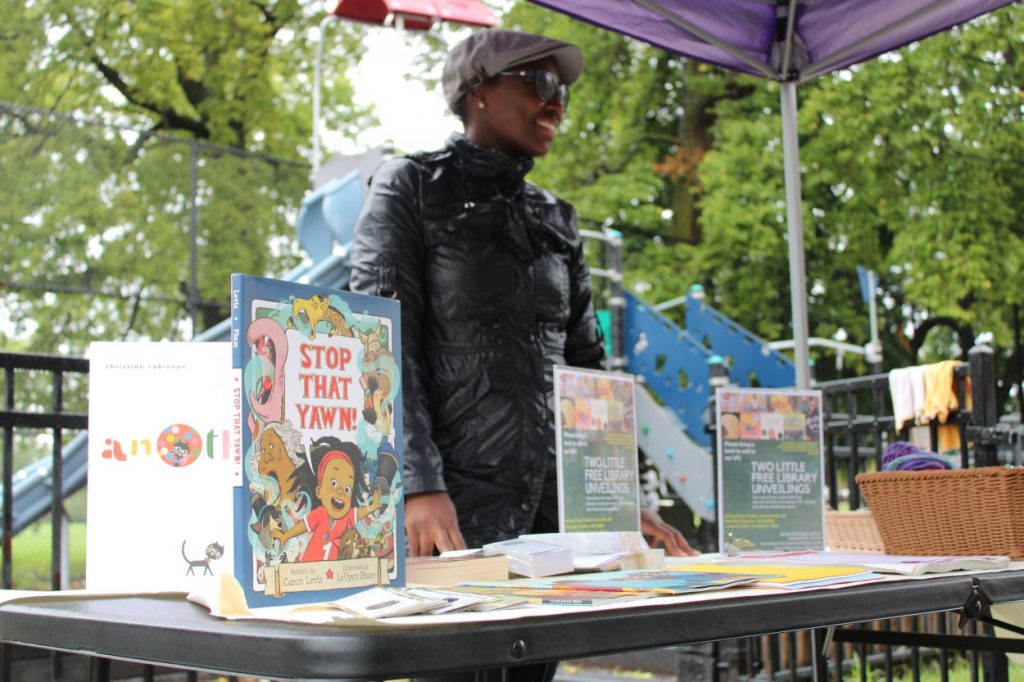 The variety of books in the libraries allows kids to try out different genres until they find their favorites, said Kerry Anne Thomas, a science teacher at Chicago Vocational Career Academy. She came to Saturday's event with her young son after the rain canceled his baseball game.
Thomas donated four books her son has already read. Inspired by books like the Captain Underpants series, he's already writing and illustrating his own stories, and she hopes the free books can similarly inspire kids throughout South Shore.
"Access is the key to it all," Thomas said. "By them having two [libraries] here on 67th, for this community it's absolutely wonderful."
Maintaining an unmonitored book box isn't easy; a Little Free Library in Chatham was recently vandalized just a month after its unveiling.
Adams, who laser-cut the names onto the boxes, said she's aware of the possibility of damage, but if it happens, organizers will simply repair or replace the box.
Kids and parents alike have been excited for the little libraries, so it's a small price to pay to provide kids with an easy way to cop a free book, she said.
"It's really been a collaborative effort, and I hope it enriches the neighborhood," Adams said. "It's one of the little things that you can do that hopefully will transform."
Do stories like this matter to you? Subscribe to Block Club Chicago. Every dime we make funds reporting from Chicago's neighborhoods.