LINCOLN SQUARE — The Grind Cafe is closed for good.
But a new coffee shop will soon replace it.
The 4613 N. Lincoln Ave. spot has been a favorite among locals since 2007, but was sold to Dollop Coffee's Dan Weiss in 2017. Weiss owns more than a dozen Dollop locations across the city.
Weiss didn't immediately overhaul The Grind when he bought it from owner Tara Swadley, but recently decided it was time to turn it into another Dollop location. On Sept. 9, the shop closed and a sign on the window alerted locals that it would reopen in November.
It is slated to reopen, but it won't be The Grind when it does.
"The last thing we wanted to do was come into a neighborhood and end up ruining someone's coffee shop," Weiss said. "Be we felt we should just kind of come out and be who we are instead of living under the shadow of Grind."
Weiss went on a first date with his now-wife at the Grind years before he took it over from Swadley.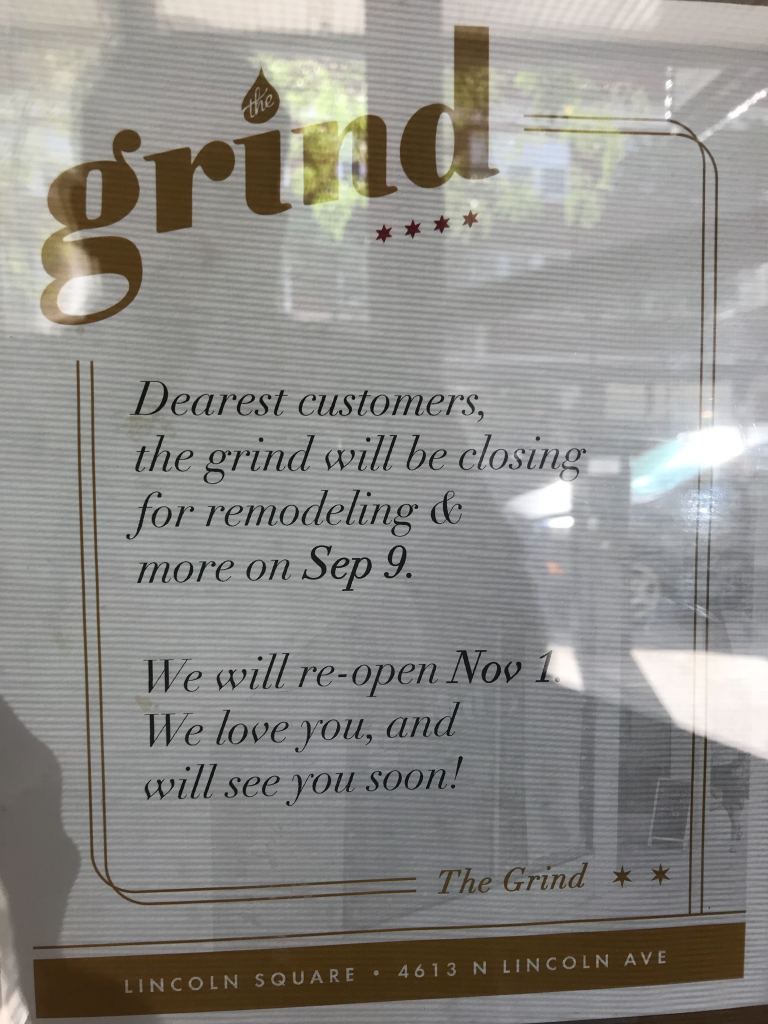 "She was here every day and had a relationship with everyone that came in here," Weiss said of Swadley.
He said he started making small changes when he took over, injecting some of Dollop's "magic" into the cafe, but now he's ready to turn it into a full Dollop location.
"We want to be ourselves and think this is the right way to do it, to reopen as Dollop," he said.
Jordan Gottke has lived in the neighborhood for the past six years and has always been within walking distance of Grind.
"My friend and I went there pretty regularly, it was our favorite place to meet for like a honey lavender latte and hang out," she said. "It was definitely a cool neighborhood space."
Before Grind closed its doors, she did notice some of the changes Weiss was talking about.
"The last time I went I couldn't redeem my punch card for anything but drip coffee. And if I get a drip coffee, I can't get a free refill," she said. "I hadn't noticed the change in management but had noticed these little changes. I was kind of grumbling."
That said, she wasn't surprised when she walked by Grind and saw the windows papered over.
"At first I wasn't sure if it was a real remodel or another business that didn't want to admit they closed and was going to be empty for the next five years," Gottke said. "I did hear Dollop owned it, but wasn't sure if that was true."
Construction is already underway at the interior of the cafe, with flooring and seating being rearranged. The goal, Weiss said, is to reopen by Nov. 1 under the Dollop name.
"We're revamping the menu a little bit. We'll have food, smoothies and juices and stuff like the old Grind had, but we'll also be putting our coffee program in," he said. "And we've retained everyone who worked here. When we closed for the remodel everyone was scattered to places we have closest to where they live."
Weiss plans to have more food, like breakfast sandwiches and new speciality drinks as well.
As part of the remodel, the banquette seating that was in the front of the cafe has been removed and is being replaced with window seating.
"We're redoing the whole storefront and adding double paned  glass windows that open up to Lincoln Avenue," he said.
The goal is to have the interior of the cafe to be more visible, and more inviting, to people who are passing by. So in warmer weather the windows will be wide open and in the colder months the windows won't fog up to the point where it's impossible to see inside, he said. 
"We're going to put three really nice community tables in the middle of the room," Weiss said. "We're probably going to keep some stuff from Grind, keep things that people really liked, but we're going to be doing our food program that we curate."
Once the cafe reopens under the Dollop name, Weiss also wants to start organizing live events like open mics at the location. The new floor plan will allow for the person performing to be in the front of the shop near the new windows.
"I'm excited to reach out to the neighborhood and the neighborhood reach out to us," he said.
Weiss said he planned to reach out to the Old Town School of Folk music, located across the street, to see if they want to get involved in the programming.
Despite all the changes, Weiss said he's confident The Grind's regulars will stick around.
"I feel great about how we are laying this out, and all we can really do is be ourselves," he said. "There are so so many approaches to coffee culture and service. This will be our interpretation of what belongs in this particular room, and we think people will enjoy drinking coffee and being with each other here."
Gottke said she's looking forward to the reopening and is glad it's still a Chicago-based cafe.
"Obviously it's not going to be the Grind, but the Grind was getting to a place where I didn't want to go there anyway," she said. "And the cafe definitely needed the facelift."
RELATED
10 Dollops And 10 Albums Later, How Rapper Dan Weiss Built A Coffee Empire
Do stories like this matter to you? Subscribe to Block Club Chicago. Every dime we make funds reporting from Chicago's neighborhoods.