EDGEWATER — On Tuesday, the same day a Senn High School theater teacher appeared in court on charges he sexually assaulted a former student, the school principal sent parents a note describing the teacher's departure from the school as "bittersweet."
The note from Principal Mary Beck was dated Sept. 5 — 12 days before it was emailed to parents and before teacher Joel Ewing was charged with sexual assault.
An hour later, Beck sent out an updated note and apologized for the earlier one, indicating it was sent to parents in error.
"I apologize that you were sent a letter from a few weeks ago," wrote Beck in the second email, which a parent gave to Block Club Chicago.
Beck did not respond to a request for comment on what happened or why the earlier note had been drafted. At a Wednesday night meeting to talk to parents about the issue, she barred a Block Club reporter from entering.
Senn officials had been aware of allegations against teacher Joel Ewing since July, when he was removed from the school as the CPS inspector general opened an investigation.
Ewing submitted his resignation in late August, and it took effect Sept. 3, CPS said.
The note dated Sept. 5 makes no mention of Ewing's earlier removal or the pending allegations, however.
"This year we are beginning without our founding theater teacher Joel Ewing, who, with his family, is leaving Chicago to pursue a new opportunity," Beck's letter read. "As excited as we are for him on this new endeavor, his departure from Senn Arts is bittersweet."
On Tuesday, Ewing, 40, was in court to answer charges alleging he had a years-long predatory relationship with a Senn student that began when the girl was 15 years old. The allegations include sexual contact at the school and during an overnight theater trip to Normal, Ill. The victim, now 21, reported the allegations to police in July, prosecutors said.
The top spokeswoman for Chicago Public Schools called the first letter to parents "inappropriate."
"It was inappropriate to have characterized Mr. Ewing's departure in such terms while an investigation was ongoing into the serious allegations against him," Emily Bolton, director of media communications and strategy, told Block Club Wednesday evening.
Ewing, a West Ridge resident, faces a single count of criminal sexual assault, but he could face additional charges.
Ewing was arrested Monday and admitted to having sexual contact with the then-student at school, prosecutors said.
He was ordered held on $150,000 bond and will be placed on electronic monitoring if released. He was ordered to have no contact with the former student and to stay away from Senn, prosecutors said.
CPS officials confirmed Ewing was removed from the school in July and he eventually resigned before the start of the current school year.
A therapist who began seeing Ewing's alleged victim is the one who first reported the allegation, prosecutors said.
Concerned Ewing was still working with children at Senn, the victim ultimately came forward in July and pursued charges with the police, prosecutors said.
Prosecutors allege Ewing would eat lunch alone with the victim in hidden rooms at the high school. He would also grope her and rub himself against her.
After the trip to Normal, Ewing sexually assaulted the student on multiple occasions, sometimes having her come to his home while his wife was away, prosecutors said. He told her not to tell anyone.
The encounters stopped in spring 2017 when the alleged victim, who was then 19 and a freshman in college, "terminated" them, prosecutors said.
An hour after the "bittersweet" letter about Ewing's departure was received Tuesday, a Senn parent told Block Club the second letter from Beck arrived. It was dated Sept. 17.
Here are the two letters, provided to Block Club Chicago by a parent who received them: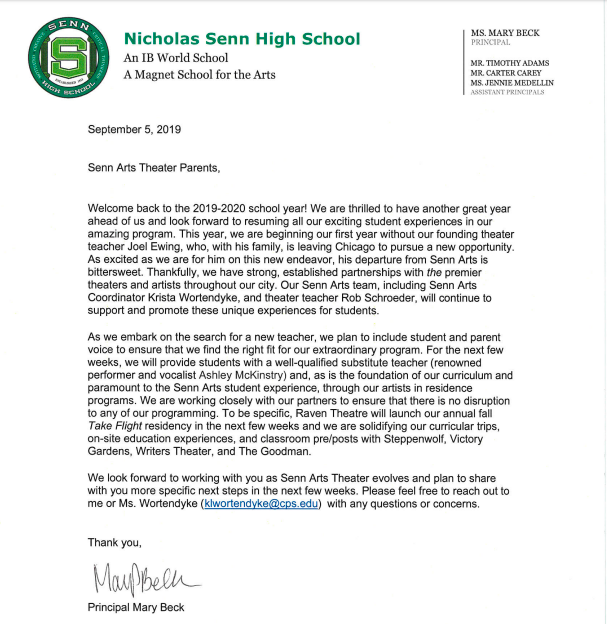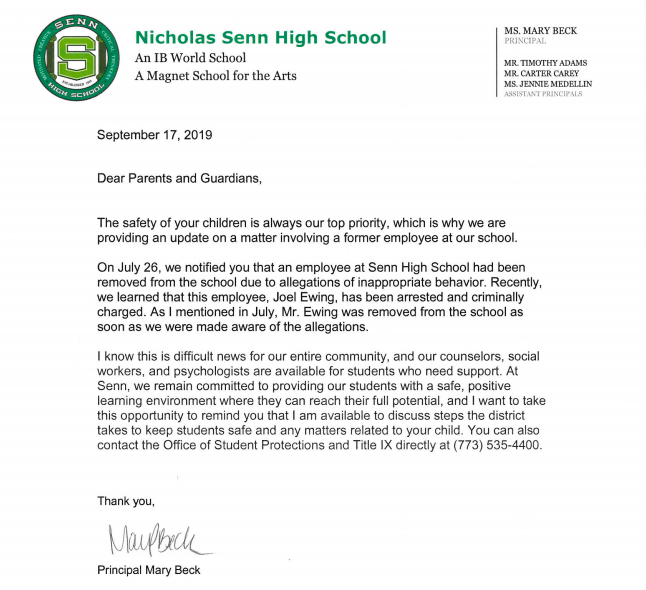 One Senn parent, who asked not to be named, said they were angry the school even drafted the original letter.
"To think that the person responsible for protecting my kid from sexual abuse, the principal, that her first instinct is to cover for the abuser — is insanely infuriating," the parent said. "I can only imagine what the victim thought hearing about the first letter that went out. This is all not OK."
In addition to Senn, Ewing has been involved in Chicago's theater scene. An artist's profile on Steppenwolf website says Ewing is the artistic director of LiveWire Chicago. He has also worked with Strawdog Theatre, New Leaf Theatre and Next Theatre, according to the website.
Do stories like this matter to you? Subscribe to Block Club Chicago. Every dime we make funds reporting from Chicago's neighborhoods.