BRIGHTON PARK — At the end of the day Saturday, after nearly 40 years in Brighton Park on the city's Southwest Side, Crafts By Claudia will close its doors for good.
The store's closure comes as online commerce has eaten into the profits of mom-and-pop shops. And it's namesake owner, Claudia Blend, is ready to retire.
Longtime customers say the store's closing after 39 years in business will leave a hole in the neighborhood.
The store at 4300 S. Archer Ave. has been part of the lives of customers and employees, helping with baptisms, graduations and weddings for generations.
Blend, 65, said she's planned to retire for several years. Her retirement comes as she says fewer people are crafting. And those who still are increasingly heading online for their supplies.
Blend opened her shop, initially across the street from her current shop, at the urging of her husband, Irving, who died in 2006. Two years later, the shop moved to its current location.. Blend bought the building and put it up for sale two months ago.
It's now under contract to be bought, but Blend said she does not know what will replace her craft store.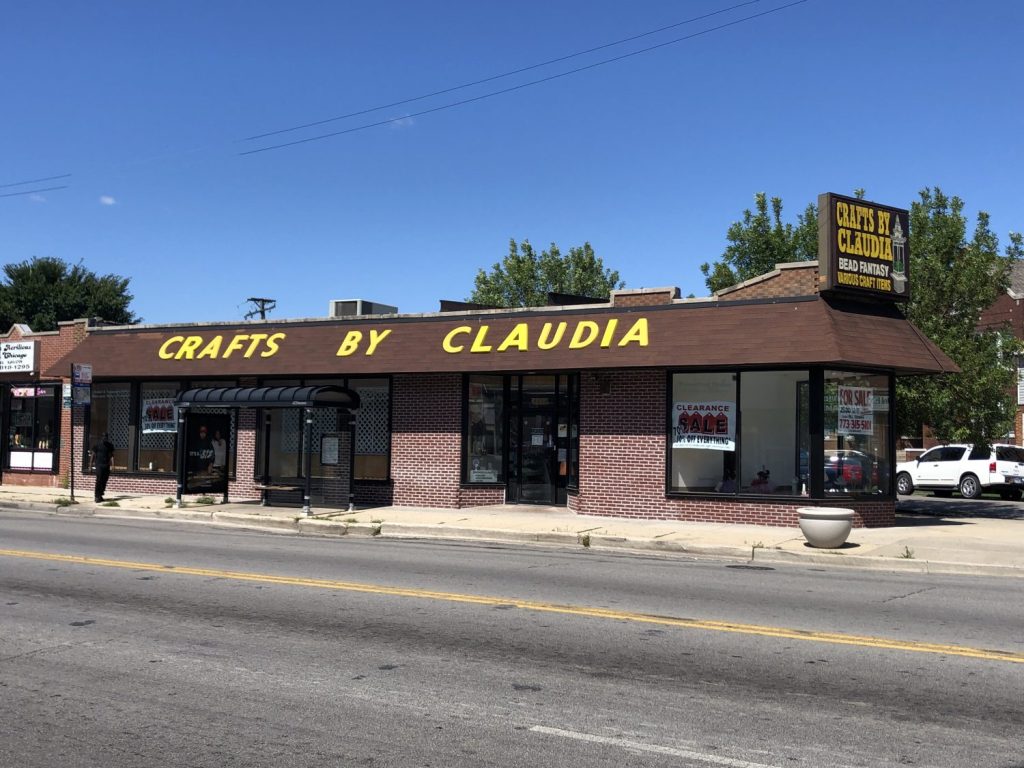 Crafts By Claudia specializes in centerpieces for weddings and baby showers, as well as knitting and crocheting materials. It was once well-known for selling crafting beads but that business all but dried up a few years ago, Blend said.
Blend hasn't thought much about how she'll feel on Saturday, but anticipates missing her customers. As for what she'll do after retiring, she may move to Florida to be closer to her daughter and three grandchildren.
"It's hard to decide when you've lived all your life here. I may move by her. I have a lot of friends from here. I will miss them all," Blend said.
Blend once had several employees, but over time business declined. For the past three years, she's been running the store with only her sister-in-law, Cathy Escudero, who has worked with her since the store's second year open. 
Escudero's son and Blend's nephew, Jessie Escudero, grew up in the store and worked there for several years.
"The store is almost 40 years old so I've been raised in the store," Escudero, 32, said.
"I remember looking at the photo albums when I was a little kid," he said. "She had a whole bunch of people working here back in the day."
But "everything is so accessible with the internet and all the dollar stores that are popping up everywhere," he said. "That's been kind of rough. What's been helping us and keeping us afloat is that a lot of what we do is handmade, one-of-a-kind things, things people can't find anywhere else."
Custom items are what endeared longtime customer Sarah Lammie to Claudia's.
Lammie, a CPS kindergarten teacher who grew up in nearby McKinley Park, said she's been buying craft supplies from Claudia's for her classes for years, and also bought items for her wedding at the store.
"I do winter candy cane ornaments," she said. "And for St. Patrick's Day, we do little leprechaun hanging ornaments. They have these beautiful, crystalline beads that I use and they are a good price. It's the only place where I can find them. I have enough stocked up for another two years but I don't know what I'm going to do when I run out."
Lammie, who now lives in Garfield Ridge, said going to Claudia's is "worth the drive."
"I can find them on Amazon but it breaks my heart to buy them on Amazon," Lammie said.
Escudero said the store's closing was not a surprise. But it is surreal.
"The hardest thing for me is letting go of a place where I knew that I could always go to, whether I was happy, sad, wanted to celebrate something or go vent and talk to someone," he said. "I knew the store would be there so now, having to process that is a little difficult. That also goes with our large customer base who would return to us over the decades for their children and their children's children's birthdays, baptisms and graduation. Knowing that that is no longer going to happen takes a toll."
Blend said any items left over from the store, which is currently half-empty, will likely be donated to a health center across the street that offers crafting as a recreational activity and to social services nonprofit Casa Central in Humboldt Park. The craft classes offered by the store and run by her and her sister ended a few weeks ago. 
As for Blend's sister or nephew keeping the shop going, Escudero said it was never seriously considered.
"No, because I think everyone feels that it's time to start a new phase in their lives. This is a saga that needs to come to a conclusion," he said.
Do stories like this matter to you? Subscribe to Block Club Chicago. Every dime we make funds reporting from Chicago's neighborhoods.