LOGAN SQUARE — When a man attacked Claire Quinn in broad daylight in Bucktown last weekend, he likely didn't know he was messing with a 2019 Golden Gloves champion.
Quinn was walking in the 1600 block of North Damen Avenue Sunday morning at about 10:25 a.m. when a man punched her in the forehead and demanded her phone. She reacted swiftly, with her fists.
"I just kept throwing my right hand to his balls," Quinn said. "There's no way to sugar coat that or put it nicely."
He ran off.
She escaped the attack with a mild concussion and some bruising.
Quinn, who began boxing in 2015, has a 6-0 boxing record for the year. Earlier this year, she won the Golden Gloves amateur boxing tournament for her 152-pound weight class.
She's also taken and helped teach self-defense classes, where she learned how to use her body when fighting within punching range, grappling range and kicking range.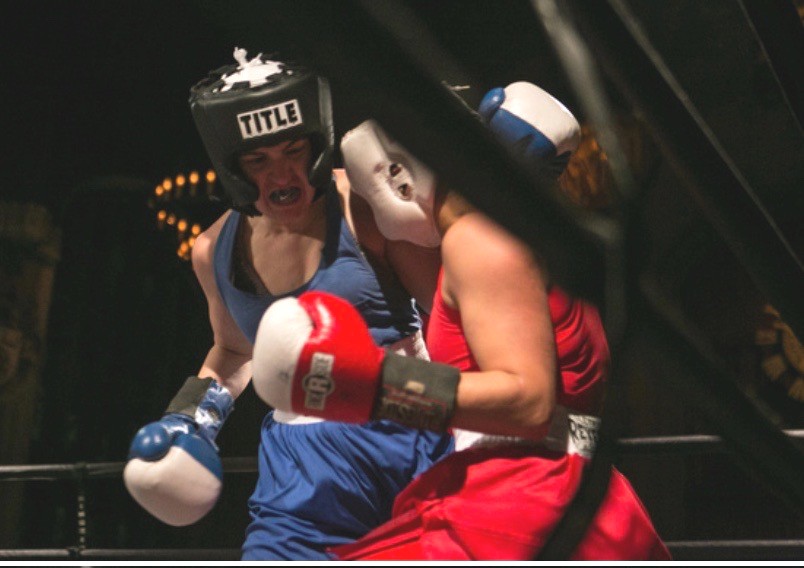 Her phone background is a photo of Muhammad Ali with the fighter's quote, "Impossible is nothing." Her favorite sweatshirt reads, "Do no harm, take no s—."
But one wouldn't know all that simply by looking at her, Quinn said.
On Tuesday inside Unanimous Boxing Gym in Logan Square, her home gym, Quinn described the attack in detail.
Her long brown hair was pulled into a ponytail, which was looped through a hole in the back of a Brooks Brothers ball cap.
Her dark-blue-painted toe nails stuck out of a pair of bejeweled flip flops.
"I'm a normal looking girl. I'm a normal person," she said. "I'm not some jacked-up boxer."
RELATED: Woman Punches Mugger In The Groin In Botched Bucktown Robbery
She emphasized how valuable basic self-defense and martial arts training can be for women.
She also said she wouldn't let Sunday's attack define her.
"If I'm gonna be defined, it's going to be as the girl who punched the guy in the d—. It's not gonna be, 'Oh, she was a wimp. She was a victim of a crime,'" Quinn said. "If anything, I'll let it define me as something powerful to make other women feel powerful. To help them find confidence to not let guys f— with them."
'A man hits me, I'm firing back'
On Sunday morning, Quinn was walking through Bucktown, en route to Unanimous, her gym located at 2764 N. Milwaukee Ave.
For a moment, she considered catching the Damen Avenue bus to the Damen Blue Line stop in Wicker Park. But the sun was shining, so Quinn decided to walk.
As she made her way south, she carried her phone in her left hand. She was wearing sneakers, leggings and a hoodie.
She did not have headphones in her ears, was not carrying a purse and was not wearing jewelry.
About a block north of the Nike store, 1640 N. Damen Ave., a teenage boy in a yellow Nike shirt, gray joggers and gray Nike shoes asked Quinn for directions to the store.
Quinn told him it was a block away. She kept walking.
Within minutes, a person that Quinn described as a man walked up to Quinn from behind, pulled her shoulder back and pushed her to the ground.
He punched her in the head, and yelled, "Gimme your phone, b—h!"
At that moment, Quinn switched into "fight" mode.
She held her phone close to her chest in her left hand. She knew the man's head was too far away, so she readied her right hook and aimed for the next best target: his groin area.
"A man hits me, I'm firing back," she said.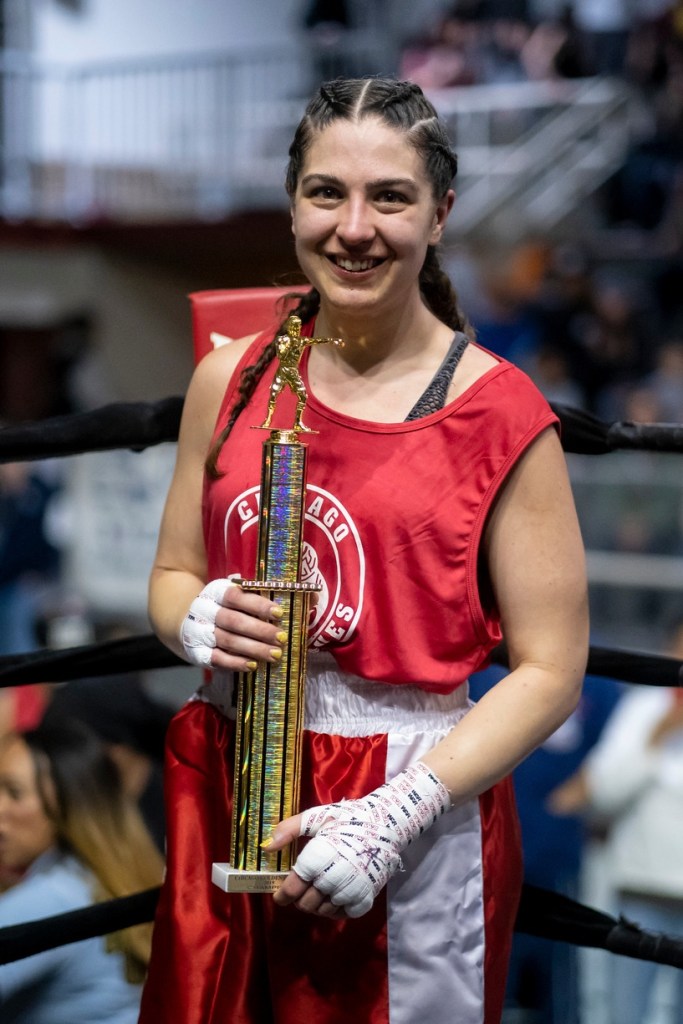 As Quinn landed blow after blow, car horns honked. After about 15 seconds, the teenager ran away while the man continued to fight Quinn.
The harder she hit, the more tired her attacker became. He huffed and puffed, and eventually he stumbled backwards, turned and ran away.
"My right hand knocks girls out," Quinn said. "My last four or five fights have been TKOs. It can do some damage."
At that point, Quinn stood and ran across the street toward a group of women, who had been watching the attack.
One of the women, who was pregnant, sprinted after the attacker.
She was unable to catch him, but she did run fast enough to catch a glimpse of the attacker's getaway car: a green car, possibly a Honda Civic.
"I don't know if her maternal instincts kicked in or what," Quinn said. "Bless her heart. That's a lot of cardio."
The attacker, the teen and a third person drove off.
No one was in custody as of Monday. Quinn said Area North detectives told her they were unable to get video footage from nearby businesses, including the Nike store. Those who have information about the attack should call 312-744-8266.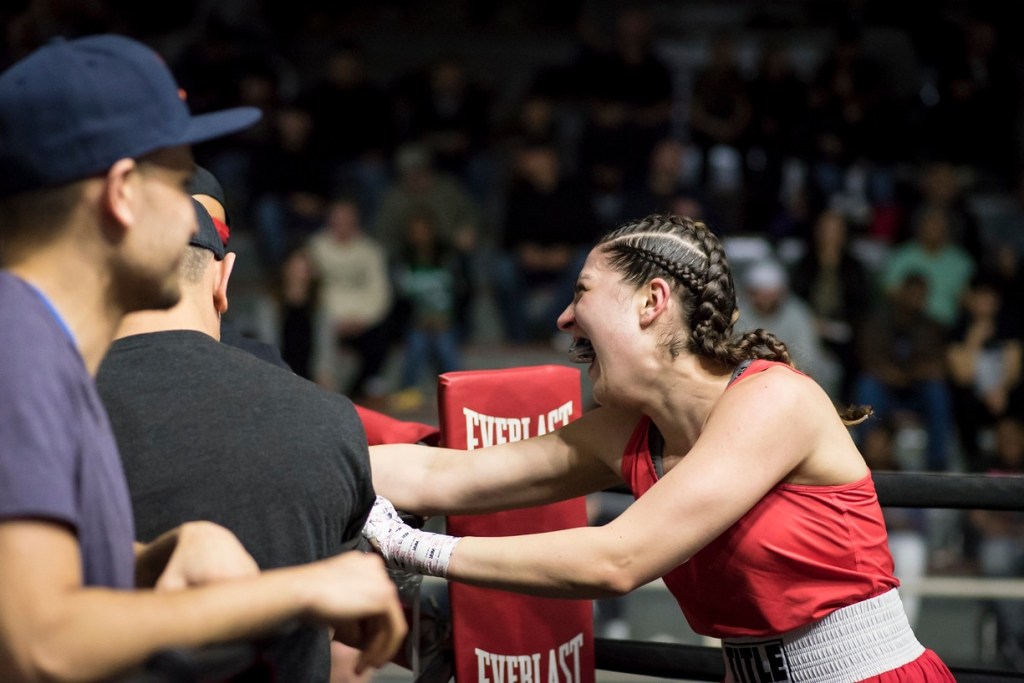 'It could have been a lot worse'
While waiting for police to arrive, the group of women sat with Quinn inside David's Tea, 1645 N. Damen Ave.
An emergency medical worker cleared Quinn for a concussion, but a female police officer urged Quinn to go to a hospital anyway. Quinn, who is 26 and uninsured, declined.
The police then gave her a ride to Unanimous Boxing Gym, where her trainer and employer, Trinidad Garcia, was waiting.
"I was pissed, mad, sad, concerned," Garcia said. "It could have been a lot worse."
He told Quinn she wouldn't be participating in Friday night's fight, a match for which Quinn had been training and dieting since June.
On Sunday night, Quinn went to sleep with a headache.
The next morning she woke up feeling dizzy. Her vision was blurred. She went to the doctor and was diagnosed with a mild concussion.
On Wednesday, Quinn flew home to Florida to stay with her parents for a week to recuperate.
She's bummed about missing Friday's fight, but she said she knows she needs to rest and heal.
"I keep joking, 'Do I still get my trophy?' I technically won a fight," she said. "I kept my phone and my credit card."
'Take a self-defense class'
Quinn was lucky the attacker did not have a weapon, Garcia said. If at all possible, a victim of an attack should try to run away before fighting back, he added. But learning to protect yourself is important.
"Stop messing around," Quinn said. "Take a self-defense class."
Personal trainer Brian Kent teaches self defense at On Your Mark gyms in the West Loop and in East Garfield Park.
Kent teaches students how to fight within various scenarios, including on the ground, while standing, in the snow, in an elevator and in the back of an Uber.
"The biggest goal is to people leave the class saying, 'Oh yeah, I hadn't thought of that,'" Kent said.
Quinn plans to get back in the boxing ring before the end of the year.
Quinn said she'll be fine, but said those who want to help can invest in programs that keep teens like her attacker busy and productive.
She said organizations like The Bloc Chicago, a nonprofit that trains teen boxers in under-resourced neighborhoods, is a worthwhile investment.
Instead of punching her in the head, the teenager "could have been boxing," she said.
"If anything, donate your money to The Bloc," she said.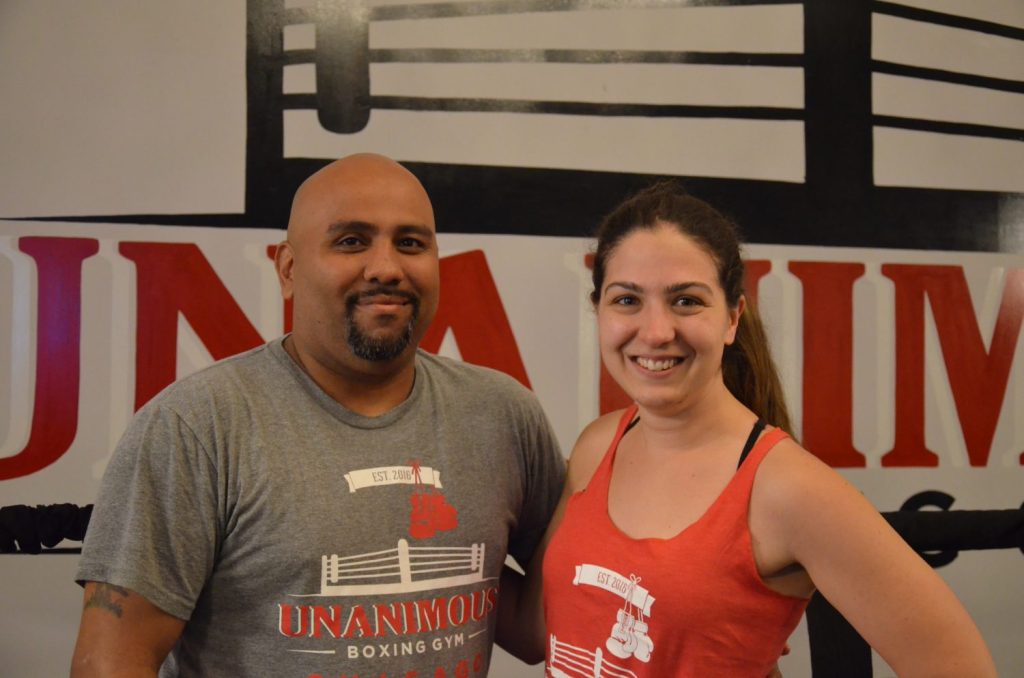 Do stories like this matter to you? Subscribe to Block Club Chicago. Every dime we make funds reporting from Chicago's neighborhoods.