NORTH LAWNDALE — Summertime in Chicago would be incomplete without countless street fairs and music fests. And on the West Side, it would be incomplete without the annual class reunion picnics that draw thousands.
The oldest of the reunions is the Farragut High School Alumni Picnic, which is also the biggest single school reunion in Chicago. The picnic started 30 years ago when Landers Gakins and three friends from the class of 1965 spontaneously decided to plan an event to bring all their old friends from high school together.
Through word of mouth alone, Gakins said more than 500 people came to the first picnic, which is always held at Douglas Park on the last Saturday of July. The success of the picnic is a testament to the sense of comradery that was fostered at Farragut High School, he said.
"Farragut taught us how to carry ourselves in a respectful way. It's hard to explain. It's something that started on a fluke and it blew up into something that's absolutely fantastic and beautiful," Gakins said.
Since then, the picnic has grown into a highly organized annual reunion that draws thousands of alumni each year. The organizers eventually formed the Farragut High School Alumni Picnic Committee to plan food, entertainment and advertising for the reunion.
To commemorate the 30th anniversary of the annual picnic, alumni honored one of the most beloved teachers at Farragut, Constance Dubose. Dubose was a music teacher at the high school who former pupils say made everybody feel safe, comfortable, and empowered in her classroom. To celebrate her contributions to Farragut High School and to the West Side, the alumni reformed the prestigious choir that she directed in the '60s through a successful run of festivals and competitions.
Dubose's old pupils were brought together to sing for her at the picnic by Maurice Kitchens. While Dubose was everybody's favorite teacher, all of the educators at the schools in Lawndale were exceptional, Kitchens said.
"Back in the day in the '60s and '70s, we talked about the inadequacies of education in the urban markets," Kitchens said. "Now we realize, we had some good teachers. I don't care where you were — you couldn't find better teachers than what we had. So it's time to start recognizing that and pay tribute to them."
People show up for the picnics year after year because it's a chance to celebrate the people who paved the way for each young person growing up in North Lawndale to have a shot at success, despite all of the challenges on the West Side, said committee member Rochelle Jackson. When she was growing up, kids had a vast network of support and affirmation from teachers, neighbors, and other students that makes the alumni eager to reconnect, she said.
"They would discipline us, but at the same time they would make sure that you were gonna be somebody. That's all they ever stressed. … Those were the kinds of things that we heard all the time," Jackson said.
Many Farragut alum also went to Roswell Mason Elementary School, 1830 S. Keeler Ave., which has its own annual reunion in K-Town. Jackson, a Mason alum, said her elementary school friends also come together to celebrate their roots year after year.
"The people are still genuine. You know, we still have friends that we grew up with. So friendships and relationships last 40 50, 60 years," Jackson said.
Mason Elementary's reunion picnic is held on the school's playground, which alumni say is a place that holds deep historical importance for North Lawndale. According to Melzie Porter, one of the organizers for the picnic, the playground had always been a gathering place for neighborhood functions like sports games and back-to-school cookouts. The official reunion evolved organically out of a memorial that was being held for an alum who passed away in 2010, he said.
"It was a big turnout, you know, for the first time. And as we did that, we saw that, you know, we wasn't keeping up with each other. We wasn't hanging out with each other like we used to. We hadn't seen a lot of people in a long time," Porter said.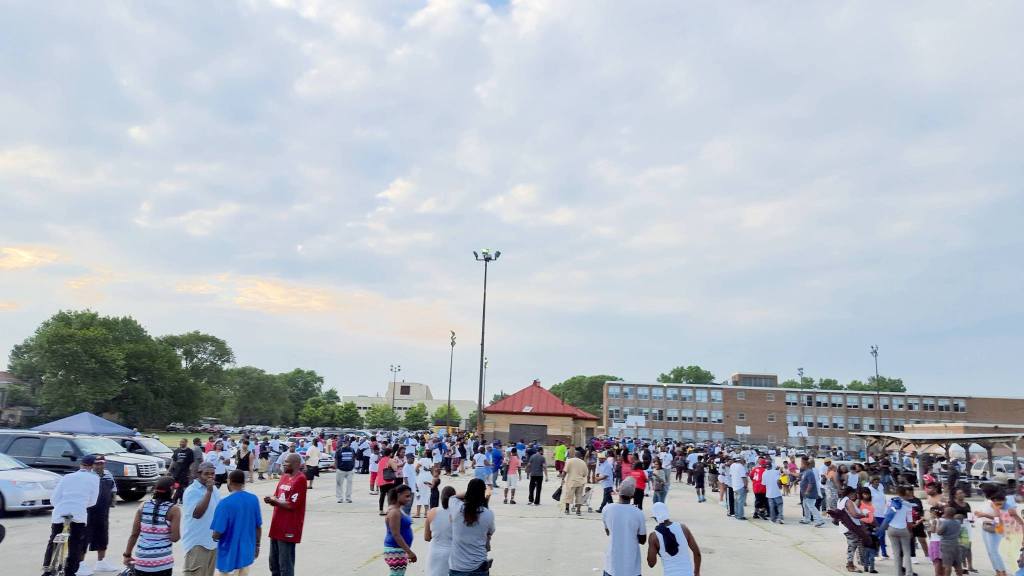 While it was intended as a single memorial, Porter said people in K-Town relished at the chance to get together with old classmates to see where everybody had gone in the years since they had been in school.
"It rained hard that day. But that didn't seem to stop people from coming. So the more it rained, it seemed, the more the playground would fill up. It was magical, to be honest with you," said Joe Johnson, one of the organizers for the Mason reunion picnic.
Johnson is a photographer, and took pictures of the memorial cookout and posted them on social media. When word got out that so many Mason alum had gotten together, it snowballed into an official event once people realized that they missed being able to see all their old friends.
Johnson estimates that at least 1,000 people showed up for this summer's reunion on Aug. 3.
The success of the Mason reunions is rooted in people's pride in coming from North Lawndale, and being raised in a neighborhood where everybody feels like family.
"North Lawndale has been one of those communities of love. We all grew up together, we all stuck together, we fought together, you know, we've always had unity within our community," he said. "It wasn't just friends growing up, we were like brothers, and we were like sisters growing up."
Do stories like this matter to you? Subscribe to Block Club Chicago. Every dime we make funds reporting from Chicago's neighborhoods.