WEST LOOP — As Whitney Young Magnet High School unveiled a $4.3 million athletic complex named after alum Michelle Obama Monday, the South Side native called the new facility a place for "everybody." 
While a jersey bearing Obama's name might not be displayed in the halls of the prestigious CPS selective-enrollment school, 211 S. Laflin St., the former first lady said in a pre-taped video the field will be a place for "athletes and non-athletes," "weekend warriors and fitness fanatics."
The video message was played for students at the ribbon-cutting Monday.
"This is a place for people of every age to stay healthy and have some fun. And it's similar to what Barack and I are hoping to achieve with the Obama Presidential Center, a place where everyone in Chicago can gather to learn and play and strengthen this community together," she said. 
RELATED: Whitney Young High School To Unveil New $4.3 Million Michelle Obama Athletic Complex This Summer
The Michelle Obama complex, funded by tax-increment financing dollars, includes a multi-purpose field that can host baseball, softball, football, soccer and lacrosse matches. It will also includes a training area for track and field events, scoreboards, batting cages and seating for fans.
Principal Dr. Joyce Kenner said the field symbolized Michelle Obama's commitment "physical fitness for our school community and the public." During her time as the first lady, Obama spearheaded the national fitness campaign "Let's Move!" to fight childhood obesity. 
"She has always been a proponent of physical activity to improve our health … and a proponent of school community …and her position needs to be honored," Kenner said.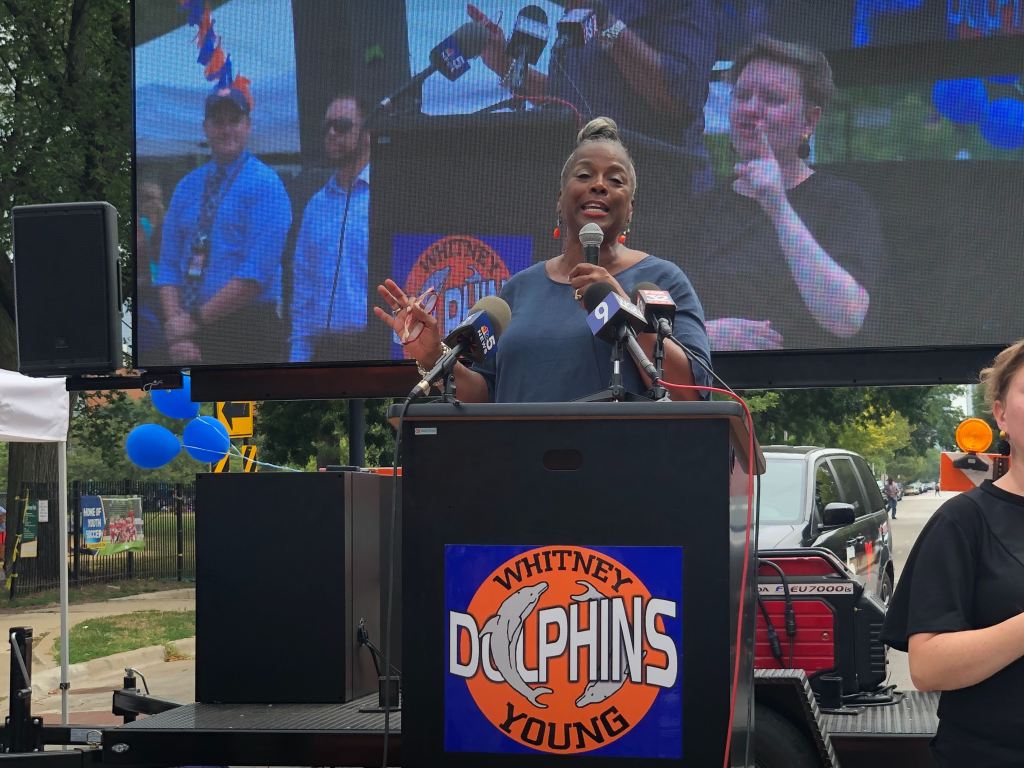 While students will have priority access to the field, it is open to the public, Kenner said at the field's unveiling Monday. The track will be available to the community and the field will be open for use with a permit, she said. 
"This field is about community….[it] is going to be used by our community and our students," Kenner said, countering criticism that the field would not be open for public use.
Ald. Walter Burnett Jr. (27th) called the new field a "fantastic" addition to the neighborhood. 
"This is an excellent school; they need an excellent field for some excellent athletes," Burnett said. "It's also open to the public. It gives the community something good. It's a good use of [Tax Increment Finance] money."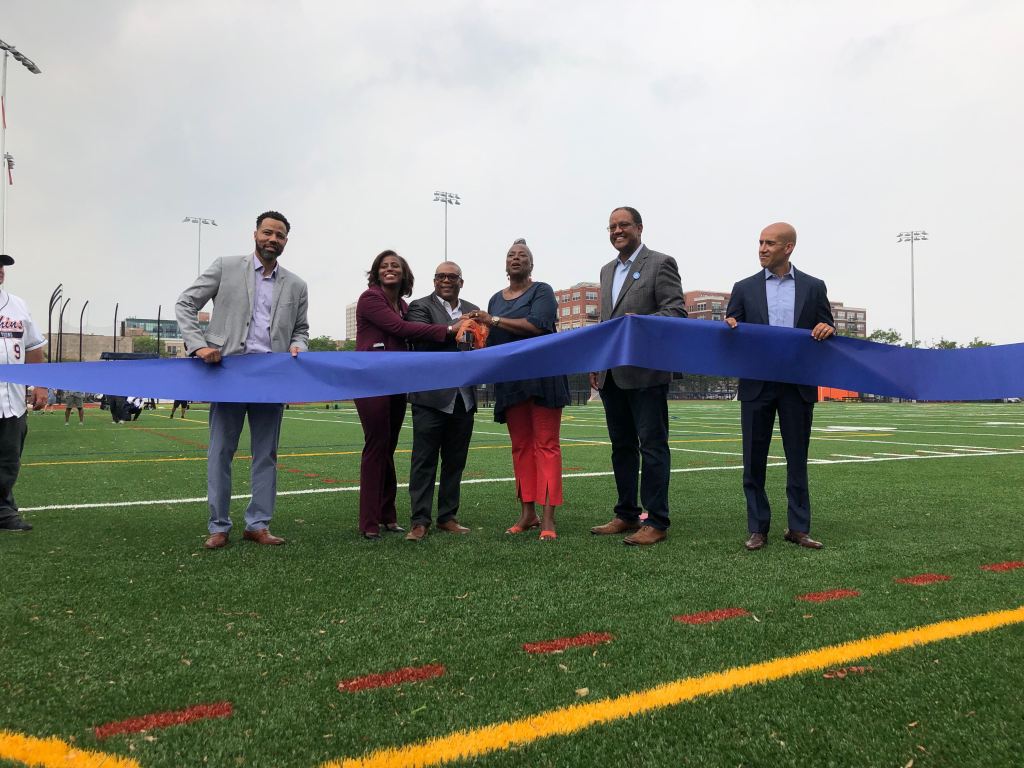 After the ribbon cutting, hundreds of students danced and played on the field after a ribbon cutting ceremony.
Whitney Young alum Darlene Noble, a Pullman resident, said she took the day off work to witness the field unveiling.
"Michelle Obama is such a wonderful role model… This is a wonderful event to be able to see the new athletic complex…it's absolutely beautiful," Noble said.
Noble said Obama was the perfect person to name the complex after. 
"She's from Chicago. She grew up from the South Side. When we look at her, we gain inspiration," Noble said.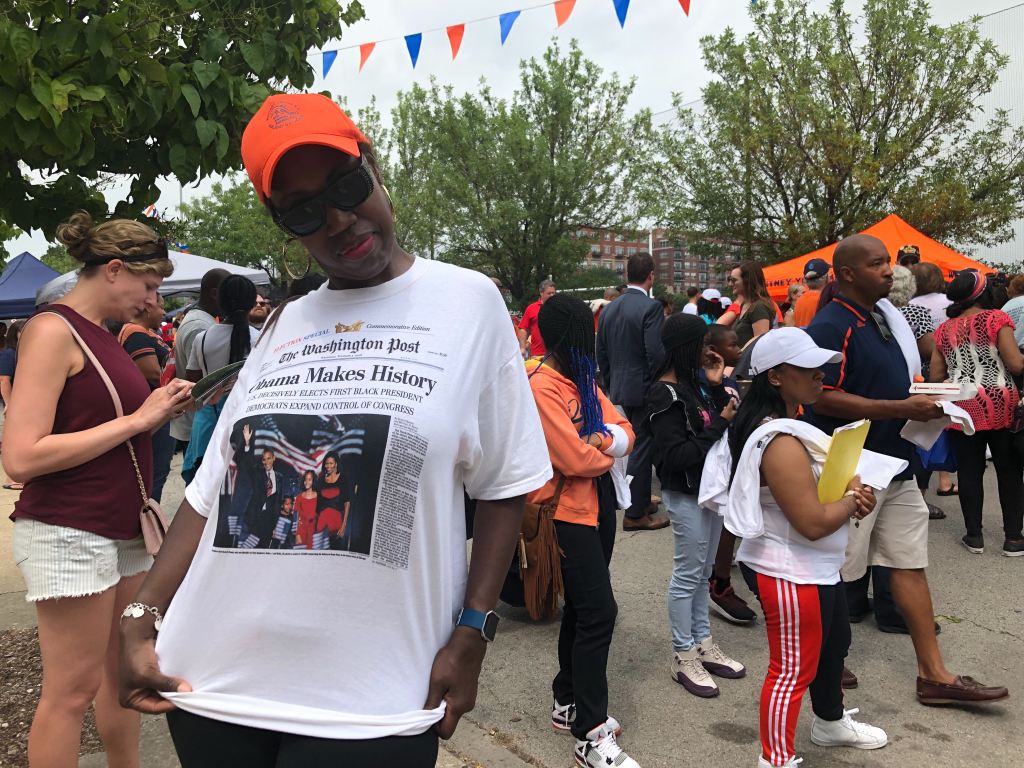 Now that students can walk across campus to the field, Local School Council member Dr. Heather Bowen-Struyk said the new complex will help bolster school spirit. 
Timia Ware, a 15-year-old sophomore on the school's basketball team, agreed. "It's going to bring more energy to the school now that we have a home field….and a lot more W's," she said.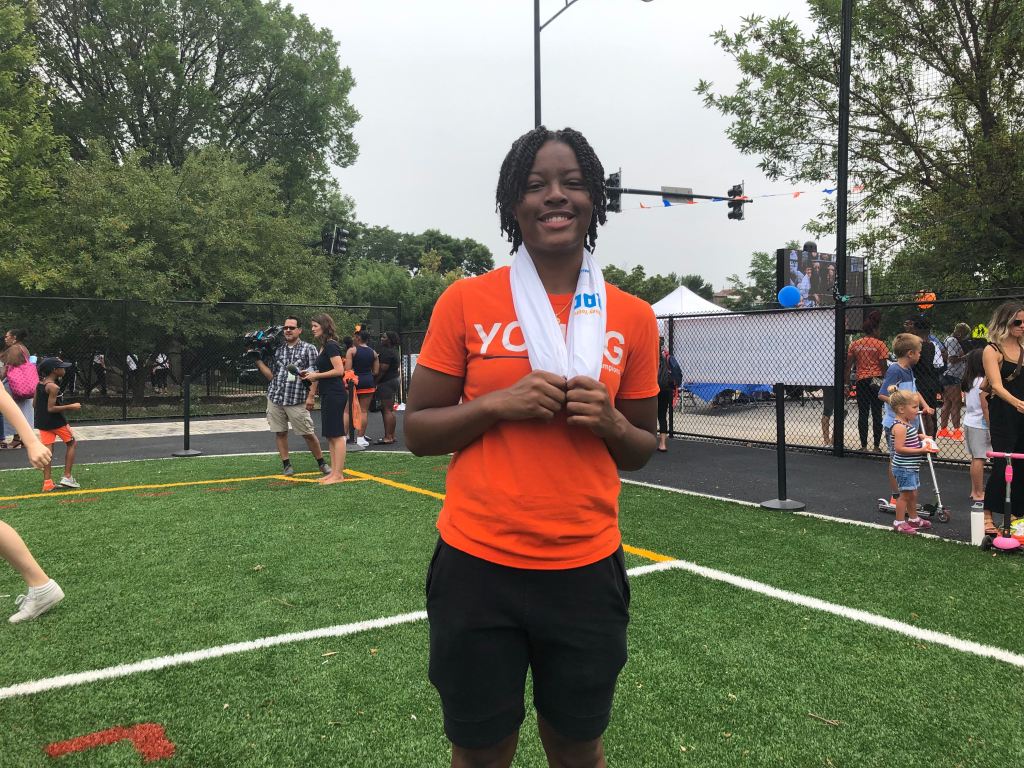 Obama graduated from Whitney Young in 1981.
RELATED: New $4.3 Million Whitney Young Athletic Field Under Construction Next To Skinner Park
Do stories like this matter to you? Subscribe to Block Club Chicago. Every dime we make funds reporting from Chicago's neighborhoods.