LOGAN SQUARE — Julia Magnus has rescued more than her fair share of chickens in her time.
And the majority of them are coming from Logan Square.
Magnus, who helped create the chicken rescue group Chicago Roo Crew, said the group's members have rescued about 20 chickens who were apparently "dumped" by their owners over the past year. Most of those birds — who will likely die if not properly cared for — have been found in Logan Square.
And Magnus has a theory about what's happening: Neighborhood "hipsters" think it's trendy to get backyard chickens or live as "homesteaders" in the city, only to realize they don't know what they're doing or bought a rooster thinking it was a hen. They then abandon the birds.
"They don't know how to take care of these birds. It's not simple," said Magnus, of Bronzeville, who has several pet chickens herself. "These birds are complex. They're intelligent. They have specific needs. And people are getting them on a whim."
Christina Zelano, the founder of the Chicago Chicken Rescue, said her organization has rescued hundreds of birds since starting three years ago — and most of their rescues are coming from Logan Square, too.
RELATED: All 114 Roosters, Hens Rescued From South Side Cockfighting Ring Have Now Found Homes Thanks To 'Historic' Rescue
Zelano said she's not sure why Logan Square has so many chickens being abandoned or lost, but thinks Magnus' theory that young people are dumping the birds is possible.
"It's sort of a strange, mysterious thing that a lot of these birds are ending up roaming around. They're usually roosters," Zelano said. "And I would say a large percentage of our roosters that we have now came from Logan Square. I have no idea why, what's going on up there.
"Some of them come in with injuries and somewhat unhealthy conditions, but that may just be from being stray."
Now, Magnus is teaming up with others to create events that will teach Logan Square residents how to care for chickens and what to know before rescuing or buying them. She hopes the events can stop people from ditching their roosters and endangering the lives of the birds.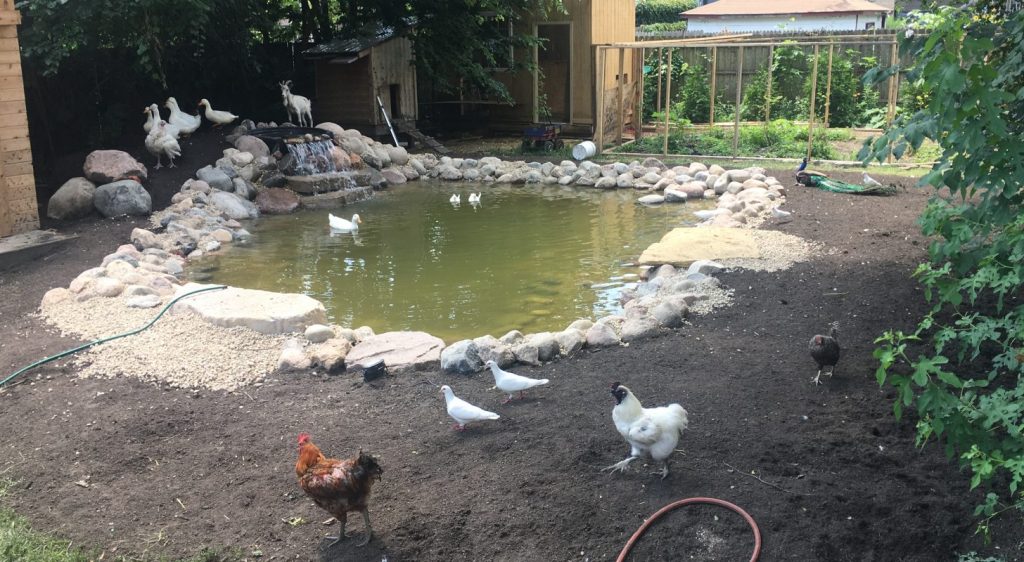 'How Many Logan Hipsters Dump Them'
Logan Square is a popular spot for backyard chickens: Jennifer Murtoff, a chicken consultant who helps people set up and care for flocks in and around Chicago, said the neighborhood has more chickens than others based on her experience. Rogers Park and Humboldt Park are popular for chicken-keepers, too.
Some people keep hens for pets — Magnus said they share many qualities with dogs — or for the eggs they produce. Roosters can protect hens and serve as pets, too, though they tend to be less popular than hens.
And, yes, keeping chickens is legal in Chicago.
But too many people in Logan Square seem to be "fantasizing" about being backyard chicken homesteaders, only to dump the birds, Magnus said. Roosters are particularly prone to being abandoned in the neighborhood.
"Roosters are probably the worst-treated land animals on the planet," Magnus said. "Literally every day we get calls about dumped ones on the street."
Just last week, the Roo Crew got a call about a rooster with a "horrible wing injury" running loose in Logan Square, Magnus said. One of the group's volunteers had to pick up the bird and brought him to a suburban Niles avian veterinarian, where he received treatment.
Volunteers will continue to care for the rooster, now named Sunny, until he's healthy and they're able to find him a permanent home with a family or a sanctuary.
And though the volunteers love chickens, a loose bird doesn't warm their hearts: Magnus has spent hours chasing after "wily" roosters to ensure they won't die on the streets, and volunteers pay out of pocket or fundraise to cover the cost of caring for the rescued birds.
"It is endlessly aggravating for us to pay our own money for the inevitable vet bills and spend our time placing these boys when they could have been safely kept," Magnus said. "People deeply misunderstand chickens and roos in general.
"And it's amazing to me to see how many Latinx folk step up for roos and how many Logan hipsters dump them when we, as Latinx people, are demonized as abusers."
It's possible some of the rescued roosters are escapees, but it's difficult to tell a lost bird from a dumped one because there's often little information available about them beyond what block they were picked up on, rescuers said.
Some people likely abandon a bird because they bought the chicken as a chick, not knowing its sex, and aren't happy when a chick grows into a rooster and starts crowing at 6 a.m., Magnus said.
Zelano said people might be dumping chickens because the birds become ill or injured and the owner doesn't know how to care for them. And some people might not plan to have multiple roosters and don't know how to integrate more than one rooster into a flock.
And perhaps some people move and can't keep the birds or just decide the birds aren't a good fit for them and abandon them or surrender them to rescuers, Murtoff said.
Regardless, dumping the birds means they're exposed to more risks and can be injured or even killed. That's hard for chicken-loving rescuers like Magnus and for people who fear loose chickens on the streets of Chicago could raise eyebrows among lawmakers.
"I strongly discourage people from … just dumping them somewhere. That is not the way to go," Murtoff said. "We do not want abandoned chickens to become a problem with Animal Care and Control because that may lead to a ban on them altogether."
Instead of abandoning the birds, chicken owners can contact organizations like the Roo Crew and Chicago Chicken Rescue to get advice on caring for hens and roosters. If needed, the rescues and Chicago Animal Care and Control can also take in unwanted birds and try to find them new homes.
And residents who are considering getting chickens should adopt, not buy, and should consider taking in a rooster in need, Zelano said.
"There are many, many birds who need homes, and it's a real problem in the city. It may not be a well-recognized problem yet, but it is a problem," Zelano said. "Roosters are really good pets. They have a bad rap but they're not innately aggressive animals. They're actually beautiful birds."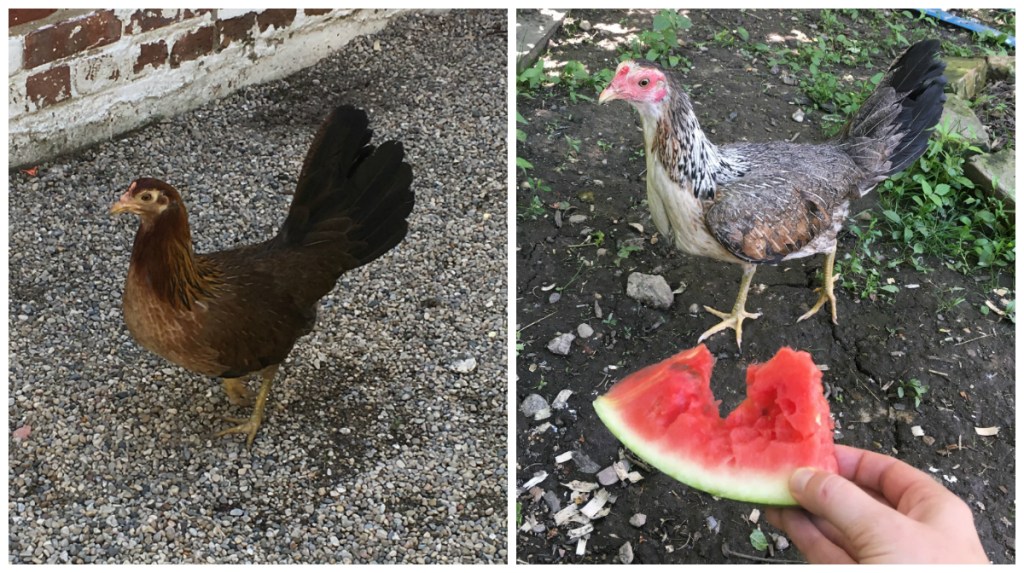 'Start Showing Off Their Roos'
Hoping to put an end to the dumping of chickens in Logan Square, Magnus is planning events where residents will be educated on keeping roosters as pets.
One of her first partners: Lindsay Malinowski, who owns the Little Pickle restaurant at 3703 W. Fullerton Ave., where chickens roam the backyard.
Malinowski wanted chickens for a long time but spent three years making sure her yard was ready for a flock and that she'd know what the birds needed and how to care for them before getting three hens.
Malinowski's chickens provide her with eggs and delight her customers, who can step into the Little Pickle's backyard to pet the birds. Now three years into chicken keeping, Malinowksi recently added another two hens to her brood, adopting them after they were saved from an Englewood cockfighting ring.
But even Malinowski said she wished she'd known more about chicken rescue operations in the city before starting her flock.
"I wish that I had known when we got out [first] birds how many chickens [need help]. I always assumed that rescue chickens were for the suburbs or further out of the city," Malinowski said. "If I had known that there were so many birds they were rescuing in Chicago, we probably would have opted for rescue birds rather than buying chickens."
Magnus reached out to Malinowski after getting a call about loose chickens who, neighbors were concerned, belonged to the Little Pickle. Malinowski's hens weren't loose, but the two got to talking and Malinowski offered the Little Pickle to Magnus as a space for an outreach event so they could help local birds.
"Owning chickens, having backyard chickens, is becoming a very popular thing," Malinowski said. "But I think people don't always know exactly what they're in for when they get chickens: how to properly house them and all the care they need.
"I hope that we can educate people who are curious about keeping chickens. I definitely hope that we can help to find homes for the chickens that Chicken Rescue and the Roo Crew are taking care of and have available for adoption."
There are no firm dates for the events yet, but Magnus plans to host a series around Logan Square, including at the Little Pickle, where she and others will let people meet roosters — including her own rooster, Leonard — so they can learn "how awesome they are."
Ideally, volunteers will also bring adoptable roosters to the events and educate attendees on the misconceptions around chickens and chicken keeping.
"Our hope is that we can make the Logan 'homesteaders' realize roos are awesome companions. We want people to adopt and embrace roos as companions as equals to dogs," Magnus said. "We want the shift from dumping them to turn to embracing them as cool companions.
"We want Logan to stop dumping and start showing off their roos, on leashes hanging out in parks. Roos are the new awesome pet. That is what we want."
Do stories like this matter to you? Subscribe to Block Club Chicago. Every dime we make funds reporting from Chicago's neighborhoods.