EDGEWATER — When the poop hit the porch, the s— hit the fan.
That's a quick summary of a bizarre neighborhood spat playing out in Edgewater.
The slightly longer version goes like this:
A man who rescued a neighbor's runaway dog was stunned to have a baseball bat pulled on him by the dog's owner, he said. So he retaliated by flinging bags of dog poop onto the man's front porch for months.
The flinging went on until, you guessed it, he was caught by his target and took a beating, he said.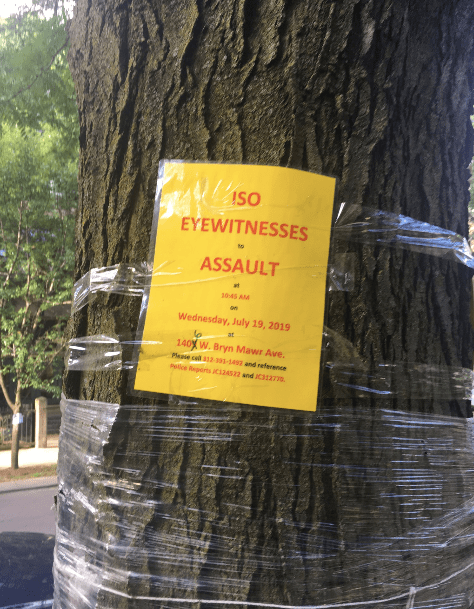 Now, the man who got beat up, Guy Stehley, is plastering the neighborhood with yellow fliers, looking for witnesses to the baseball-bat incident and the beatdown.
Stehley, 61, filed police reports for both cases but hasn't decided if he'll actually press charges for the alleged baseball-bat assault.
"I [escalated it], I admit it. It was childish," he said.
'I Was Kind Of Hoping For a Thank You'
The story begins nearly seven months ago, around the time of the brutal polar vortex. On Jan. 21, Stehley was walking his dog in the 1400 block of West Bryn Mawr Avenue when his dog made a couple of furry friends through an iron fence.
But one of the dogs behind the fence escaped and ran into the street. Stehley ran to retrieve the dog.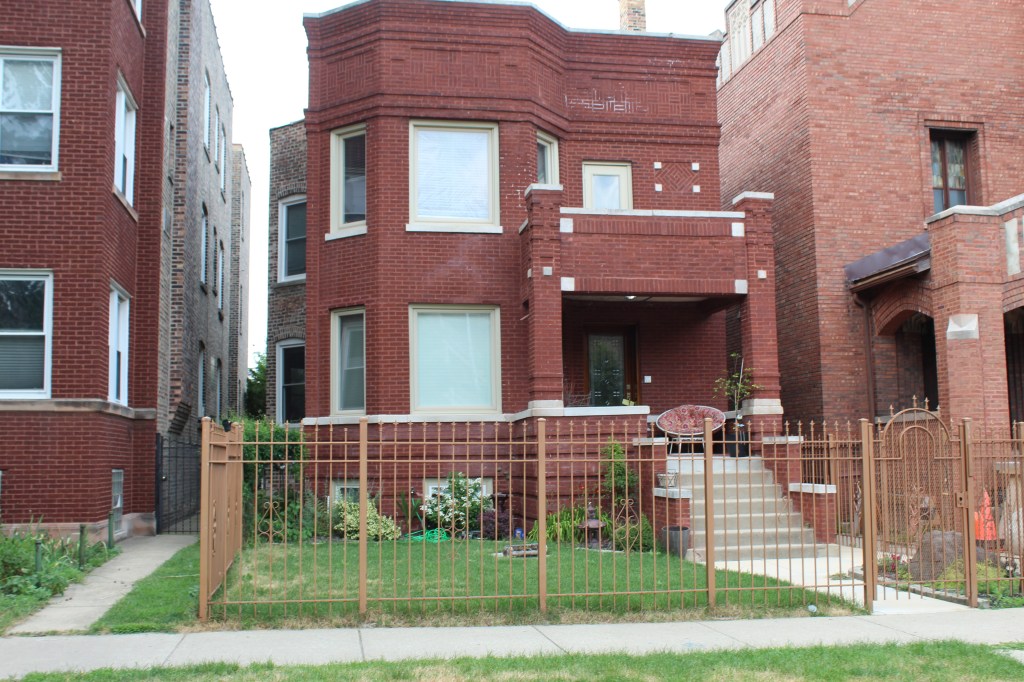 When Stehley did, the neighbor's other dog attacked Stehley's dog, he said. He quickly scooped his own pup, Duke, into his arms and left the yard.
According to Stehley, a nearby neighbor witnessed the entire exchange. Stehley asked her to hold his dog while he went to let the other dog owner know the home's gate wasn't locked.
Stehley, who has worked as a drug researcher, certified nursing assistant and caregiver, said he wanted the homeowner to know his gate was unlocked because many neighbors complained about the dogs getting loose before.
When Stehley knocked on the door, he said he was told to go away and that he was trespassing.
"I was kind of hoping for a thank you," he said.
Stehley backed out of the yard, but soon after a young man exited the house with a baseball bat, Stehley said.
"He had the bat cocked to hit me," he said.
Stehley called the police, and the other witness stayed to watch while the man with the bat remained in his front yard.
Police did show up, and officers confirmed the encounter with Block Club. However, Stehley said he was very unhappy with police response on the scene.
Stehley said the officers told him they couldn't pursue charges without the man's name.
"The cops made no effort to find the guy's name," he said. "And I was frustrated because the guy was standing right there talking to police."
The entire altercation ended with a police report but not much else.
Commence The Poop Flinging
For months, Stehley and the man with the bat had no further altercations. But Stehley admits he "did something stupid."
Periodically, while out walking his dog, Stehley would fling his dog's bag of poop onto the man's front porch.
"It was out of revenge, I guess," he said. "I know it was stupid and I shouldn't have done it. I'll admit that."
Stehley said he would fling a bag of poop "at least once a month" and at the height of the poop flinging there were maybe "three or four bags of poop" on the man's front porch.
For nearly six months, Stehley's poop flinging went unpunished. But on June 19, Stehley once again flung a poop bag onto the porch while out for a walk with his dog.
This time, the man caught him in the act.
Stehley went to get his morning coffee and on his way home the man came out of his front yard and attacked him.

"He started beating me and my dog," he said.

Stehley said he threw his "15-minute-old coffee" on his attacker but said it didn't do much to deter the man.
A neighbor, Cat Waggoner, witnessed the altercation and eventually responded to Stehley's flier.
Waggoner told Block Club she witnessed a younger man "swinging, punching and slapping" Stehley.
She said the neighbor was hitting Stehley's dog and aiming for his face. Waggoner also said someone who appeared to be the attacker's mother was egging him on.
The woman was encouraging the man to "beat him and the dog" because "he always throws poops" in their yard, Waggoner said.
Waggoner said that after the altercation had ended, the woman encouraging the beating continued to justify the actions of the man.
She said a second, younger man came downstairs and also threatened Stehley.
Police eventually arrived, but the attack had ended by then.
Although Waggoner said she did not stay to give her account to police as she was running late for work, she gave a statement to police after seeing Stehley's fliers.
A Black Eye, Bumps And Bruises
Stehley left that day with a black eye, two bumps on his head and cuts and bruises on his extremities. He said he has been deciding whether to press charges against the man he says attacked him.
But he also recognizes he played a role in escalating the neighborhood conflict.
Block Club made several attempts to contact the man who allegedly assaulted Stehley, but he didn't respond to multiple requests for an interview.
Stehley said he does not want to press charges for the June incident because he did throw poop on the man's porch and threw his coffee on him when he was attacked. Instead, he has been deciding whether to press charges for allegedly being threatened with a baseball bat in January.
He realizes the man could press charges of his own for the poop throwing.
For now, Stehley said he has no plans to go near the man or his home. When he walks his dog he now takes an alternate route.
He said he learned his lesson and realizes retaliation is "not a good response" to a neighborhood squabble.
Do stories like this matter to you? Subscribe to Block Club Chicago. Every dime we make funds reporting from Chicago's neighborhoods.