BRONZEVILLE — In "The Negro in Chicago: A Study of Race Relations and a Race Riot," published in 1922, the Chicago Commission on Race Relations wasted no time getting straight to the point.
"The relation of whites and negroes in the United States is our most grave and perplexing domestic problem.
"The problem must not be be regarded as sectional or political, and it should be studied and discussed seriously, frankly, and with an open mind."
The report then spends the next 650 pages doing just that.
The commission had been convened by Illinois Gov. Frank Lowden in late August of 1919, just weeks after race riots left 38 dead and more than 500 injured in Chicago, a wave of violence that had deep roots and lasting repercussions.
RELATED: It's Been 100 Years: Is Chicago Finally Ready To Reckon With the City's 1919 Race Riots?
The Man Behind The Powerful, Disturbing Images Of The 1919 Race Riots Emerges From Obscurity
The 12 members of the commission, split evenly between blacks and whites, included Robert Abbott, founder of the Chicago Defender, and Julius Rosenwald, co-owner of Sears, Roebuck and Company. (No women were appointed, to the frustration of Ida B. Wells.)
Their final document, the culmination of a more than two-year process, incorporated exhaustive research and fieldwork, only a fraction of which was devoted to the events of riots. The focus, instead, was on providing as true a portrait as possible of the living conditions of Chicago's black population at the time of the riots and their interactions with whites.
Poet and education sociologist Eve Ewing came across this trove of historical information — the report encompasses everything from housing maps to interviews with judges — while working on her book about Chicago's 2013 mass school closings, "Ghosts in the Schoolyard."
"I realized I knew very little about this period of history," said Ewing, who grew up in Chicago and was educated at North Side College Prep and the University of Chicago.
If that was true for her, she suspected it would be case for countless other Chicagoans.
"I think it felt like unearthing a hidden treasure about how the city came to be in terms of boundaries," Ewing said. "It's an amazing work of social science with so much contemporary resonance."
What the report is not is a quick read, not only in terms of length but in the density of the material. Single paragraphs are packed with volumes of data and insights.
So Ewing set herself the task of creating a more accessible entry point to the report and the riots. The result is the just-published "1919," a 70-page collection of poems written in conversation with the 1922 tome.
"This is not the definitive history; it's meant to be be an invitation, an accessible entry point," she said of the collection. "I don't want to be the expert. I want to be the person who takes your hand and pulls you along."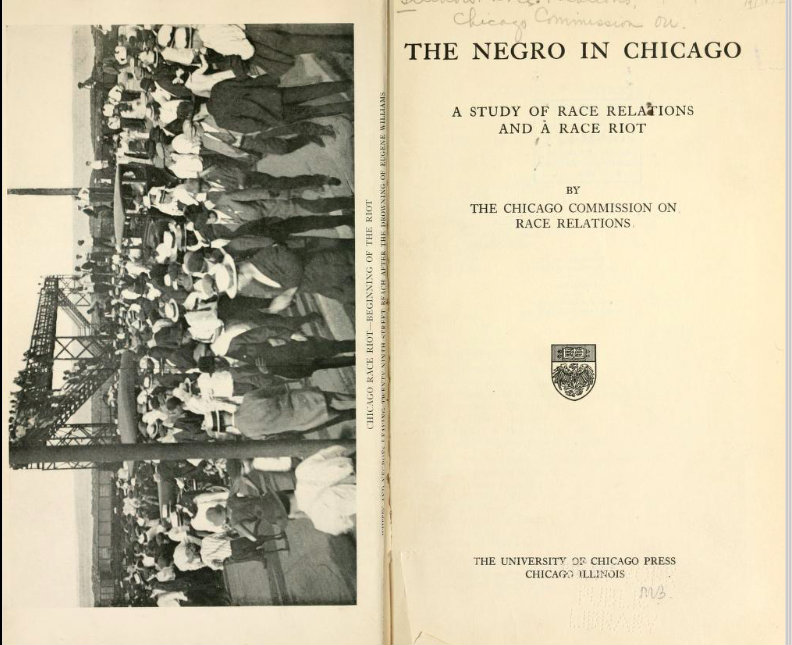 Knowing that the entire 1922 study has been digitized and is readily searchable online made the prospect of presenting a fresh take on such a seminal event less daunting, Ewing said.
"That was a relief. I didn't have to report everything," she said. "I feel like I want people to read the book and then google 'Red Summer.'" [Between April and November 1919, race riots erupted in 15 states and the District of Columbia.]
Her criteria for what to include was fairly straightforward: what would provide a good overview of the riots and the report, and what would make a good poem.
There were parts of the report Ewing found fascinating but couldn't find a way to use artistically, for example, a section on the limited employment opportunities black women faced in Chicago.
"I thought that history was really interesting, but it didn't want to be a poem," she said. "My sociologist brain loved it, but the poet didn't."
Imagine The World Differently
Each of "1919"'s poems begins with a quote drawn from either the 1922 report or, occasionally, other related texts. Ewing then responds, in a variety of forms and styles.
The approach melds the two sides of Ewing's career: "As a sociologist, I'm always asking, 'Why is the world the way it is?' As a poet, I'm asking, 'How could we imagine the world differently?'"
"James Crawford Speaks" opens with the report's brief, almost clinical description of Crawford's role on the first day of the riots, shortly after the black teenager, Eugene Williams, was killed by a white man for crossing an arbitrary color line in Lake Michigan.
"The Negro crowd from the beach gathered at the foot of Twenty-ninth Street. As it became more and more excited, a group of officers was called by the policeman who had been at the beach. James Crawford, a Negro, fired into the group of officers and was himself shot and killed by a Negro policeman who had been sent to help restore order."
Ewing's response reads as if it were written by Crawford himself, now finally given a voice across time and space, speaking for the first time about that fateful moment (excerpted).
"I saw the whites of his eyes 
before he let go the railroad tie
that kept him almost afloat
almost alive, almost able to walk home
...
almost free, almost not having
his name in the mouths of fiends
...
So I spoke it, his name came out of me,
and I fired."
In other poems, among them the powerfully moving "Countless Schemes," Ewing speaks directly to the report.
The "schemes" of the title are the proposals, referenced in the report, that Americans had put forward following the Civil War as a way to deal with the "negro problem": 1. deportation, 2. establishing a separate state, 3. separation and segregation, and 4. "hope for a solution through the dying out of the Negro race."
The emotions packed within Ewing's stunning point-by-point rebuttal range from anger to defiance to disbelief to despair (excerpted):
"1
you don't have enough boats

we came here head to toe
and now we are millions
and now we demand to sit upright

and so you don't have enough boats

2
you would give us the most wretched deserts
...

3
we been had that

4
you said hope for the Negro dying
....
"It was hard to read," Carey Cranston, president of the American Writers Museum, told Ewing during a discussion at the recent Printers Row Lit Fest.
"It was hard to write," Ewing responded.
'After'
The 1922 report concludes with a series of recommendations best summarized as a heartfelt call for racial tolerance.
Ewing's "1919" concludes with a section called "After" that demonstrates all the ways racism still eats away at Chicago's soul.
There's a poem about the riots that erupted in the city following the murder of Martin Luther King Jr., and a poem in memory of the 739 who died in the 1995 heat wave.
"It Wouldn't Take Much" draws on an email Ewing received from her building's management company the day of the Jason Van Dyke verdict as police and others warned of potential rioting. Through the technique of erasure — blotting out text, like in a redacted document — she created a poem of indictment.
"The idea that black people would be marauding … that presumption reveals something," Ewing said.
So where does that leave Chicago in 2019?
In a place Ewing calls "patently unacceptable."
With "1919" she offers not a call to action but rather a tool for others to chip away at what she terms the "ornate architecture" that protects and upholds the city's power structure.
"I try to do work that will influence people and encourage a different set of demands for policy," Ewing said. "My lane is to be the annoying person who asks, 'What about this?' To make the art that changes the way people think about something."
In lieu of answers, she supplies imagination. Borrowing a quote from activist Toni Cade Bambara, Ewing said: "The role of the artist is to make the revolution irresistible."
In "1919"'s penultimate poem, a dreamlike work of Afrofuturism called "The Day of Undoing," Ewing dangles a vision of borders and boundaries undone.
"It's writing the world we want to see," she said. "I talk often about the idea of abolition. People had to imagine something they'd never seen."
"Countless children, standing firmly front to back, their arms out. Standing on lines that no one could see, lines in the dirt and the desert and the lake that no one could see but which for some reason they had treated as gospel all their lives.

The children stood and they smiled, toes pointed forward the way she had taught them.... And the children were walking, but they were not touching the sand or the rock or the water anymore, they were waling in the air, one foot before the last, each toe touching each heel, and all around them there was a light and they were more beautiful than they had ever looked, and the grown people wept, and the voice said

now"
Asked if "1919" is, in effect, a new kind of history book, Ewing paused.
"That's a very humbling question," she said, and one she wasn't willing to answer.
What she would say is that she hopes it inspires people to challenge assumptions about whose stories have value, which histories get told, and why.
"I want people to read it and ask, 'Why wasn't I taught this? What are the other histories I don't know about? What do we do to rectify that?'"
Do stories like this matter to you? Subscribe to Block Club Chicago. Every dime we make funds reporting from Chicago's neighborhoods.