ANDERSONVILLE — For months, Andersonville residents have been sounding the alarm over the potential loss of fully mature trees in their neighborhood.
The city said their hands were tied and the trees needed to fall so new water mains could be installed beneath them.
But despite promises to explore every option to save the trees, the city's Department of Water Management didn't pursue a non-invasive technology that has the potential to cut costs while saving the city's most valuable and vulnerable trees.
The water department said that due to century-old water lines and the need to meet Illinois EPA standards, crews would need to dig large trenches to replace aging lines, causing the loss of many trees whose root systems would be compromised.
The technology they didn't pursue is called Cured-In-Place Pipe, or CIPP, and it has been used successfully in many other cities in Illinois, including Evanston, Rockford, Arlington Heights and Lombard. It essentially installs a liner inside existing mains, meaning they don't need to be removed.
Ald. Brian Hopkins (2nd) has personally lobbied for CIPP to be used in his densely populated ward, saying he is "puzzled" by the water department's failure to embrace the technology. So far, his requests for CIPP have fallen on deaf ears.
Toronto, one of Chicago's sister cities, has been successfully using CIPP to repair water mains since 2003.
Chicago tested a CIPP pilot program on the Southeast Side in 2017, but shelved the technology in the pilot's wake despite the successes seen in other cities. The contractors who worked on that project contend it was a half-hearted pilot that as a result was doomed to fail.
Cured-In-Place Piping is much less invasive than the current method being employed by the city, where streets are torn apart and large trenches are dug in order to get to the underground water lines.
With CIPP, instead of ripping up the street and putting a new pipe in, access holes are dug every 500 feet and then a hose is pulled through the old water main. A brand-new water main is then essentially created within the old water main.
The water main is then good for an additional 50 to 80 years.
Instead of disrupting homes, businesses and trees, water mains are given new life.
On the 5900 block of North Hermitage Avenue, city crews have already removed fully mature trees from an entire block — citing water main improvements.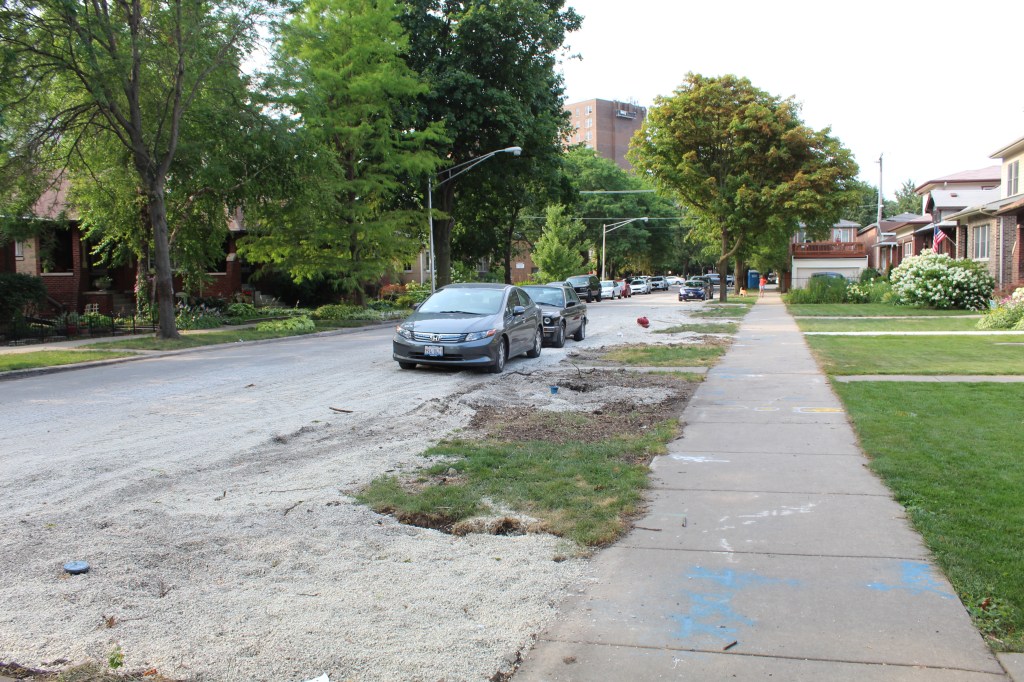 Neighbors were only notified of the tree removal on a Friday evening before crews got to work on a Saturday morning.
"We felt victimized," said neighbor Aisha Noble. "It felt like the old Chicago way was firmly at work."
Ties Hands? Not So Much
So why isn't CIPP technology being utilized for water mains in Chicago?
For months, city Water Commissioner Randy Conner said his department was exploring every option to help save trees in Chicago's neighborhoods. But the Illinois EPA said Chicago never pursued a permitting option that included the use of CIPP.
"There are IEPA regulations in place and we must remain in compliance with them," a water department spokesman told Block Club.
But the IEPA was never even asked to grant a permit to the water department — and the department doesn't need their approval, anyway.
Since 2014, Chicago has been a self-permitting city when it comes to water main projects, according to an agreement between the IEPA and the city. This means the Illinois EPA allows larger cities to permit themselves to streamline much of the administrative process surrounding water projects.
Even if the water department felt it was unable to self-permit when using CIPP — or if it was worried about IEPA regulations — they could have applied for a permit through the IEPA.
But according to a spokesperson with the IEPA, Chicago never submitted any applications for CIPP beyond the pilot program.
'Tainted' Pilot Program 'Doomed From Its Inception'
The water department said it could not implement CIPP based on that 2017 pilot program it conducted, citing "significant water quality issues."
But the city's report, and the rebuttal written by the CIPP contractors who worked on the pilot program, tell a different story.
After CIPP was installed for the pilot program, water samples show that the water quality improved — though the sample size was incredibly small and just tested one home's water quality.
Still, that home's water quality improved marginally.
Levels of chlorine went up while water contaminants known as "TTHM" and "TOC" decreased, according to the report.
The water department's other issue with the CIPP pilot was "gaps between the liner that could not be disinfected or flushed."
Both the contractors who worked on the project and a third-party testing analysis concluded that the water department's conclusion was "unfounded." The contractors also note the pipe with CIPP is still in use today.
Additionally, a nearby church with a cobblestone road was successfully saved from having its street torn up, according to the city report.
The CIPP contractors said the whole pilot was "flawed," "negatively biased" and "tainted" from the beginning, with only 300 feet of pipe used when contractors recommended a pilot of at least 10,000 feet.
"300 [feet] is not commercially reasonable for a fair and partial demo/pilot project, and thus the demo/Pilot was doomed from its inception," wrote the contractors in a rebuttal to the city's report.
In the rebuttal, contractors state that "Commissioner Randy Conner needs to change the [Department of Water Management's] reliance on the Status-Quo."
It was recommended to the Water Department that they launch another "fair" CIPP pilot program in 2019, but another attempt was never made by the city to implement CIPP. Instead, they abandoned the technology.
Toronto: Chicago's Sister City
When asked how Toronto is able to successfully implement the technology, Chicago's water department said it "would not want to comment on Toronto's program."
But Toronto is happy to sing its praises. A spokesperson for the city of Toronto said it's successfully used CIPP since 2003. They used it on a small scale until 2008 when it ramped up the program to line approximately 15 to 18 miles of piping a year.
Toronto has even expanded the program and now lines approximately 24 to 31 miles of piping a year with CIPP.
"The structural lining program was expanded around 2008 as a measure to defer the state of good repair backlog with a less costly solution than full replacement," the spokesman said, before touting other benefits that include:
No need to excavate an entire road section as the pipe can be rehabilitated while in place.
Keeps traffic and all other construction related disruptions to a minimum. 
Economic savings compared with full replacement.
Minimal disruption of water service to residents.
Future deterioration of the road, which can sometimes result from the trenching required for traditional replacement, is minimized.
The water department has said that it could not use CIPP because old pipes would still be in violation of a 10-foot rule where sewer and water lines must be at least ten feet apart.
But the state's EPA has permitted dozens of other cities in the state to do just that. And again, they were never even asked by Chicago's water department.
Not far from Chicago, cities like Lombard, Evanston, Arlington Heights and Rockford all have used CIPP to repair water lines, securing permits that allowed them to work around the 10-foot rule.
Municipalities have celebrated the use of CIPP and some cities have saved millions of dollars implementing the technology.
When asked how so many other Illinois cities are successfully implementing CIPP technology, the water department said it could not comment on how other municipalities implemented CIPP "without specific drawings."
Kyle Saunders, Water Superintendent for Rockford, said his city has used CIPP recently for water main projects where they wanted to be non-invasive.
Saunders said the pilot program was a success and they are already looking at expanding the scope for future projects. He called CIPP a "phenomenal candidate for a larger lining project."
Rockford will continue using traditional methods for water main repair, he said. But they plan to use CIPP "as a tool" when difficult conflicts arise.

"We saw a significant benefit in CIPP installation," he said. "We wanted to be as least intrusive as possible which [CIPP] definitely delivered on."
As Rockford ramps up their use of CIPP in areas where traditional methods are less desirable, they expect to see cost-savings of "20 to 30 percent."
Like Chicago, Rockford is also self-permitting. However, they did not have authority to permit for lining water mains. So, they decided to submit a CIPP permit to the Illinois EPA.
Saunders said the Illinois EPA was "prompt" and helpful and he had no complaints.
"The Illinois EPA was very receptive of our use of CIPP," he said.
He said when Rockford seeks a renewal to self-permit for water projects they plan to include a request to add the authority for lining water mains. If their request is granted they will be able to self-permit for CIPP in the future.
Saunders mentioned Toronto as the city Rockford has looked at closely, since they have "a similar climate" and have been "very successful" using CIPP.
Neighbors Are 'Profoundly Disappointed'
Lesley Ames, an Andersonville resident, has been fighting to save the trees in her neighborhood. She also has wondered why the city hasn't more aggressively pursued CIPP in order to avoid tree removal.
"This pisses me off because this neighborhood has been working for months to try and find a solution," she said. "Why is Chicago not sending CIPP requests when other cities are using it?"

Ames said she thinks this is "a case of doing things the way they have always been done." She questioned the competence of the water department and felt the community was being ignored.
"Why is Chicago leaving us in the dark?" she said.
Ames penned an open letter to Mayor Lori Lightfoot begging her to step in and help save Andersonville's beloved trees. To date, Ames has not heard back from the mayor's office.
Julie Wlach has also been fighting to save the trees, distributing flyers throughout the neighborhood months ago. When she found out about the city's failure to seriously pursue CIPP technology, she was frustrated.
Story continues below letter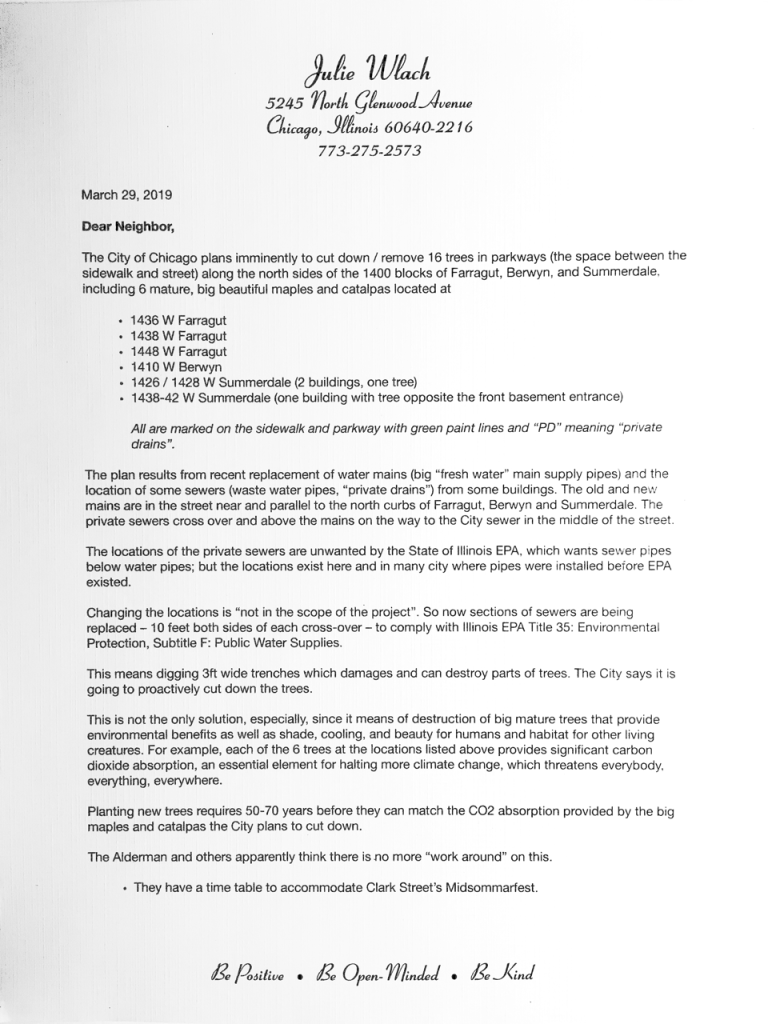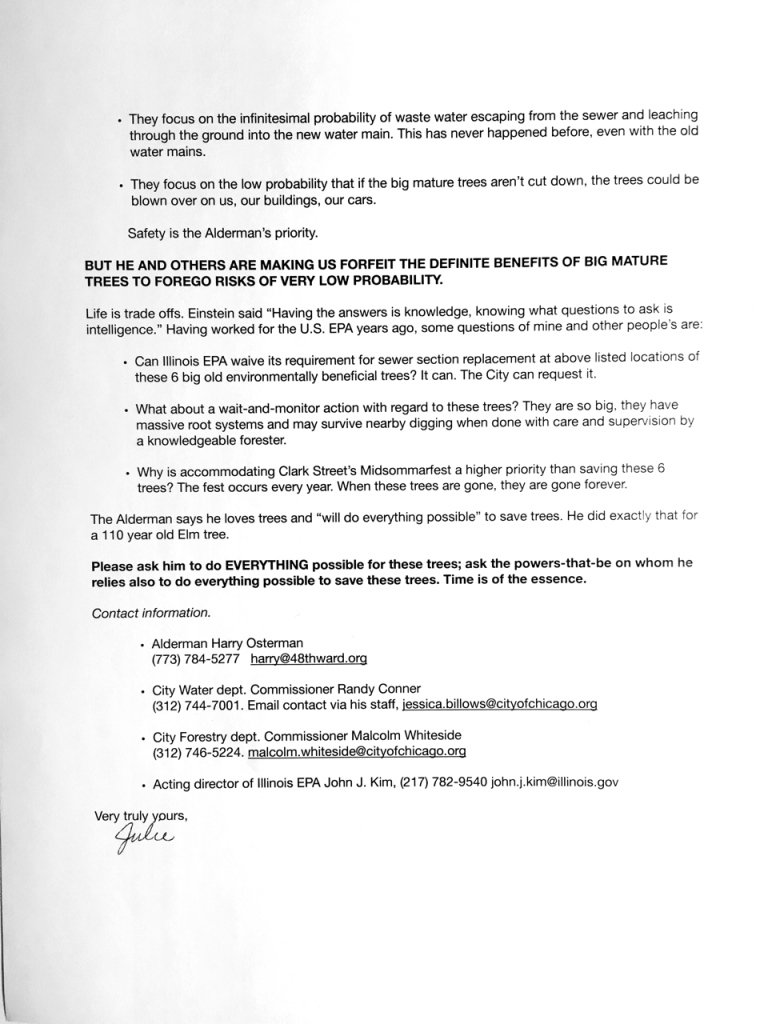 "In two words? I'm profoundly disappointed," she said. "It is very costly to the destruction of trees not to pursue this technology."
Additionally, neighbors started a petition to save the trees, which has garnered over 600 signatures (the petition is active and still growing).
Even to neighbors, it's apparent that other cities are doing things differently than Chicago.
"Trees are invaluable in many ways," wrote one petition signer. "We need to find other ways to resolve the water line issue. See what Evanston and Toronto did!"
'We Cannot Ignore Our Water Problems Anymore'
Many neighbors, including Ames, had heard reports that Lightfoot had put a moratorium on any tree removal until a variance was explored with the Illinois Pollution Control Board.

But this week, the city said those reports were not true.
"Mayor Lightfoot has not issued a moratorium on tree removals at this time," said Marjani Williams, Director of Public Affairs for Streets and Sanitation.
Block Club asked Lightfoot if she was considering looking into the water department's reluctance to use CIPP.
A spokesperson from the mayor's office responded with the following statement:
"Under the leadership of Mayor Lightfoot, the Department of Water Management will continue to look for ways to reduce invasive environmental impacts on our communities, ensure water quality for residents, and adhere to the guidelines set forth by the Illinois Environmental Protection Agency."
Ald. Harry Osterman (48th) has been fighting to explore every option to save Andersonville's trees.
When asked if he felt that he was misled by the city water department, his office issued the following statement.
"This issue remains a priority for Alderman Osterman. He has engaged the Mayor's Office to look at any and every option available to provide clean water to our neighbors and to prevent the loss of trees in Andersonville. He is awaiting the findings of the Mayor's Office's review of the matter."
Outside of Andersonville, Ald. Hopkins (2nd) has previously lobbied the water department to use CIPP in his ward. Hopkins wrote a letter to Conner in August, 2018, requesting CIPP be used for multiple water projects.
After living through a water main repair project near State Street and Division Street that Hopkins described as "a nightmare," he began to look for a better solution in his ward — Hopkins thought CIPP might be perfect.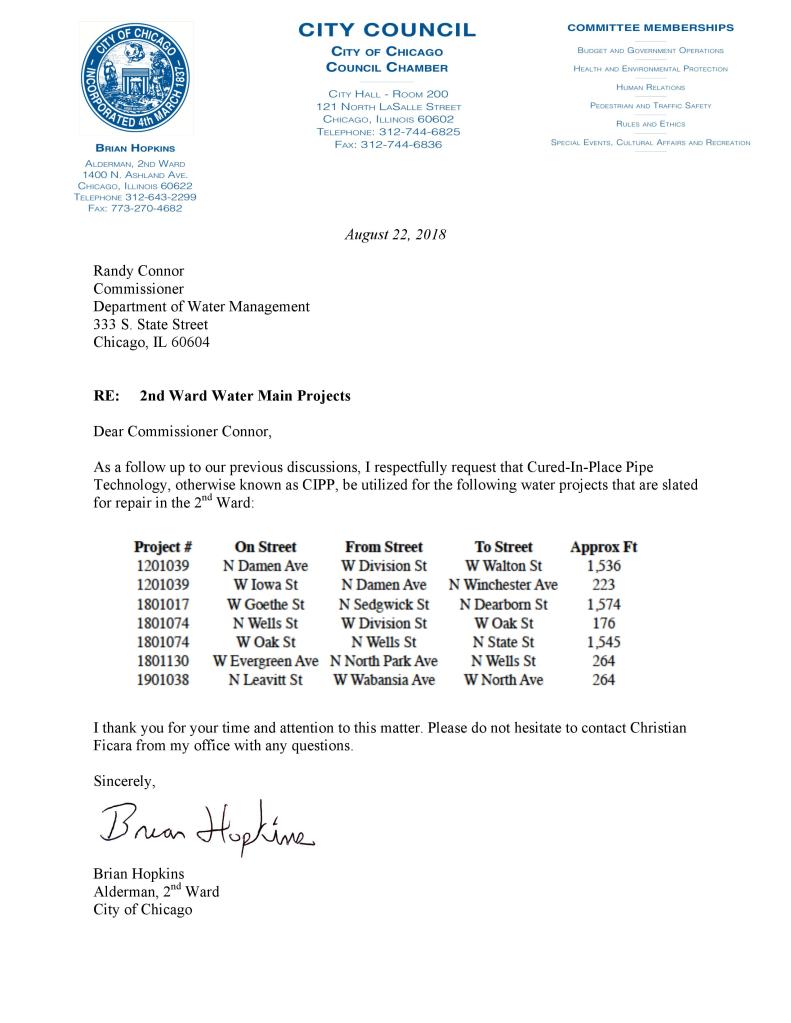 But Hopkins never got his CIPP and instead he remains perplexed at the city's failure to seriously consider the technology for Chicago.
"We have a history in Chicago of not embracing the newest idea," he said. "This technology could very well prove to be effective at addressing our lead problem."
Hopkins said he thought the pilot program was "limited" and there were "lots of problems with the project."
Hopkins said he had spoken with his friend, former-Mayor of Orland Park Dan McLaughlin, who embraced CIPP technology and "gave it rave reviews."
Hopkins said he felt "optimistic" that Lightfoot would take a hard look at using CIPP.
"We cannot ignore our water problems anymore," he said. "We need to embrace this technology. Let's start with water mains."
Outside of Andersonville, the rest of Chicago's neighborhoods will undoubtedly face similar issues when it comes to repairing water mains that come into conflict with fully grown trees, businesses, schools, churches and other sensitive areas.
Whether or not the water department decides to start exploring CIPP technology will have huge implications for Chicago's most vulnerable trees.
When Aisha Noble recently had her block's trees removed in Edgewater she said it "felt like the loss of a loved one."
"Every morning and night we use to look through our windows to see our magnificent treelined street. Now we can't bear to look."
Do stories like this matter to you? Subscribe to Block Club Chicago. Every dime we make funds reporting from Chicago's neighborhoods.