LOGAN SQUARE — Crews on Thursday began tearing down the Pierre's Bakery building at Milwaukee and Spaulding avenues to make way for a six-story residential complex.
The pastel-pink building at 2755 N. Milwaukee Ave. will be replaced by a complex with 60 residential units and four ground-floor retail storefronts, according to a city-issued construction permit.
It's unclear if the units will be apartments or condos and whether there will be an affordable housing component. Property owner Michael Fox of R.P. Fox & Associates, the developer behind the project, didn't respond to a request for comment Thursday.
The building has sat mostly empty since 2013 when Pierre's Bakery closed. For a few years, the building was home to the weekly indoor farmers market during fall and winter months. In the months leading up to the demolition, a vintage furniture dealer was using the building for storage.
Prior to 2013, the bakery, known for its Mexican pastries and bread, had called the building home for about 25 years, according to Chicago Talks.
In 2012, one year before Pierre's closed, manager and head chef Manny Guzman told Chicago Talks that they were adding more menu items to cater to the newcomers moving into the gentrifying neighborhood.
"The majority of our customers are Latino, but the neighborhood is changing very fast. In order to keep up with community we have added different kinds of foods and drinks from other cultures, but we are maintaining the Latin culture of the baker," Guzman told Chicago Talks.
In 2017, when it was revealed that Fox was looking to tear down the bakery building and construct an all market-rate residential complex, a group of neighbors and folks from Ald. Carlos Ramirez-Rosa's 35th Ward office marched in protest. They said Fox should include affordable housing to mitigate the effects of gentrification.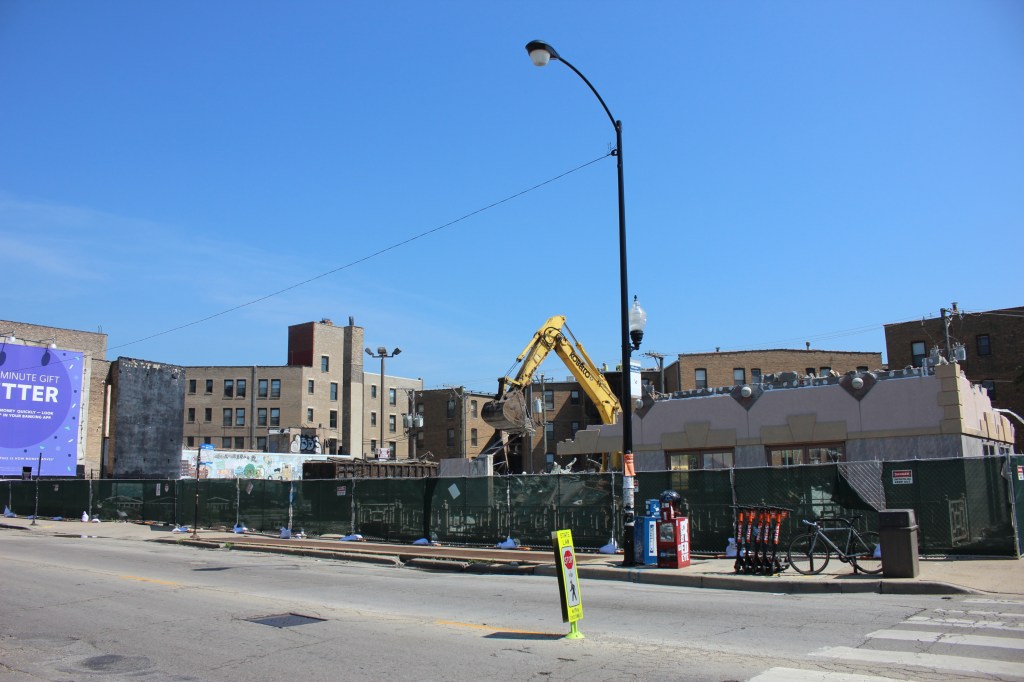 "I really think they're forgetting about the people who were here many years ago," one neighbor and longtime bakery customer previously said.
"Those units, let's be honest, it's not for us. It's not for me. I have kids who have graduated from college. Will they be able to afford something like this? I don't think so. Having no affordable housing really impacts us because we want families to stay in our community."
At one point, Ramirez-Rosa tried to block the project with a zoning change, but the legislation never advanced.
Fox isn't required to include affordable housing. The city's affordable requirements ordinance doesn't apply to his project because it's not on city land and doesn't require new zoning or financial assistance from the city.
Not everyone in the neighborhood is opposed to the project. During and after the march, several neighbors voiced support for the project, saying they'd prefer to see a development instead of a vacant building in the hot neighborhood.
"This building is an eyesore on what could be a really nice block," one neighbor said in 2017.
"Really disturbing to see Rosa trying to pervert the legal process by attempting to change the zoning in the middle of development in order to exert pressure on the builders to further his agenda."
A Logan Square resident of 15 years who declined to be named watched construction crews Thursday reduce the bakery building to rubble. The resident said he's concerned because the new development isn't for low-income people.
"I think it's a waste. It's totally unnecessary to me. You've got condos here, apartments there, you're building condos over there," he said gesturing to nearby buildings.
Do stories like this matter to you? Subscribe to Block Club Chicago. Every dime we make funds reporting from Chicago's neighborhoods.