NORTH LAWNDALE — The TRiiBE, a Chicago news site that aims to reshape the narrative of Black Chicago, has launched a new coffee table book celebrating the millennials who are changing black culture.
And the idea for the TRiiBE Guide 2019's cover actually came long before the site's co-founders decided to publish a coffee table book. When Morgan Johnson and Tiffany Walden first had the idea to bring together their team of collaborators for a photo shoot, they imagined their vision of Black Chicago would one day overlook the city from billboards.
Two years later, the TRiiBE spread manifested not for billboards, but for the launch of the first edition of the TRiiBE Guide, a thick hardcover book that expands on their digital site. The photographs depict the TRiiBE's creatives in Walden's native North Lawndale, each armed with what the founders call "weapons of choice"— pens, paper, musical instruments and recording equipment.
Rapper/journalist/activist Aurelius Raines III, DJ Asia Ashley, queer "art-ivist" P Ife Williams and ProPublica Illinois communications manager Derrick Clifton are among the creatives featured in the spread.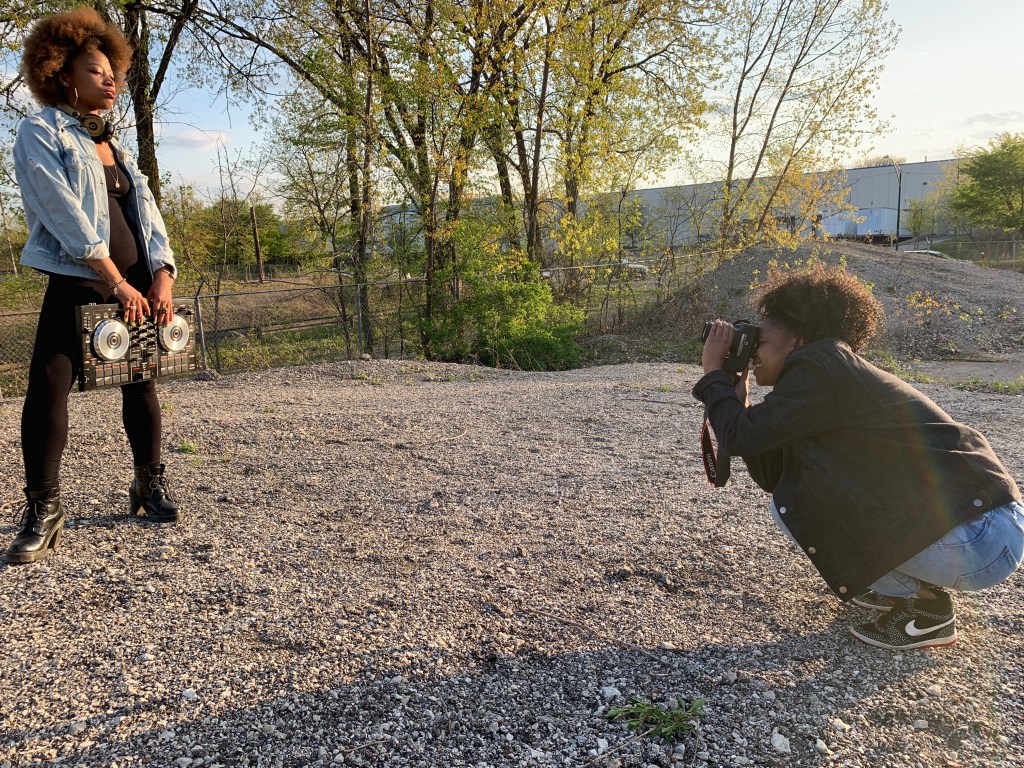 "The concept was that we are like an army of black creatives coming to take back our narrative," said Johnson, the Triibe's creative director. "So I told everybody to wear army fatigue and denim and black and look militant — and we were going to take back our narrative."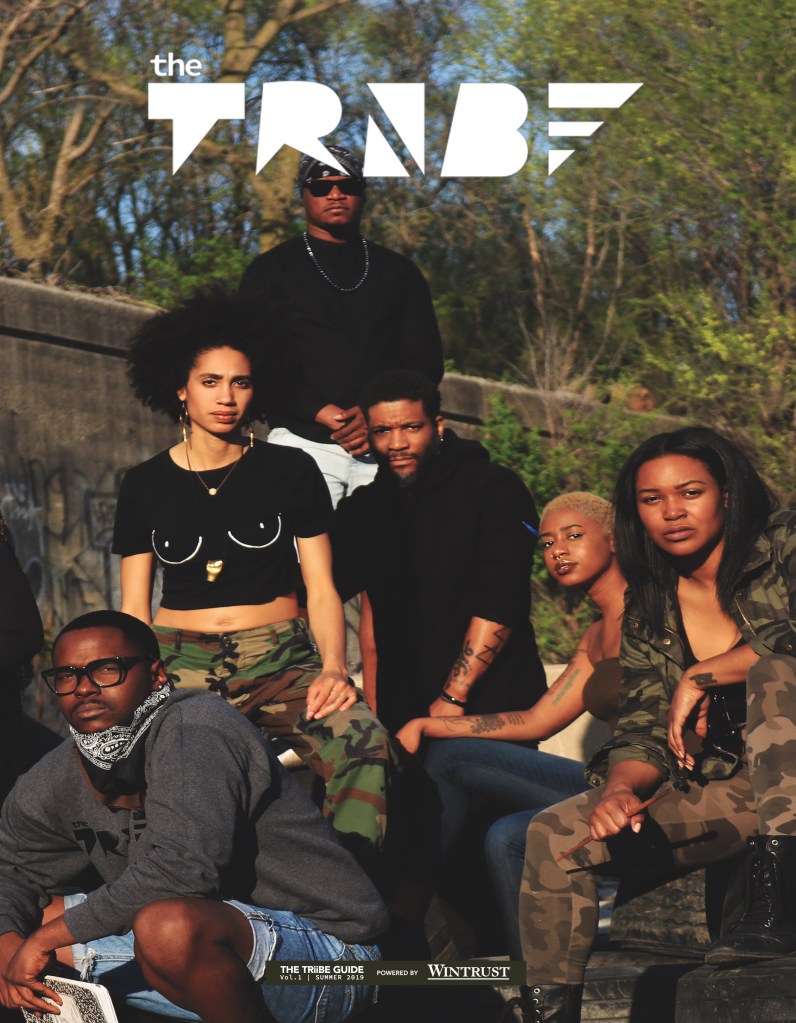 The "TRiiBE Mob" photos complement the content in the TRiiBE Guide, which include some of the most impactful stories the TRiiBE has published addressing gentrification, segregation, and disparity in Chicago.
Walden and Johnson created the TRiiBE as a space to uplift black voices in Chicago, where young creatives can share their truths through journalism, documentary, creative writing and video. The new guide is aims to address many of the same goals they set out to accomplish when they created theTRiiBE.com.
"When we first began to conceptualize [the TRiiBE] years ago, it came from this need to really connect with the community," she said. "We had just moved back to the city, and we were kind of like, where is everybody?"
The book reads as a collage of narratives, visual and print, a snapshot to answer Johnson's question of where Chicago's black community is spreading its roots in 2019. In the TRiiBE Guide, Johnson finds her community in "young millennial black professionals, also women of color, filmmakers, [and] black creatives and artists."
Even though most of the book's stories had previously been published online, compiling it all in a book was no small task. It was important to establish a print version of the TRiiBE so that audiences who don't use the web and social media are able to read the content.
"Sometimes people need to physically see something, physically touch, touch it, so that it could be real for them," she said. "We just wanted to make sure that we were hitting people at all those different connection points."
The team spent countless hours perfecting the small details that are often lost in digital media — strict word count limits, page layouts and color specifications. Despite past experience working with newspapers and magazines, managing the publishing process from start to finish was a challenging feat, especially as a small organization, said Walden, the site's editor-in-chief.
"Everything about print is an entirely different beast," she said. "I applaud everyone who prints. Any independent publication that prints with any frequency, I tip my hat to them."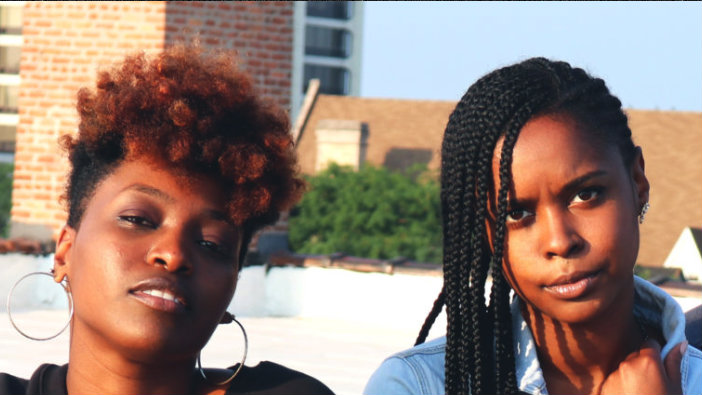 The challenges paid off by allowing the TRiiBE to explore a new medium that has a physical presence that readers can physically interact with over time.
Walden grew up reading magazines like Jet, Vibe, and Ebony, which she said inspired her to collect and hold onto magazines with cover art that she liked.
"That was part of my culture and my childhood growing up. So much that with the TRiiBE Guide, it was really important to just have it be something that's like a collectible piece, since we don't print as much as maybe other publications do," Walden said. "We want people to be able to hold on to it and it be an archive of what was going on in Chicago at that time… Having it be a coffee table book gives it that that feel of you know, this is really valuable."
Johnson and Walden plan on making TRiiBE Guide an annual publication, and hopes readers will collect them year after year. But they still have their sights set on an even bigger platform.
"We're still going to get our billboard," Johnson said. "We're putting that out into the universe."
The TRiiBE Guide is free and can be found at The Silver Room, 1506 E. 53rd St.; Build Coffee, 6100 S. Blackstone Ave.; Westside Justice Center, 601 S. California Ave.; and through distribution partners across the city.
Pascal Sabino is a Report for America corps member covering Austin, North Lawndale and Garfield Park for Block Club Chicago.
Do stories like this matter to you? Subscribe to Block Club Chicago. Every dime we make funds reporting from Chicago's neighborhoods.