Editor's note: This story was updated on Sunday, June 23.
CHICAGO — Elected officials and immigrant rights' advocates across the city are warning residents as U.S. Immigration and Custom Enforcement agents are reportedly set to target thousands of migrant families nationwide — including in Chicago.
Instead of waiting to find out whether the sweeps take place, leaders and advocates in the city are proactively working to educate immigrants in their communities of their rights.
During rush hour Friday, Ald. Rossana Rodriguez (33rd) and Ald. Carlos Ramirez-Rosa (35th) passed out literature at Kimball Brown Line Station to educate families of their rights in Albany Park.
"It is imperative that Chicagoans know their rights if an ICE agent knocks on their door," Rodriguez said, urging families "not to open their door if an agent [shows] up."
"Law enforcement officials need a warrant signed by a judge to enter your home, and ICE warrants are not signed by judges," the Rodriguez, who chairs the Latino Caucus' immigration committee.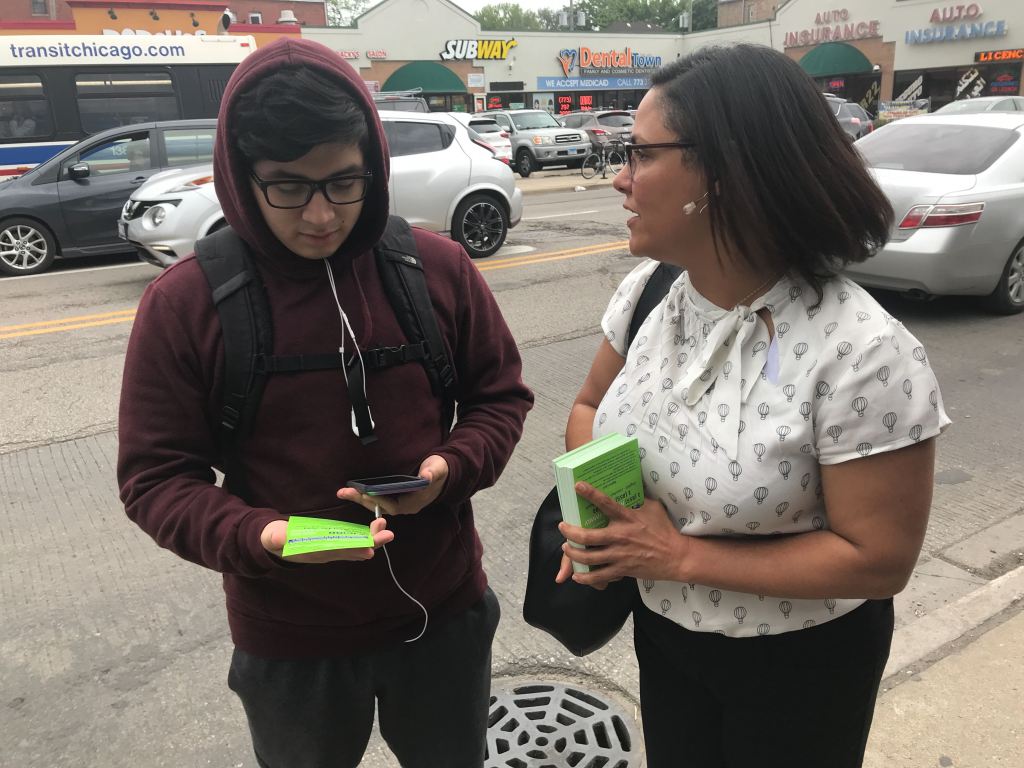 The preparation for the sweeps comes as the Washington Post reports that President Donald Trump has directed federal agents to step up enforcement efforts and remove 2,000 families facing deportation orders.
The sweep, dubbed "family op," is targeting families in 10 cities, including Chicago, Miami, Los Angeles and Houston. It was originally slated to start during the pre-dawn hours Sunday and unfold over several days, according to the report, which cites anonymous officials.
But on Saturday, Trump announced that he was delaying the ICE sweeps for two weeks.
Earlier, Trump tweeted that ICE would "begin the process of removing the millions of illegal aliens who have illicitly found their way into the United States. 
"They will be removed as fast as they come in," he wrote.
In a tweet, Ald. Ramirez-Rosa said they were taking the threats seriously.
Responding to the news of planned sweeps Friday, Mayor Lori Lightfoot announced she has terminated ICE agents' access to Chicago's gang database, according to The Daily Line.
"Chicago will always be a welcoming city and a champion for the rights of our immigrant and refugee communities, and I encourage any resident in need of legal aid to contact the National Immigrant Justice Center," she said.
RELATED: 95 Percent Of Chicagoans Listed As Gang Members By Chicago Police Are Black, Latino, Watchdog Audit Finds (The Daily Line)
Organizers urge immigrants: Have a family plan
In Pilsen and Back of the Yards, immigration organizers are working with neighbors Friday to spread the word and to ensure people were informed of their rights in the event that an ICE agent arrived at their door, said Laura Mendoza, an organizer working with The Resurrection Project.
Mendoza said the immigration arrests target immigrants in the family case management program, unaccompanied minors who have aged out of the system and individuals facing final order of deportations. In some cases, they may not know a final order has been issued, she said.
Mendoza expressed concern that undocumented immigrants not targeted by the sweeps could become "collateral damage" for being "at the wrong place at the wrong time." 
This is why Mendoza and other advocates are urging people to be prepared and know they have the right to remain silent, they don't have to open the door and they don't have to sign anything presented by an agent. 
They also have a right to an attorney and could receive money to hire one through the Chicago Legal Protection Fund, Mendoza added. 
The fund, created in partnership with the National Immigrant Justice Center (NIJC), provides free or reduced-cost legal aid to immigrants and refugees regardless of legal status, as well as Know Your Rights training.
"We really urge people to be prepared," Mendoza said. "We want to make sure, they have a family plan, a plan to protect their assets. Some people have been here for 10 plus years, so we want them to be as prepared as possible if they happened to be detained. We want them to focus on their case instead of other aspects that pertain to their lives."
'Climate of fear'
On the city's North Side, Protect Rogers Park, a coalition of neighbors working to protect marginalized communities, is also working to educate residents about their rights.
Marissa Graciosa, a member of Protect Rogers Park, believes that ICE will likely stay out of Rogers Park, a neighborhood home to many immigrants, and target other areas.
In her experience, ICE has targeted communities that lack the community infrastructure that Roger Park has, which often ends up being suburban communities, Graciosa said.
The group put out calls on social media looking for volunteers to canvass the neighborhood and educate Rogers Park neighbors of their rights should ICE appear.
The canvassing effort is also being sponsored by Ald. Maria Hadden (49th), State Rep. Kelly Cassidy and State Senator Heather Steans.
Hadden said Friday she offered to help the Rogers Park activists who are disseminating educational materials to immigrants in the neighborhood.
"We want to work together to make sure that we are supporting the efforts of folks doing work on the ground," she said.
She said the sweeps could impact many Rogers Park residents, as the area is known for its diversity and inclusive values.
"In a community as close-knit as ours with as many backgrounds as we have, it impacts everyone," she said.
Hadden said her office hasn't fielded many calls from her constitutents, but that doesn't surprise her.
"We are living in a time where a lot of folks are afraid to reach out," she said. "…People are afraid to make themselves a target."
Hadden said called the ICE raids "immoral" and "unnecessary."
"These threats are super harmful to our neighborhood as a whole and in our city it creates a culture of fear," she said.
The National Immigrant Justice Center, Illinois Coalition for Immigrant and Refugee Rights and Paso West Suburban Action Project condemned the planned sweeps and issued a guide on how to defend one's rights during the ICE actions. 
In Albany Park, Rodriguez asked witnesses or families impacted by the sweeps to call ICIRR's Family Support Hotline at 1-855-435-7693.
While the city can't stop ICE from enforcing federal immigration law, city officials could do their part informing their communities of their rights and move toward becoming a "true sanctuary" city," Ramirez-Rosa said.
"We will continue to work towards amending Chicago's Welcoming City Ordinance to ensure the City is not sharing information or working with ICE to deport any Chicagoans," Ald. Ramirez-Rosa said.
U.S. Immigration and Custom Enforcement officials did not return multiple requests for comment.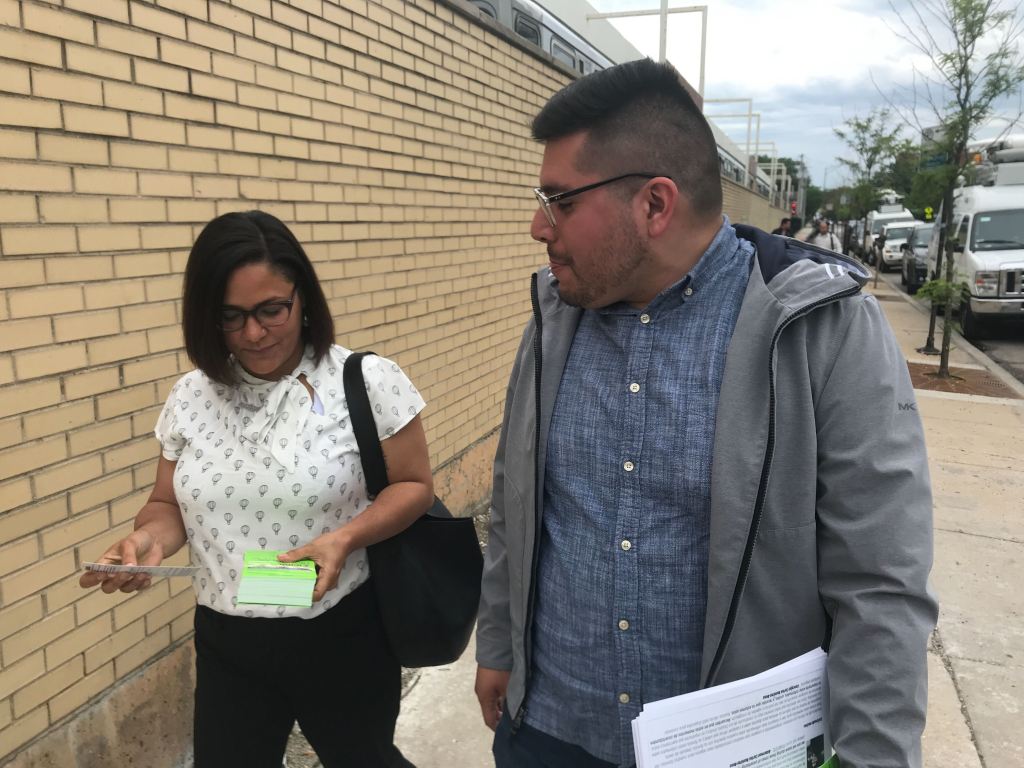 Welcoming city ordinance
In 2016, City Council approved an amendment to Emanuel's original 2013 Welcoming City ordinance. The ordinance limits interactions police and other city employees have with ICE.
As part of the ordinance, local officials are not allowed to ask a person's immigration status or turn undocumented immigrants over to federal agents.
President Donald Trump's administration has repeatedly slammed Chicago and other "sanctuary cities" for their reluctance to cooperate with ICE, and threatened to yank federal funds. Those actions were ultimately blocked by a federal judge. 
The 2016 amendment provided additional protections to undocumented immigrants, barring city officials from threatening to reveal the immigration status of a person to federal officials or verbally abusing immigrants based on their race, citizenship, or country of origin.
Do stories like this matter to you? Subscribe to Block Club Chicago. Every dime we make funds reporting from Chicago's neighborhoods.