BOYSTOWN — Some LGBTQ Chicagoans are calling for a boycott of vintage clothing and costume store Beatnix after its owner called the police on two customers who found a Confederate flag vest for sale among its merchandise and complained to the owner.
Dennis Byrd said he and a group of friends were shopping in Beatnix, 3400 N. Halsted St., on May 25 when one of his friends, Dan Shade, called him over and showed him a Confederate flag-styled leather vest that was hanging near the front of the store.
RELATED: Rap Ban May Be Lifted At Progress Bar, But Boystown Needs To Confront Its History Of Racism, Activists Say
"Being an African American, especially having grown up in the Deep South, this vest was jarring to me," Byrd said. "We've been in Beatnix many times and always thought it was a place that's comfortable and safe for all people."
Byrd said he and Shade, a white man, took the vest to the cashier to express concern that it was on the floor. They said they were directed to a store manager and then to owner Keith Bucceri.
Byrd said the exchange escalated quickly when Bucceri immediately got "aggressive and dismissive" about their concerns.
"He kept cutting me off and said we were trying to make this an issue that it didn't need to be, but he would take it off the shelf," Byrd said. "He told us they sold the vest for people who may need costumes for a TV show or a play, but my point was a Confederate flag should have never been in the store with all these Pride flags to begin with."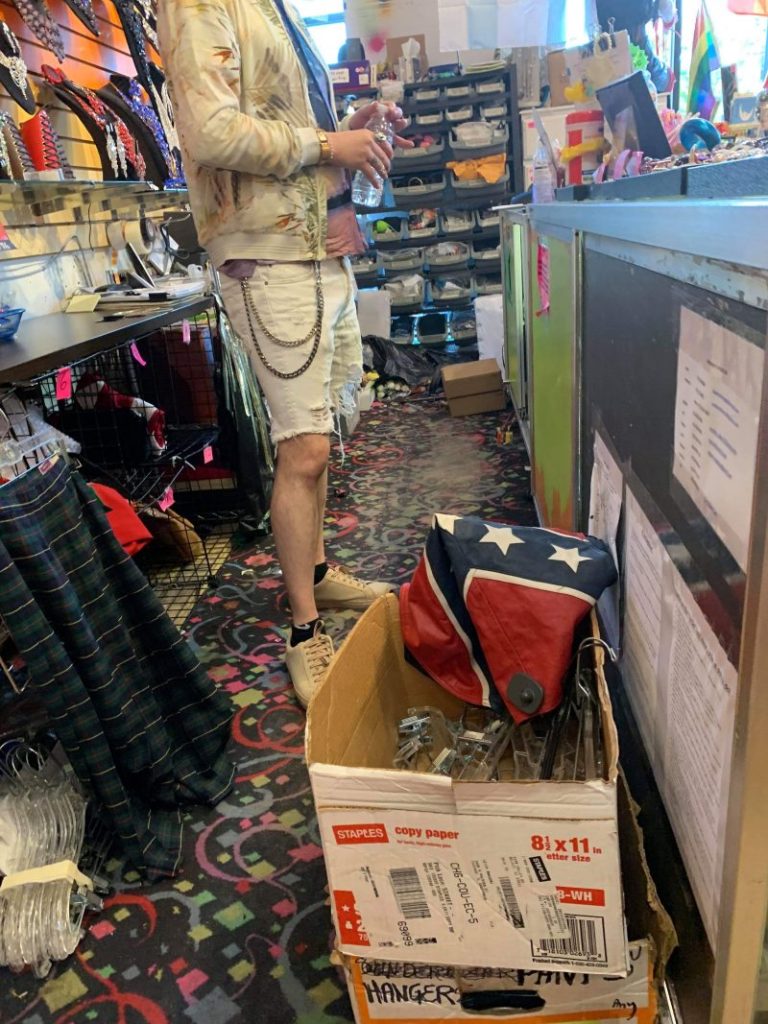 Byrd said Bucceri kept telling them to shut up and asked them to leave, threatening to call the police if they didn't. Byrd said he contested, and Bucceri told one of the employees to call police.
"At that point, I thought about how this could look to police with me, a black man, in this man's store. I worried things could get really bad, so my friends and I left," Byrd said, adding that he asked his friend Shade to run back inside quickly to take a photo of the Confederate flag vest.
A Chicago Police spokesman confirmed that a call was made at 6:42 p.m. reporting a man refusing to leave the store, but no police report was filed.
Bucceri said he asked Byrd and Shade to leave and had the police called because they kept accusing him of being racist and wouldn't leave after being asked to.
According to Bucceri, the vest was accidentally put out in the store's main floor, rather than in the basement where he keeps all other vintage clothing. He said the employee who was stocking mistook the Confederate flag for a British flag.
"They were clearly trying to make this a problem that wasn't there and wouldn't listen," Bucceri said. "We would never do anything at this store with the intent of doing a racist thing."
Bucceri said that at the time, he didn't fully realize the history behind the flag and why it would be offensive. He added that he wouldn't want anyone to feel offended again, so he took the vest down.
"I know I probably could have been nicer to them, but I just wasn't going to let them stand there and call me a racist," Bucceri said. "I do see how I could have been more sensitive, but if they approached me differently, this could have ended better for all of us."
The incident happened in the same week that Progress Bar, located across the street from Beatnix, came under fire for attempting to implement a ban on rap music.
Later that night, Byrd shared the photo of the Confederate flag along with his account of the incident in a Facebook post that's been shared more than 1,500 times.
The Beatnix Facebook page was also flooded with dozens of negative reviews calling for a boycott of the store. A few older reviews from the last few years were resurfaced, bringing to light customers who claimed to have experienced racial profiling and an unwelcoming environment.
"When our post went viral, I think some people assumed it was a cancel culture- or bandwagon-type situation," Shade said. "But we found a history of things like this happening, and it made me wonder who I'm not paying attention to or who's being silenced in this community."
The store responded to one of the recent negative reviews, saying "We do not sell that type of merchandise normally […] it was taken off the floor and the customer didn't want to stop going on about it and when he wouldn't stop..was asked to leave and yes the police were called[…]"
"If you choose not to come to Beatnix that is your choice, but based on this sloppy person's very poor listening skills and insistence on arguing a point unnecessarily since the item in question was taken off the floor..it seems irrational," the response continued.
Byrd said numerous former employees and customers of Beatnix reached out to him privately since his initial post to share similar experiences at the store.
Christian Anguiano, a former employee who worked at Beatnix more than 10 years ago, reached out and said he was not surprised by the incident.
"The rule from day one was that anytime you see black people in the store, you're supposed to follow them and continuously offer to help them or suggest items so they get annoyed and leave," Anguiano claimed. "We were told to ask any black person for their bag to hold behind the counter, and if anyone else was nearby, ask for their bag too so the customers won't say anything."
Bucceri denied instructing his staff to pay close attention to black customers, saying that he instructs them to keep a watchful eye on all customers, regardless or race, because theft is a major issue.
"We lose about $100,000 a year due to theft, and it's almost put me out of business many times," Bucceri said. "People say that checking bags is racist, but we check everyone's bags because all kinds of people steal."
Armand Fields, also known as Cleo Pockalipps, the first black drag queen to win Roscoe's Drag Race, said they worked at Beatnix a few years ago but quit after a month because "it just wasn't worth it."
Fields said after quitting, they once were shopping in Beatnix when they witnessed Bucceri use the N-word after calling the police on a group of black youth.
"I walked out of that store and haven't ever shopped there again," Fields said.
Anguiano also said he's heard Bucceri use the N-word.
Bucceri said Beatnix is not racist in its treatment of customers.
"I've been on Halsted for 30 years, so there have probably been incidents that weren't perfect or things said that weren't perfect, but that's not the intent," Bucceri said.
Do stories like this matter to you? Subscribe to Block Club Chicago. Every dime we make funds reporting from Chicago's neighborhoods.