BOYSTOWN — Protesters condemning Progress Bar's brief and controversial rap music ban gathered Sunday afternoon in the 7-Eleven parking lot across the street to denounce racism in the Boystown neighborhood.
The ban, which was announced in an internal email that leaked to social media last week, has since been reversed, but the protest near the bar at 3359 N. Halsted St. was held to discuss how it "symbolizes that some people's lives are valued above others in Boystown," according to Jamie Frazier, lead pastor at Lighthouse Church of Chicago.
The mostly African-American and LGBTQ-inclusive church organized the protest with Affinity Community Services and the Chicago Black Gay Men's Caucus.
"This rap ban is a master class in white privilege, because Justin [Romme], the owner of Progress Bar, executed this rap ban unilaterally," Frazier said. "By banning rap music, […] the message he sent to the community is that not all lives matter, and so we have come here today to raise our voices and say that black lives do matter."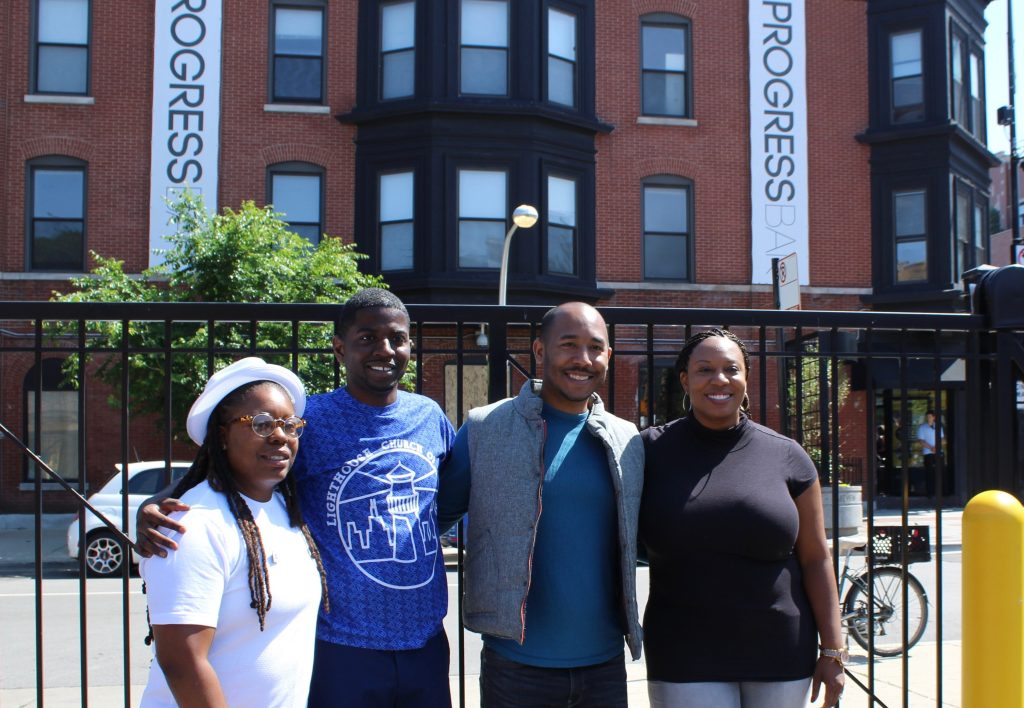 Frazier said the rap music ban was particularly problematic given Progress' status as one of the only Boystown bars that "played music and created an experience that mattered to black and brown LGBT folk."
Romme apologized in a Facebook post the day after the email leaked, announcing the ban would no longer be implemented and that the email "did not reflect the values of Progress Bar." A bar spokesman told Block Club Chicago that Romme welcomed the protest and has reached out to leaders in Boystown and the larger LGBTQ community to continue discussions about the incident being part of a larger issue in the neighborhood.
Across the street to the south of the protest, Progress was open with a moderately sized crowd of customers. To the west, about a dozen police officers were stationed outside Beatnix, which also came under fire last week when its store owner had police called on a black customer who found a Confederate flag vest in its merchandise.
Frazier said the protesters were continuing a years-long conversation about racism in Boystown, highlighting activists like Vernita Gray, Minister Lois Bates and Jackie Anderson, who stood up against racism in Chicago's LGBTQ community in the past.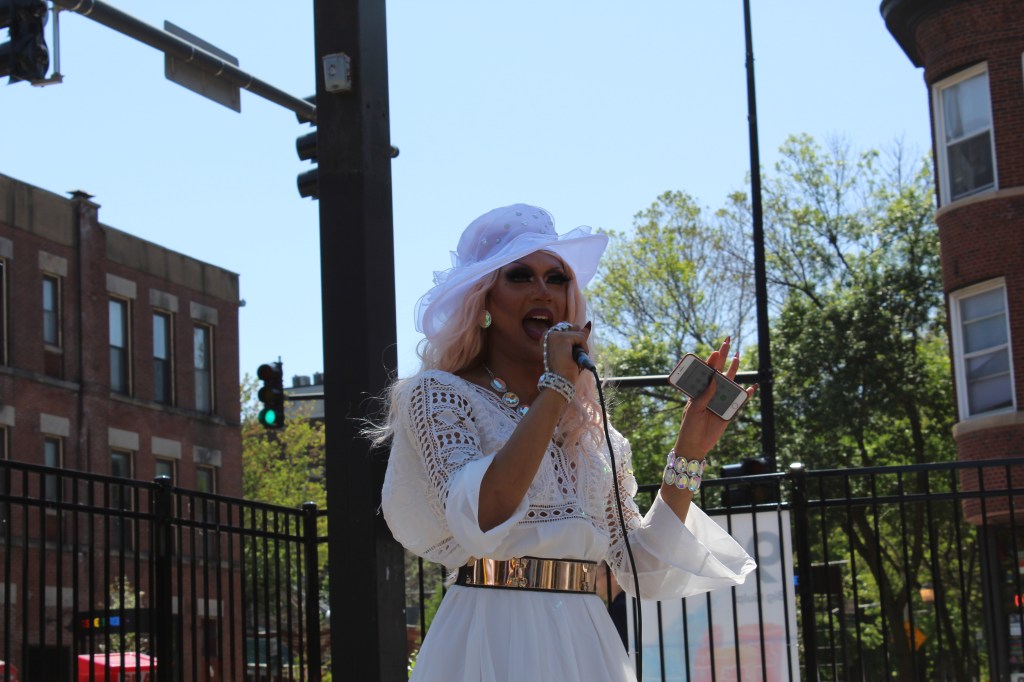 Anna DeShawn, board president of black LGBTQ social justice organization Affinity Community Services, led protesters in singing "Ella's Song" before echoing Frazier in saying that racism has existed in Boystown for decades. She invoked Pat McCombs, who protested racist policies in Boystown in the '70s, when bars targeted black people specifically in checking for multiple forms of ID.
DeShawn commended the person who leaked Progress' internal email, likening their bravery to that of McCombs, Marsha P. Johnson and Sylvia Rivera.
"Remember that Pride started with a riot," DeShawn said. "Pride should always be a protest. We should never be so comfortable in our joyous celebrations that we forget the work that must be done."
Erik Glenn, executive director of the Chicago Black Gay Men's Caucus, read a statement from the organization, first addressing Progress' reputation as the go-to bar for black LGBTQ people in Boystown.
"Progress' no-rap policy, however short-lived, has tarnished that standing," Glenn said. "It's a painful reminder of thinly veiled efforts to push Black people out of mixed spaces."
Glenn reminded protesters of past anti-black policies, such as people in the the Take Back Boystown movement referring to black people as "savage monkeys," the police shutdown of Pride at Montrose in 2016 and the outlawing of street parking.
Imani Rupert-Gordon, executive director of Affinity Community Services, said Progress' rap music ban is a reminder that oppression still exists within marginalized communities. LGBTQ people still experience racism, sexism and other forms of oppression just like non-LGBTQ people do, she said.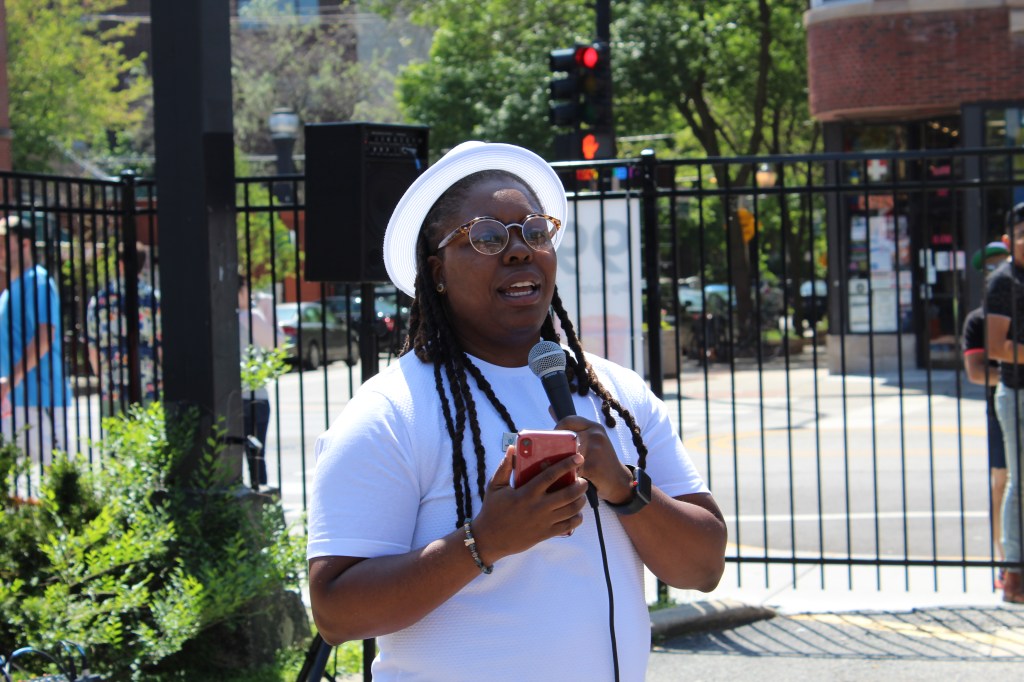 "The movement for justice for LGBTQ+ people is not inherently anti-racist. We have to work to be anti-racist," Rupert-Gordon said. "There has to be room for growth and to learn from our mistakes, […] but let us remember the price of this education isn't free, and too often it comes at the expense and on the backs of those that already experience oppression."
Before closing the gathering with a rap music dance party, led by drag queen Mikki Miraj, Frazier invited attendees to a community meeting to organize against racism in Boystown on Wednesday, June 5 at 7 p.m. at Lighthouse Church, 2335 N. Orchard St.
"There are a lot of folks who like the way things are in Boystown, so they trust that for you, […] Pride is just about walking through the streets," Frazier said. "It is about that, but it's also about more. This month in June can be an opportunity for Boystown to recapture Pride's soul."
Do stories like this matter to you? Subscribe to Block Club Chicago. Every dime we make funds reporting from Chicago's neighborhoods.