CHICAGO — Mary Difino is a Chicago Public Schools social worker, responsible for nearly 1,000 students at two different schools. She splits her time between schools and is buried with paperwork that takes up 75 percent of her time.
"I question how much I'm helping," she said.
Difino's story is the norm for social workers at CPS, where the majority of schools do not have at least one full-time social worker.
There is currently one social worker for every 865 students, and most split time between two schools. CPS said there are 346 full-time social workers for nearly 299,394 students at neighborhood schools.
If that sounds like an impossible caseload, that's because it is, according to the National Association of Social Workers. They recommend one social worker for every 250 students, and one social worker for every 50 students in schools with high levels of trauma.
Multiple social workers talked to Block Club Chicago about their lack of an office, unmanageable caseloads and being gutted as they watch kids fall through the cracks when they can't keep up.
When it comes to charter schools, the numbers are a mystery. CPS doesn't keep track. The district does track the number of social workers managing Individual Education Plans (IEPs) at charter schools, as required by law, but a spokeswoman said they were not able to provide them at this time.
Kyle Hillman, director of legislative affairs for Illinois' National Association-Social Workers chapter, said the lack of transparency from the district regarding social workers is a problem.
"Considering CPS has not prioritized mental health in their schools outside of IEPs, it completely makes sense that they would not be tracking social workers in charter schools," he said.
Chris Geovanis, communications director for the Chicago Teachers Union, believes the ratio of social workers to students is likely worse than CPS acknowledges.
"I would be cautious of using the numbers provided by CPS," she said. "Because we know there are mistakes in the district files. The information is only as good as the data is."
Either way, Geovanis said one social worker for every 865 students is not okay.
"We are talking about a student population that has higher than average trauma," she said. "We oughta be working at a rate of one to 50 and instead we are rolling at around one to 800, at best."
District CEO Janice Jackson committed to hiring 160 social workers last year, but 125 of those budgeted positions have not been filled.
CPS spokeswoman Emily Bolton said the numbers are better than they've been in nearly a decade. If the district is able to fill the budgeted social worker positions, there will be one for every 635 students.
"We have been and will continue to aggressively recruit and hire social workers and expect to start next school year with more school social workers," Bolton said.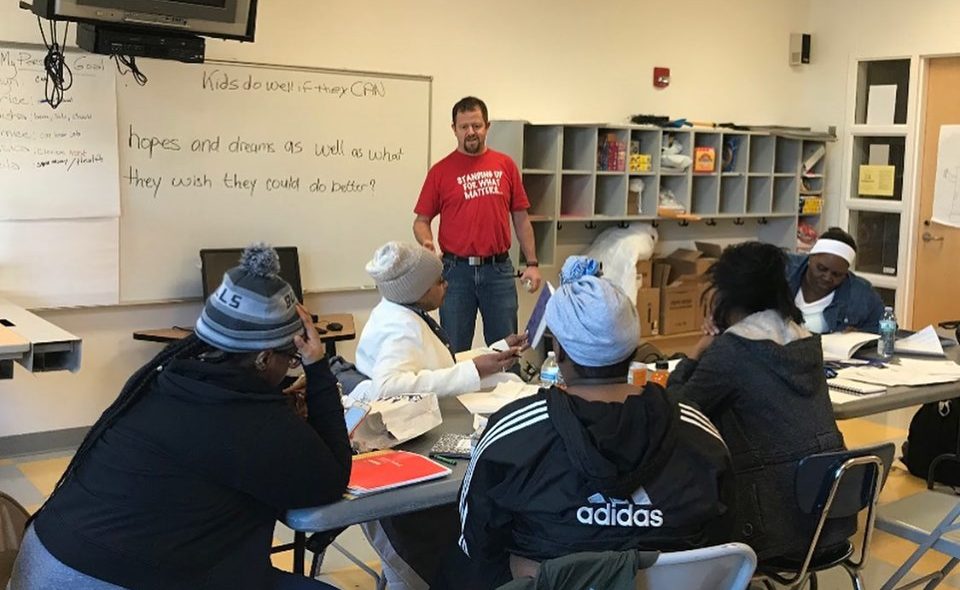 'The System Gives Us No Time To Heal'
Multiple social workers who spoke with Block Club called the lack of social workers a mental health crisis, especially for students who have experienced trauma.
CPS social worker Erin Matthews said the impossible caseload, coupled with high levels of student trauma, has given her "vicarious PTSD."
"The system gives us no time to heal, because the next day there are more kids to see," Matthews said.
The social workers said they spend the majority of their time working with special education students — who require Individual Education Plans or IEPs — to meet state and federal requirements.
Those IEPs lead to more funding for the schools, but it's a vicious cycle, because other students aren't getting the level of attention they need.
Social worker David Temkin said former Mayor Rahm Emanuel's decision to fund schools based on population instead of need — which is not how the rest of the state budgets — has led to the commodification of education. He also said charter schools are exploiting that formula and taking money away from neighborhood schools that badly need more student mental health resources.
"About a decade ago, people realized they could make money in education," he said.
While social workers struggle to meet the demands of their special education students, students without IEPs — the bulk of the enrollment — are being left behind.
"General education students just aren't on any social worker's radar," Matthews said.
"I feel very limited and frankly I feel like I have to turn hurting children away," Difino said. "Because there's so much pressure to meet these [IEP demands]."
That means kids experiencing homelessness, immigrants, refugees and those who experienced violence at a very young age are left behind, Matthews said.
"There is nothing for general education students," Matthews said.
Hillman said that social workers he speaks to almost always admit that nearly 100 percent of their time is spent with special education students.
When social workers do see a general education student — usually during a crisis — at best, they do a risk assessment, he said. Often those students are referred to outside services, like a therapist.
"We know many of those kids are highly unlikely to ever actually go to that service," he said.
'Our Kids Are Getting Shortchanged'
When social workers are able to carve out precious moments to meet with general education students, many of them don't have a designated office space. Difino is often scrambling to find an empty cafeteria, gym or storage space to meet with students.
For students discussing trauma, that's a real problem.
Difino said she wishes she had a designated space to make students feel safe, private and nurtured.
Erin Matthews has a science table in a space she shares with seven other clinicians. At her other school she has a designated office.
The inability to help hurting general education students takes a toll on social workers. The guilt many of them feel makes it difficult to practice self-care, rendering them even less equipped to handle an impossible caseload.
"What would it have looked like if Laquan McDonald would have had social workers in his life who actually had the capacity to invest in him?" Difino said.
Fifth-grade teacher Erika Wozniak tries to fill the social emotional gap left by overburdened social workers. She spends 30 minutes to an hour each day working on social emotional learning with her students.
"That's not what I'm trained in," she said. "I'm not trained in conflict resolution."
Wozniak said she dreams of an educational landscape where her school has three or four social workers — and being able to sit down with a social worker once a week in order to find out what is going on with her students at home.
Instead, Wozniak has to balance education with the social and emotional needs of her students. She feels like she has to wear two hats.
"I know that our kids are getting shortchanged," she said.
Wozniak, who ran for alderman in the 46th Ward this year, made advocating for more school social workers a cornerstone of her campaign. She recently started a petition to get at least one social worker in every school.
For comparison, New Trier High School in Winnetka — a school with abundant resources that consistently ranks near the top of Illinois schools — employs 10 full-time social workers for about 4,000 students.
Hillman is on a mission to get CPS kids that level of support. He's been promoting a bill in Springfield that would create grants for schools to apply for more social workers if the school has higher than average disciplinary records. The bill, SB 1941, passed the House and is waiting to make it to Gov. J.B. Pritzker's desk.
He's also working with Lurie Children's Hospital on a "Rethink Safety" campaign, which asks government officials and educators to rethink what safety in schools looks like.
"They are always talking about more metal detectors or police and school officers," he said. "But what we need is more social workers and nurses."
'We Need To Put Our Money Where Our Mouth Is'
There are some good things on the horizon.
Hillman said he's excited about school-based health clinics. They have already been piloted in some CPS schools and Hillman said they are seeing "amazing results."
The way it works is that a school builds an on-site health clinic and staffs it with a Licensed Clinical Social Worker and an Advanced Nurse Practitioner. This allows any student who is dealing with a mental or physical health issue to be seen immediately and without leaving school.
The best part, said Hillman, is that while the upfront cost of building the clinic can be pricey (He estimates between $300,000 to $350,000), it saves money in the long run. When students go to the on-site clinic, the school can bill Medicaid or the student's private insurance provider.
Sullivan High School in Rogers Park added a full-time clinic during school hours. Hillman said disciplinary incidents there have plummeted.
"It's absolutely changed the game for Sullivan," he said.
Emily Penn is a school social worker who is also an executive board member for the Chicago Teachers Union. Although getting at least one social worker per school would be nice, that's not enough, she said.
Penn said if people are really serious about addressing Chicago's mental health crisis, politicians need to step up and find the money to employ more social workers.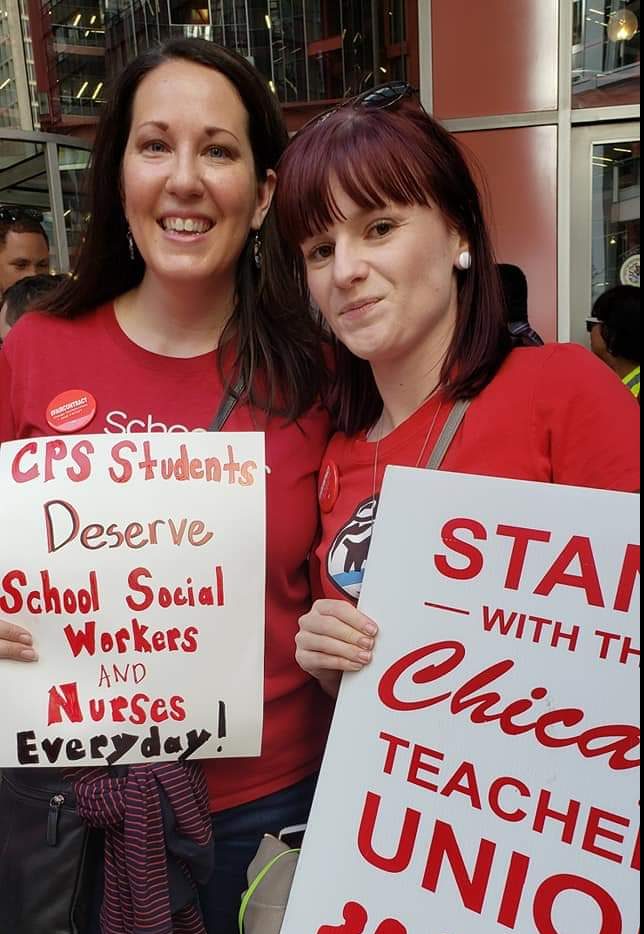 "I think that all of our children need to be prioritized and the trauma is real all across the city," she said.
Penn has done some rough math and she believes that $63 million would be enough to employ at least one social worker for every 250 students at CPS —  just over 1 percent of CPS's 2018 operating budget of $6 billion.
"It sounds like a drop in the bucket when you put it that way," she said. "Neighborhoods with chronic poverty, violence and stress — those students need even more support."
What would it look like to get a safer ratio of social workers at CPS?
Social workers said it would mean a chance to work with kids outside their school lives. It would mean a chance to interact with parents on a regular basis.
With the gift of time, social workers could meet with teachers to discuss students and their individual social and emotional challenges.
Teachers could focus on teaching. Counselors (who often help fill the gap left by the lack of social workers) could focus on getting students to college.
Hillman believes that truancy levels would drop and disciplinary incidents would fall, too — freeing time for administrators to better manage their schools.
During her campaign, new Mayor Lori Lightfoot said she is committed to boosting the number of social workers at CPS.
When asked if she would commit to getting at least one social worker in every school, her office said "the mayor believes in ensuring students receive the supports they need in order for them to receive a high quality education, and she looks forward to working with the district and teachers to strengthen services for students both in the classroom and in the community."
With contract negotiations between the city and CTU on Lightfoot's doorstep, Difino hopes that social workers will take priority.
"If we are serious about mental health in Chicago, then we need to put our money where our mouth is," she said.
In one of Difino's two schools, 96 percent are low-income students; 43 percent are experiencing homelessness and 15 percent have disabilities. Difino believes they could all benefit from regular access to a social worker.
Difino tears up when discussing what some of her kids are facing, and said she dreams of settling into one school full-time to better focus on them.
"I wish I could at least be in one place," she said. "I wish I could be that stable person for them every single day."
Do stories like this matter to you? Subscribe to Block Club Chicago. Every dime we make funds reporting from Chicago's neighborhoods.