DOWNTOWN — Chicago has continued to shrink, according to new data from the Census Bureau.
The city's 2018 population fell to 2,705,994 — meaning Chicago is still the third-largest city in the country, but it's continuing its years-long trend of losing people, according to data released Thursday from the Census Bureau.
In 2017, the city's population was an estimated 2,713,067 people, meaning Chicago lost about 7,073 people.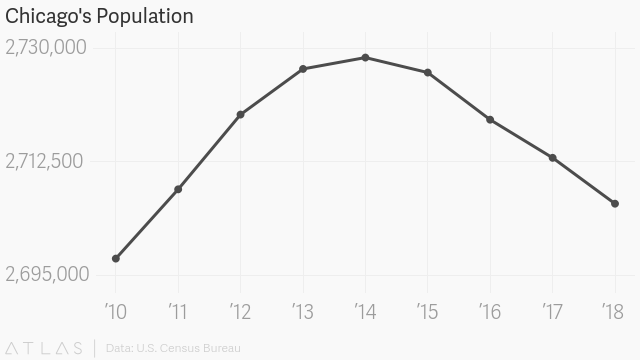 The city's population has been declining since 2014, when it was home to an estimated 2,728,524 people.
Much of the recent loss has been driven by the exodus of black people from the city, with Chicago's black population expected to drop from a high of 1.2 million in the '80s to 665,000 by 2030, according to reports.
Experts have said black Chicagoans who leave are often moving out of the region entirely, perhaps motivated to go by the city's reputation for crime, a lack of investment in their communities, school closures on the West and South sides, a desire to seek better job opportunities and, for some, a wish to reconnect with family and old friends in the American South.
Listen To "Exodus: Movement of the People," Josh McGhee's 5-Part WVON documentary series on the decline of Chicago's black population, here.
It's been predicted Chicago's falling population, coupled with the quick growth of cities in the West and South, could mean Chicago will be replaced by Houston as the nation's third-largest city by 2030.
The Texas city had an estimated population of 2,325,502 in 2018 — meaning it grew by more than 8,000 people since last year.
Here's a look at our population since 2010:
2017: 2,713,067
2016: 2,718,946
2015: 2,726,215
2014: 2,728,524
2013: 2,726,772
2012: 2,719,735
2011: 2,708,209
2010: 2,697,529
Do stories like this matter to you? Subscribe to Block Club Chicago. Every dime we make funds reporting from Chicago's neighborhoods.