ROGERS PARK — After undergoing repairs last year, the Rogers Park shoreline is already taking a beating.  
With a long, cold winter and an above-average amount of rain this spring, erosion on the shoreline has accelerated. At Juneway Beach, the erosion caused the loss of a fully mature tree that was beloved by neighbors.
"I have enjoyed the shade of that beautiful tree so many times," said Rogers Park resident Cassie Lively.
Scores of neighbors lamented the loss of the tree in multiple Rogers Park community Facebook groups.
Rogers Park beaches underwent fortifications by the Army Corps of Engineers just last year. But it appears as though the breakwater walls are already beginning to fall into the lake from accelerated erosion.
New Alderwoman Maria Hadden (49th) said the shoreline erosion was on her radar during her early days in office.
"We have some serious deterioration that has been happening for a while," she said. "[The Army Corps] shored up last summer but it's a large cost for a full repair. We have been in contact with state officials about it and will be looking to be briefed by the [Chicago Park District], CDOT and the Army Corps of Engineers."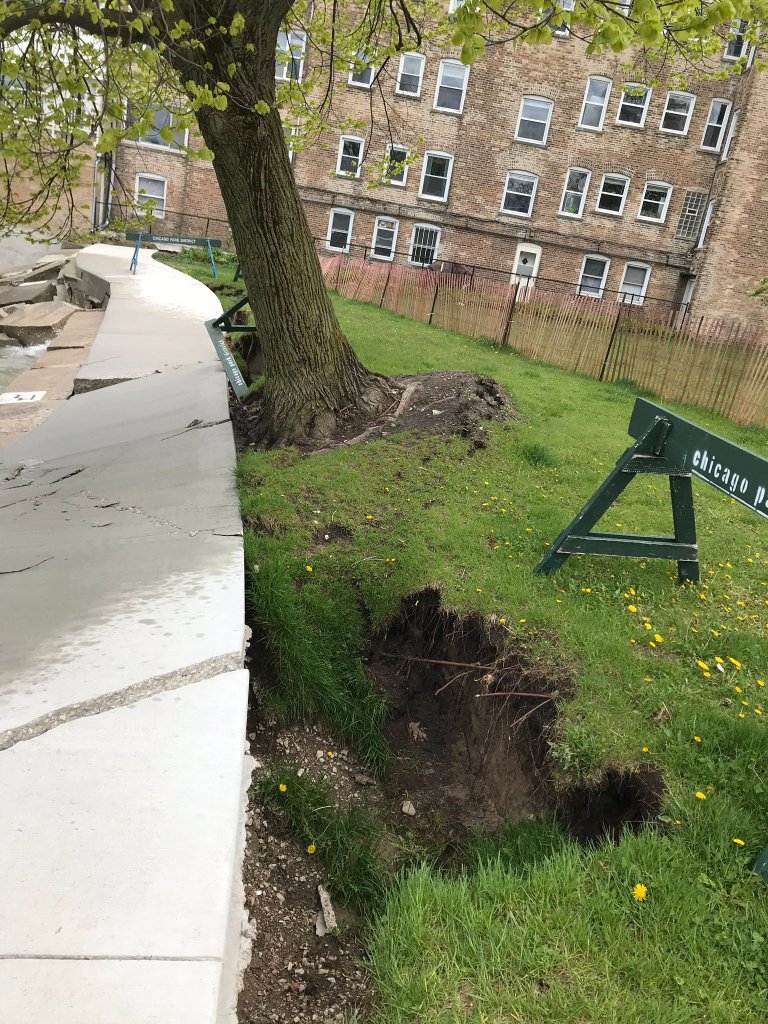 Spokesperson for the Alliance for the Great Lakes, Jennifer Caddick, confirmed that higher-than-usual lake levels are leading to an increase in erosion. Though not record-breaking, Lake Michigan water levels are at a much higher level than experts expected.
The loss of the large tree on Juneway has many residents wondering what might happen next.
The Greater Eastlake Terrace Park Advisory Council — a coalition of neighbors committed to protecting and preserving the Rogers Park shoreline — posted an email they received from the Chicago Park District regarding the lost tree.
"Our Horticulture staff did a complete assessment of the tree at Juneway this morning," the Park District spokesperson told the group. "The entire root system is compromised and there is no way to save it."
The spokesperson went on to say that new trees would be planted to replace the lost tree, but this time they would not be planted so close to the shoreline.
Both the Park District and The Army Corps of Engineers did not respond to Block Club's requests for comment.
Therese DeTolla, President of the Greater Eastlake Terrace Park Advisory Council, said that the erosion is not being given enough attention by the park district.
"[We] have been providing the Chicago Park District with regular updates and pictures of the destruction of our three beaches since the fall," she said. "That tree on Juneway Beach Park should not have been lost if the park district were proactive."
Do stories like this matter to you? Subscribe to Block Club Chicago. Every dime we make funds reporting from Chicago's neighborhoods.