BUCKTOWN — Stanley's Fresh Fruit & Vegetable Market employees showed up to work Monday morning to find themselves out of a job.
Last summer, the family-owned business founded in 1967 went up for sale, as the family sought to find how much they could get for their land near the fast-changing North Branch of the Chicago River.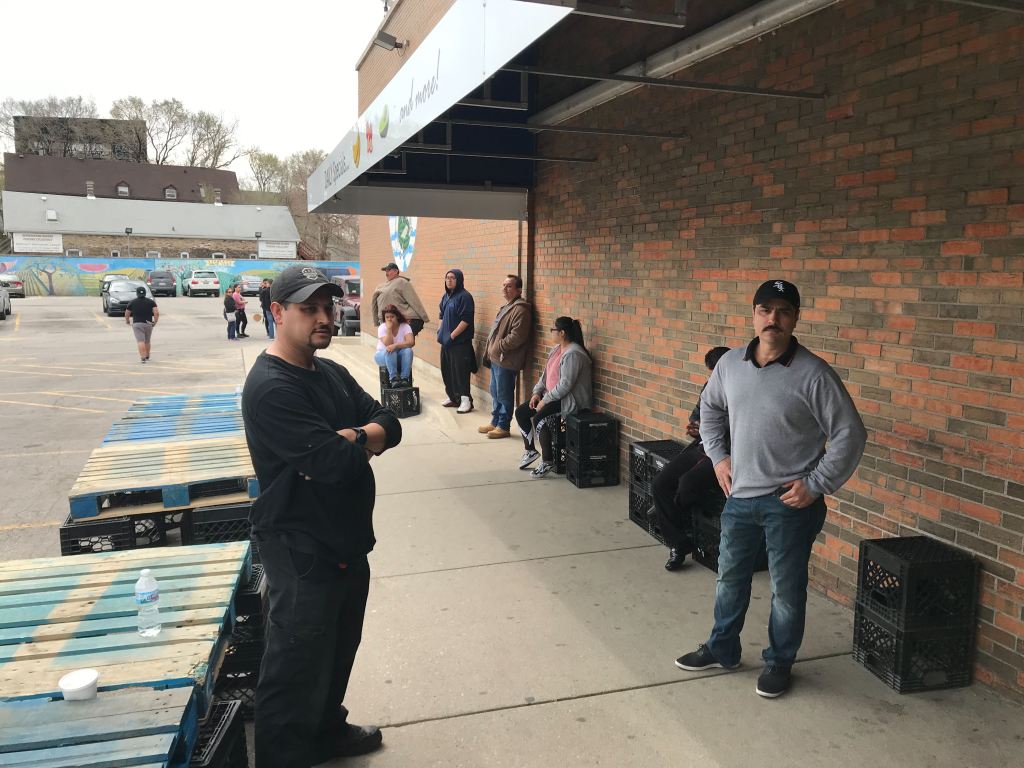 On Monday, employees showed up to the market, 1558 N. Elston Ave., to find a sign on the door: "Closed for Remodeling," the sign reads. "Employees come Wednesday for your checks. Thank you. The Mgmt."
The owner, Stanley Peters, and his family showed up at 11 a.m. and refused to address the employees — some of whom had been waiting for answers in the parking lot since 6:30 a.m. One manager came outside and told the employees to come at 2 p.m. Wednesday to pick up their checks.
Nick Pappas, an attorney for the Peters family, said they had been dipping into their personal savings for the last few years to keep Stanley's afloat. In the last few years, two Mariano's, a Costco and the biggest Whole Foods in the city opened up within a stone's throw of the store.
Between Stanley's sickness and the changing neighborhood, the business was no longer viable, Pappas said.
"These people are like family to them," Pappas said. "Would it have been nice to have told them earlier? Of course. But it was a decision that was made last night."
He added there was "no malice" intended, since the decision to close was made last night and the sign was posted today.
Stanley's nephew, who refused to provide his name, called the group of employees a "mob riot." He told Block Club Chicago that even though the posted sign said "closed for remodeling," Stanley Peters, who is very ill and on dialysis, had made the decision to close the store indefinitely. Peters planned to donate the remaining produce to the food bank, the nephew said.
"I know he's been fair to them all," the nephew said. "Sometimes you get to that age and you say enough is enough."
The employees gathered outside said their longtime boss' behavior was hardly "fair." They claimed that they have had late checks and bounced checks. To fire them all on a Monday morning with no notice whatsoever angered Inosente Delgado, 49, who has worked at Stanley's since 1985. He commuted from the Northwest Side at 6 a.m.
"You feel sad, disappointed," he said. "I have 32 years here."

Victoria Camacho, 23, got a call at 7 a.m. from one of the cashiers she oversees. There was a sign on the door, the cashier said. Camacho, who has worked at Stanley's for three years, arrived at 8 a.m. to meet a few dozen of her co-workers. Some had arrived as early as 6:30 a.m. after commuting from as far as Midway Airport, she said.

Even though the sign said "closed for remodeling," they figured that wasn't the case.
"We've been very low in produce, and I kept asking, 'Why so low?' And they said, 'It's coming. It's coming,'" she said. "We haven't had eggs. The deli closed on Friday because there was no deli meat."
With its iconic sign featuring founder Stanley Peters smoking a pipe and sitting atop a watermelon-turned-helicopter in the clouds, the market is just west of the proposed Lincoln Yards development, where developer Sterling Bay aims to invest $5 billion into a sprawling residential, office, hospitality, recreational and entertainment district
Peters, who is in his 80s, retired several years ago and his son and other family members continued to operate the 11,000 square-foot store, which offers produce on its shelves from 50 to 60 Midwest farms, organic and conventional, as well as spices and a deli counter.
A longtime customer who has been shopping at Stanley's for 20 years showed up Monday and asked employees standing outside about the closing. The woman, who did not want to give her name, said she lives in Avondale and routinely makes the commute because Stanley's store prices and selection are worth the trek.
"It's always busy," she said. "They have a great selection of organics and weekly staples. … Whole Foods is too expensive for me."
She asked the employees about their plans for the future. They shrugged.

Camacho, the cashier manager, said she hopes she finds a new job soon.
"I'll miss you all," the customer said.
The departure of Stanley's pending a sale comes as other longtime family-owned businesses disappear from the Elston corridor. Last summer, the owners of Star Car Wash, a gas station at 1901 N. Elston Ave., closed their business after selling to Sterling Bay for an undisclosed amount.
The CBRE realtor that has been working with Stanley's on the sale did not return Block Club Chicago's call. An online search through Cook County property transfers revealed no record of a recent sale of the building.
Last week, the City Council signed off on $900 million in taxpayer-funded subsidies for Sterling Bay's Lincoln Yards, which will turn 55 acres along the North Branch of the Chicago River into a new neighborhood with housing and retail.
The project includes new bridges over the Chicago River, a new Metra station, an extension of the 606 trail, water taxis, dedicated bicycle lanes as well as a potential light-rail transit way and extension of the city's street grid.