LOGAN SQUARE — If Lori Lightfoot emerges victorious in next week's runoff, she will be the first Chicago mayor in modern history to call Logan Square home.
It would be a new distinction for the historically Latino Northwest Side neighborhood, which is usually in the spotlight for its hot restaurants, gentrification and growing luxury housing stock — not mayoral ties.
Perhaps because of its new reputation, Logan Square has also become known for attracting a growing crop of young and outspoken politicians. Take Ald. Carlos Ramirez-Rosa (35th), incoming 1st Ward alderman Daniel La Spata and State Rep. Will Guzzardi (D-Logan Square), for example.
But none of that mattered to Lightfoot, 56, and her wife, Amy Eshleman, when they moved to Logan Square in 2004.
The couple simply fell in love with an 1880s-era A-frame with a quaint yard at Wrightwood Avenue and Bernard Street.
"There was something about this house that galvanized the feelings we had growing up," Lightfoot told Block Club in an interview, noting she grew up in a small town outside of Cleveland, Ohio and Eshleman grew up in western Illinois.
Lightfoot had initially moved to Chicago to attend University of Chicago Law School on a full scholarship. She eventually joined global law firm Mayer Brown before leaving to work for the U.S. attorney's office.
In 2004, the year Lightfoot and Eshleman closed on their Logan Square home, Lightfoot was working as chief administrator for the Chicago Police Department's Office of Professional Standards, which investigates police shootings and excessive force cases. Eshleman was working for the Chicago Public Library.
"I had lived in the area, whether it was Bucktown or Wicker Park, for quite a long time," Lightfoot said. "We wanted a home obviously that we could afford — both of us were city employees at the time. … We were planning on having children, so we wanted something that was large enough to accommodate us."
Some 15 years later, Lightfoot still has a deep affection for the house. She's especially fond of their quaint backyard where she tends to a vegetable garden most summers.
"I told my wife: She's going to have to bury me in that house," Lightfoot said with a laugh.
Though it was the house — not the neighborhood itself — that initially drew Lightfoot to Logan Square, the mayoral hopeful said she's grown to love the neighborhood, too.
Lightfoot pointed to the neighborhood's diversity and family-oriented feel as reasons they've stayed as long as they have. The couple now has an 11-year-old daughter.
"There's a lot of children that are the same age as my daughter. Having that feel of a neighborhood where all the kids know each other. … it's the best," she said.
But Lightfoot also acknowledges Logan Square has changed dramatically since she arrived — and many of the changes are negatively impacting the families she loves to call her neighbors.
"We've seen the recovery and vibrancy of the neighborhood, but I'm also very conscious of the fact that it's very difficult for renters and families, particularly [when it's] the only asset they have," she said.
Logan Square's Latino population has fallen by more than 20,000 in recent years, the largest drop of any neighborhood in the city. The way Lightfoot describes it, the neighborhood has become "ground zero for the affordable housing movement" in Chicago.
Asked how living in the gentrifying neighborhood has shaped her view of the challenges facing the city as a whole, Lightfoot was quick to point out that Chicago is not building "nearly enough units that accommodate families."
"I want to make sure that by transforming neighborhoods for the good we're not displacing longtime residents," she said.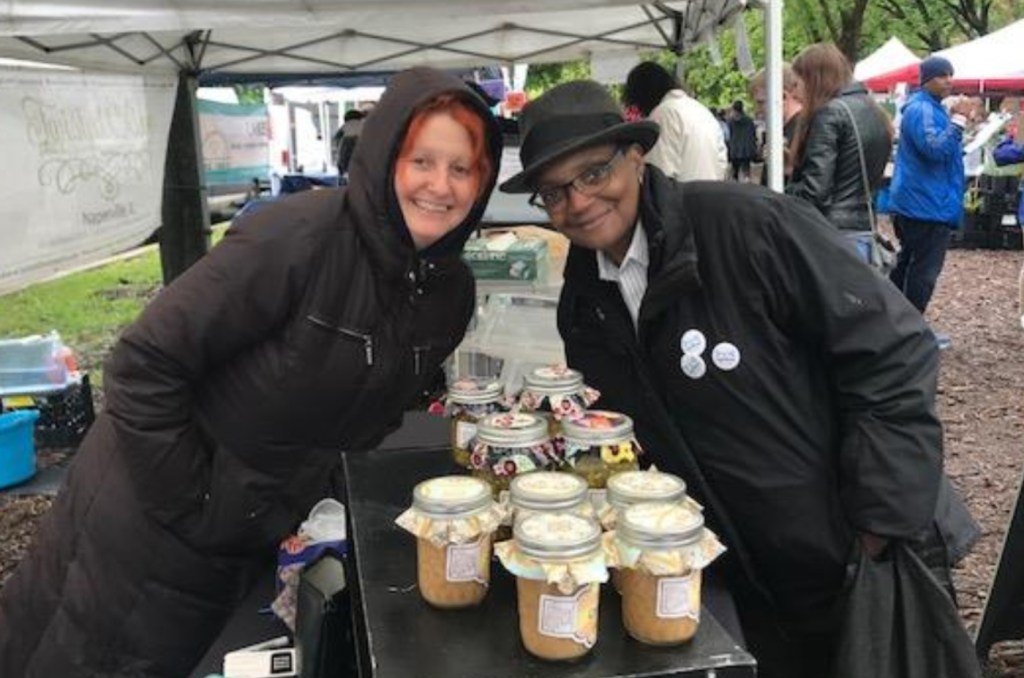 Lightfoot's favorite neighborhood spots
After living in Logan Square for about 15 years, Lightfoot has developed an affinity for certain neighborhood spots, including a massive — and typically super crowded — arcade bar.
Yes, that's right. Lightfoot is a huge fan of Emporium Logan Square at 2363 N. Milwaukee Ave. She even went as far as to call it the "best bar ever."
Lightfoot said she doesn't go there for the arcade games, but for "the vibes" and the extensive beer list.
"I'm a beer drinker. [Emporium has] a smorgasbord of beers. That, to me, is delightful," she said.
Lightfoot's other neighborhood favorites include Lula Cafe — an "iconic part of Logan Square," she said — Reno and the Logan Square Farmers Market, no matter the season.
"We have an incredible farmers market," she said.
The mayoral hopeful said she and her wife also enjoy taking their daughter to a nearby park — "my daughter has spent many an afternoon on the swings," she said — or walking their dog, a mini golden doodle, around the neighborhood.
"I love traveling to different neighborhoods, but I, of course, love coming back home," she said.
To read about what opponent Toni Preckwinkle has to say about her neighborhood, click here.
Do stories like this matter to you? Subscribe to Block Club Chicago. Every dime we make funds reporting from Chicago's neighborhoods.