LOGAN SQUARE — For years, Yelitza Rivera would pass a Puerto Rican restaurant at Fullerton and Kimball avenues on her way to work and think to herself, "One day that restaurant will be mine."
At the time, Rivera worked at a different Puerto Rican restaurant in Hermosa, where she did a little bit of everything both in the kitchen and out. But she long dreamt of opening her own restaurant — and putting her own recipes to the test.
In April 2016, that dream became a reality when Rivera opened Jibaritos Y Mas in the very storefront she admired at 3400 W. Fullerton Ave.
Jibaritos Y Mas is a love letter to Puerto Rico: The walls are covered in colorful Puerto Rico-themed murals, the speakers blare Puerto Rican music and the smell of jibarito sandwiches and plantain balls, called mofongos, waft through the air.
"I love the Puerto Rican food. I love the Puerto Rican people. They are my family," Rivera said.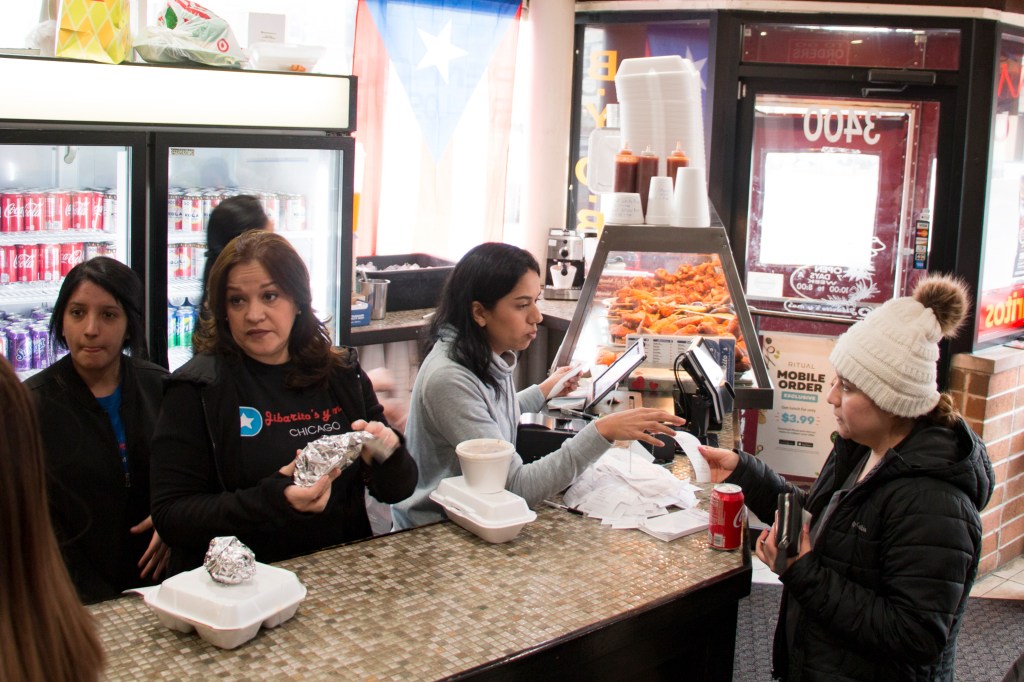 Rivera's enthusiasm for Puerto Rican food must've been contagious — the restaurant has exploded in popularity over the last few years. On any given weekday, the restaurant draws lines out the door or, at the very least, a crowd of customers huddled around the register waiting to try Rivera's food.
Last October, Rivera opened a second location at Harlem and Belmont avenues, and now she's planning to open a third location in an old cell phone store just steps from the Logan Square spot at 3406 W. Fullerton Ave. The new restaurant, which she aims to open sometime in May or June, will be dine-in only to complement the existing spot, she said.
On the eve of her first restaurant's third anniversary, Rivera said the success "feels good."
"It feels like the American dream," she said. "It exists," she added with a laugh.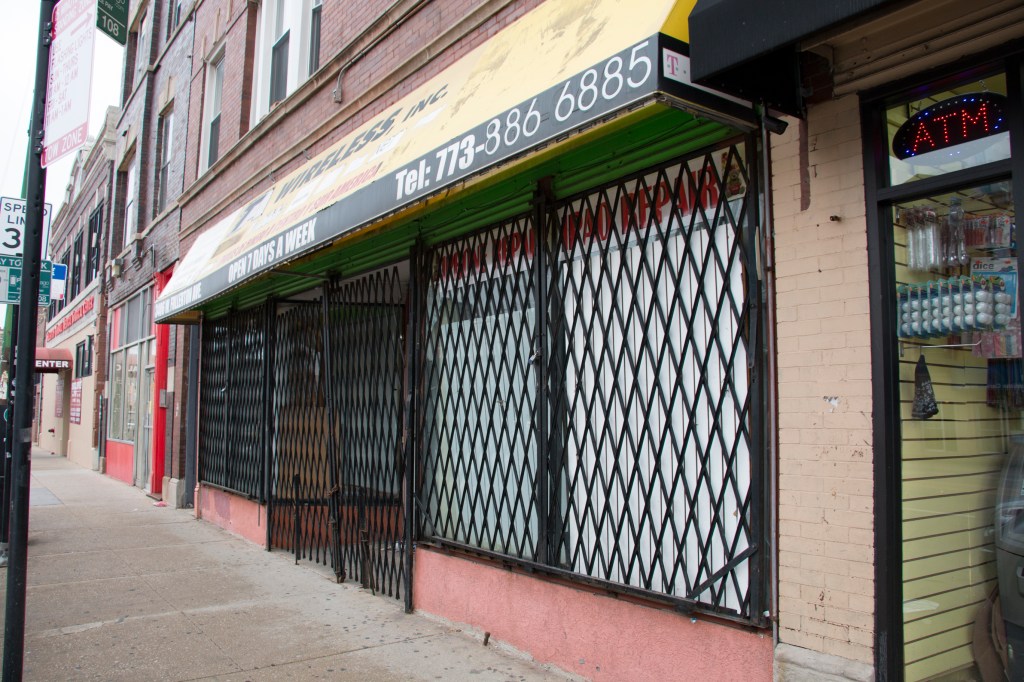 'The magic here is simple: It's great food at a great price'
Rivera, 48, is not Puerto Rican. She moved to Chicago from her hometown of Maracaibo, Venezuela, in 2000, when she was 28 years old.
Rivera has always worked in restaurants, but it was when she arrived in Chicago that she became wholly focused on cooking Puerto Rican food. Her first two years in the city she worked at a Puerto Rican restaurant in the now-shuttered Discount Megamall. She left to take a gig at Ponce Restaurant, 4313 W. Fullerton Ave., where she worked for 13 years before opening Jibaritos Y Mas.
The island — its people and its cuisine — holds a special place in Rivera's heart in more ways than one. Her husband is Puerto Rican.
"I've been making Puerto Rican food for 19 years," Rivera said. "Since the first day I arrived to this country, I started working with Puerto Rican food."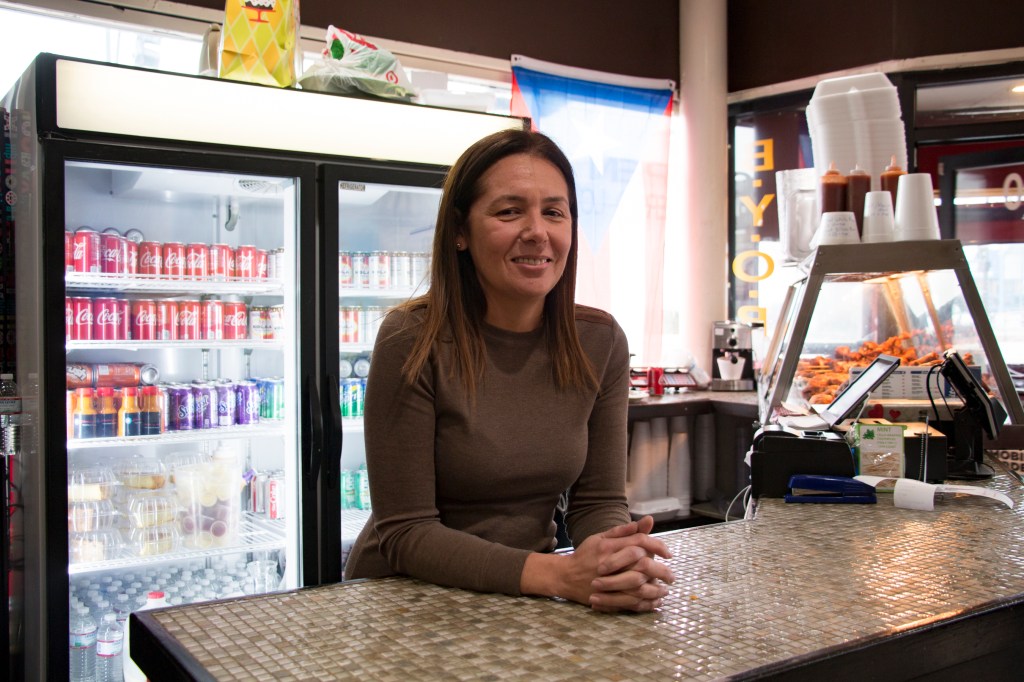 Jibaritos Y Mas is all about authentic Puerto Rican food made with fresh ingredients. The traditional jibarito, a sandwich that is believed to have originated in Chicago, is arguably the star. (Rivera and her staffers said they make anywhere from 300-500 of them per day.) But the menu is vast.
A wide variety of sandwiches and mofongos (plantain balls) filled with different types of meat and fish, traditional stews and salads, as well as a handful of entrees like carne frita encebollada — fried pork with onions — and vegetable dishes round out the menu. Prices range from $5.50 for a traditional jibarito to $16 for mofongo with shrimp and octopus in a sauce.
Rivera said she perfected the recipes after years of working in Puerto Rican restaurants.
"The magic here is simple: It's great food at a great price. I try to give my clients the best," Rivera said.
"In the evening, after we close, local churches come to get the food made for that day. Every day we start fresh … at 5 a.m."
'It tastes like your grandma made it'
Dyomayra Alaquin, 32, and Samarys Colon, 30, stopped into Jibaritos Y Mas for lunch on a recent afternoon.
In between bites, Alaquin said Jibaritos Y Mas is the only Puerto Rican restaurant she frequents, adding, "I stopped going to other ones."
"It is the same food as Puerto Rico. … sometimes it's hard to find it over here," said Alaquin, who is originally from Mayagüez, Puerto Rico.
Here's how they make jibaritos at the Logan Square restaurant:
That opinion was shared by Byron Villatoro and his wife, Lady, who live near Midway Airport. The pair routinely travel all the way from the city's Southwest Side to eat at the Logan Square restaurant.
"If we are going to eat Puerto Rican food, this is our place," Villatoro said.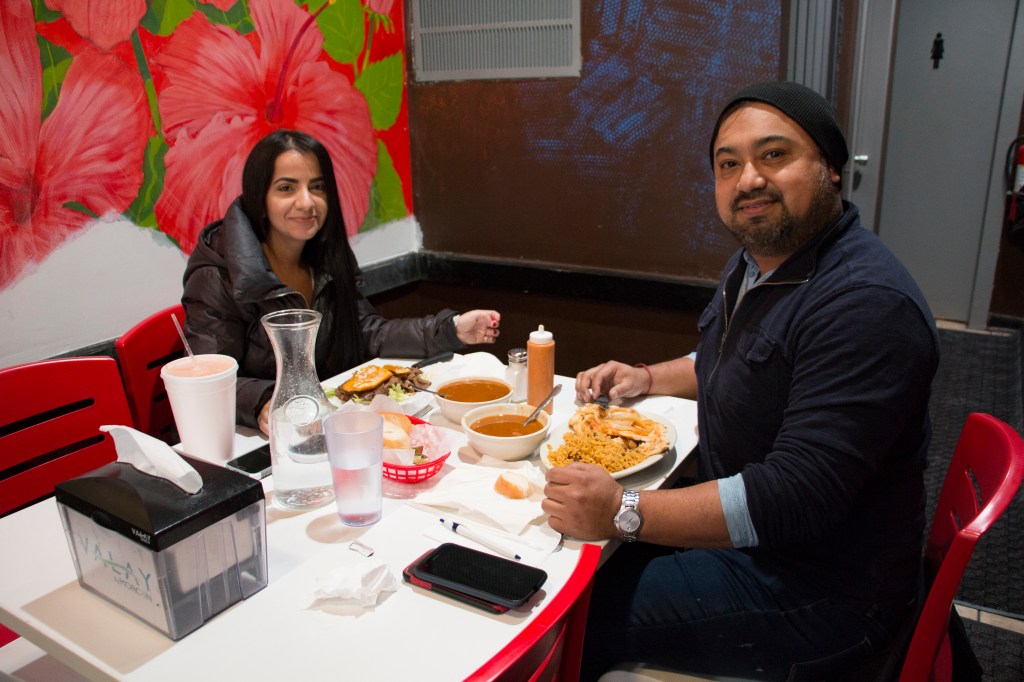 They both especially like the beans because Rivera serves them in a spicy soup, which is similar to how they're served in their home country of Colombia.
Aldermanic candidate Jessica Gutierrez, who is facing off against Ald. Ariel Reboyras in the upcoming 30th Ward runoff, was also spotted dining at the Logan Square restaurant.
Originally from Puerto Rico, Gutierrez knows good Puerto Rican food — and Jibaritos Y Mas delivers in a big way.
"It gets the highest rating, and we're really picky about our food and how it's made," Gutierrez said. "I only want my mother cooking my food. … [Jibaritos Y mas] tastes like your grandma made it."
'We make our guests feel like they are part of the family'
Jibaritos Y Mas is a tiny restaurant by most people's standards. But what it lacks in physical space, it makes up for with warmth emanating from each employee. No matter how busy it gets, employees always greet customers with a wide smile.
That's by design.
"Some places you come and sit down, you get the menu and that's it. Here we make our guests feel like they are part of the family. This is your family," Rivera said.
It's yet anther reason Jibaritos Y Mas has seen as much success as it has in just three years of business.
Rivera didn't see any of it coming, though. She said the restaurant's immediate popularity came as a surprise to her.
"I was scared before we opened," Rivera recalled.
"I opened on a Friday at 10 a.m., and at 10 a.m. we had our first customer. Since that time we haven't looked back."
Do stories like this matter to you? Subscribe to Block Club Chicago. Every dime we make funds reporting from Chicago's neighborhoods.