BELMONT CRAGIN — Holding hand-drawn signs that read "Thank you Mayor Emanuel!," dozens of Belmont-Cragin Elementary School students descended on Riis Park Thursday afternoon to mark the beginning of construction on the school's long-awaited new building.
The students were joined by parents, school leaders, including Principal Stacy Stewart, as well as city officials Ald. Ariel Reboyras (30th) and Mayor Rahm Emanuel.
Thursday's formal announcement was the culmination of more than four years of persistence on the part of parents, teachers, administrators and advocates. The school community has long argued that a new building is necessary, not only because the existing one at 5252 W. Palmer St. is overcrowded and falling apart, but because it can't meet the future demands of the neighborhood.
Belmont Cragin is home to the fastest growing Latino population in the state, according to nonprofit Northwest Side Housing Center, one of the organizations that helped lead the charge on the project alongside Local Initiatives Support Corporation, or LISC.
Many Latino families being priced out of gentrifying Logan Square, Avondale and Pilsen are choosing to settle in Belmont Cragin where rents are cheaper. The Latino population has fallen by about 14,000 in those three neighborhoods since 2010, according to WBEZ. Meanwhile, the Latino population in Belmont Cragin, as well as Dunning and Portage Park, has grown by more than 6,000 since 2010, according to the station's analysis.
"A lot of people know this, Ariel [Reboyras] and I were just reminiscing: We had a breakfast at the After School Matters facility that opened in the Belmont Cragin neighborhood. It was at that community meeting where all the neighbors talked about the overcrowding. … that they needed a new school, a modern school, that would be able to grow with the community," Emanuel told the crowd.
"The school [was] excellent, the parents were excellent, the teachers were excellent, the principal [was] excellent. The facility? Not so excellent."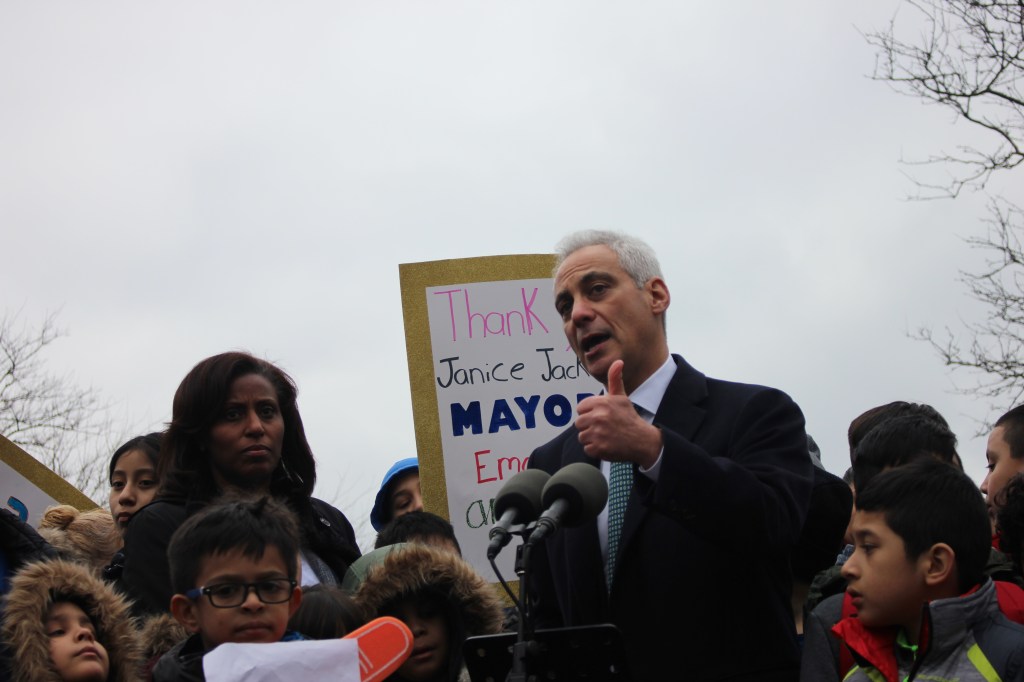 According to the Northwest Side Housing Center, elementary schools in Belmont Cragin were 1,400 students over capacity as of 2018. Belmont-Cragin Elementary currently enrolls 461 students, according to Chicago Public Schools data.
Utilization numbers for the 2018-2019 school year were not listed on the CPS website and the district did not immediately respond to requests for updated data.
The school's new, three-story building is being built on the parkland at 6100 W. Fullerton Ave. It will have room for about 700 students in preschool through eighth grade, according to CPS officials.
The building — expected to cost $44 million in Chicago Public Schools capital funds — will house a number of classrooms, as well as science labs, a computer lab, an art room, a library and a gymnasium with a stage. An adjoining community center will offer social and emotional learning workshops, dual-language instruction and supportive services for immigrant families, according to the Northwest Side Housing Center.
"This new school will not only benefit even more children, it will benefit the entire community of Belmont Cragin," Reboyras said to cheers.
Incumbent Reboyras is gearing up for a runoff against challenger Jessica Gutierrez, the daughter of U.S. Rep. Luis Gutierrez. Emanuel used the event to praise Reboyras, a key City Council ally of his.
"Everyday, from that breakfast, if I saw Ariel Reboyras, he has one thing on his mind: This school. So while it's all of your efforts, you should know he has been a tireless advocate," Emanuel said.
The mayor went on, saying, "I gotta be honest, there's a lot of neighborhoods with overcrowding. A lot of neighborhoods with needs. A lot of parents who advocate. Because of [Reboyras'] tireless work, this has happened."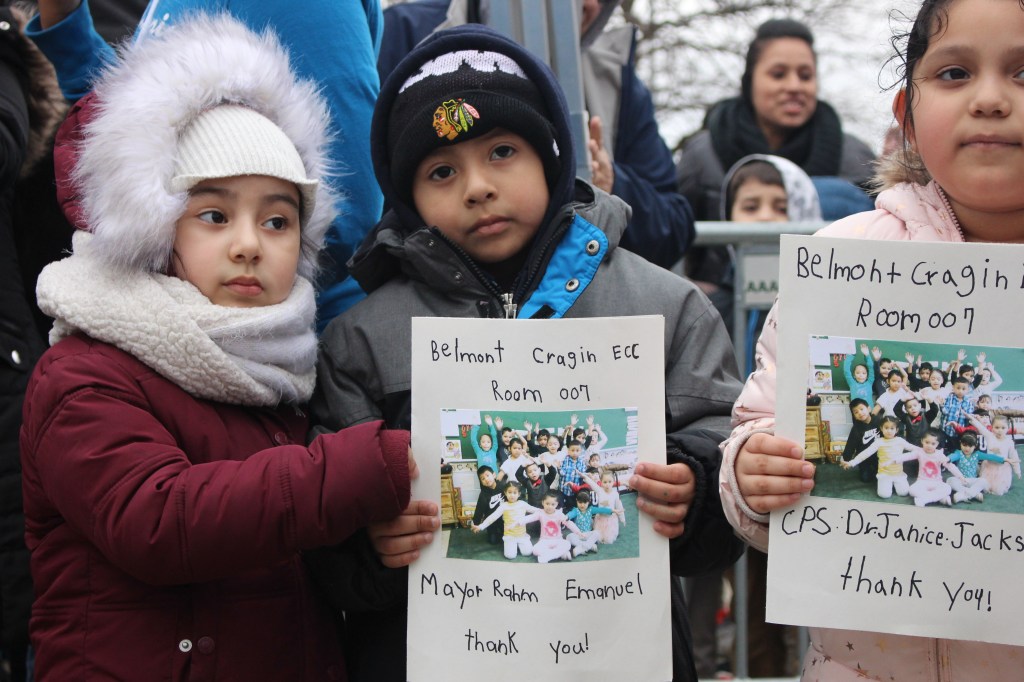 Belmont-Cragin Elementary special education teacher Lena Suwalski said the new building is long overdue.
"Through [the] years, we have seen that the children become more, and the walls have gotten smaller. We have seen our facilities deteriorate over the years. But yet the staff at Belmont-Cragin continues to fight on," said Suwalski, who has taught at the school since 2008.
Parent Susana Rodriguez agreed, saying, "One teacher for 35 kids? It's crazy."
Rodriguez, whose daughter Samantha is graduating from the elementary school in the spring, added that the school has gotten some pushback from neighbors who questioned whether parkland should be taken up by a school.
To that, Rodriguez said,"We want the park for us, for the community — not for the gangs or those kinds of things."
Exactly when construction will start and end is unclear. CPS officials did not provide any further information.
Do stories like this matter to you? Subscribe to Block Club Chicago. Every dime we make funds reporting from Chicago's neighborhoods.