HUMBOLDT PARK — Neighbors Tuesday night shot down a proposal to convert an old Humboldt Park church into $250,000 condos, saying what the gentrifying neighborhood needs is more affordable apartments — not condos.
The vote of neighbors puts the fate of the project in serious doubt, as Ald. Roberto Maldonado (26th), during an appearance before the vote, said he would only grant a zoning change if the majority of neighbors supported it.
That didn't happen, with 19 residents voting "no," seven voting "yes" and eight voting "yes" — but with conditions.
"The taxes are going to go up, just like [they did in] Wicker Park. That was a Latino community before. They all got chased out of there. That's exactly what's going to happen here if we keep building condos in our neighborhood," longtime Humboldt Park resident John Reyes said.
Reyes, 52, was among the neighbors who voted to reject the developer's request for a zoning change at a community meeting Tuesday evening, held at Lowell Elementary School, 3320 W. Hirsch St.
Developer Robert Linn, principal of Point B Properties, is looking to repurpose the old church at 3300 W. Pierce Ave. and carve out 13 condos inside. Under Linn's plan, the condos, mostly a mix of one- and two-bedroom units, would go for between $200,000 – $250,000.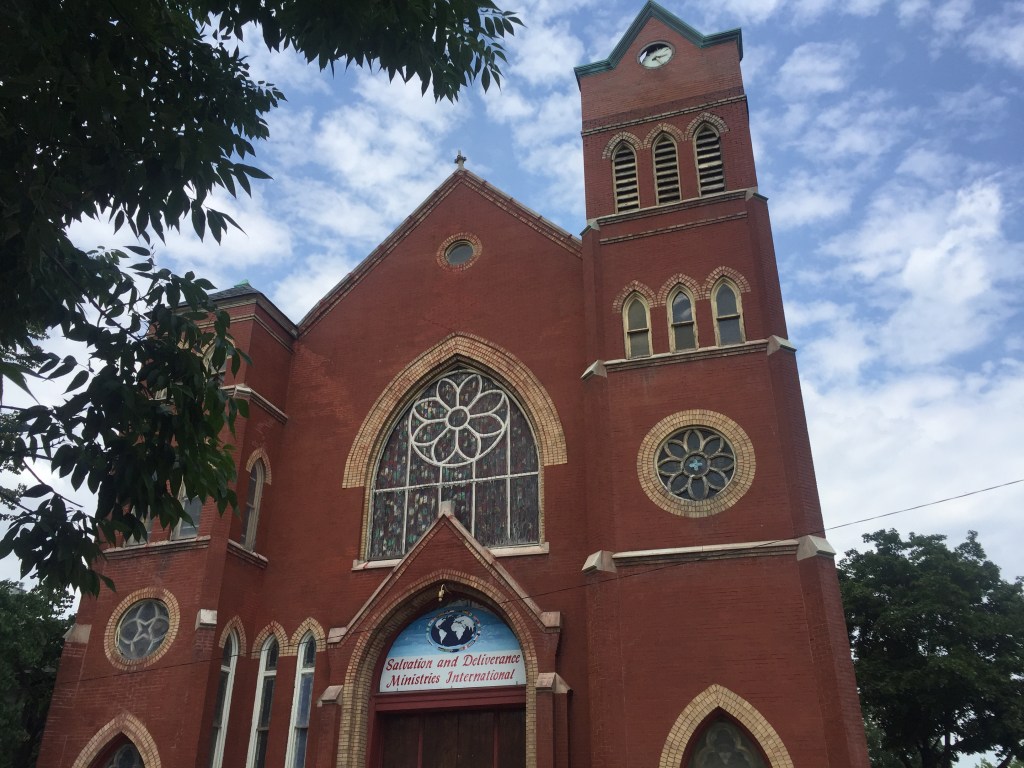 At the request of Maldonado, Linn agreed to set aside three of the 13 units as affordable housing, more than what's required under the city's Affordable Requirements Ordinance. Those condos would go for between $150,000 – $180,000.
The plan didn't impress many of the neighbors at Tuesday's meeting, with many of them calling on the developer to offer apartments instead. Many people in the historically Latino neighborhood, especially longtime residents, can't afford to buy a condo, even if it's on the affordable end, they argued.
"My mother-in-law lives right across from the church. She has a two-flat. She pays $1,300 [a month] on her mortgage. She still can't afford it," 43-year-old resident Maria Ugarte said.
"How can you tell me that people from this neighborhood — not people coming from outside of the neighborhood — [can] afford a $250,000 condo?"
In response to similar concerns, Linn said he can't make the project work financially with apartments.
"It doesn't work with rentals, especially at affordable levels. It's not even close," the developer said. "This a church, so they don't pay any taxes now. With condos, it's going be thousands of dollars of taxes going back into the community."
The church is currently occupied by Salvation and Deliverance Ministries International. The congregation has called the church home since 1986.
In early 2018, the church made headlines when an extra-alarm blaze engulfed its steeple. The steeple was so badly damaged that it had be taken down. Nothing else was damaged in the fire, the congregation wrote on Facebook at the time, and no injuries were reported. The cause of the fire is unknown.
Church leaders said they're looking to sell the late 1800s-era building because they can't afford the upkeep. The fire wasn't a motivating factor, according to Linn, who previously told Block Club he was in talks with church leaders about buying the church long before the fire happened.
Pastor Curt Stennis, who runs the church with his wife, Linda, said they're also looking to leave the Humboldt Park building because many of their congregants have migrated to other communities over the years.
"It makes sense that this [building] goes to another purpose," Stennis said.
Not everyone who attended Tuesday's meeting shared the opinion of Reyes and Ugarte. Some neighbors spoke in favor of Linn's projects and others like it, saying the developments are "good for the neighborhood."
After the results of the vote were announced, longtime resident Richard Karwowski chastised opponents of the project, essentially arguing that Linn's condo prices are as good as it's going to get.
"There's going to be a developer with a downtown connection saying I'm going to fill it full of $600,000 condominiums. … [the neighbors who voted "no"] just stabbed themselves in the back," said Karwowski, who has lived in the neighborhood for 20 years.
Linn is currently under contract to buy the building, but the deal hasn't gone through yet. The deal is contingent on zoning change approval from Maldonado and neighbors. Current zoning only allows for two residential units.
On Wednesday, Linn said he was disappointed by the vote, but hasn't given up yet.
"A lot of [neighbors] seem to associate this project with higher taxes, but I think it's almost two different conversations. Taxes are going to go up regardless whether this project goes up or not," he said.
The developer said he's now faced with three options: get financial help from the city to make apartments work, build as-of-right or walk away from the project altogether. Building as-of-right would mean two large, million-dollar townhomes, Linn said.
Linn said he doesn't want to build pricey townhomes because it would be too financially risky. Ideally, he'd like to make apartments work, but it would require getting financial help from the city, which he said can be difficult to secure.
Do stories like this matter to you? Subscribe to Block Club Chicago. Every dime we make funds reporting from Chicago's neighborhoods.