IRVING PARK — More than a century after its founding, Irving Park's library is finally getting its own home.  
Four years in the making, officials are set to officially open the new Independence Library at 4022 N. Elston Ave. at 9 a.m. Tuesday. 
On Friday morning ahead of the grand opening, crews were pouring concrete for new sidewalks and the affordable senior housing above — a key part of the project — is still under construction. But inside the recently completed library, shelves were being assembled and books were on display. 
A fire in October 2015 caused the branch's previous rented location at a commercial storefront property at 3548 W. Irving Park Road to close. Since that fire, the Irving Park area has been without a public library.
While the fire destroyed the storefront branch, the Independence Branch Library has waited more than 130 years for a building to call its own.
The library began as the Irving Park Woman's Club literary society in 1888. Starting in 1901, each club member was asked to donate one book or magazine to form a circulating library, according to the Chicago Public Library.
By 1913, the club opened a library at the Independence Park field house, 3945 N. Springfield Ave. The library was located there until about 1928 and eventually moved to the brick storefront at 3718 W. Irving Park Rd., which is now Keller's Martial Arts, throughout the late 1980s and early 1990s.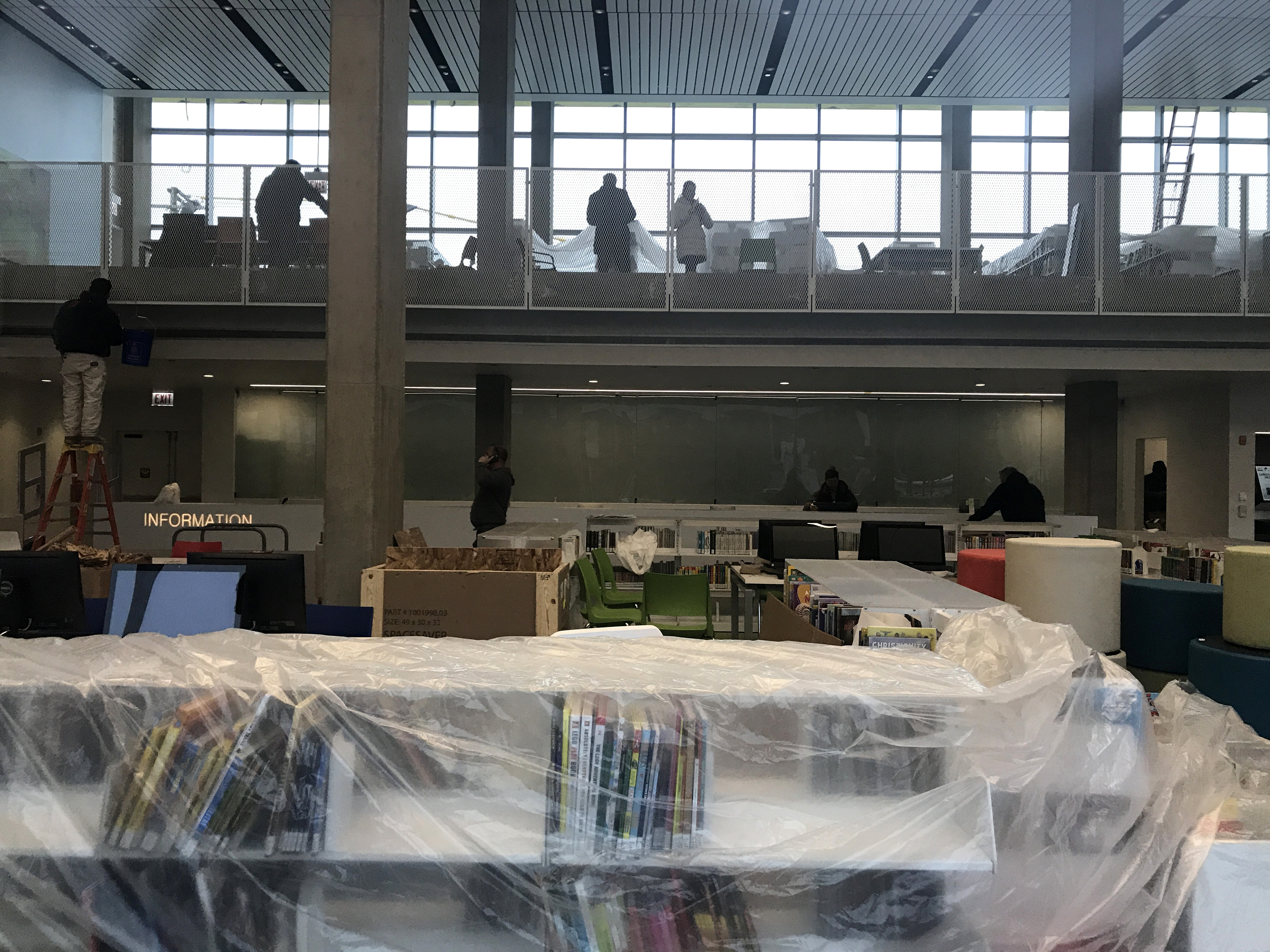 On July 15, 1995, the library moved again, this time into a commercial storefront property at 3548 W. Irving Park Road. This space eventually caught fire in 2015.
Owen Brugh, chief of staff for Ald. John Arena (45th) said the leased storefront library was "very cramped." 
"Now the surrounding neighborhood and schools will have a permanent library that will be one of the best in the city," Brugh said. 
The Independence Library branch has been a communal meeting place for neighbors — and the heart of Irving Park — for a century, said Anna Zolkowski Sobor, a board member with the Old Irving Park Association.
"We've been advocating for a permanent home for the library for decades,"she said. 
After the fire, local schools, community groups, park advisory councils, Friends of Independence Library and active neighbors organized for a permanent library branch, she said.
Sobor says the New Independence Library Coalition worked with elected officials including Ald. Carlos Rosa (35th), Ald. Arena, Ald. Deb Mell (33rd), Ald. Margaret Laurino (39th) and Ald. Ariel Reboyras (30th) to make a new library for Irving Park a priority.
"We are especially grateful to State Rep. Jaime Andrade Jr., who was a bulldog on this issue," she said.
Andrade Jr. said it's exciting to see what can be accomplished when the community unites as one. 
"The city wanted to give us a temporary library after the fire but the community decided that is not a choice that they wanted to accept," he said.

Andrade Jr. said each alderman brought their respective skills to advocate for the neighborhood community groups with Mayor Rahm Emanuel.

"People may not know their state representative, but they know their alderman. And I believe that I've been very fortunate that all of the aldermen in my state district have worked very closely together on this," Andrade Jr. said.

After the fire and the community campaign, the city announced plans in 2016 that the new Independence Library branch would be one of three branches that will be built as part of an arrangement between the Chicago Housing Authority and Chicago Public Library to locate libraries within new mixed- or low-income housing developments.

That turned into a $23.6 million project at 4022 N. Elston Ave., the former site of the Hollerbach Funeral Home.
John Ronan Architects was chosen to design the mixed-use complex while Evergreen Real Estate Group will oversee the building's development as well as the eventual management of the housing tenants. The project broke ground in January 2018.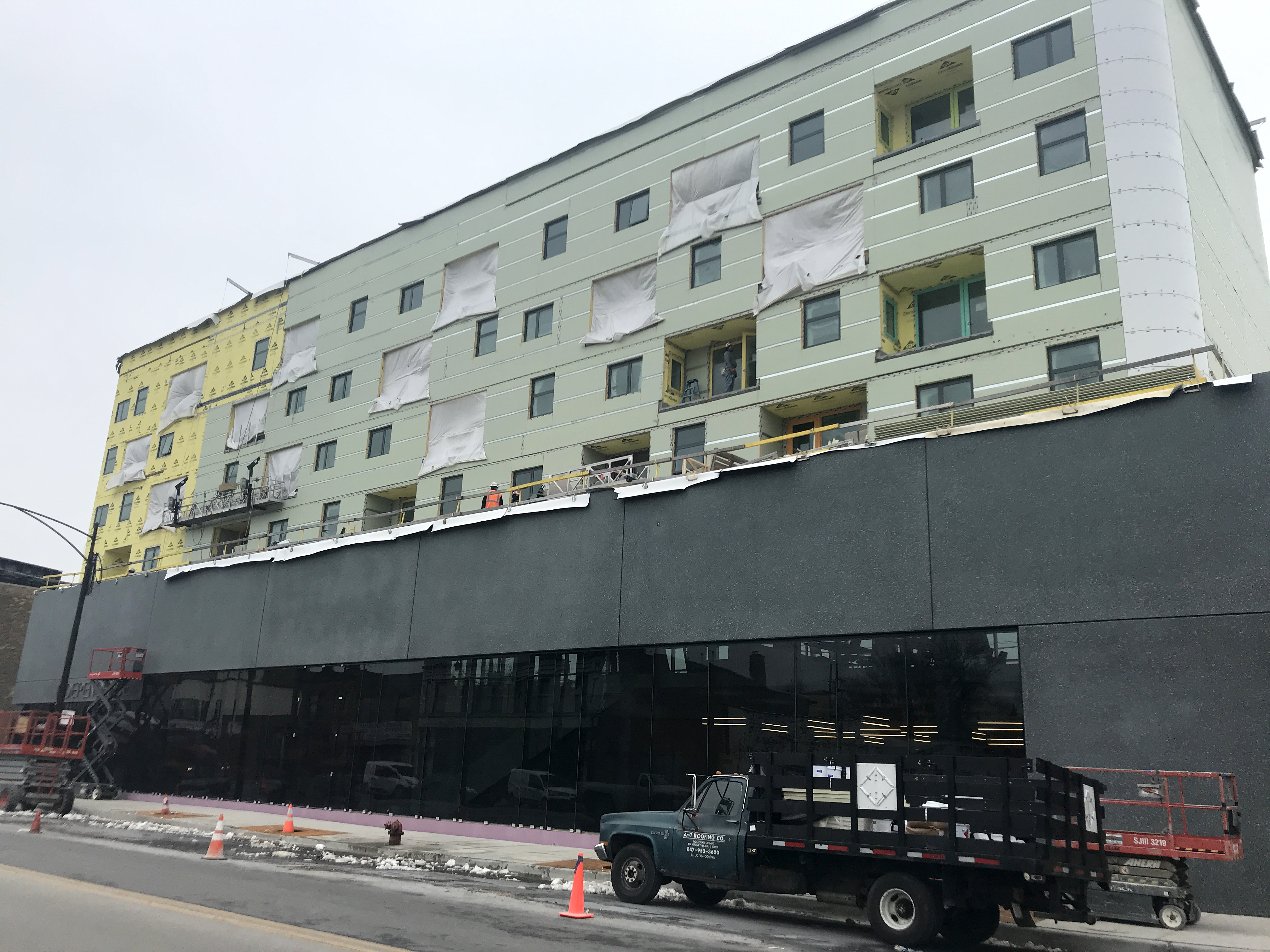 The new building is being financed through an arrangement with the Chicago Housing Authority and relies on funding from federal sources and tax credits. The 44 housing units above the library — 36 one bedroom units and eight two bedroom apartments — will be for people 62 and over who have incomes below 60 percent the area's median income based on 2019 earnings.
Those affordable housing units began accepting applications last month.
RELATED: You Can Now Sign Up For Affordable Senior Housing At The New Independence Library

Do stories like this matter to you? Subscribe to Block Club Chicago. Every dime we make funds reporting from Chicago's neighborhoods.