CHICAGO — Lincoln Yards released a new plan that shows how Sterling Bay will replace controversial music venues and a soccer stadium with a large park and low-rise buildings.
The revised plan, released over the weekend, got the approval from Ald. Brian Hopkins (2nd). The proposal will go before the Chicago Plan Commission on Thursday.
Sterling Bay said earlier this month it would scrap plans to build a 20,000-seat soccer stadium and several music venues run by LiveNation in the massive development along the banks of the North Branch of the Chicago River. The stadium will be replaced with an 11-acre park with sports fields and low-rise buildings that can house businesses.
The music venues have had their capacity diminished, Hopkins wrote in a Saturday email to residents, and there are smaller ones "dispersed throughout the site."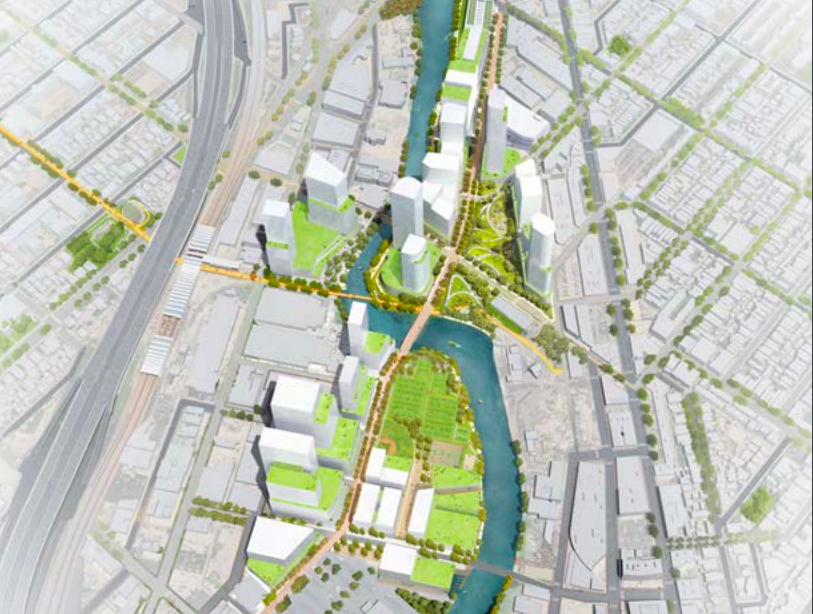 The changed plan means about 40 percent of the development will be open space, according to Hopkins.
Hopkins told the Tribune he doesn't plan to hold another large scale community meeting on the project, though he'll have smaller meetings with community groups about the project.
Hopkins emailed residents to ask them to review the revised plan and to send him feedback.
Hopkins said that although the project goes to the plan commission this week, "by no means does this spell the conclusion of the community review process for this major redevelopment project.  Comments and questions are encouraged on www.AldermanHopkins.com, and I will continue meeting with neighborhood associations and other stakeholders prior to and after this week's Plan Commission hearing."
The alderman also said "various components of the plan will continue to be presented at public forums and will require approval from the Community Development Commission, two separate City Council committees (Zoning, and Finance), and ultimately a final vote by entire Chicago City Council."

But critics of the project said they'll hold a news conference on Monday morning to "seek a delay" for the Chicago Plan Commission vote, according to a news release. The group of critics said they want another community meeting.
"For months, leaders have called out Hopkins and Sterling Bay for not being transparent, and the sudden push for Plan Commission approval adds insult to injury," the coalition of groups wrote in the news release. "The coalition objects to the continuing failure to create a transparent process."
Check out the revised plan: