ROGERS PARK — Three months after announcing iconic Heartland Cafe was for sale, the cafe's owner confirmed Friday the beloved restaurant will soon close as it seeks a new location. 
In an e-mail to the cafe's e-newsletter subscribers, owner Tom Rosenfeld said there has been a lot of uncertainty hanging over the cafe that has called Rogers Park home for 42 years. In the midst of that uncertainty, the cafe at 7000 N. Glenwood Ave. is closing Dec. 31, he said. 
"As you know, the Heartland building has been listed for sale and we are now pretty far along with a sale," Rosenfeld wrote in the letter, titled 'What a Long Strange Trip It's Been.' "We might be able to come back once the new owners build a new building, but that won't be for some time. So we have been reviewing new spaces. At this time, there are a few that might work and we are trying to work out details, but nothing is certain."
"No matter what happens next, we will need to close down for at least a few months. What we know now is that Heartland's last day of operation in our home for 42 years will be December 31," he wrote. 

In September, the cafe, one of Rogers Park's most cherished establishments, was listed for sale in a post on Craigslist. The the 9,600-square-foot, single-story building is located at the corner of Glenwood and Lunt avenues, and can be redeveloped to contain up to 33 units, according to the sale listing.
RELATED: Heartland Cafe Up For Sale, But Owner Predicts Iconic Restaurant Won't Close
Then, Rosenfeld said he would offer would-be buyers two options: Those who want to redevelop the space could do so, but must keep Heartland as a first-floor tenant with Rosenfeld as the restaurant's owner; or a buyer could take up the restaurant and building together.

However, according to the owner's latest update, the business is set to close at its Glenwood Avenue location for good at the end of the year — a decision Rosenfeld said has been "such a hard moment to arrive at" in his email address to longtime supporters. 

The restaurant opened in 1976 and has a colorful past: Former President Barack Obama, then 42, once held a rally there for a political campaign; Rogers Park residents gathered there to celebrate the turn of the century on Jan. 1, 2000; and the restaurant has served as a hub for political and social organizing.
"We are so thankful to you, our community, for the steadfast support and love you have shown to the Heartland Café over [five] decades," Rosenfeld wrote. "You may have found your voice here, met your spouse here, or created memories that travel with you forever."
The building has also been home to the "Live from the Heartland" radio show, hosted in-part by the cafe's original founders, Katy Hogan and Michael James.
"To Michael and Katy, our wonderful founders who took their vision and put in decades of sweat, tears and joy, we are so grateful to you," he wrote. "You breathed in Rogers Park and exhaled a space that could only exist in this neighborhood. Heartland has always been a reflection of you — outspoken, politically active, funny, lovable, a little rough around the edges, served with a splash of opinion and some veggies with black beans and rice."

"On behalf of the neighborhood who holds up your creation as an iconic symbol of Rogers Park, I thank you for what you created here."
Rosenfeld also thanked the cafe's current and former employees, as well as its loyal customers. 
"You are so much more than customers; you've been passengers on one of the more wild and crazy trips a restaurant could have ever taken," Rosenfeld wrote. 
Going forward, Rosenfeld said though the Heartland's longtime home may be gone, the business still hopes to go on. In the meantime, he's asked residents, customers, well-wishers and other supporters to stop by for a last hoorah inside the Far North Side institution.
"We hope to find a suitable place that we can call home, and when we do, I will be able to write a new letter with new beginnings," the owner said. "But before then, please come by, say hi, thank your server, take a picture, leave a smile and say good-bye. We'll do something a little more formal around the holidays, but for right now, we are just sitting with this truth and trying to grapple with the enormity of what this means for all of us who love the Heartland."

Rosenfeld could not immediately be reached for comment. 
Read the full letter here: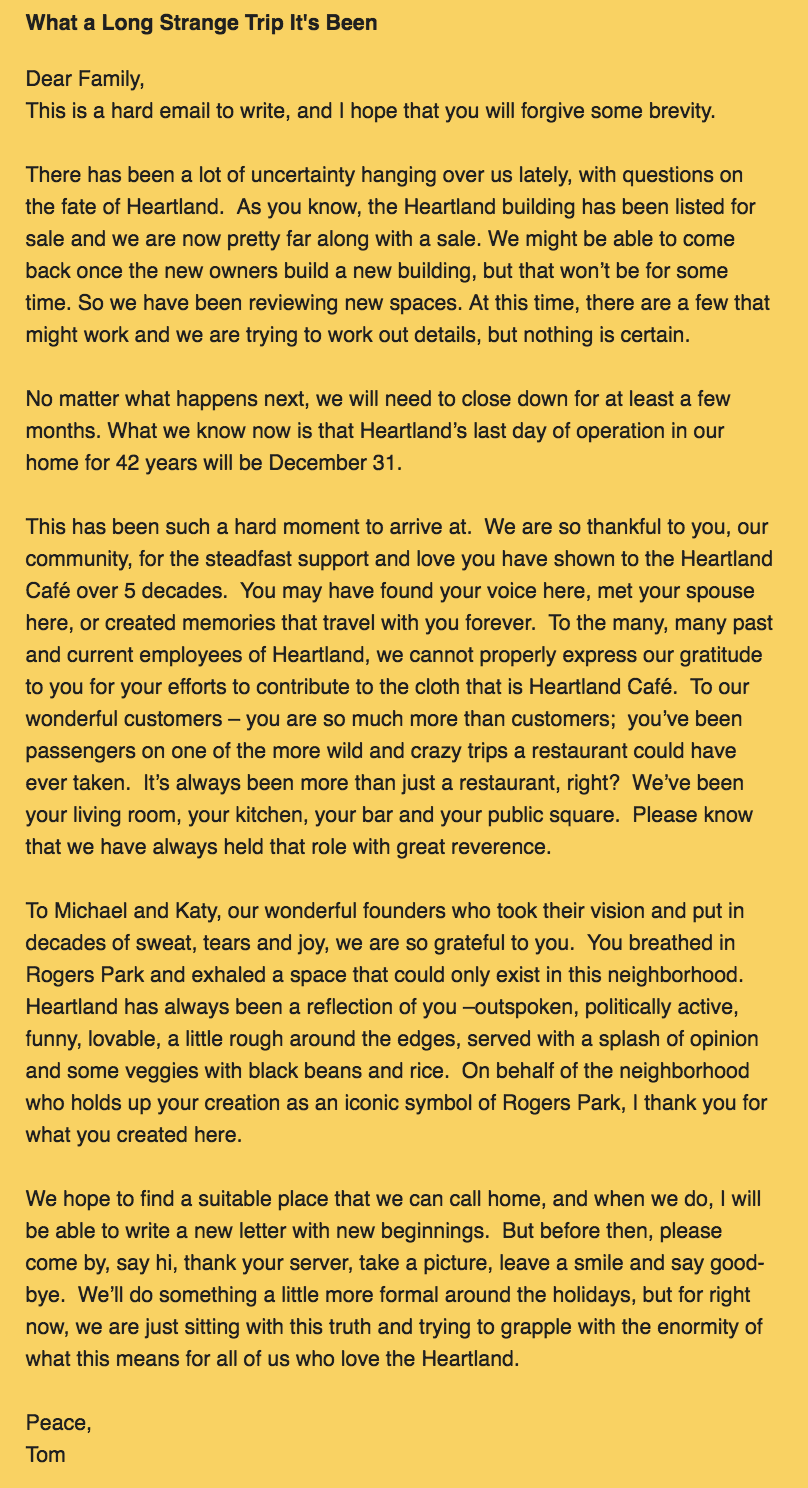 Do stories like this matter to you? Subscribe to Block Club Chicago. Every dime we make funds reporting from Chicago's neighborhoods.