WICKER PARK — Dominic Darabi and his best friend, a long-haired German Shepherd named King Kohl — who went by Kohl — are Wicker Park fixtures. 
Every morning, the duo walked three miles, from their home in Wicker Park to Humboldt Park and back. Then, they logged long hours at Darabi's store US #1 Vintage, a leather and boot shop at 1460 N. Milwaukee Ave. 
On Thursday, flowers, candles and condolence cards from customers and passersby filled a rectangular patch of light in front of the storefront window where Kohl usually hung out, in a bed on the hardwood floor next to Darabi's desk.  
"Everyone loved him," Darabi said of his dog.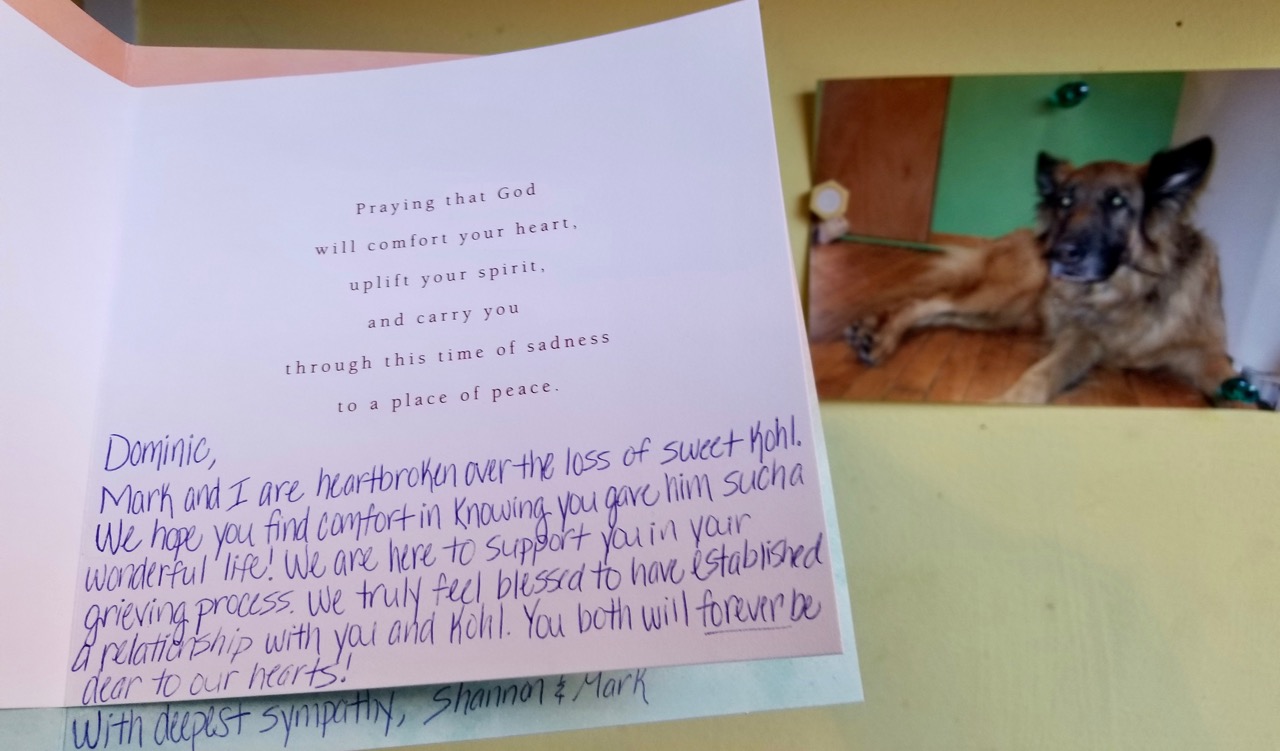 Last week, a seemingly healthy 13-year-old Kohl suddenly struggled to walk and grew weak easily. He spent most of the week resting in the store.

Early last Saturday, Kohl cried out in pain and could barely move, according to Darabi, who carried his 80-pound companion down a flight of steep stairs from their second floor apartment to  Wicker Park Veterinary Clinic. There, he learned from Kohl's veterinarian, Dr. Tricia Mullin, that an aggressive cancerous tumor on the elderly dog's spleen could result in massive internal bleeding if it were to be removed. The dog's prognosis was less than two weeks to live. 
Darabi made the difficult decision to relieve Kohl's pain and put the dog down.  
"I am heartbroken. I cannot keep straight," Darabi said on Thursday, before sending a customer out of the store for a few minutes, so he could lock up and take a reporter on a tour of the nearby apartment he shared with Kohl. 
At home, the pup, who was three when Darabi rescued him from an animal shelter, lived a life of a king, fitting of his formal name. Kohl slept on no ordinary "dog bed." He had two large leather love seats to choose from.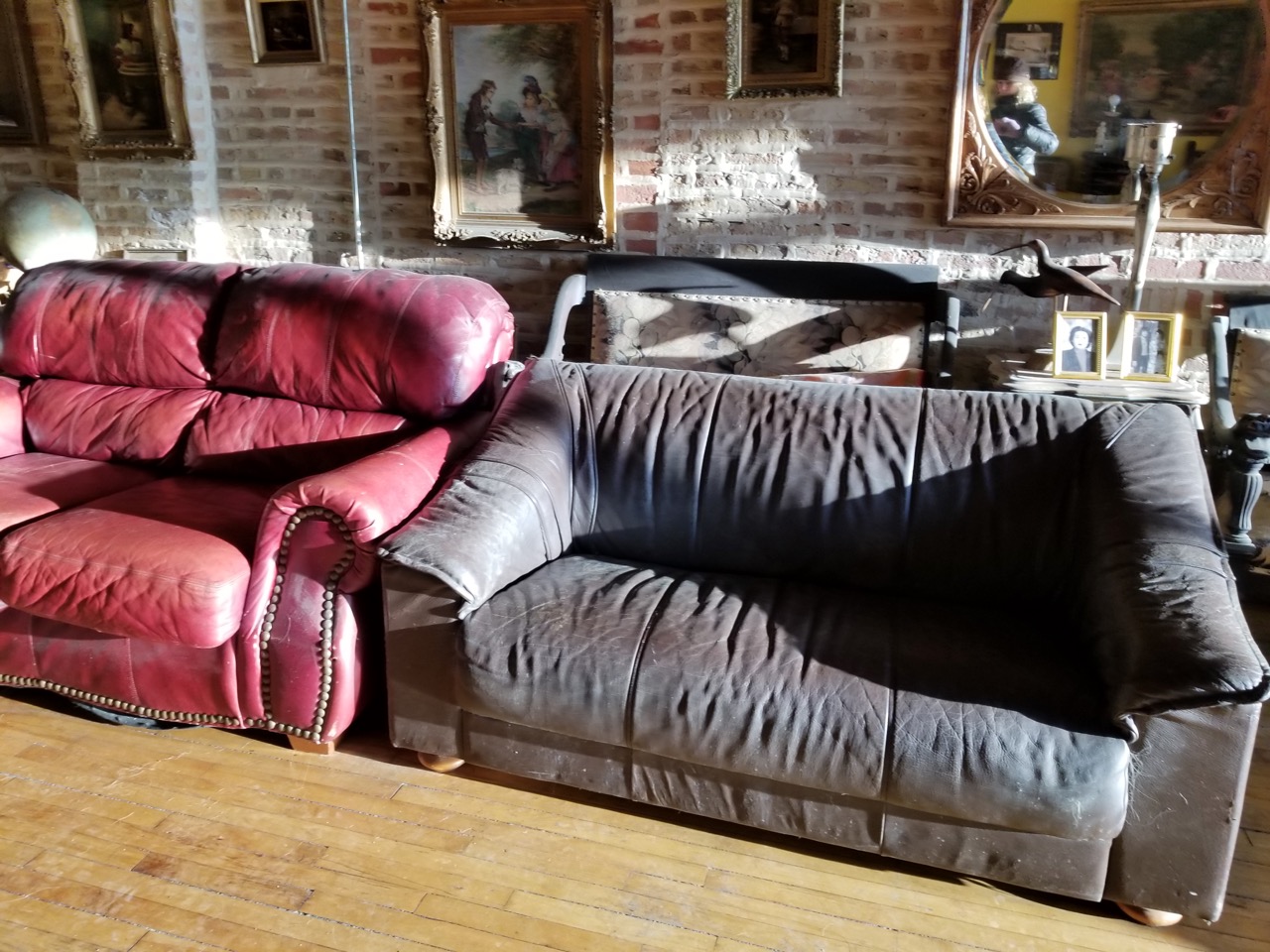 Kohl never ate dog food. After they closed the store at 7 p.m. daily, Darabi, who is French and enjoys cooking, would go home with Kohl and prepare farmers market-bought veal — the dog's preferred meat, consumed twice daily — along with sweet potatoes, pumpkin, broccoli and spinach. 
Kohl's favorite ice cream was strawberry Häagen-Dazs, and he also enjoyed various flavors of fro-yo at Red Mango and bagels bought from Brobagel's dog-friendly walk-up window, Darabi said.
Staffers from Brobagel gave Darabi a condolence card.
"We loved seeing you in the morning. You're one of our favorite customers and your dog always made our day brighter," the card said.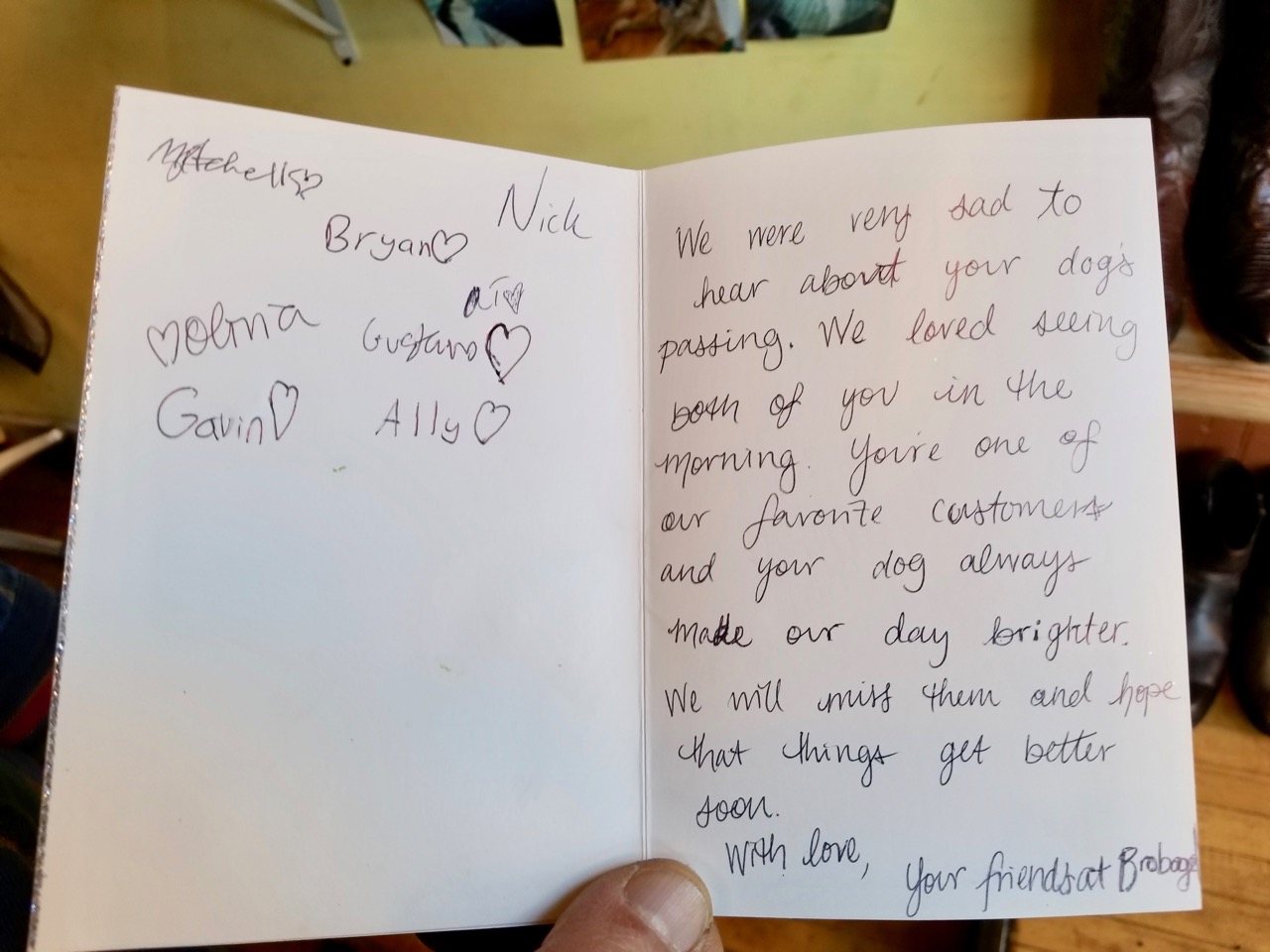 Scout Satya, a sales clerk at nearby Ragstock, was among the many neighbors who were impacted by Kohl's death and were concerned about the effect the loss would have on Darabi. 
Last Friday night, Satya took a series of photos of Darabi and Kohl on her phone, but she did not know those would be the last photos taken of the pair.
"I had seen Kohl limping and someone told me that he was sick. I was off [work] that day and wanted to see Kohl and how Dominic was doing. As long as I have known him, I have wondered when that dog passes away, what is he going to do?  You can tell how much he loved him," Satya said.
Satya said Darabi "can be a strong personality" and while he sometimes can come off as gruff, Kohl's constant presence made Darabi more approachable.
"He can be an intimidating if you don't know him. I knew him for years only from seeing him walk his dog, they were such a fixture. Kohl bridged the gap for him, made him more social even while he wasn't realizing it, " Satya said. 
Satya said the flowers and cards and the people she has seen walking into the store to express their condolences, are helping Darabi to heal.
"It's nice to know people care," Satya said. 
Angelo Avina, Dominic's son, helps out in the store one day a week, on Fridays.
"Kohl was an icon of the neighborhood, I didn't know until now, how many people knew him. He was a great dog, known for walking around with no leash. Every time I came to work he would bark at me, because he was upset I would be watching him and Dominic had to run errands. German Shepherds are very loyal, they never love anyone as much as their owner," Avina said.
Avina said his dad would tell people "Kohl rescued me," not the other way around. 
Since losing Kohl, Darabi has continued to walk, but alone now, the same route, from Wicker Park to Humboldt Park and back. 
"Where is your buddy?' People are asking me, everyone is asking," Darabi said, adding, "Go home and kiss and hug your dog, you never know…" 
Reached on Friday, Dr. Mullin said the euthanasia she performed on Kohl was "one of the most heartfelt" she has experienced in her career.
Mullin said Darabi brought a bouquet of a dozen red roses to the clinic and made her promise she would ensure that Kohl's body would be cremated along with the roses. 
"Their bond was very significant," Mullin said.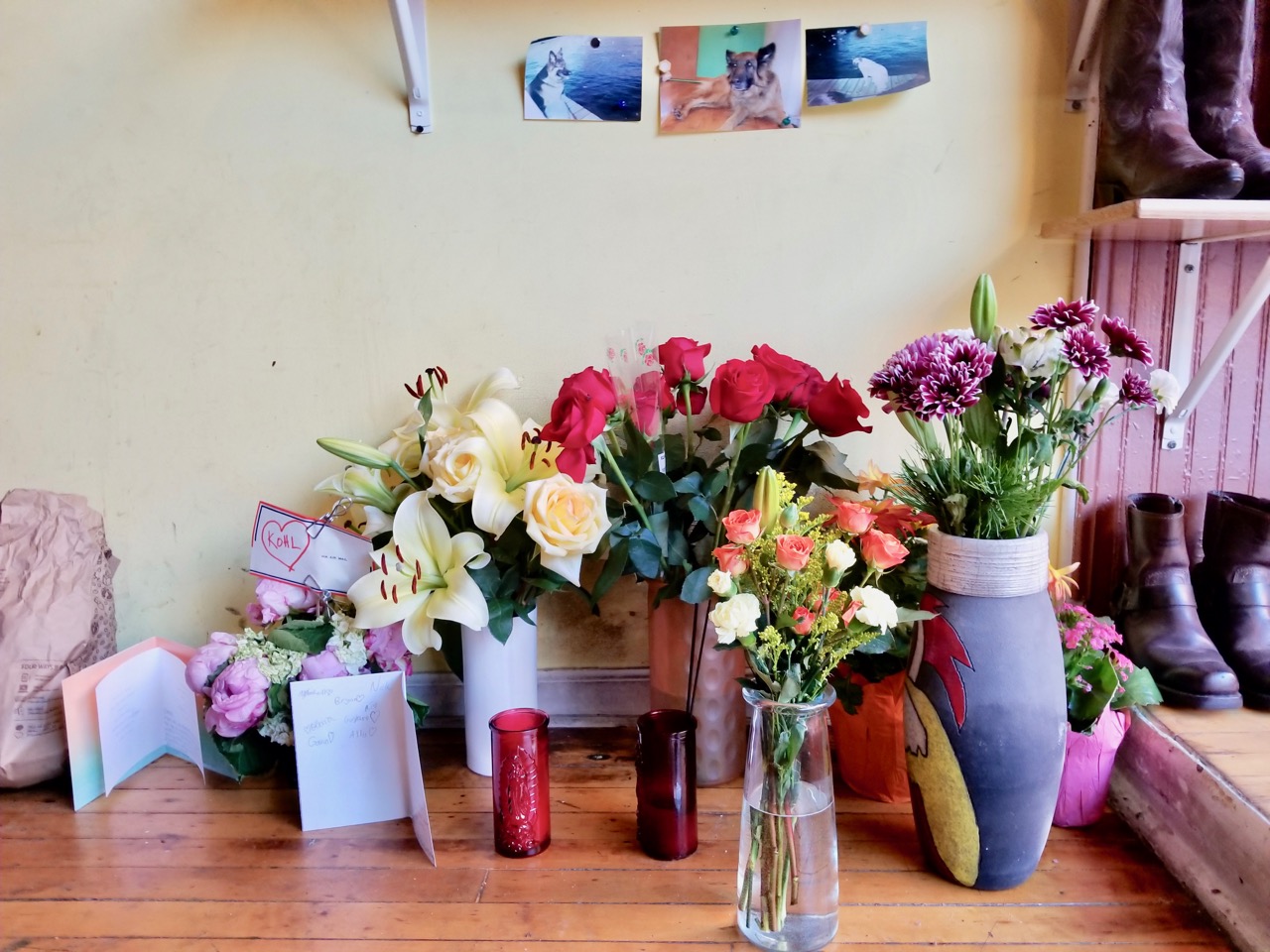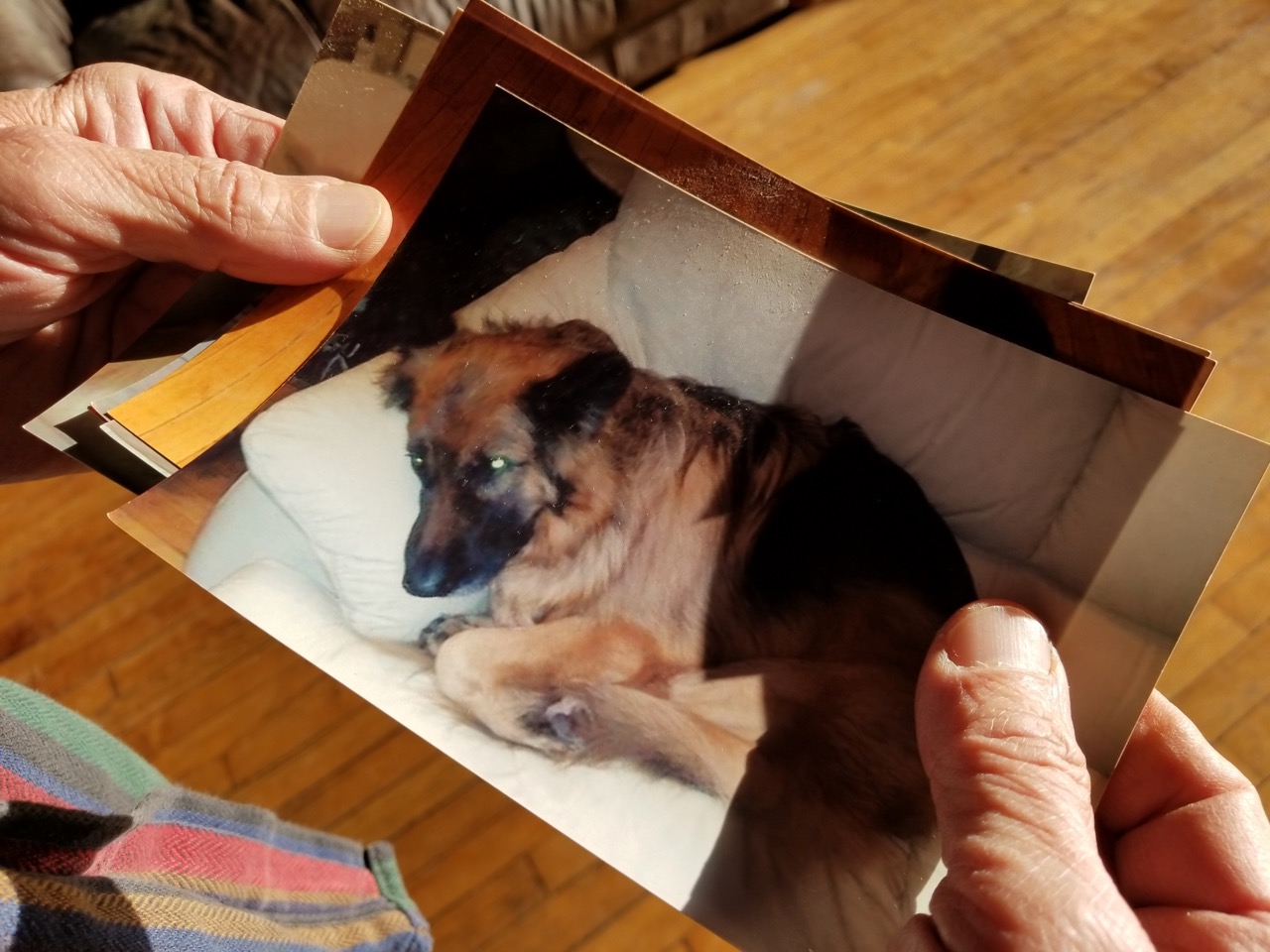 Do stories like this matter to you? Subscribe to Block Club Chicago. Every dime we make funds reporting from Chicago's neighborhoods.