AVONDALE — For the last several years, the dangerous intersection of Kimball and Wellington avenues would come up routinely at Local School Council meetings at nearby Avondale-Logandale Elementary School.
Parents, teachers and administrators would always say the same thing: The many students who cross the intersection to get to school everyday are in constant danger of being hit by speeding cars.
"What has to happen to get [safety measures installed]? We shouldn't have to wait for an accident to happen to get them," Evelyn Roman, Avondale-Logandale's principal, said.
Now, after about seven years of advocacy work on the part of the school community, city and state agencies have finally installed a long-requested pedestrian island at the intersection, which they hope will make it safer for students and residents alike to cross the street.
School leaders and Ald. Carlos Ramirez-Rosa (35th), who championed the project, convened at the newly-installed island Friday morning to celebrate the win.
"For a lot of people, they'll say, 'Oh that's not that big of a deal.' But for the parents, for the students, for the families of Avondale-Logandale, this is a big deal," Ramirez-Rosa told Block Club.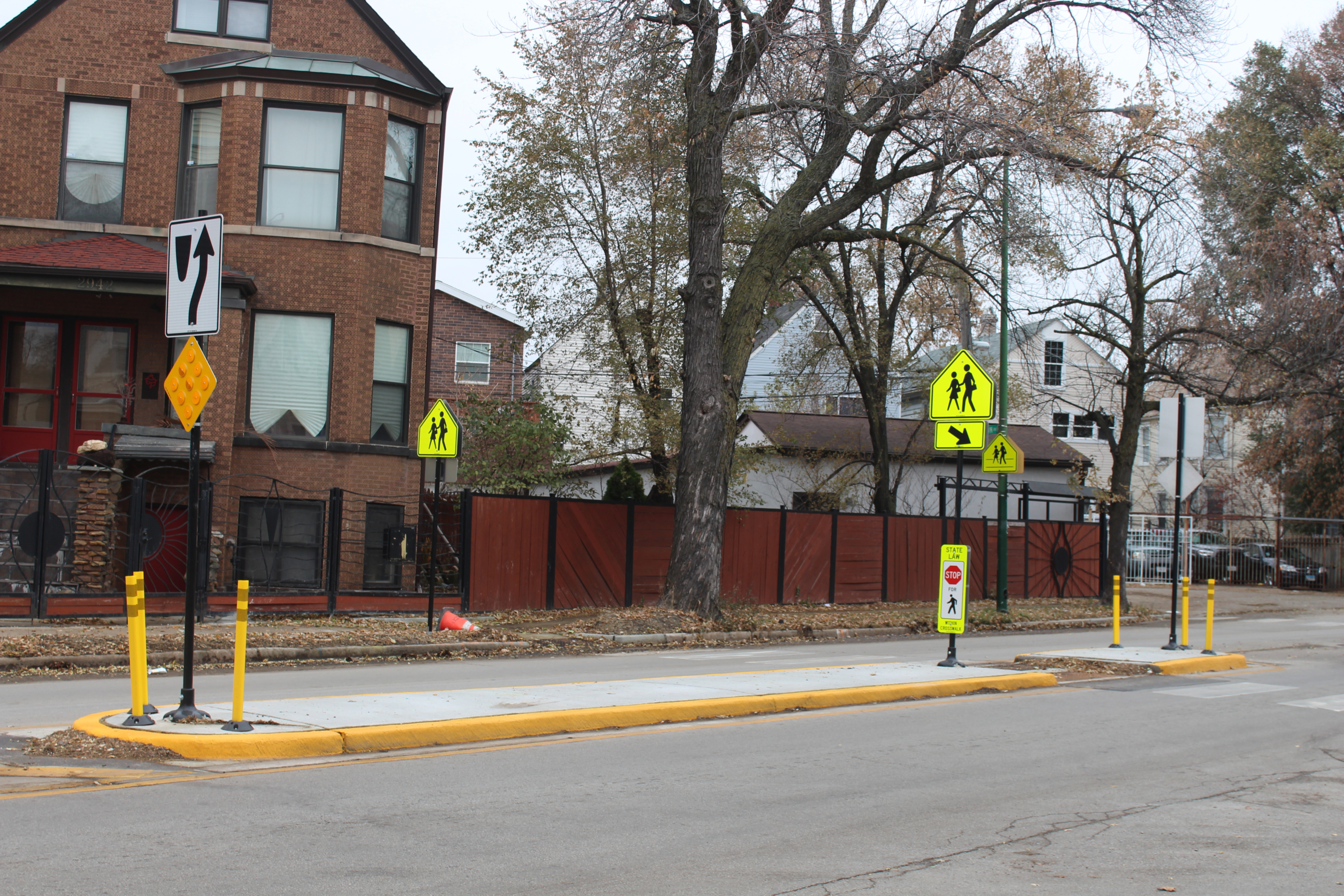 "It's also a really big deal because it was accomplished by empowering working mothers, many of them who do not feel comfortable going into a government office and speaking English. So, to me, this is really a testament to what we can accomplish through participatory budgeting, and when you open up the doors of government and say, 'I want to hear from you, I want to empower you.'"
The island cost about $60,000 in Ramirez-Rosa's ward menu funds, which he doles out through participatory budgeting — a process that allows residents to weigh in on how the money is spent. 
The island made Ramirez-Rosa's budget back in 2016, but because of bureaucratic challenges, it wasn't installed for another two years, the alderman said. 
Kimball Avenue happens to be under the purview of both the city's Department of Transportation and the Illinois Department of Transportation, which made planning more difficult, according to the alderman.
As Ramirez-Rosa worked with officials, parents at Avondale-Logandale were busy collecting about 600 signatures from the community in support of the island. 
Perhaps because the stretch is an especially narrow one-lane road or because it's the road drivers take to get on and off the expressway, the intersection has always been especially dangerous, according to Sonia Cortez, parent mentor coordinator at Avondale-Logandale.
"It's hard for [students] to cross in the morning because cars don't stop," said Cortez, who has lived in the community for 35 years.
Fellow parent mentor Adriana Cardona's 12-year-old daughter, Lucero, is one of the many students who cross the intersection to get to Avondale-Logandale everyday.
Cardona said she's thrilled to see the island up after years of back and forth with city and state officials.
"Now when [my daughter] is crossing, the cars see her and they stop. Before, they didn't pay attention her," Cardona said in Spanish through a translator. 
Years ago, the intersection had its own crossing guard, but the guard was removed about six years ago due to city budget cuts, according to Roman, the principal at Avondale-Logandale.
Ramirez-Rosa said he's working with local police to get a new crossing guard assigned to the intersection as an extra safety measure.
Do stories like this matter to you? Subscribe to Block Club Chicago. Every dime we make funds reporting from Chicago's neighborhoods.