WEST TOWN — Bennett Day School — a private elementary school that opened its flagship campus in West Town in 2014  — will add a high school next fall. 
The school plans to expand to fifth grade as well as offer ninth and 10th grades in a new upper school that will be attached to the east side of the existing school building, 955 W. Grand Ave., through a 15,000 square-foot addition, said Bennett Day School spokeswoman Christa Reed. 
Designed by architecture firm Filoramo Talsma, the upper school is currently under construction and scheduled to be completed this summer. The expansion will bring a new cafeteria and gymnasium. A third addition, referred to as "Phase 3," set to happen within the next 3-5 years, will add a gym for competitive sports and underground parking. 
If everything goes as planned, by 2022 the school will have gradually added one class each year and serve pre-kindergarteners through high school seniors. Eventually, the day and upper schools combined could serve as many as 700 students, Reed said.
The all-inclusive yearly tuition and fees at the for-profit school are $33,318, according to the school's website. Lunches, books, field trips, technology, IvyWise college counseling and ACT and SAT prep courses are included in the tuition. 
Financial aid is available. About one-third of Bennett's students receive some form of financial aid, ranging from a $500 grant to a full ride, Reed said. 
Applications for the new upper school are due Dec. 10.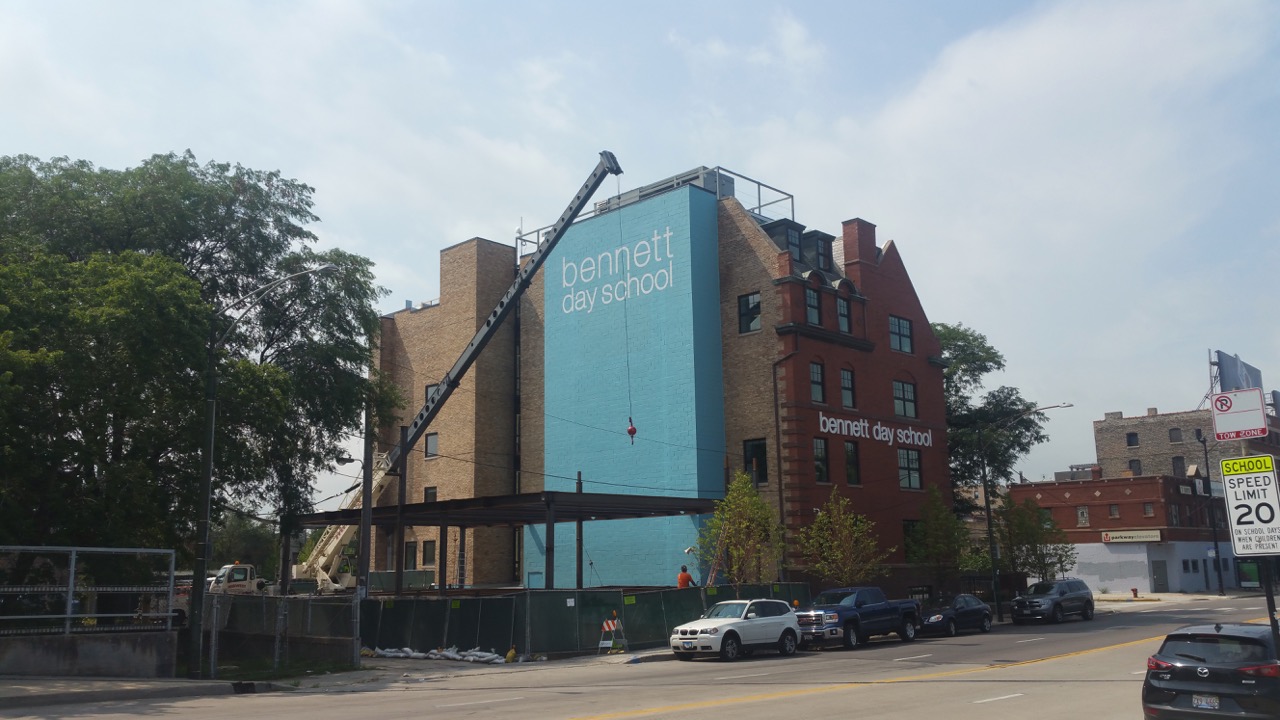 The new upper school aims to offer another option to parents who are frustrated by CPS' selective-enrollment-induced "rat race," where tens of thousands of students scramble for spots at a handful of well regarded high schools, Reed said. 
"There are a lot of anxious students who are worried about getting into selective-enrollment high schools, and taking another exam for a school that might say 'no' to you is terrifying. A lot of parents are not interested in the rat race anymore," Reed told Block Club. 
Bennett Upper School will offer small classes, a progressive, project-based curriculum focused and a later 9 a.m. start time better aligned with the circadian rhythm of adolescents, Reed said. 
The inaugural upper school classes using Stanford University's Project Wayfinder social-emotional learning curriculum will have space for up to 40 students and a teacher to student ratio of 10-to-1, Reed said.
Curriculum at the new upper school will be based around real world experiences and will require students to participate in a 10-week internship at a Bennett Day School-partner corporation, nonprofit or government agency.
"We want to prepare students for life before college," Reed said. 

Currently, Bennett Day School attracts families from across the city — as far north as Andersonville and as south as Beverly and Hyde Park.
Reed said families whose children are preparing to graduate from elite private elementary schools like Near North Montessori, Catherine Cook and CPS magnet schools like Blaine and Burley are among those exploring Bennett's upper school as an option for next year.
An open house for families to meet the school's leaders, staff and representatives from college prep partner resources, is scheduled for 10-11:30 a.m. Saturday at the school, 955 W. Grand Ave. Attendees can RSVP here.
In addition to Saturday's open house, next Thursday, Nov. 15, the school plans to host a screening of the documentary "Most Likely to Succeed," at River East AMC. The event is free and open to the public with prior registration. 
Bennett Day School currently serves 187 students in pre-Kindergarten through fourth grade, according to Reed.
RELATED: New Bennett Day School Takes Child-Led Approach 
Co-founded by parent Cameron Smith and Principal Kate Cicchelli, the school started with 23 students in 2014.