CHICAGO — Pet owners in Englewood have been able to get everything from free pet food to vet visits thanks to a program called PAWS For Life.
The program started in 2014 when Laurie Maxwell, PAWS Chicago's director of community outreach, started riding around Englewood in a truck, knocking on residents' doors and asking if their pets needed anything. 
Four years later, volunteers and staff from PAWS, the city's largest no-kill shelter, regularly come to the neighborhood to meet with interested residents about how they can train and care for their pets. They give pet owners medicine, food, litter boxes and leashes, and they even arrange appointments where they pick up a pet from an owner's home, take him or her to PAWS for medical treatment and then get the pet back home.
PAWS For Life has footholds in Englewood and West Englewood and is expanding into Back of the Yards — another neighborhood where pet owners might struggle to find resources.
Animal welfare should be "inclusive" and open to people from all communities and socioeconomic backgrounds, Maxwell said.
"A lack of wealth doesn't mean a lack of love," Maxwell said.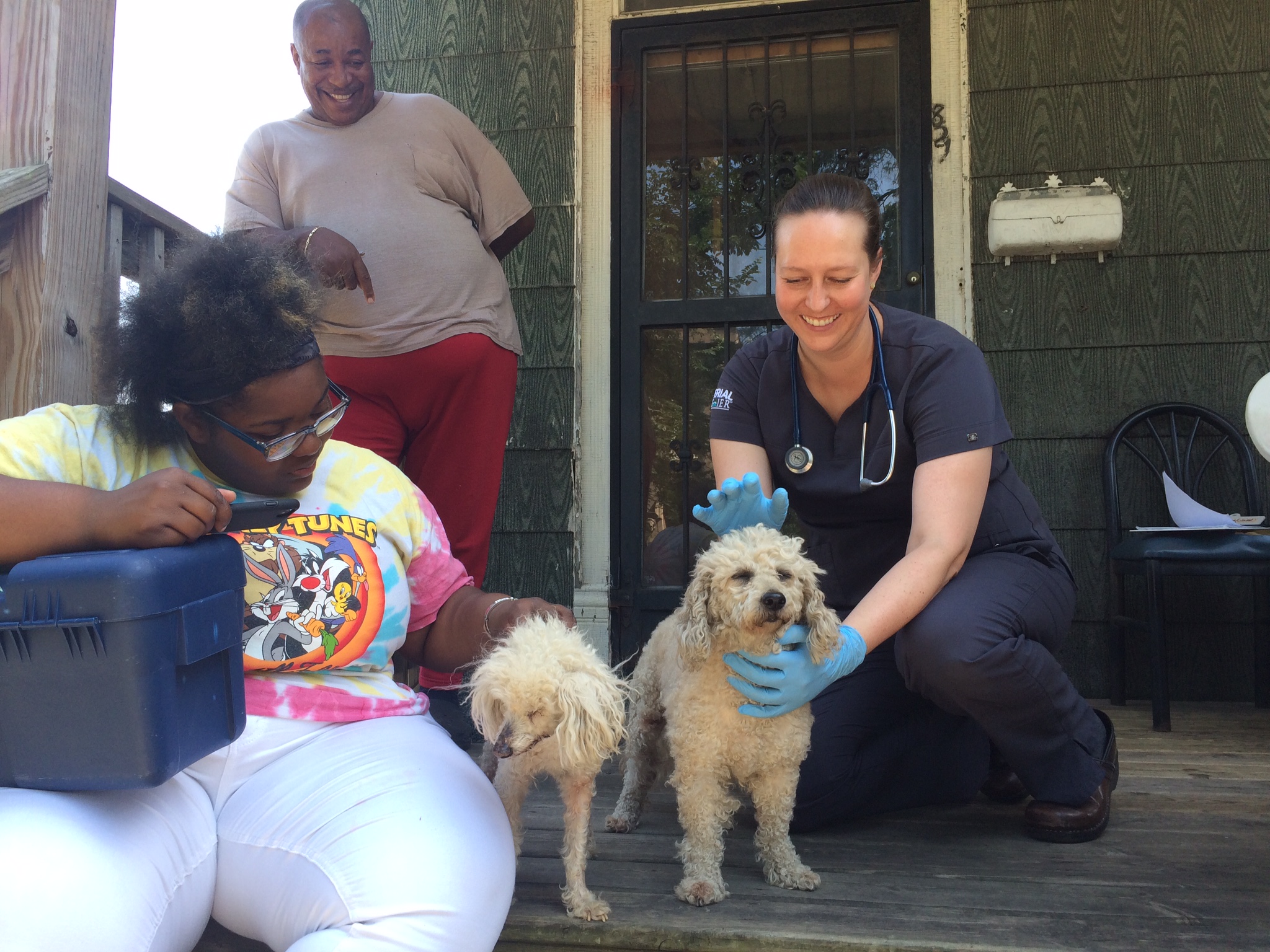 'Pet Resource Desert'
PAWS chose to start the program in Englewood because it's a "pet resource desert," Maxwell said.
That means many people in Englewood can't easily access a veterinarian and there aren't many places to grab a leash, collar or even dog food, Maxwell said. Corner stores might have a few items for pet owners, but the selection is limited.
At the same time, there is an "oversupply" of pets in the neighborhood because owners don't have access to spay or neuter services, Maxwell said. She estimates 85 percent of litters are accidental in the area.
"A lot of folks have a lot of animals not because they went out looking for them but because there's a lot readily available," Maxwell said.
West Englewood and Back of the Yards are also pet resource deserts, though those neighborhoods tend not to be as starved for resources as Englewood, Maxwell said.
PAWS For Life has been able to change some of that, Maxwell said: The shelter hosts a "pantry" where it gives away about 2,500 pounds of pet food and supplies once a month, and it offers free spay/neuter clinics and preventative care like tick medicine. The work its volunteers do in picking up and transporting animals also means pets can get medical care their owners might not otherwise be able to access.
"There's pet owners absolutely in every socioeconomic status," Maxwell said. "This is a movement that is really [about] taking control of that and trying to put power back into the hands of the community so they can make healthy decisions for their pets."
The program makes it so residents can care for pets and stray animals, said Rosemary Murray, of Englewood. Murray first learned about PAWS For Life when she saw the volunteers driving around, helping stray animals. She talked to them about getting her dog, Six; cat, Stripey; and a litter of kittens fixed.
PAWS For Life ended up picking up Murray's pets in May, spaying and neutering them, giving them shots, cleaning their ears, clipping their nails, microchipping Six and Stripey and then returning them to Murray, all for free.
A week later, Murray started volunteering at the program's pet supplies pantry, distributing food and items to other pet owners in the neighborhood, as a way to give back, keep herself busy and meet more animals.
Englewood has few pet-focused businesses and many residents don't have an easy way to get to other neighborhoods, meaning supplies and medical care can be hard to come by, Murray said. But PAWS comes to residents and gives them the resources they need to keep an animal as a companion or to help strays in need.
"These animals are [residents'] babies. They're able to keep their babies and take care of them the way they'd like to be taken care of," Murray said. "For low-income [people], it's a really great help."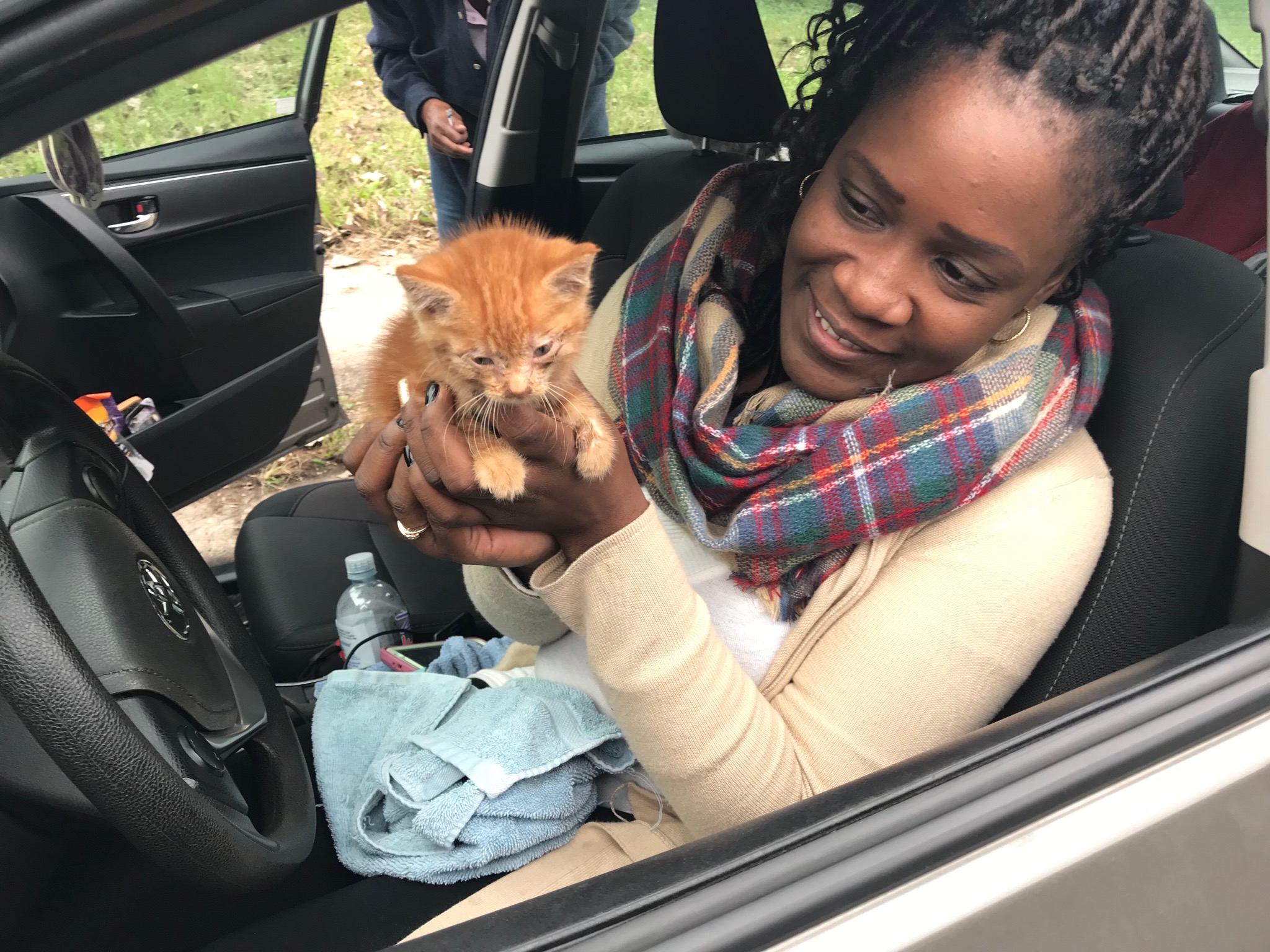 Building Trust
Englewood residents used to distrust the PAWS For Life staff, fearing that if they handed a beloved cat or dog over for medical help that they wouldn't get their pet back, Maxwell said.
"When I first started, folks really were nervous about letting us take their animals because they thought we would keep them," Maxwell said.
And when the program first dipped its toes into Back of the Yards this March, some residents were distrustful due to their immigration status, Maxwell said.
The staff tried to change that through persistence, knocking on residents' doors to talk to them and letting news about PAWS For Life spread through word of mouth, Maxwell said.
Now, the program gets 15-20 calls a day from residents requesting help and its services are usually booked two weeks out.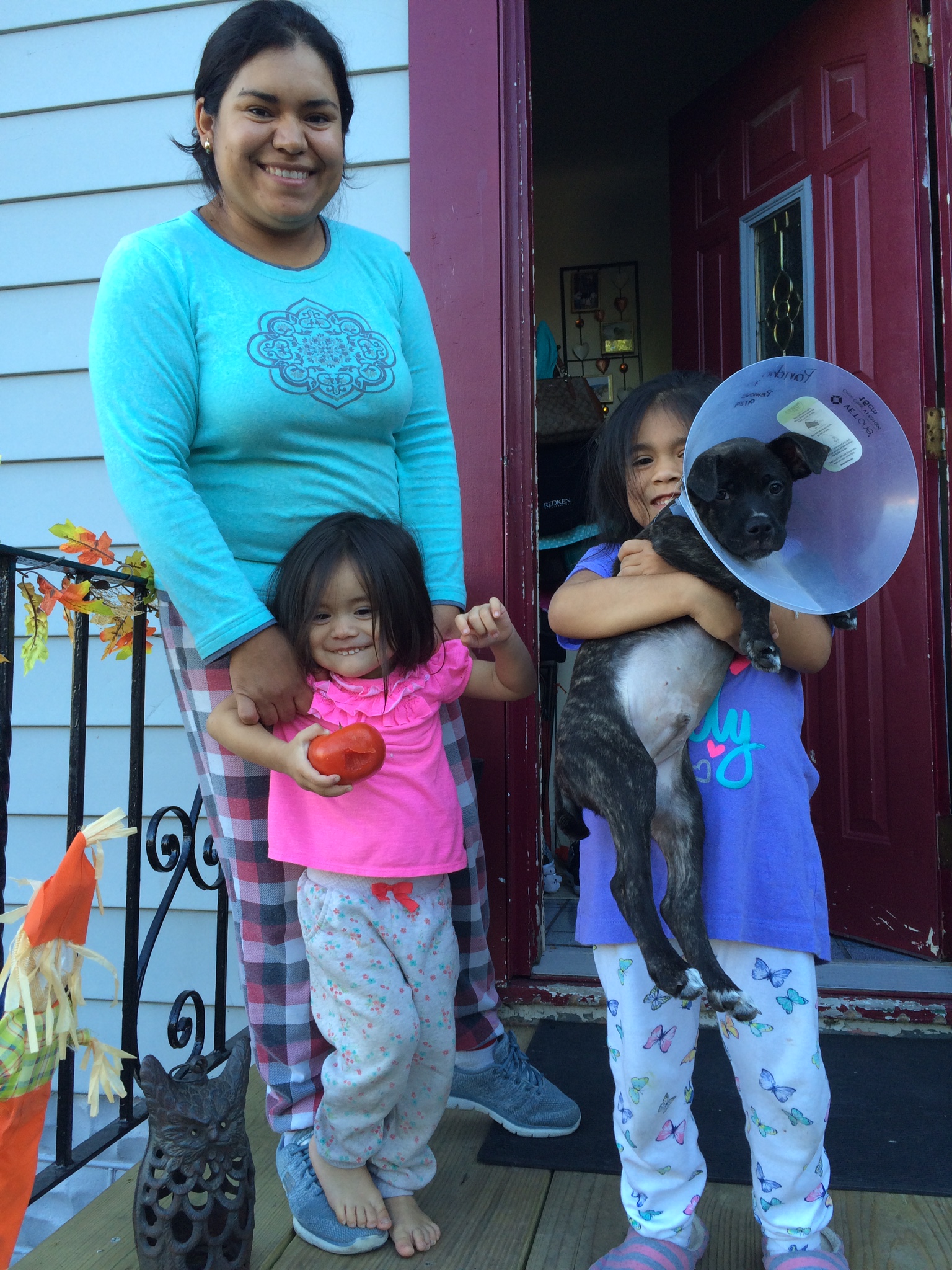 "The community has so embraced [PAWS For Life] to the point where [at] our pet food pantries and events the community members are now volunteering," she said.
PAWS brings in 70-100 animals from Englewood, West Englewood and Back of the Yards every week over the summer, though those numbers will fall "a little bit" in the fall and winter, Maxwell said.
PAWS is in the communities six days a week and was even able to launch its full PAWS For Life program in Back of the Yards this month due to the community interest.
"I'm still so shocked and humbled every day that we work in these communities," Maxwell said. "When we drive down the street in our PAWS van, we can barely get down the block without people flagging us down either to say 'hi' or ask questions."
One day, Maxwell was driving her van when a woman flagged her down and said her cat had recently had kittens. Maxwell talked to the woman about spaying her cat and signed her up for the service right there; by the time she was done, six people were waiting to talk to Maxwell, forming a a line like they were "waiting for the ice cream man."
PAWS volunteers have even been invited to residents' weddings and birthday parties, Maxwell said.
Residents "are very grateful for them," Murray said. "They know Laurie [Maxwell] on a first-name basis and they're very supportive of the pantry."
PAWS benefits from the program, too, Maxwell said: The shelter has hired some of its clients and gotten interns and volunteers — like Murray — from the communities it's serving.
PAWS' volunteers, particularly those from the North Side, have also had their biases about Englewood challenged and changed for the better. Volunteers who might have once thought of Englewood as being associated with violence now "think of Englewood: 'Oh, Ms. Brown and her six cats,'" Maxwell said.
Residents and PAWS volunteers connect "over a love of animals, over a love of cats and dogs," Maxwell said. "It's so awesome to see."
And where once Maxwell might have seen eight to a dozen cats walking around in Englewood, she now sees fewer strays.
"People from the neighborhood get to spoil their animals because PAWS really does spoil them. They get top-of-the-line" supplies to give away, Murray said. Joking, she added, "Some of those pet beds and doggy beds are better than mine."
Information about how to volunteer with PAWS is available online.
Do stories like this matter to you? Subscribe to Block Club Chicago. Every dime we make funds reporting from Chicago's neighborhoods.