BUCKTOWN —  Annie Byrne, the owner of Bucktown's BFF Bikes, can continue her recovery from injuries sustained in a crash with greater peace of mind —  thanks to hundreds of people who've donated more than $21,000.
The 4-day old GoFundMe campaign for Byrne has raised $21,268 from 305 donors toward a $32,000 goal as of Friday morning.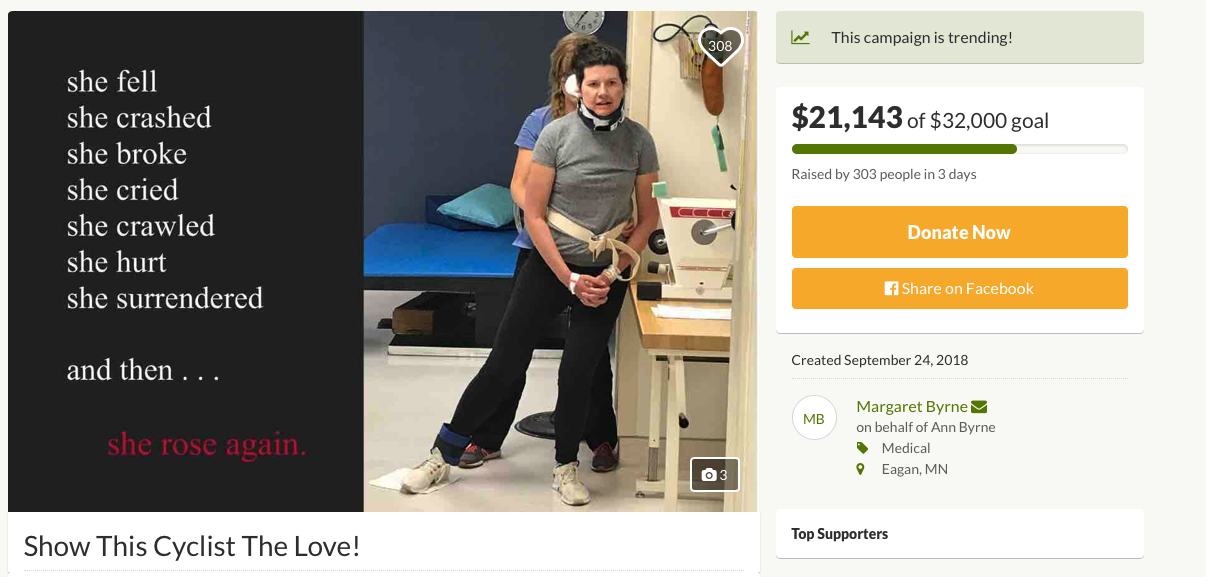 Byrne suffered a brain injury after falling from her bike while cycling down a mountain in a training camp she led last February in Tucson, Arizona. Sixteen mostly Chicago-based cyclists and Bryne were participating in the camp.
The cyclists are all members of a BFF Bikes racing team headquartered at the bike shop, 2113 W. Armitage Ave., which opened in 2014.
According to Margaret McGill, a Noble Square resident and member of the cycling team, the group was going down a steep mountain on the final day of their 5-day trip — with just a few miles left to go— when Bryne fell over her bike's handlebars.
"We were speechless, and so worried," McGill said. 
Byrne was airlifted to a hospital. After coming out of a four-day medical coma, she spent an entire month in Arizona getting well enough to come back home to Chicago. She suffered a broken collarbone and fractured a bone in the back of her skull, causing her to be temporarily paralyzed on her right side. She was diagnosed with a traumatic brain injury with a recovery window of six months to two years.
For the past seven months since the crash, Byrne has struggled to work more than a couple days a week. Though she can walk and has regained much of her physical strength, the brain injury takes longer to heal and has made it difficult for the 37-year-old Bryne to concentrate on her business, according to the GoFundMe campaign. 
As Byrne recovers, BFF Bikes' employees like Kelly O'Brien have taken on more responsibilities at the store. Members of the BFF Bikes team like McGill have also been volunteering their time at the shop, which is women-specific and the only one of its kind in the Midwest, according to O'Brien.
"So much support has poured in, a constant stream of people sending messages. It's overwhelming, not just the support for Annie personally, but for the shop as well. It's lifting her spirits to know everyone is here for her," O'Brien said of the campaign. 
Reached by phone on Friday in her Logan Square home, Byrne said she is "very touched" by the outpouring of donations from friends in the cycling community, BFF Bikes' customers, acquaintances, former co-workers from a previous job, Bucktown business owners and even strangers.
Byrne said she is financially supported by the business, and as the business has accrued a number of bills, she can't pay herself as well as the mounting medical bills from her injuries which she said are in the "hundreds of thousands." 
Byrne's mom, Margaret Byrne, started the GoFundMe and had been prodding her daughter to allow her to create the campaign since June.
"At first, I was dead set against it. It's a big deal to put it out there, it's personal. But it's gotten to the point, 'Oh, I can't pay my bills, maybe it is necessary.' This could mean the end of the shop, and that would make me really sad. My mom knows the shop is my baby," Byrne said.
Earlier this year, Byrne became the sole owner of BFF Bikes after her former business partner Vanessa Buccella, who started the shop with Byrne, moved to Colorado.
While she does have health insurance, there are many expenses that Bryne's insurance did not fully cover. The helicopter bill to go from the mountain to the hospital was over $30,000, she said, and the month-long hospital bill after the crash was over $300,000. 
Byrne was attending physical therapy until a few weeks ago, and still has improvements to make as she undergoes one-on-one training with a personal trainer friend.
While the past months have been challenging for Bryne and the store, O'Brien said, "We are making it work and holding down the fort as she recovers." 
"It finally took the business being affected for her to put her pride aside and be okay [with the fundraiser]. The road ahead is a lot of recovery, and the hope is she can focus on her recovery more than the business. We want to keep everything managed so she can focus on herself right now," O'Brien said.