PILSEN — When Erin Armstrong read Sarah Joanou's scathing blog post about the alleged toxic work environment at Thalia Hall's basement bar Punch House in Pilsen, she wasn't remotely surprised.
A former top manager at Thalia Hall, Armstrong called Joanou's allegations "uncannily" similar to what she experienced during her time working at the Pilsen music venue.
In the two years since Armstrong was terminated, she said the red flags she raised about the work environment back in 2016 have seemingly been ignored.
"Nothing was ever done about anything," Armstrong said. "This is just one of the dozens and dozens of women basically saying the same thing I was saying two years ago. It's uncanny. Nothing has changed down there."
Concerns about the work environment at Thalia Hall, and its restaurant Dusek's and basement bar Punch House, erupted following Joanou's viral blog post where she made a plethora of allegations — following her Sept. 12 termination — ranging from sexual misconduct, health code violations and severe staffing shortages.
In the blog, Joanou also alleged being verbally accosted by owner Bruce Finkelman, who she said fostered an "environment of fear and arbitrary punishment" at his restaurants.
In response to Joanou's blog, 16″ on Center, the hospitality group owned by Finkelman and Craig Golden, launched an investigation into the allegations made in the post. That resulted in the termination of a Punch House general manager on Sept. 17 for a "violation of company policy," according an email statement from the company.
According to the company, Joanou, who wasn't mentioned by name, was terminated Sept. 12 following "multiple incidents that infringed upon company policy."
Eater Chicago first reported the company's investigation and the general manager's firing last week. 16″ on Center said they had launched an internal investigation and enlisted outside counsel to assist in the process.
The hospitality group emphasized they did not take these claims lightly, as they were "directly against the core values of our organization."
"Although it is disheartening to read these allegations, it is the responsibility of the company to gather the facts by interviewing everyone who may have information, including the person who initiated the claims," the statement continued. "[We are] fully committed to the safety and wellbeing of its team and its guests."
Armstrong, however, is skeptical of an investigation being run by owners who she said "encouraged" a toxic work environment.
"The environment down there is insane, they are left to run amuck and do whatever they want," Armstrong said. "There is no one really paying attention or keeping in check what any of the management is doing down there."
Armstrong said she started working for Bruce Finkelman at the Empty Bottle in 2011, and began picking up shifts at Thalia Hall in 2014. She was promoted the following year to become an assistant general manager at Thalia Hall and was subsequently given general manager duties, she said, all within a span of two years.
On multiple occasions, the 37-year-old said she raised concerns to her supervisors about staff shortages, insubordination from male employees, as well as concerns about open drug use, but was brushed off before being suspended and ultimately terminated on Sept. 20, 2016.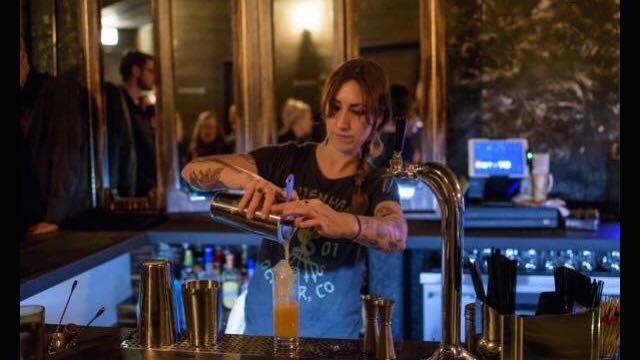 "If you didn't like what was going on because you felt like it was a toxic environment, they would just get rid of you instead of dealing with the situation and replace you with someone else," she said. "That's the pattern I'm seeing."
Armstrong said Joanou's blog, and her own experience, illuminate the "inappropriate way in which men treat women at Thalia Hall and Punch House." While Armstrong didn't experience harassment that was sexual in nature, she said she was harassed because she was a woman.
"The women are treated in a completely different way than the men are treated. 100 percent," Armstrong said.
Following her suspension, Armstrong, along with another employee, sought legal counsel but ultimately didn't pursue a lawsuit after her colleague backed out of taking legal action. Armstrong remembered feeling like she could not "go it alone against someone so rich and powerful."
"I abandoned the idea of taking legal action and just tried to forget about it," Armstrong said.
A lawyer and spokesperson representing 16″ on Center did not respond to questions regarding Armstrong's allegations. Finkelman did not return calls or emails.
Now, two years since her firing, Armstrong was inspired to speak "openly, and publicly" about her experience at Thalia after reading Joanou's blog. On Sept. 22, Armstrong took to Facebook to discuss her experience at Thalia Hall. As she read Joanou's words, she was instantly reminded of her days working for the company.
Since the post, other women have come forward to share their experience at the 16″ on Center-owned venue. Armstrong sees these social media posts as "their form of protest" to highlight what's going at Thalia Hall.
While some women have posted publicly, Armstrong said there are dozens more who fear legal repercussions for speaking out publicly.
"That has prevented a lot of people from being open about the way in which they were treated and what happened to them there," she said. 
Despite those lingering fears, Armstrong believes that for her the time to speak out is now. Following the #metoo movement, she sees a change in the political, social and cultural landscape that previously deterred women from speaking up about instances of harassment — sexual and otherwise.
"Every woman that I have ever known has at least one experience in their workplace like this," Armstrong said. "They have either kept quiet, kept enduring it, or left a place of employment because they knew nothing would be done about it."
Armstrong said woman don't have to feel fearful anymore. 
"We should be able to speak out about the abuse of power, discrimination, harassment, without being met with a lawsuit, or being met with skepticism," she said. "We don't have to put up with this behavior any longer."