PULLMAN — For 35 years, Chicago activist, scholar and former track athlete Dr. Conrad Worrill has worked to bring an indoor track facility to Chicago.
On Sunday, during a groundbreaking ceremony at Gately Park, 744. E. 103rd St., he realized it's actually happening.
"I'm ecstatic, happy, overjoyed, we've been fighting for this for over 35 years and I think it will give an option to Chicago Public Schools student athletes in having accessibility to an indoor track," Worrill said. "I believe it will put Chicago on the map and it's an opportunity to put Chicago track and field on the map."
Gately Indoor Track & Field will be a state-of-the-art 139,000 square-foot track facility that includes the area's first hydraulically banked 200-meter track, an 8-lane track, a throwing cage and space for field events including high jump and long jump. In addition to track and field events, the facility will also host football, basketball, lacrosse, volleyball, and outdoor soccer games and more. 
Worrill, a Civil Rights leader and longtime professor at Northeastern Illinois University, said he's been lobbying Chicago mayors for a track facility within city limits since the Harold Washington administration.
Worril said in one of his first meeting with Washington, the mayor was on board with the idea. But before things could be set in motion, Washington died.
Years later, under the Richard M. Daley administration, an indoor track facility project made "some headway" as part of the city's ill-fated bid for the 2016 Summer Olympic Games. But when the bid failed, the plan was back to square one, Worrill said. 
Undeterred, Worrill continued to press forward until he was able to meet with Mayor Rahm Emanuel thanks to help from Ald. Michelle Harris (8th). It was at this meeting the plan for the facility finally found a home.
In a statement, Emanuel said the track and field facility will provide Chicago athletes of all ages a place to train year round. 
"In partnership with After School Matters and Exelon, we are proud to make Harold Washington's dream a reality on the South Side," he said. 

Harris, whose ward is home to Gately Park, said the project will cost $55 million and is scheduled to be completed by August 2019.

"The indoor track at Gately Park will serve as a hub not only for Pullman, but for the entire south side community," Harris said in a statement. "It will give students a safe and engaging place to train, and residents a place where the community will continue to grow for years to come."

Ald. Howard Brookins (21st) said at the moment, the nearest track and field facility nearby is in the Proviso Township. He said this track could be a game changer for some kids.

"You never know what's going to motivate an individual child, some it's sports, some it's academic, some it's dance and so the city has to have all of those things out there to get the kids off the street and get them motivated," Brookins said. "We need a facility that kids can get out of the elements, be in a safe environment, and actually do something that might help them later on. Like help them get a scholarship to college or just meet people that help them later on in life."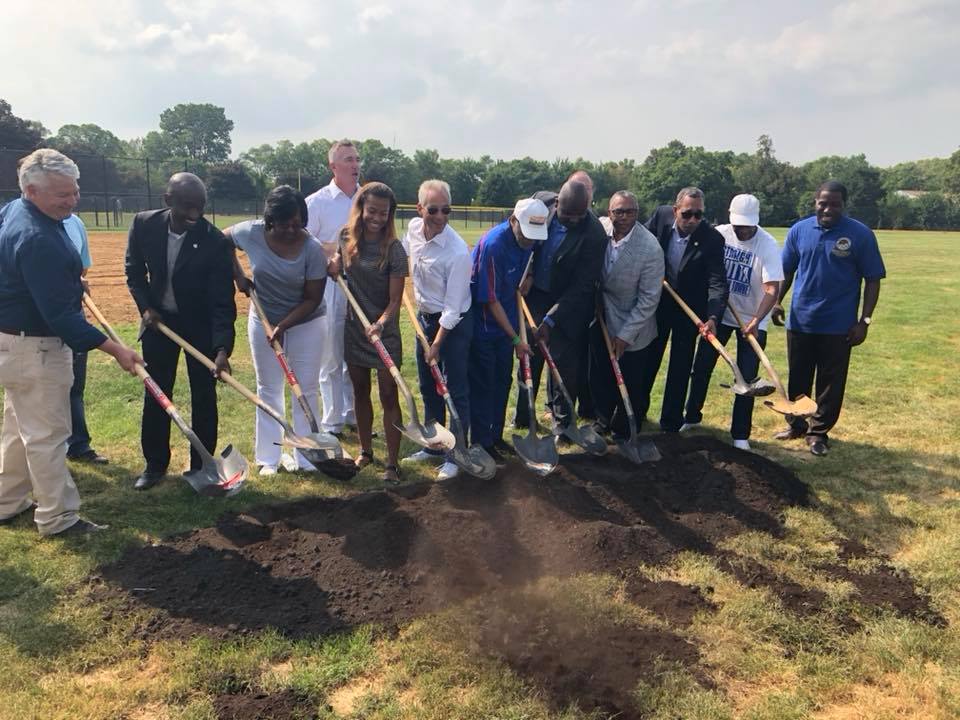 Emanuel said the facility at Gately Park will also be a second home to  After School Matters, an organization that provides afterschool and summer programs for Chicago teens. One location exists already in the Belmont Cragin neighborhood.

"Thanks to the leadership of our entire community of supporters and partners — especially the Chicago Park District, the Mayor's Office, and our Board Chair Mellody Hobson — After School Matters will now have a dedicated space on the South Side of Chicago intentionally designed for teenagers to learn, grow, and discover their potential in a safe and supportive environment," said Mary Ellen Caron, After School Matters CEO. 

Funding for the facility came from the city and donations from from Mellody Hobson and the George Lucas Family Foundation on behalf of After School Matters and the Exelon Corporation.
The facility will be built by McHugh Construction and Bowa Construction.