LAKEVIEW — Alisha Elenz has spent all her life in one kitchen or another, tagging along to her mom's job at a banquet hall, helping in her uncle's pizza parlor and cooking up seafood at her own job at mfk.
But Elenz still remembers her first dish: Her mom was at work and Elenz, home alone, decided she wanted a grilled cheese. She was too short to manage the stove, so she stuck the cheese into the microwave to melt it.
The result was less than ideal, but Elenz didn't give up. For her next attempt, she turned her toaster on its side and stuck the bread and cheese inside. That sandwich was … slightly better. Edible, at least. Maybe even good, considering the chef's age and skill level, Elenz contends.
It was the first dish in a long line of them, though Elenz, of Lakeview, didn't know it at the time. The 24-year-old is now the executive chef — aka, the chef — at mfk., 432 W. Diversey Parkway, where she's been part of the team that helped the restaurant rack up three of Michelin's prestigious Bib Gourmands in as many years.
Needless to say, her cooking skills have improved since that first grilled cheese.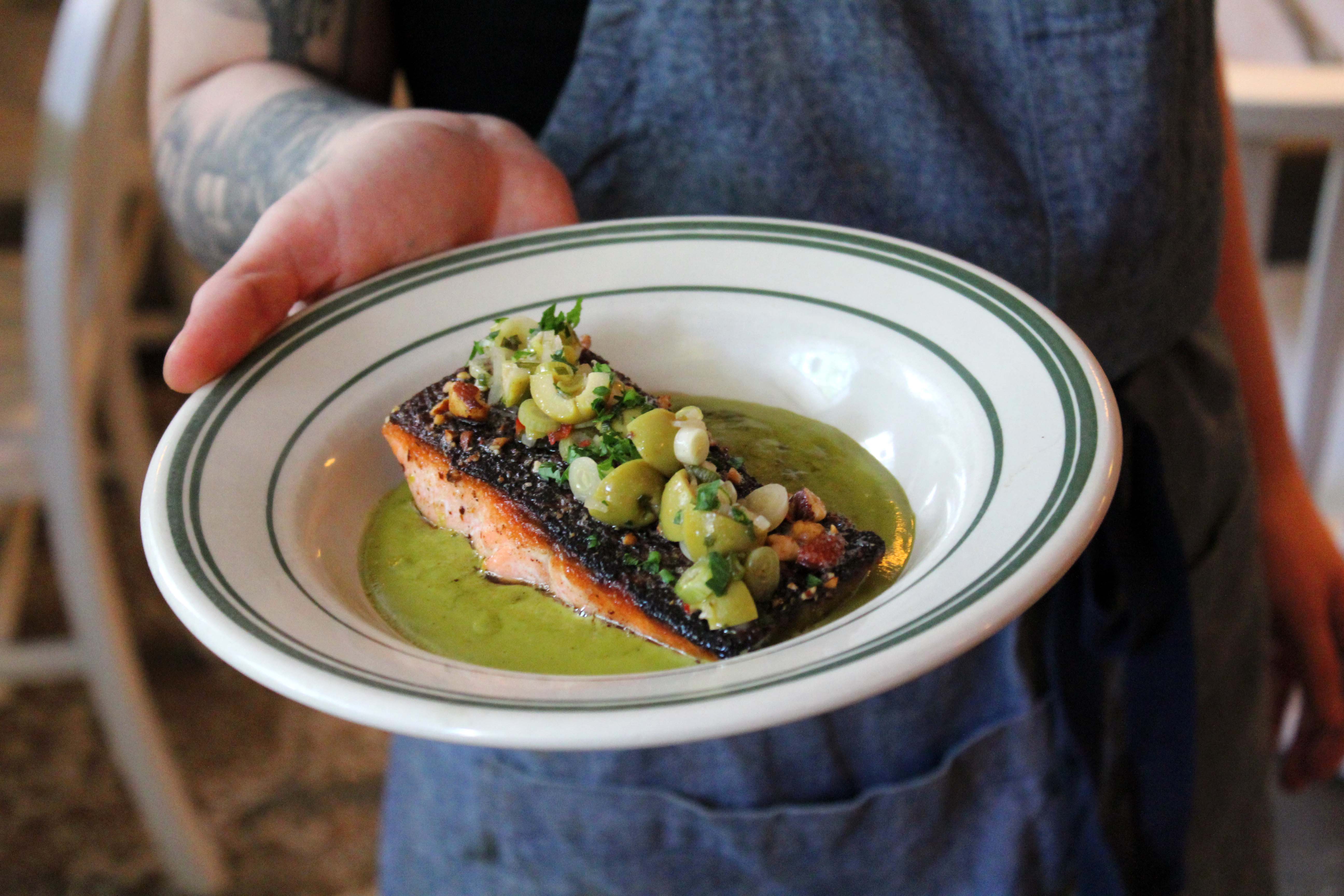 'You Might As Well Just Do It'
Elenz's family has worked in and out of restaurants for as long as she can remember. She'd go to her mom's job in a banquet hall — not cooking anything; just annoying the employees — or help out at her uncle pizza's parlor.
"I think there's a lot of little moments of things that happened, but I didn't realize those moments until after," Elenz said.
It wasn't until she was 19 and a cashier in her uncle's restaurant that cooking stuck. A chef called out and no one was able to take on the job.
"It's a slow night. Do you want to do it?" they asked Elenz.
The night ended up being anything but slow — but Elenz quickly realized she loved the adrenaline rush of a busy kitchen.
"To have that moment, it was like, 'Oh, shoot. This is really cool. I have to do something with this,'" Elenz said. "It wasn't easy from there. It was a lot of hard work."
Elenz decided to go to culinary school, but first she staged at restaurants across Chicago. It was while at BellyQ that a chef told her going to culinary school would be "the biggest mistake I ever made."
"You could go to culinary school, but you're already doing it, so you might as well just do it," chefs said, according to Elenz.
So, Elenz did it, forgoing culinary school.
There were challenges with that approach, Elenz said: She wasn't as familiar with techniques as others who went to culinary school, and some ingredients were foreign to her. A native of the northwest suburbs, Elenz jokes she grew up on steak and potatoes — which is why she was at a loss when someone in the kitchen first mentioned "fennel" to her.
That didn't matter. She kept working and learning; when the bustling kitchen felt overwhelming, someone told her to embrace the business of a chef's life and enjoy her work — inspiring one of her tattoos, which reads, "Revel in the chaos." She was officially in love with kitchen life.
"… I think that, like, when you really want it and you really enjoy that feeling — I think for me it's the adrenaline. The fast pace, the constant changing, the having to adjust," Elenz said. "That's what I really enjoy."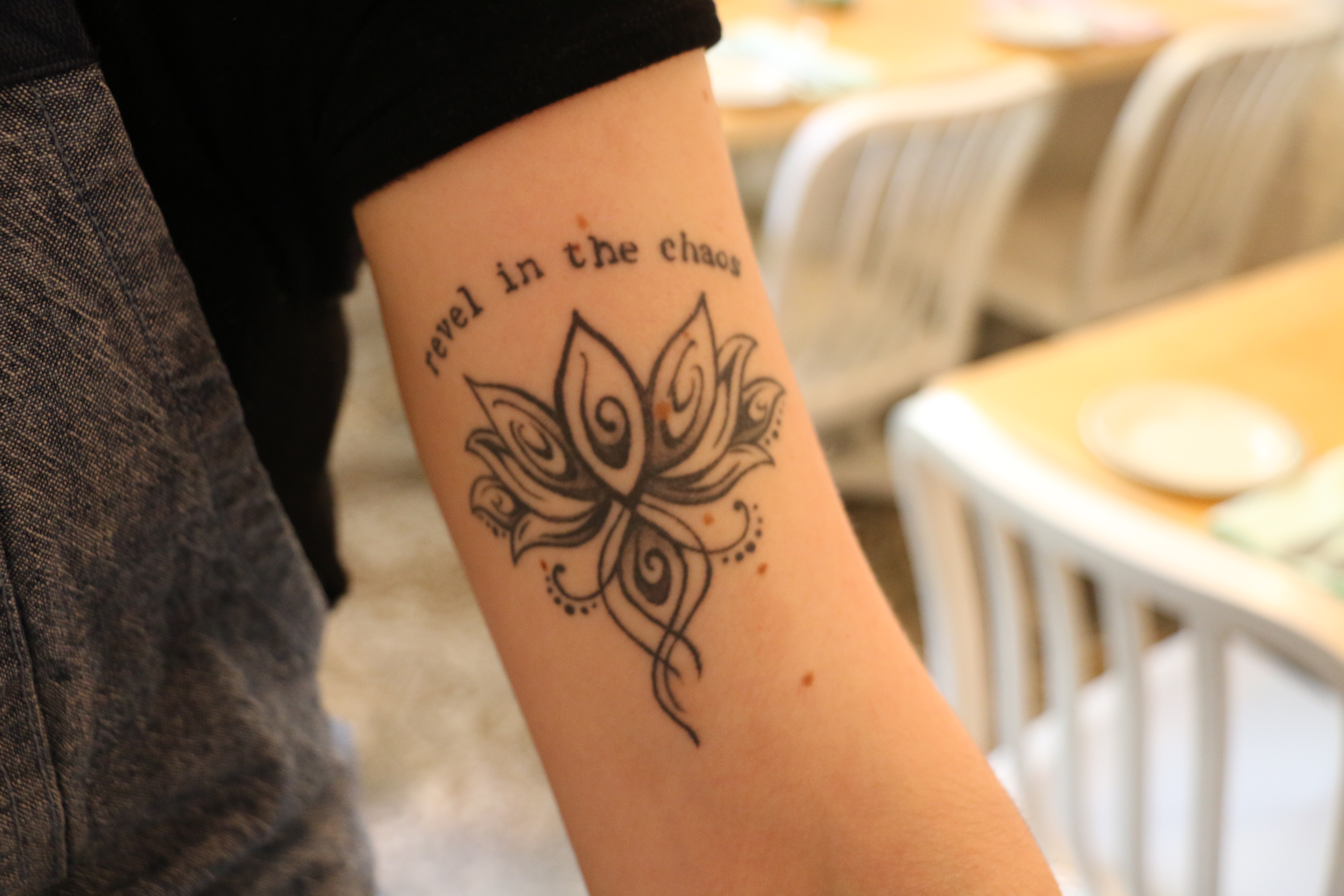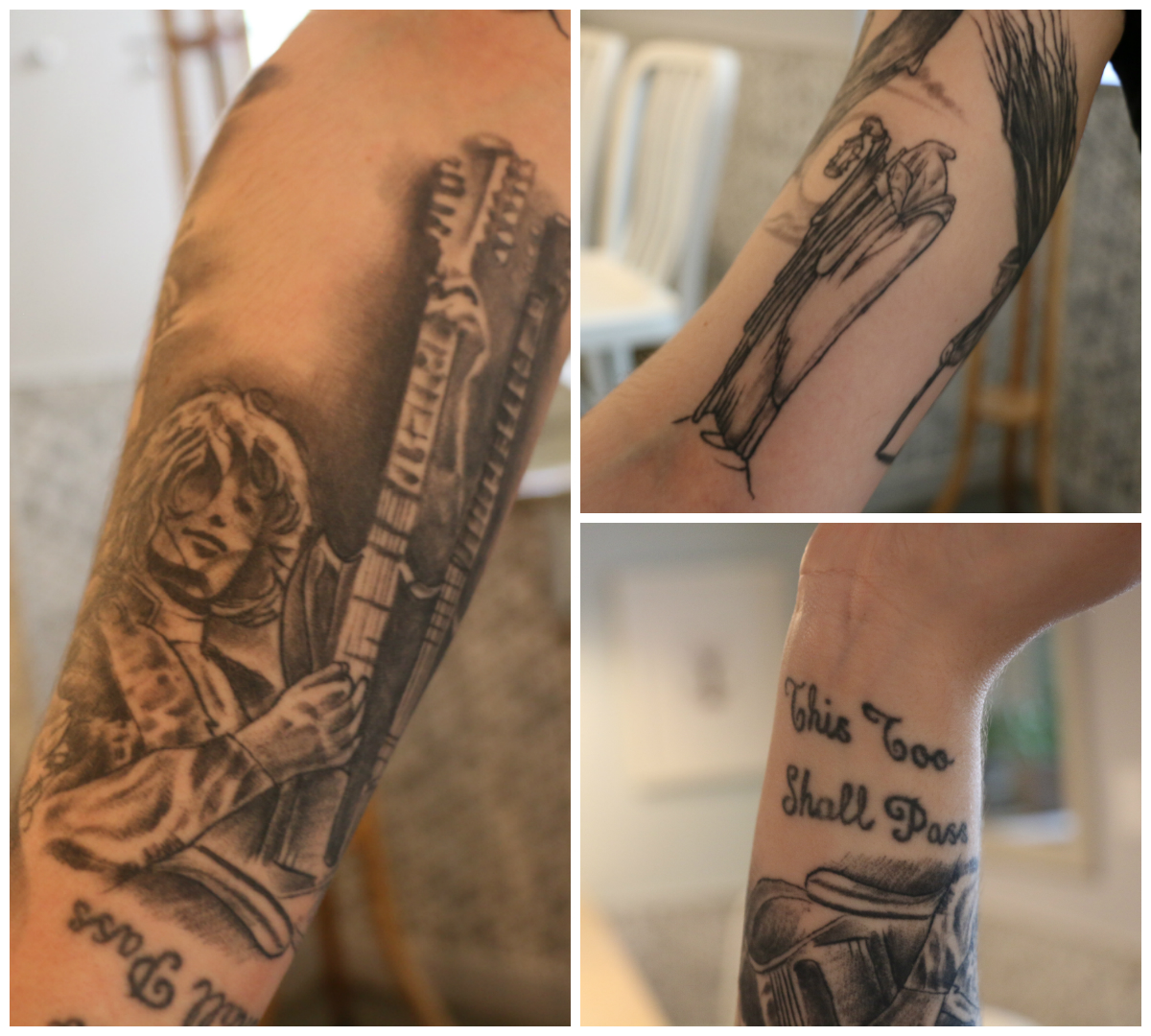 'This Place Is Amazing'
At 21, Elenz decided to look into mfk. in Lakeview. She was nervous at first: The restaurant focuses on Spanish cuisine, particularly seafood, and Elenz had mostly worked with French and Italian cooking.
She tried it out, though, and instantly fell in love with the space and the staff.
"I did my stage and I was like, 'I gotta work here. This place is amazing,'" Elenz said. "And I haven't been able to leave ever since."
Elenz officially started as a part-time prep cook in 2015, but she continued to train under the restaurant's top chefs and earned promotions. She was named the sous chef at 22; when she asked a mentor if he thought she was ready for that position in the restaurant, he told her no one was ready — but she had to try, and if she didn't succeed she could step back.
Elenz did succeed, and she was made the restaurant's executive chef in January when she was 23. It was weeks before it set in that she was now the boss of the kitchen, and Elenz again questioned if she was ready for the role.
"It's funny when you doubt yourself and you think you can't do something and then you're kind of just thrown in the situation and you're like, 'Oh, OK, this is hard, but I can do this,'" Elenz said. "It's weird. But I guess that's part of growing up. It's part of life. You think things are impossible until they're not."
Being a young chef can be intimidating — Elenz, now 24, has people in their 30s who answer to her in the kitchen — but Elenz said she's "fortunate" to have a staff that works together as a team and respects her.
"You don't need to scream. You don't need to stretch your voice," Elenz said. "You just need to work, and work really hard. And work harder than everyone else."
And though Elenz was originally worried about the challenges of mastering mfk.'s Spanish-influenced menu, she's learned so much in her time there that her culinary style has become closely entwined with the restaurant's — but she's always looking for ways to grow as a chef.
"I learned a lot about how to mess with flavors at this place, so it's hard to say how I put my own flavors into it because so much of what I do is inspired by this restaurant and [writer M.F.K. Fisher] herself," Elenz said. "I am an executive chef at 24, but I still have so much more to see and learn and do … . I think I'm still learning to develop my own flavor … I'm still figuring it out every day."