CHICAGO — Another massive office tower would be built in the red-hot and fast changing Fulton Market District under a proposal set to be considered Thursday by the Chicago Plan Commission.
Developer Trammell Crow wants to build a 13-story building at 1375 W. Fulton St. that would feature 315,300 square feet of office space, shops on the ground floor and 116 parking spaces on what is now a vacant lot and surface parking lot along the western edge of the Fulton Market District.
Now zoned M2-3, which allows light industry, the proposal would rezone the property to DX-5, which allows for mixed-use Downtown and then a business planned development.
Originally, the developer proposed building an 18-story apartment complex with 315 apartments on the property. That was blocked by Ald. Walter Burnett Jr. (27th), who has kept Fulton Market between Lake and Hubbard streets off-limits for residential developments, as first reported by Crain's.
In return for permission to build more office space than the law allows, the developer would pay $2.7 million into the Neighborhood Opportunity Fund, records show.
The City Council approved plans last month for a 12-story office building at 310 N. Sangamon St., which will feature 7,800 square feet of ground floor retail with office space above.
At Burnett's request, developer Mark Goodman promised to "try" to rent the retail space in the Sangamon Street tower at an affordable rate in an effort to keep small businesses from being forced out of the booming neighborhood.
The commission will also consider a plan to convert an old industrial building at 400-10 Green St. in Fulton Market into a new brewery, distillery, and restaurant for Blind Pig Hospitality, as first reported by the Tribune.
Luxury 606 apartment complex back up for a vote
Plans for a luxury apartment project along the 606 trail at the Logan Square/Bucktown border will return to the Plan Commission for a vote, one month after being deferred by commissioners.
The revised plans to be considered by commissioners call for a six-story building at 1750 N. Western Ave. with 109 luxury apartments, a 42-spot parking garage on the first floor and retail on the second floor.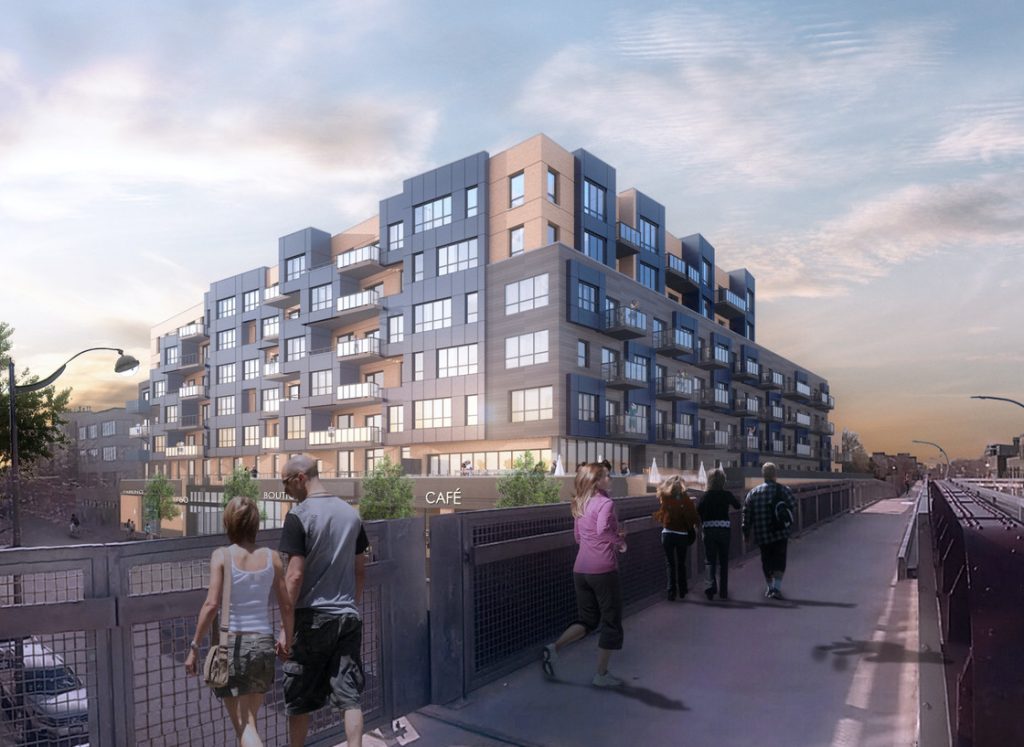 Neighbors have expressed worry about parking and extra crowding on the CTA Blue Line, according to Block Club Chicago.
Revised plans for the project call for it to be one story shorter and include 14 fewer apartments than it did a month ago, according to the proposal.
Other items set to be considered
The commission will also consider approving two new construction and demolition recycling facilities in the 10th Ward on Chicago's Southeast Side.
If approved, the 58-acre facility at 3203 E. 100th St. would include a cement redi-mix operation, storage silos, open storage and 30 parking spaces. The facility at 3236-58 E. 106th St. would be smaller at 21 acres and include a modified transfer station and seven parking spaces, according to the proposals.
Also in the 10th Ward, the commission will consider creating a new tax increment financing district centered around Avenue O and 116th Street.
Past coverage:
10th Ward Should No Longer Be City's Dumping Ground, Alderman Says, As Manganese Ban Advances
The commission will also consider a proposal from the Chicagoland Laborers' District Council Training and Apprentice Fund to expand its training center in the North Austin neighborhood with a 53,000-square-foot addition with 150 parking spaces at 5700 W. Homer St.
The proposal would also allow the union to build another 50,000-square-foot addition to its training center with 117 parking spaces. The project straddles Ald. Emma Mitts' 37th Ward and Ald. Chris Taliaferro's 29th Ward.
In other action, the commission will consider a proposal from McDonald's that would allow the Chicago-based fast food giant to tear down their restaurant at 2608 W. Addison St. near Lane Tech High School and replace it with a new eatery that includes a children's play area, a double-lane drive-thru and 27 parking spaces. McDonald's is spending $317 million to modernize more than 400 Illinois restaurants, according to the Tribune.
Get more in-depth, daily coverage of Chicago politics at The Daily Line.