This weekend preview was created by Third Coast Review, which has been bringing Chicago news, previews and reviews about theater, film, music, visual arts, books, food, museums and beyond since January 2016.  
CHICAGO — The sun is starting to rise a little later, but there's still plenty of summer to enjoy! This weekend especially is full of festivals, concerts, and art waiting for you to enjoy. So don't let the dwindling summer days get you down, get out there and discover the great events our city has to offer.
Let's get on with your curated weekend!
All weekend long

Chicago's Little Italy Festa @ Taylor Street, 1431 W. Taylor St., Thursday 5-10 p.m., Friday 5-11 p.m., Saturday noon – 11 p.m., Sunday noon- 10 p.m., All Ages
WHAT: A celebration of Taylor Street's rich Italian history!
SO WHAT: From the late 1800s to about the 1950s, this area was a hub for Italian immigrants to settle and establish their families. It soon became Chicago's "official" Little Italy. During this festa you can enjoy food from award-winning area restaurants, several stages of family friendly entertainment, colorful cultural attractions and so much more!
NOW WHAT: Entry is free, but attendees will be asked to give an optional donation at the gate. Just get yourself to Taylor St. and enjoy!
Thursday, Aug. 16
Ignite – A Fire Dance and Fireworks Spectacle @ Garfield Park Conservatory, 300 N. Central Park Ave., 6-10 p.m., All Ages
WHAT: Chicago's own Pyrotechniq Productions debut their largest-ever fire dance and fireworks spectacle. See fire dancing, fireworks, do yoga, enjoy a cash bar and roam amongst plenty of pretty plants!
SO WHAT:  These performers represent some of the best and brightest in Chicago. This looks to be a huge event with plenty to do and see in a great venue.
NOW WHAT: Tickets can be purchased here and are $20 for adults and $10 for children with discounts and VIP packages available.
Millennium Park Music Series: The Sea and Cake, Moonrise Nation @ Millennium Park, 201 E. Randolph St., 6:30-9:00 p.m., All Ages
WHAT: Another Millennium Park summer music series 
SO WHAT: This year's exciting lineup continues to take cues from both internationally known performers to local artists that are more than worthy of such an impressive spotlight. Tonight the series will feature local legends The Sea and Cake and Chicago's own Moonrise Nation!
NOW WHAT: All shows in this series are free and will start at 6:30 p.m. rain or shine.
Adler After Dark: Camp Adler @ Adler Planetarium, 1300 S. Lake Shore Dr., 6:30-8:30 p.m., 21+
WHAT: A chance to reconnect with nature, sing songs with friends around a campfire, lay back and admire the night sky from the comfort of your local planetarium!
SO WHAT: This edition of Adler After Dark will transport you to a dark sky site to tour a star-filled night sky with an experienced guide in special sky show Look Up! Hone your orienteering skills with nothing but a compass and your wits in a museum-wide quest, features special guests from NASA and Boeing and much more!
NOW WHAT: Tickets are $20 for general admission and $15 for members. Make it a night to remember!
Friday, Aug. 17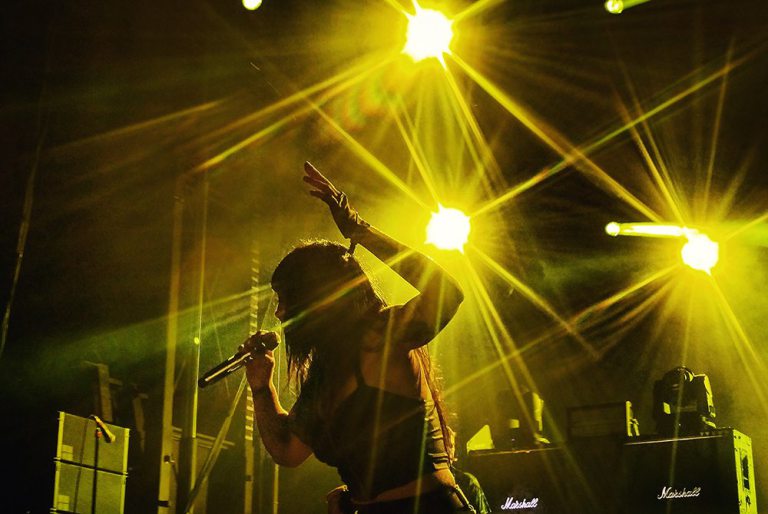 Sleigh Bells & Torres @ Metro, 3730 N. Clark St., 8 p.m., 18+
WHAT: One of those lineups you shouldn't miss
SO WHAT: Sleigh Bells make music for dancing your butt off in exuberant joy as Alexis Krauss' voice shines bright over Derek Edward Miller furious riffs. Joining them will be Torres, the musical project of Mackenzie Scott who recently stole the show at HOV with her intense and absorbing performance.
NOW WHAT: Tickets are $25
Joan of Arc, Jenny Pulse & Orphan Schlitz @ Sleeping Village, 3734 W. Belmont Ave., 8 p.m., 21+
WHAT: Tim Kinsella's legendary band taking the stage at Chicago newest and most exciting local venue
SO WHAT: Have you listened to Joan of Arc's latest album 1984? It's an awesome new style for the ever-evolving band (with 23 albums under the JOA project, you'd expect it by now), with Melina Ausikaitis taking vocal duties from Kinsella. Joining them will be the experimental electronic dreams of Jenny Pulse and Orphan Schlitz's lo-fi mania.
NOW WHAT: Tickets are $12 in advance, $15 at the door
Saturday & Sunday, Aug. 18 & 19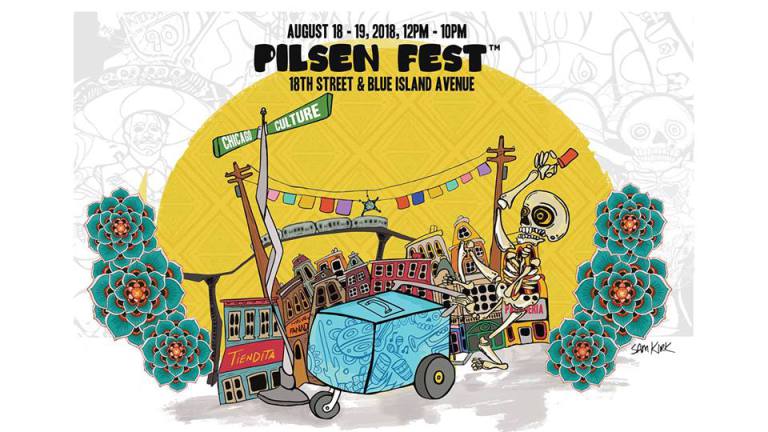 Pilsen Fest 2018 @ 18th Street and Blue Island Avenue, 11 a.m.-10 p.m., All Ages
WHAT: A festival celebrating the culture of Chicago's Latino community
SO WHAT: Pilsen Fest focuses its sights on the deep pool of cultural talent that exists in the Latino community in the Pilsen neighborhood and the rest of the Chicago metropolitan area. Culinary arts, musicians, mixologists, poets, muralists, painters, writers, documentarians, and photographers are represented in the festivities all weekend. There will also be some exciting bands including Hello Seahorse! Pilsen Fest's mission is embrace diversity, solidarity and unity through the arts.
NOW WHAT: It's free! Keep updated with Pilsen Fest at their event page.
Saturday, Aug. 18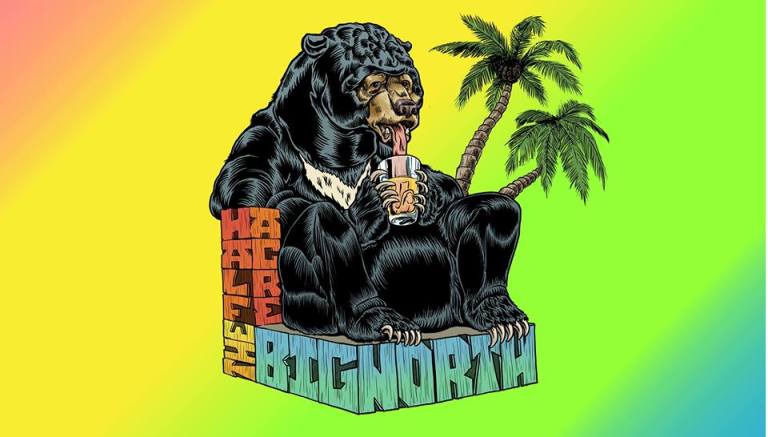 The Big North 2018 @ Half Acre Beer Company (production facility), 2050 W. Balmoral Ave., 4-9 p.m., 21+
WHAT: Anther year of great beer and great tunes.
SO WHAT: It's year three of the Big North! This is your chance to indulge some Half Acre beers of all varieties while you hang with friends, try food from their kitchen, and dance along to performances by Post Animal, Dehd and Divino Niño, and more!
NOW WHAT: Tickets are $77.18 for this big party!
Boomshakalaka! NBA JAM's 25th Anniversary @ All Star Press, 2775 N. Milwaukee Ave., 6-9 p.m., All Ages
WHAT: An artistic look back at NBA JAM organized by All Star Press and VGA Gallery
SO WHAT: It's the 25th anniversary of over-the-top, stylized jumps and dunks of NBA JAM! So why not celebrate with All Star Press and VGA Gallery as they debut a new exhibition of artwork by artists inspired by the iconic basketball game. Featured artists include Austin Breed, Jermaine Brown, Goosenek, Jake.psd, Kwasi, Adam Lundquist, Jason Rowland, Wilfred Santiago, and Sam Thorn. here will also be screenings of interviews with game creators Mark Turmell and Sal DiVita and voice actor Tim Kitzrow, and footage from the forthcoming documentary by Josh Tsui titled "Insert Coin: Inside Midway's '90s Revolution."
NOW WHAT: Entry is free! Complimentary drinks will be served. Sign up for a NBA JAM Tournament that ill be taking place at the event to win Bulls tickets! The exhibition runs through Sept. 8.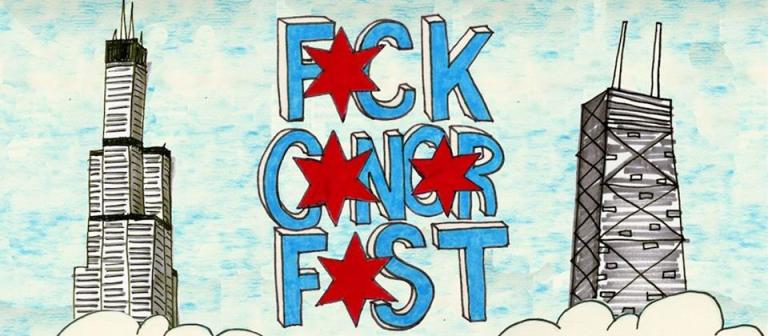 FCK CNCR FST feat. Melkbelly, Tongues Unknown, Rookie & American Grizzly @ Thalia Hall, 1807 S. Allport St., 7:30 p.m., 17+
WHAT: FCK CNCR FST is a collective effort of local musicians with a focus on raising money and awareness for specific cancer research and support organizations.
SO WHAT: This show will mark the inaugural FCK CNCR FST and will feature Brooklyn-based psyche rock outfit Tongues Unknown, Chicago bands like Americana rockers American Grizzly, our newest rock obsession Rookie and the wonderfully loud and fun Melkbelly!
NOW WHAT: Tickets start at $25! 100 percent of proceeds will be donated to the pediatric brain tumor research organization Pat Mac's Pack.
Sunday, Aug. 19 
Bric-a-Brac Scummer Slam Round 3 @ East Room, 2354 N. Milwaukee Ave., noon, 21+
WHAT: A pure rock party to end summer
SO WHAT: Summer is coming to an end and what better way to send it off with an  afternoon of raging rock n roll from all over world! Bric-a-Brac and East Room will be hosting a huge lineup of bands including Nikki Corvette, Gino & the Goons, Royal Brat, Ethers, Color TV, Datenight, Bruised, Nude Model, Skull Cult, Dedpet, and the glorious return of The Lemons!
NOW WHAT: There is no cover for the Scummer Slam, but the event will be taking donations to support the music programming at Goethe Elementary School.

Lagunitas Art Gallery Opening Reception @ Lagunitas Tap Room, 2607 W. 17th St., 6-9 p.m., 21+
WHAT: Raise a glass to Chicago's local art scene at the Lagunitas Art Gallery
SO WHAT: Lagunitas will be featuring the work of nine emerging artists (Sarah Sears, Lamda Mahrya, Juan Zavala, Diego Diablo, Amelia Venus, Delilah Martinez, Amy Kordeck, Christopher Kawa, and Chandni Sahni Mahendra) from all walks of life. There will be local art for sale, Lagunitas brews and a chance to meet the artists in person.
NOW WHAT: This exhibition is free to attend! The gallery is located on the second floor next to the taproom. Artwork will be up through Oct. 1. 
Did you enjoy this article? Please consider supporting Third Coast Review's arts and culture coverage by becoming a patron.