CHICAGO — A crowdsourcing website gives bicyclists the chance to shame drivers who park in bike lanes —  and it's caught the eye of city officials who are now exploring how Bike Lane Uprising can be used to bolster enforcement efforts.
Last week, Christina Whitehouse, founder of Bike Lane Uprising, met with officials from the city's Department of Finance. Bike Lane Uprising publishes a crowdsourced database of obstructed bike lanes using photos submitted by cyclists. There are hundreds of contributors who regularly upload images of cars and trucks in bike lanes. The photos often feature license plates.
The Department of Finance, which already brings in nearly $264 million in parking tickets per year, is interested in Bike Lane Uprising and the data it's collecting, Whitehouse said.
Whitehouse is a Loop resident and cyclist with a day job who launched Bike Lane Uprising in September as a passion project after almost getting hit by a truck in a bike lane.  She wouldn't get into the specifics of her meeting with the city, but said it was "positive."
Bike Lane Uprising and the city agency responsible for ticketing "are in preliminary stages, getting to know each other," Whitehouse said, adding, "I don't know if we have any idea what the full opportunity for this is; it's so new right now."
Kristen Cabanban, a spokeswoman for the Department of Finance, said a meeting between the two groups took place last Thursday. It was the second meeting between the groups.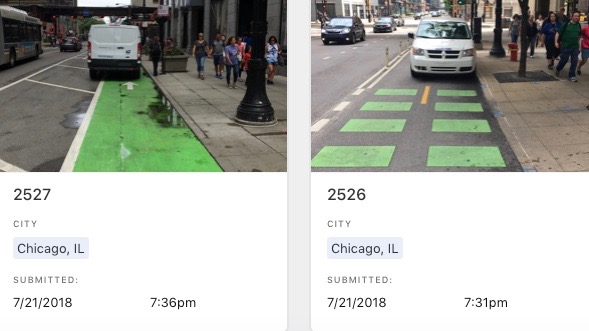 There are more than 280 miles of on-street bike lanes in Chicago and city law prohibits driving and parking in bike lanes. 
The fine for driving or parking in a bike lane is $150.
Delivery trucks, cars and even police cars are often seen in bike lanes, even though it's against the law to park or drive in bike lanes.
In 2015, the city issued 2,816 tickets to cars parked in bike lanes. In 2016, there were 2,766 tickets issued, and last year saw 3,460 tickets. Through mid-June there's been 1703 tickets issued, according to Cabanban.
From Sept. 1, 2017 – June 30, 2018, users of Bike Lane Uprising, whose names are known by Bike Lane Chicago but anonymized online, have submitted 1,836 bike lane obstructions in Chicago, according to a map on Bike Lane Uprising's website. 
Based on user submissions, most of the documented lane obstructions are in The Loop, the UIC-Medical District and along Harrison Street.
Whitehouse said the data on Bike Lane Uprising is small in comparison to how prevalent the problem is, since most cyclists are usually in too much of a hurry to stop and document.
"Right now, we only get a snippet of cycling obstructions. What we have captured is incredibly small. If cyclists really captured all of the bike lane obstructions they saw, they would never get to where they needed to go in time," Whitehouse said. 
Steven Vance, an urban planner and cyclist, described Bike Lane Uprising as "a tool" the city should take advantage of to help ticket writers zero in on blocked bike lane hotspots.
"Christina could go to the Finance Department to say here's 1,700 violations accounting for [$255,000] in missed revenue. It's a revenue raiser for something dangerous," Vance said.
A Bike Lane Uprising contributor, Vance says the data crowdsourced on Bike Lane Uprising could also provide outreach opportunities to "the common violators" such as delivery companies and Uber and Lyft drivers.
Whitehouse says she cringes at the "car-shaming label."
"We strive to go beyond 'Car Shaming' & dig into better understanding the root cause of bike lane obstructions in order to prevent them," she said in an email.
Susan Hofer, a spokeswoman for CDOT, said the agency works with Bike Lane Uprising and other groups advocating for safer bike riding.
Hofer said CDOT set up the meeting with the Dept. of Finance and Bike Lane Uprising.
"The more data we have, the more confident we can be on where the problems are most serious," Hofer said, adding that data can help the city ensure it's "using resources as wisely as possible."
Hofer urges people to continue to call 311 or go to the city's website to report bike lane blockings, in addition to other technologies like Bike Lane Uprising's platform.
Last year, the city implemented a new 311 code so that people riding bikes can easily report a 'Vehicle Parking in a Bike Lane ' but acknowledged that it does not have the resources to respond to each individual report.
In addition to CDOT and the Dept. of Revenue, Whitehouse said she has met with several aldermen, including Ald. Joe Moreno (1st). On Tuesday, Moreno described Bike Lane Uprising as "a great example of a community-driven project to address a known problem."
"Both constituents and I have seen primarily deliveries, ride-share drivers and construction [vehicles] block the bike lanes around Chicago," Moreno said in a statement."
Reaction From Drivers, Cyclists
In Wicker Park on Monday, Mario Santiago was delivering packages for FedEx. Santiago was lucky enough to have gotten a parking spot on busy Milwaukee Avenue. But he said that is not always the case and he and other delivery drivers sometimes have no choice but to park in bike lanes.
"At the end of the day, we are offering a service just like Uber, taxis, buses and construction workers. There should be some leeway with tickets, especially for people busy doing their jobs. We are not flying over everyone in drones," Santiago said. 

Latisha Chamberlain, a Hyde Park resident, said she's been biking for eight years and comes across cars and trucks parked in the bike lane every time she's on the road.
"I would support more cars getting ticketed," Chamberlain said before showing Block Club a scar she has on her knee from a crash with a car in 2014. That car was parked in a bike lane near Washington and Randolph and didn't see Chamberlain as she approached on her bicycle.
"The car pulled out and side-swiped me. The driver wasn't even looking and felt bad. He was very apologetic," Chamberlain said.
Bike Lane Uprising Growing Fast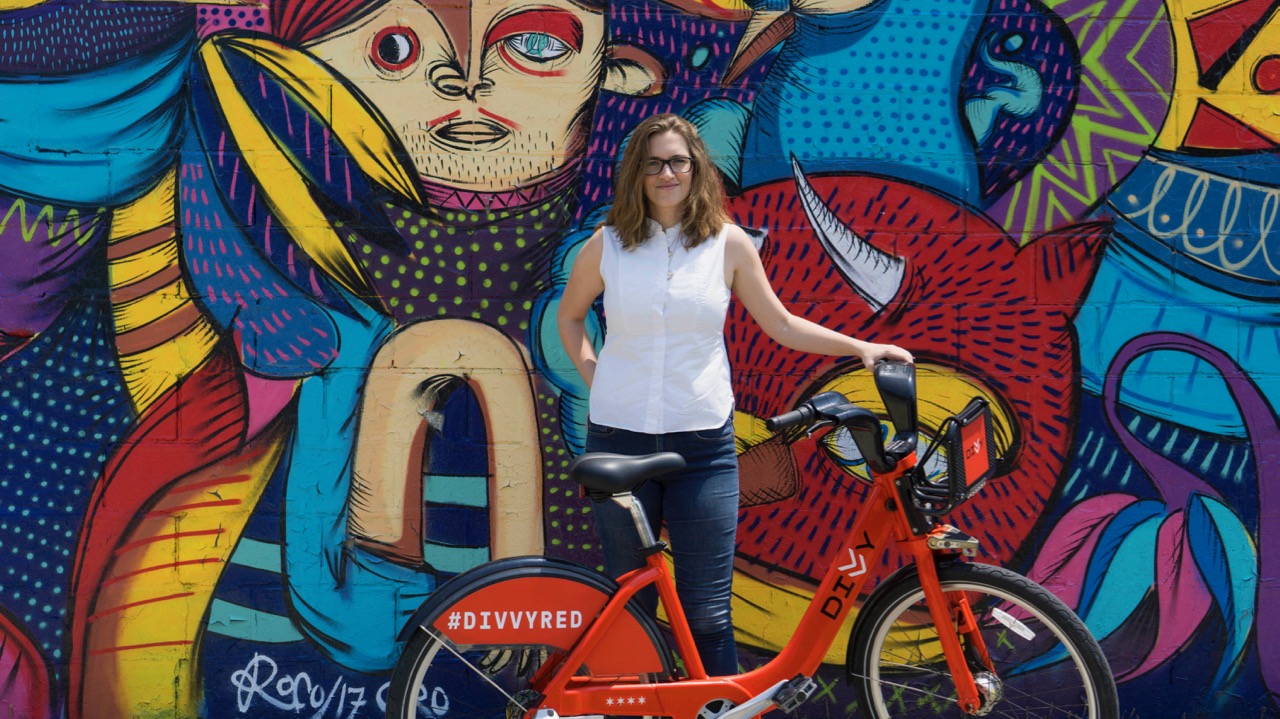 Whitehouse, who works in product design and development management, said cyclists most often post on the Bike Lane Uprising website on weekdays.
Since NBC5 aired a story on Bike Lane Uprising last week, Whitehouse tweeted that a couple hundred new contributor accounts were requested.
Whitehouse never imagined that the city would be so interested in Bike Lane Uprising when she launched it back in September. 
"I think I have been shocked by how serious everyone has been taking it. CTA invited us in right away after I kicked this off. We had reports of [CTA] employees putting their vests onto car windows to reserve cars parked in bike lanes for that day. After that meeting, we didn't have too many reports of that," she said.
For users of Bike Lane Uprising, the site becomes "an anger translator," Whitehouse said. 
"People can take their frustrations and put it into the database, it's cathartic, and from there I can have this dashboard of insights and data I can share with the public that's a digestible and easy to read database," she said. 
While education about bike lane laws and better design and infrastructure can help keep cars out of bike lanes, Whitehouse said there will always be a group of people who will drive or park in bike lanes no matter what.
"With those people, enforcement might be a better opportunity," Whitehouse said.