WICKER PARK — A new tree in Wicker Park's namesake park is not like all the others.
"I thought it was a real tree, until I saw it was made of metal at the bottom," said Kirstin Anderson, who was sitting Monday night with friend Stephanie Larios on a park bench several yards away from Chicago-based sculptor Michael Helbing's 28-foot-tall "Wicker Tree."
Installed Monday afternoon in the northwest corner of the park, 1425 N. Damen Ave., Helbing's stainless steel "Wicker Tree" is a $30,000 public art installation scheduled for a 5-year stay. The tree is topped off by a crown of stainless steel ribbons and wire rope that hangs like weeping willow leaves. 
"I like it… I think it's an interesting concept of nature versus the urbanization of everything," said Anderson, an Albany Park resident.
Larios, who lives in Irving Park, said, "It's awesome the way it's made out of metal and you and can slightly hear it rustling in the wind, like chimes."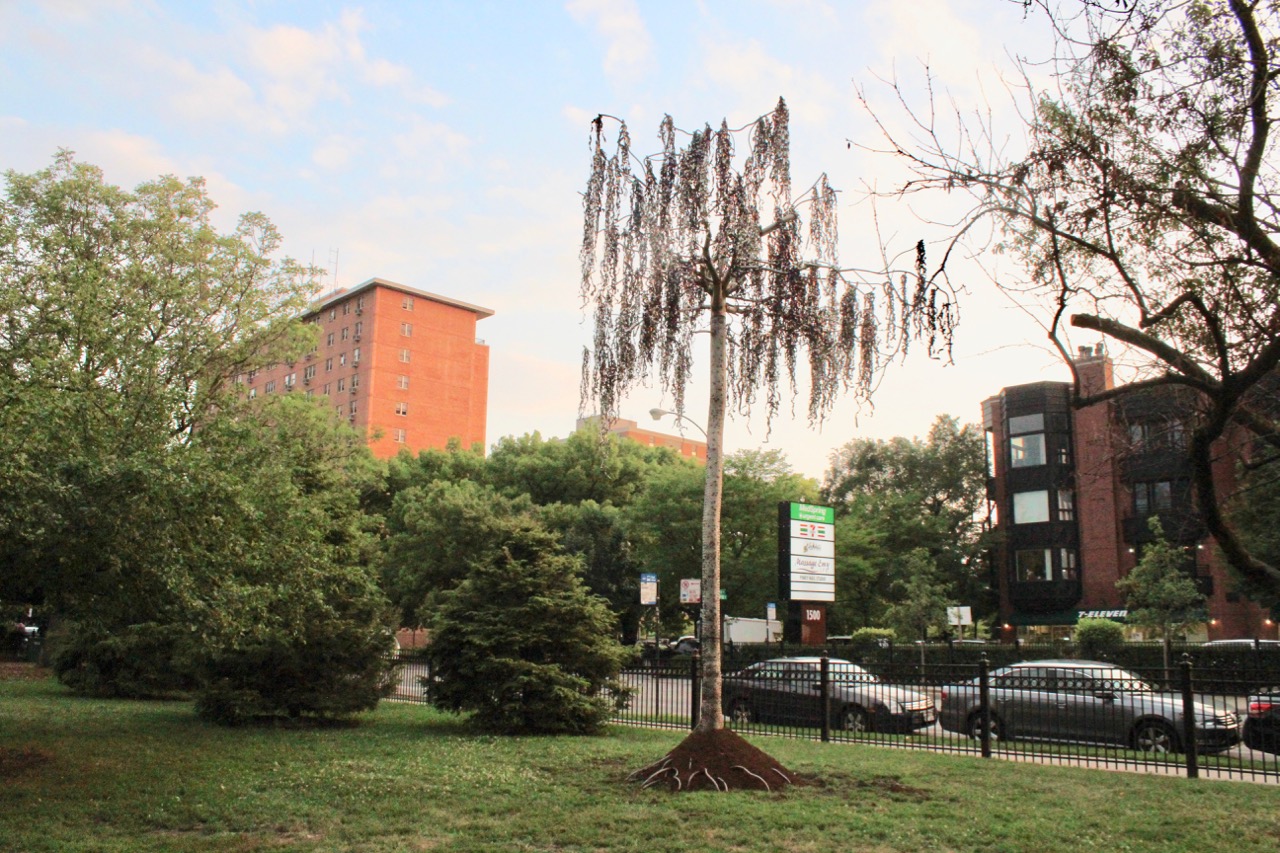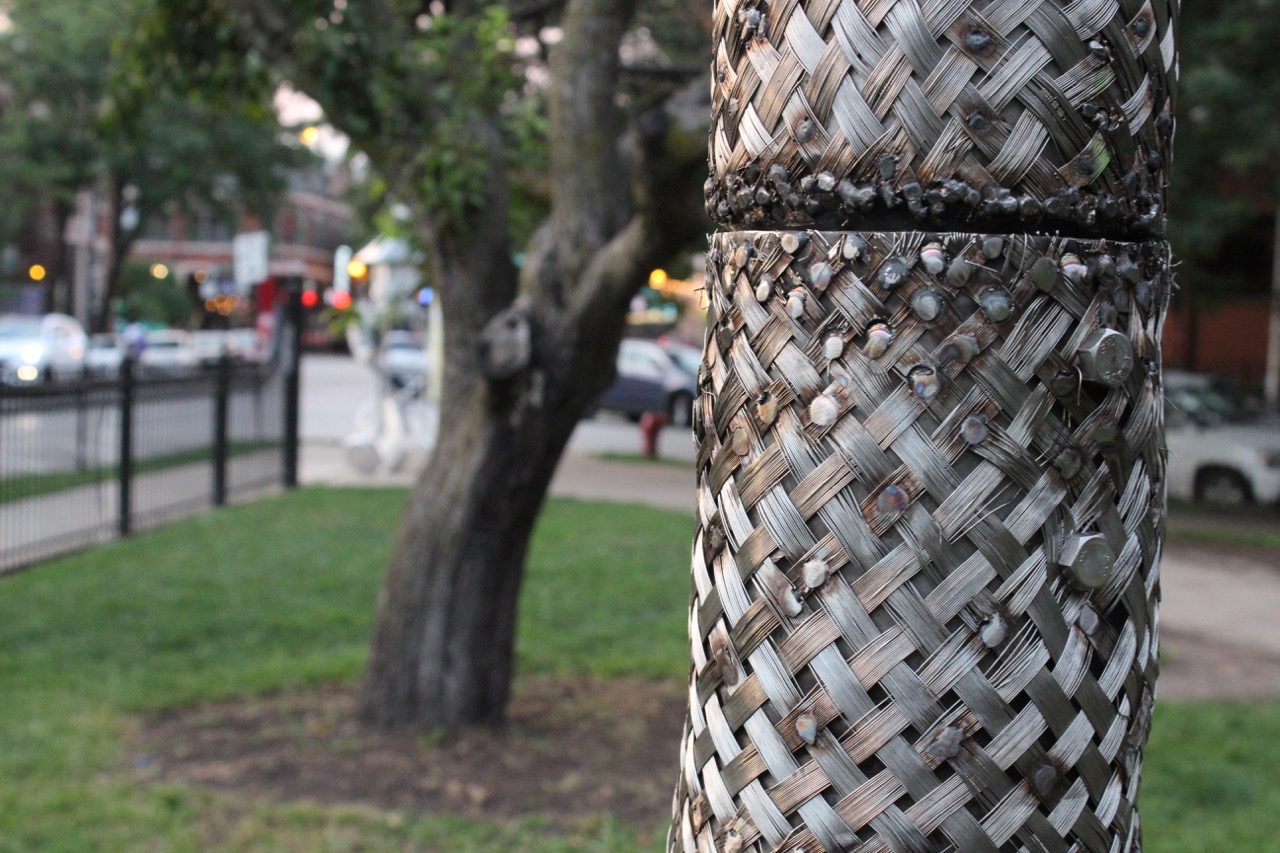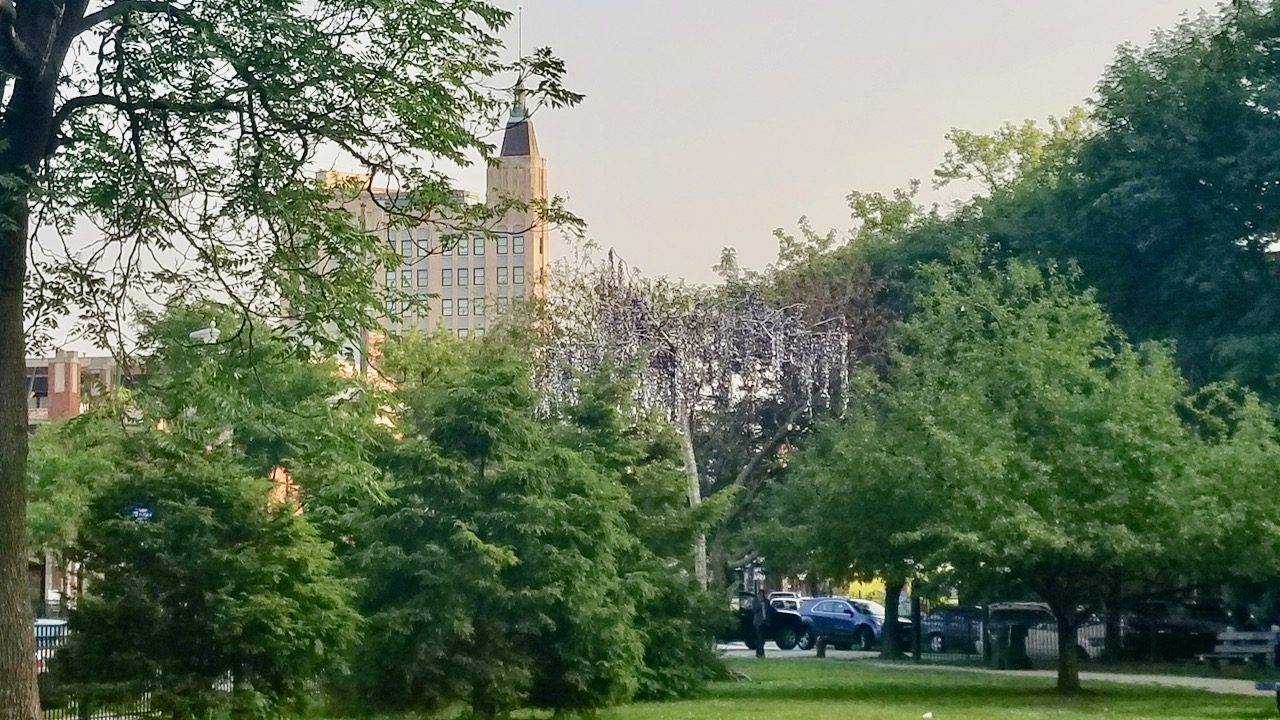 Tom Lunt, a longtime resident of Wicker Park who was walking his dog near "Wicker Tree," was not as admiring of the piece.
"I think it's kind of pathetic and sad. I would have rather seen a real tree, unless that's built on a real tree. Is it built on a real tree?" Lunt asked while drawing closer before declaring, "It isn't."
Late Monday, Joe Helbing, the artist's son, added mulch to the base of the tree — not to help its roots absorb nutrients, but to protect passersby from the exposed steel coils at the base of the installation.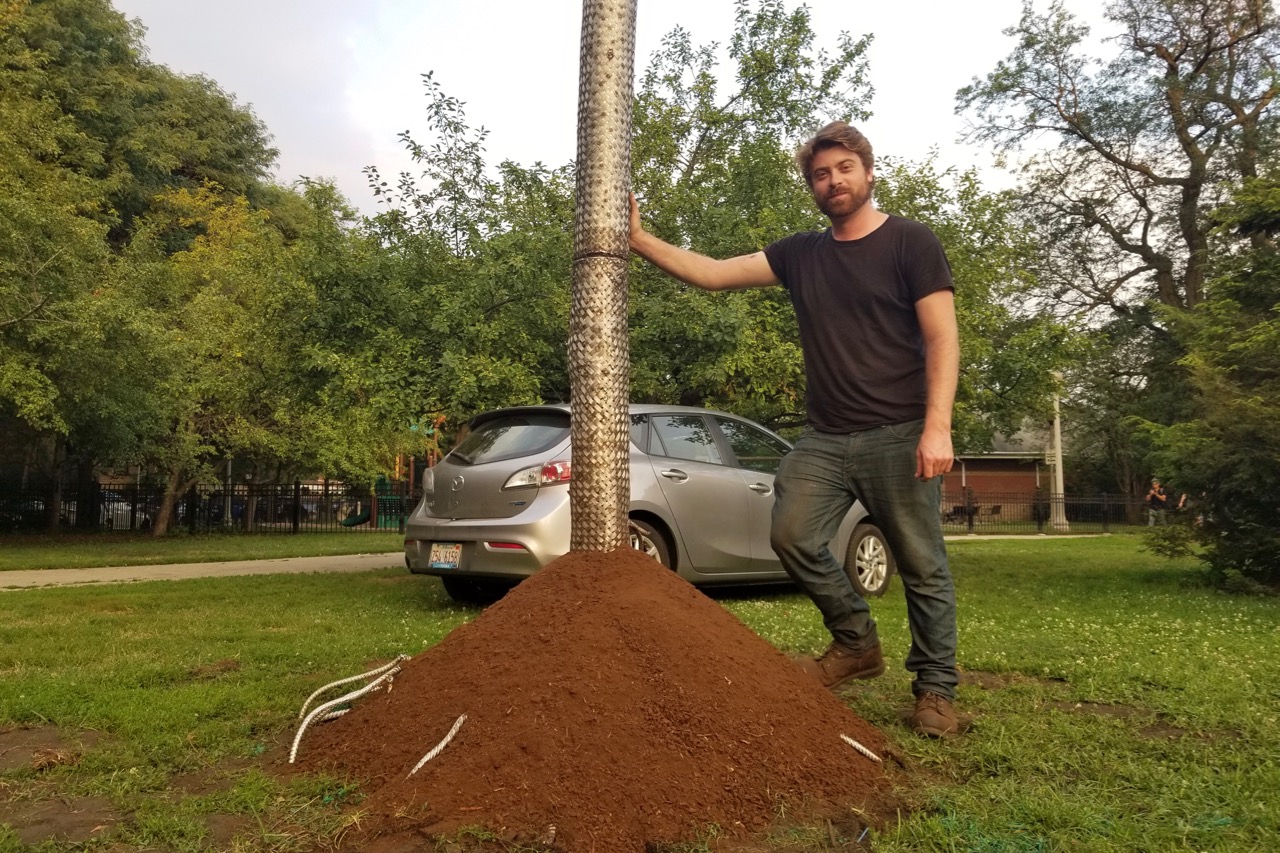 Mike Helbing said the mulch is intended to keep kids away from the roots of "Wicker Tree."
The sculpture was commissioned for $30,000 by the Wicker Park Bucktown Special Service Area No. 33, a taxpayer district which brands itself as "WPB."
"Wicker Tree" celebrates the "urban forest" in Wicker Park and Bucktown, officials said in a news release earlier this month. During the winter, LED lights will be focused on the tree to celebrate its movement and "give the sculpture a festive seasonal look."
Michael Helbing and a crew of helpers took most of the day Monday to get the tree ready for "planting" and anchor it to the ground with "earth anchors," which are long screws designed to do as little as possible damage to the ground. The entrance to the park was closed off to the public during the installation.
A plaque will be installed in the coming weeks so passersby can learn more about the tree, which Michael Helbing said was designed to be a kinetic sculpture. 
The Wicker Park Bucktown Special Service Area No. 33 group put out a request for proposals for public art last year and selected Helbing's tree piece through a juried process, according to arts committee chairman David Ginople.
"Maintaining and planting trees in the neighborhood has been a major priority for us over the years along with supporting local artists. We are proud to 'grow' the urban forest of Wicker Park with Mike Helbing's striking new sculpture, which is a whimsical reminder of the importance of trees throughout Wicker Park and Bucktown," Ginople said in a written statement.
According to Wicker Park Bucktown SSA No. 33,  the group paid for the planting of more than 130 new trees in 2016-17, as well as mulching and caring for nearly 900 tree pits.