CHICAGO —  A gym with seven locations in Chicago neighborhoods pulled the plug on its two-year-old "points" reward program on Monday — and many of its members took to social media to air their frustrations.
Chicago Athletic Club previously awarded points to members after they complete certain tasks, such as going to the gym, participating in a fitness challenge or referring a friend. Among other perks, the points could be redeemed for water bottles, t-shirts, personal training, swimming lessons and a free pass for a friend.
In an email sent to members at 12:11 a.m. Monday, Chicago Athletic Clubs wrote, "After two years of #earningit we are saying farewell to our current CAC Rewards program moving forward. As of 7/16/18 member rewards points are no longer available to be redeemed."
Since the program was canceled effective immediately, the most vocal members said they wished the gym would give them the opportunity to redeem their accrued points.
"After endlessly working for more points, @ChicagoAthletic decides to cancel their rewards program effective today w/ no opportunity to redeem. Basically said 'nice job but your points mean nothing to us anymore — here's 15% off personal training.' Excited to be done with them," tweeted Sarah Meskill, a Bucktown resident and member of Chicago Athletic Club's Bucktown Fitness Club.
Meskill joined the gym at 2040 W. North Ave. last August and had 729 points in her virtual tally. Late Monday, Meskill said she plans to continue being a member and was happy that someone from the club reached out to her to let her use her points even though the program was nixed.
"I don't even know what I was going to use my points on. I was just going to bank them up for guest passes in the future," Meskill said.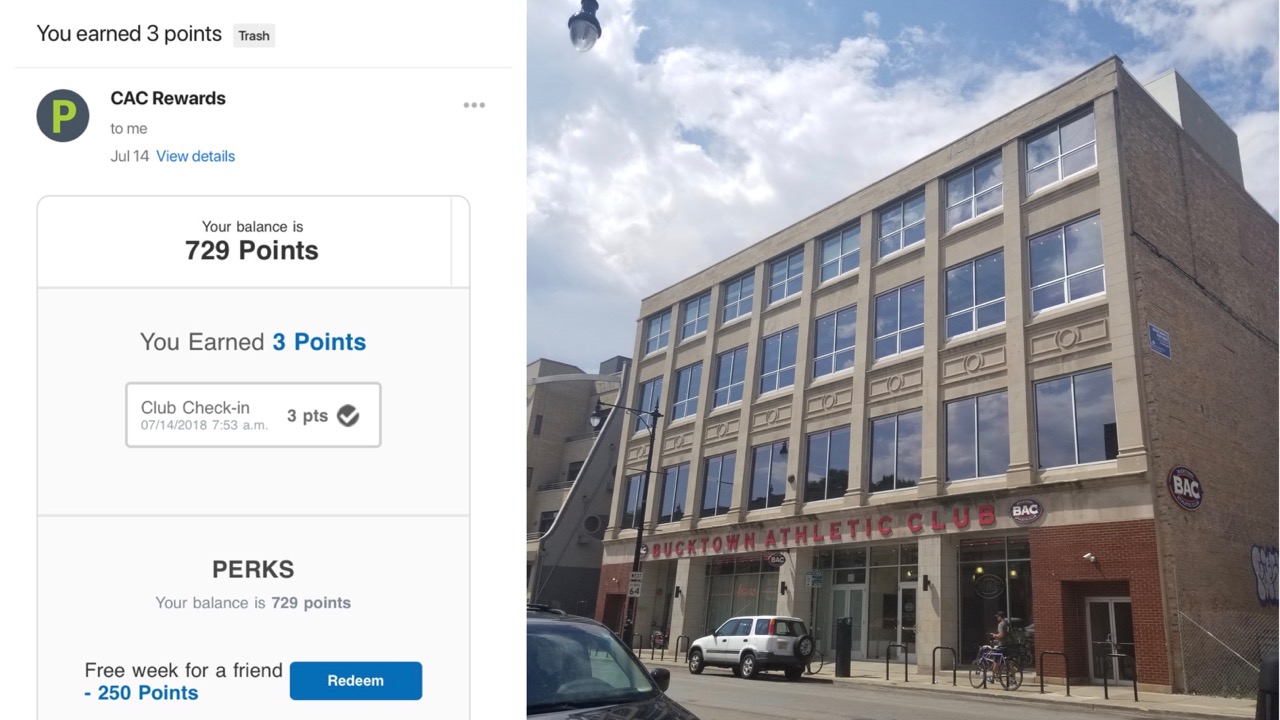 On the club's Facebook wall, some members were giving the club one star reviews over the debacle. 
"I accumulated over 2,000 points and was given no opportunity to redeem them before you all cancelled the program. You require 30 days notice to cancel membership yet you could not extend the same courtesy to your customers when canceling the rewards program. This is disappointing," one member wrote in a review.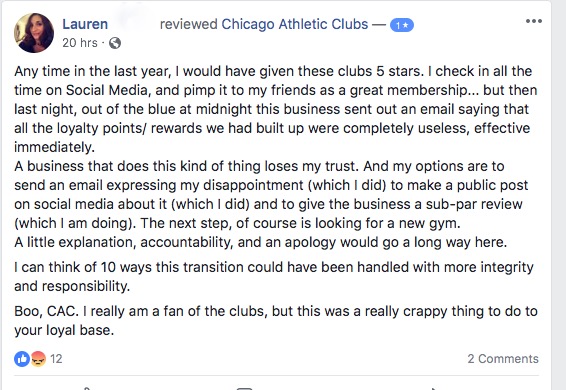 Emails and calls to Chicago Athletic Clubs were not returned on Monday or early Tuesday.
Late Monday, a club representative who responded to Block Club via Facebook messenger but did not share his or her name, said that Chicago Athletic Clubs have been reaching out to members individually through email, in the club and via social media.
"This was a difficult decision for us to make and we didn't come by it lightly. In the end, our rewards program was devaluing our services and not fully honoring our members. Yes, there were short term rewards but overall we are going back to offering more robust referral promos, other giveaways and have offered deep discounts at this time," the spokesperson wrote.
According to the email sent to members, in replacement for the lost points program, the club is encouraging members to join monthly app challenges to motivate their fitness and get the opportunity to win months free, personal training sessions and prizes. Members were also notified on Monday of new summer perks, including discounts on personal training packages and merchandise.
Meskill acknowledged that the issue is "a total first-world problem" but said she was perplexed by the fact something she had been wholeheartedly participating in had disappeared without any notice.
A self-described competitive person, Meskill said she liked "the gamefication" of the now-gone points program. 
"You go to the gym, you get three points, CAC emails you, and you would get bonus points for a workout and for others ways of involving yourself with the gym. What I liked about it was keeping track of it. Your workouts are more motivating when you get something out of it, even if it's a free water bottle or being able to bring a guest in. I was more motivated as well about working out, because of it."
A Wicker Park resident who asked not to be named — and later deleted her missive on the club's Facebook wall, as others had too, as the day went on — racked up some 4,200 points. The member said her accrued points were the equivalent of seven half-hour personal training sessions, which she had been planning to use.
The Wicker Park resident, who belongs to CAC's Wicker Park Athletic Club, 1635 W. Division St., said after she posted on Facebook, a club representative told her that she would be allowed to redeem her points for personal training.
Meskill, who works at a workshop company that provides soft skills training to corporations, said she was most concerned about the way the club handled its mass communication.
"My number one thing was hold on, they need to be called out.  The communication was terrible," Meskill said.