BUCKTOWN — The can't-miss twinkling neon star sign at the northeast corner of Elston and Cortland now belongs to developer Sterling Bay, who bought Bucktown's Star Car Wash  last week and got the iconic sign as part of the deal, the sellers said.
The 18,615-square-foot corner lot was sold on July 10 in an off market transaction, according to broker Ari Topper, who represented Star Car Wash's longtime owners.
On Monday, Topper said his clients got "an attractive price" but declined to comment further. 
Judy Shapiro's family sold the land at 1901 N. Elston Ave. to Sterling Bay.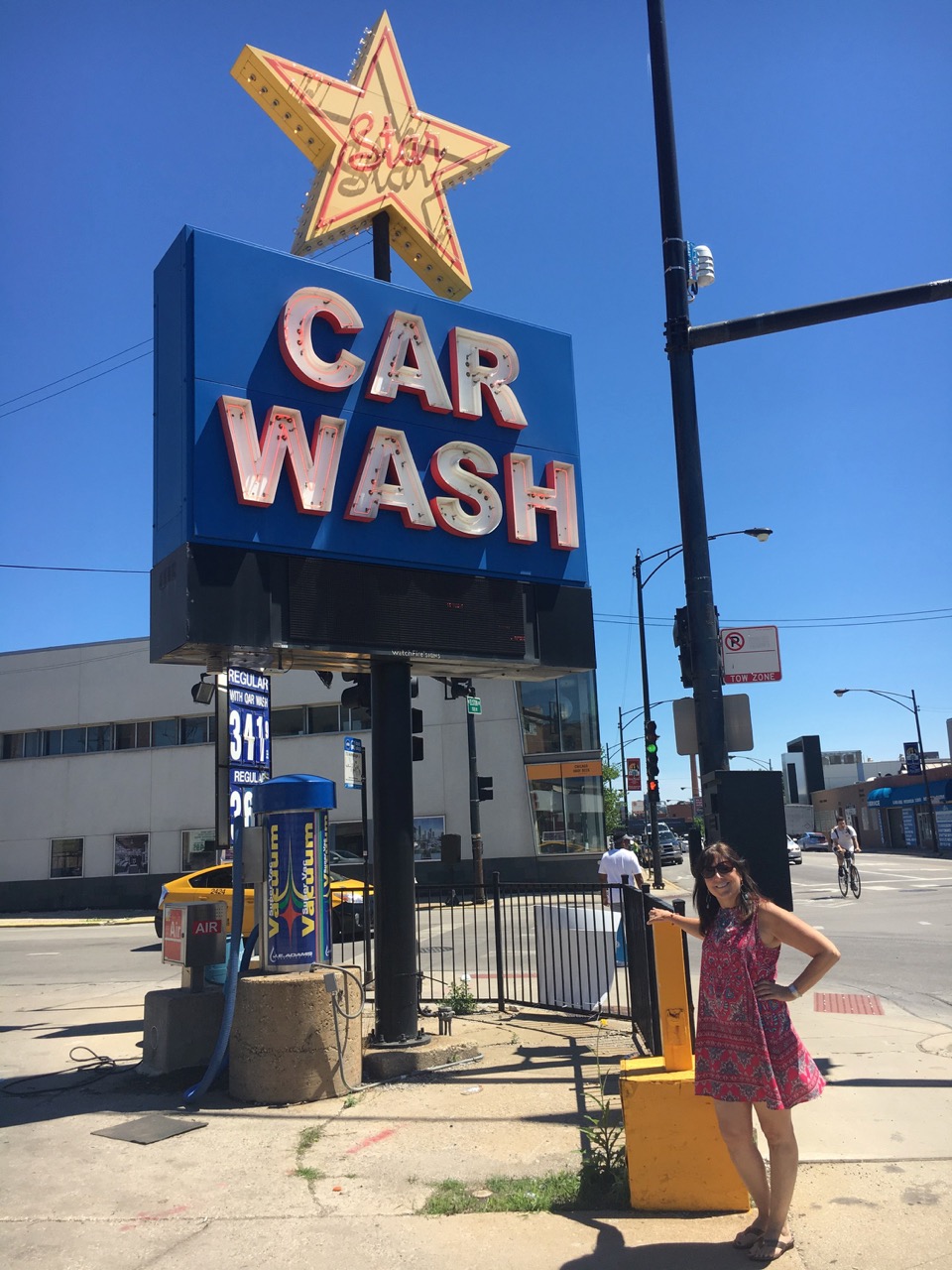 Sterling Bay's proposed Lincoln Yards mega development is just east of the gas station on the former Finkl steel plant land and adjacent lots.
A representative from Sterling Bay did not respond to a request for comment on the acquisition or its future plans for the corner. 
Shapiro's father, Irwin Walzer, owned the gas station and car wash since 1982. Walzer died in May.
"My dad was a humble person, he had holes in the soles of his shoes. He was the most unpretentious person you'd ever meet. … My dad used to say, there is nothing more constant than change, and that's fitting," Shapiro said.
Ald. Brian Hopkins (2nd) said he was not aware of the plans for the corner.
"My office is not getting involved in a site by site discussion. We expect Sterling Bay will address long terms plans for the entire Lincoln Yards area at a community meeting later this week," Hopkins said.
RELATED: Huge 'Lincoln Yards' Plan Along North Branch Gets Its First Public Meeting July 18
The sign and car wash were featured in "No Mercy," a 1986 movie starring Richard Gere and Kim Basinger, according to Shapiro.
Shapiro said the gas station's last few days were very emotional, for her family as well as longtime customers.
"Our last customer pulled up for a car wash. She was devastated. People were coming in to say goodbye and to give hugs," Shapiro said.
Walzer was a big fan of old neon signs and that's why he installed a neon star sign over his car wash and gas station, according to Yolanda Correa.
Correa worked for Walzer for 28 years and serves as the office manager at the family's Fire King Oil Co., which owns five other gas stations in the city and suburbs.
Handwritten notes taped in the window of the shuttered Mobil gas station and car wash say, "No gas!! Sold the place" and "Thank you for allowing us to serve and be part of the community for the past 35 years."
Star Car Wash, which sold Exxon Mobil gas, strived to be competitive with prices.
"[Walzer] was a simple guy and would say, 'I don't need to overprice my gas,'" Correa said.
On Sunday, Annie Ryzak, a Bucktown resident, said she tried to fill up her car last week and was surprised to see the station closed.
"It's been there as long as I can remember. My friends get car washes there all the time," Ryzak said.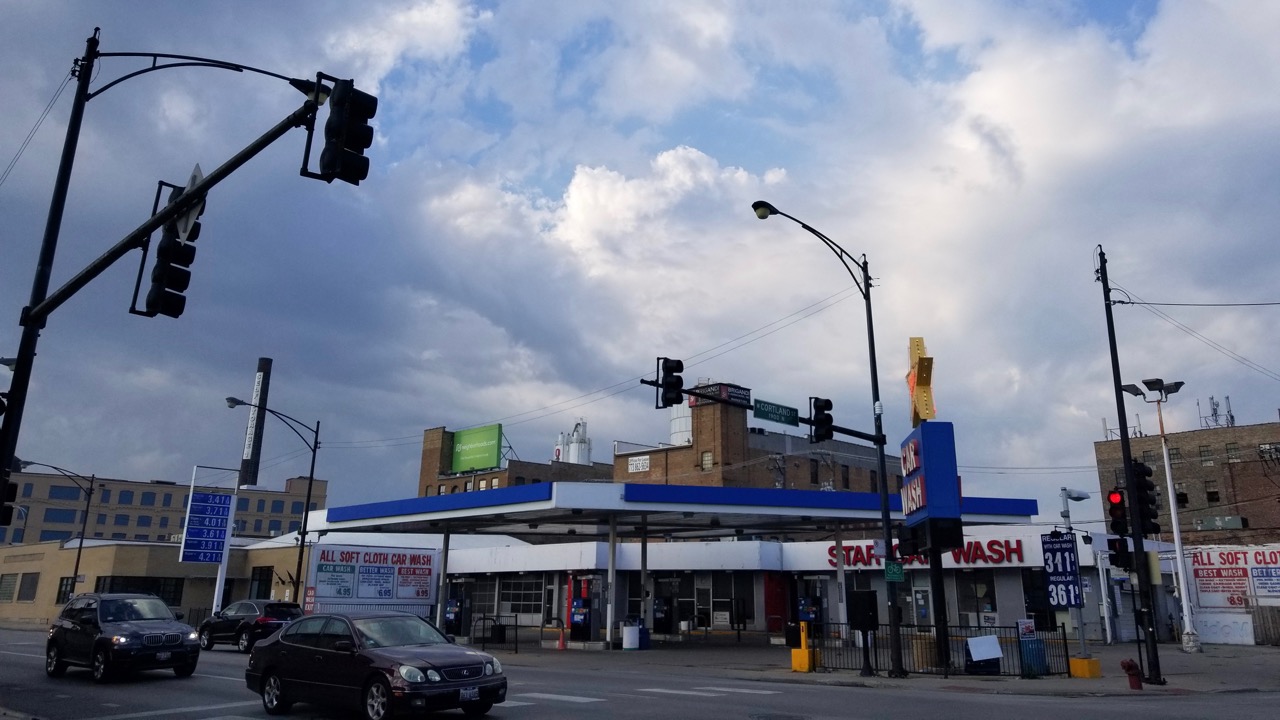 Ben Clauss, a Bucktown resident since 1999, said the gas station was "always the cheapest in the area" and for a long time was the only one locally that had free air. 
In an email to Block Club Chicago, Clauss expressed concern over the fact one developer is snapping up so much of the industrial corridor.
"While some aspects of the Sterling Bay suburbification of the area are positive, the district is slowly losing its character. It's just a matter of time before the recycling plant is forced out along with any remnants of the industrial history. There are still issues that need to be addressed in the development phase, such as widening the Cortland and Webster bridges. The fact that this large of an area is under control by one company is a bit concerning, a single vision makes for one-sided project," Clauss wrote. 
Star Car Wash is located in the North Branch corridor's Tax Increment Financing District, county records show. The corridor is fast shedding its industrial roots, as Sterling Bay aims to bring a entire new neighborhood to the Riverfront. Restaurants, hotels, up to five music venues and a soccer stadium are among the pitched ideas.