EDGEWATER — A white CVS manager who called the police on a black woman trying to use a coupon at an Edgewater store Friday night is under investigation by the pharmacy, which apologized to the customer, officials said.
The manager involved in the incident, Morry Matson, is running for alderman of the 48th Ward on Chicago's Far North Side. He's also behind an effort to bring back the Log Cabin Republicans — a group of LGBTQ Republicans — in the state. 
Matson claimed to be a delegate for President Donald Trump during his 2016 campaign, but an official list of Illinois Trump delegates does not include his name. 
A campaign website for Matson had been taken down as of Monday. 
Camilla Hudson, the customer whose Facebook post about the interaction has now gone viral, told Block Club Chicago she was on her way home when she "randomly" decided to stop at the 6150 N. Broadway store to stretch her legs, buy a drink and use her coupon, which was for a free item related to a health issue.
A native Chicagoan who also lived in Evanston for 10 years, Hudson said she had been to the 24-hour CVS location many times. She posted the incident after seeing many videos of white people calling the police on black people for no legitimate reason online in recent months. 
"I think it's resonating because we see and we hear these things, and even though … for me, as a black woman, I know this is real — you're never really expecting it," Hudson told Block Club Chicago. "In Charlottesville, that's where you expect these things to happen. Not when you turn randomly into the CVS at 11:30 p.m."
Hudson said she tried to use the self-checkout, but it lacked a mechanism for taking coupons.
The store's manager, Matson, offered to assist her on a register, but the situation escalated when he called for another manager, she said. That manager, whose name was not known, told Hudson they couldn't accept the voucher because he'd never seen one like it before and accused her of possibly handwriting it, she said. A picture of the coupon is also included in the post.
Hudson was horrified by the treatment she received and the assumption she had forged a coupon.
"You're calling me a liar, you're calling me a thief, you're calling me a forger," she said. "It's not that they didn't take the coupon or refused to take the coupon, it's how he did it. He was nasty, he was unprofessional, he was dismissive, he was accusatory — his entire tone and demeanor was offensive and problematic."
From there, Hudson said she stood her ground and insisted to know what was wrong with her coupon. She asked the managers to call CVS corporate offices to help resolve the issue. She followed one of the managers throughout the store as he walked away from her, and eventually pulled out her phone to document the interaction, she said. When he noticed she was filming, the manager stopped responding to Hudson and walked to the back of the store where customers are not permitted, she said.
Shortly thereafter, Hudson said Matson appeared and told her that she "better leave because I called the police."
"I was not yelling, I did not raise my voice, I did not use profanity, I did not call anyone outside of their name — other than not accepting, basically, 'Screw you,' that was my offense, if you will," she said.
Matson and Hudson returned to the front of the store, where Matson told her he had called the police. He tried calling 911 again, which Hudson captured on video:
According to Chicago Police, officers responded to a call for an "assault in progress" at 11:55 p.m. Friday at the 6150 N. Broadway store. No police report was made.
A CVS corporate spokesman said the company apologized to Hudson.
"We sincerely apologize to Ms. Hudson for her experience in one of our stores," CVS said in a statement issued to Block Club Chicago. "Our Region Director in Chicago contacted Ms. Hudson as soon as we were made aware of this incident. CVS has begun an investigation and we will take any corrective action that is warranted to prevent it from happening again.
"CVS Pharmacy does not tolerate any practices that discriminate against any customer and we are committed to maintaining a welcoming and diverse environment in our stores," the statement continued. "We have firm non-discrimination policies in place to help ensure that all customers are treated with respect and dignity. Profiling or any other type of discriminatory behavior is strictly prohibited."
In her post, Hudson said she had "zero" concerns once police were called, and told Block Club Chicago she knew she'd done nothing wrong. According to Hudson, three tactical officers responded.
"They were not awful," she said of the police. "I explained to them what had happened and how it had happened, and they said, 'When we get these calls we do have to respond … [but] you're going to have to leave,' and I said, 'Why do I have to leave? I'm a customer here.'"
Hudson said an officer explained that the managers were acting as an "agent" of CVS and therefore had the authority to tell people to leave, otherwise they could be arrested for criminal trespassing.
While she was willing to comply with their directions, Hudson said she didn't feel she was treated equally compared to the CVS employees — particularly because she'd not broken any laws. She collected the officers' information.
"My point is: While they did not come in berating me, I'm a citizen of this city as well, and it's my understanding it's the job of the police department to serve and protect everyone," Hudson said. "I did not feel served, I did not feel protected, and I did not feel they were there in any capacity to represent my interests, and my well-being."
"That's a problem for me," she added. "As a woman, as a black woman, as a native Chicagoan, I'm just tired of it. I'm tired of it."
Hudson and police both left the store. She began driving home but soon had to pull over to collect herself, she said. After a moment, she decided to turn around and headed back to the store's parking lot, where she sat and wrote out her Facebook post "while it was still fresh."
By Saturday, she received the phone call from CVS' corporate office, who apologized and said it would investigate the matter by conducting interviews with the employees and reviewing store video footage.
Matson is a 48th Ward resident and has himself been in hot water over fraudulent claims in the past.
In 2016, a vote on extending the lakefront path from Edgewater to Rogers Park was yanked from the November ballot after city officials ruled that five pages of signatures on the petitions submitted by Matson calling for the vote were forged. In 2014, Matson also ran into problems getting a question on the ballot, and he faced opposition in 2013, too.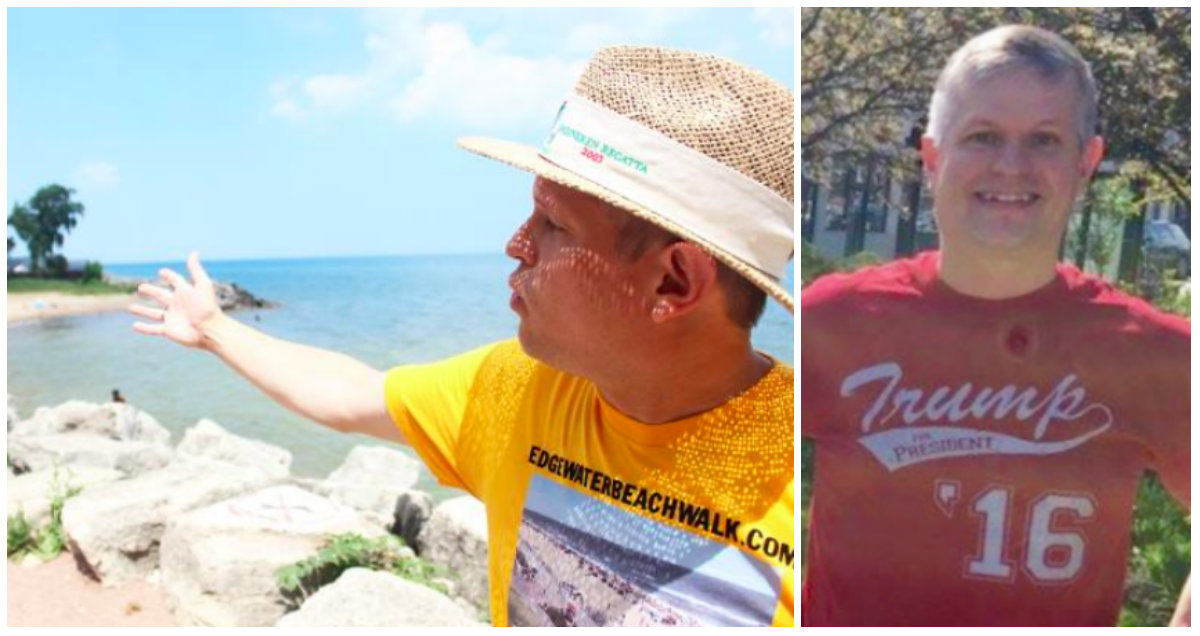 The City of Chicago's Board of Election Commissioners and its handwriting expert reviewed the pages and concluded that five of at least 13 sheets of signatures, save for two names, were written in Matson's own handwriting and listed addresses for some of those signatures that weren't homes. Matson admitted he had signed some of the signatures himself.
For example, Matson said friends and former co-workers at the Ridge and Broadway Walgreen's where he worked allowed him to sign the petition on their behalf, and he listed the address of Walgreens as the addresses of their homes.
In 2016, Matson was also a 48th Ward state delegate for President Trump, and often sent Trump and other members of his cabinet letters requesting support for his lakefront project. He is also the President of the Illinois chapter of the Log Cabin Republicans group. 
According to a website called "Citizens For Matson," he also claims to be running for 48th Ward alderman in the 2019 election. An email on the contact page did not appear to be working.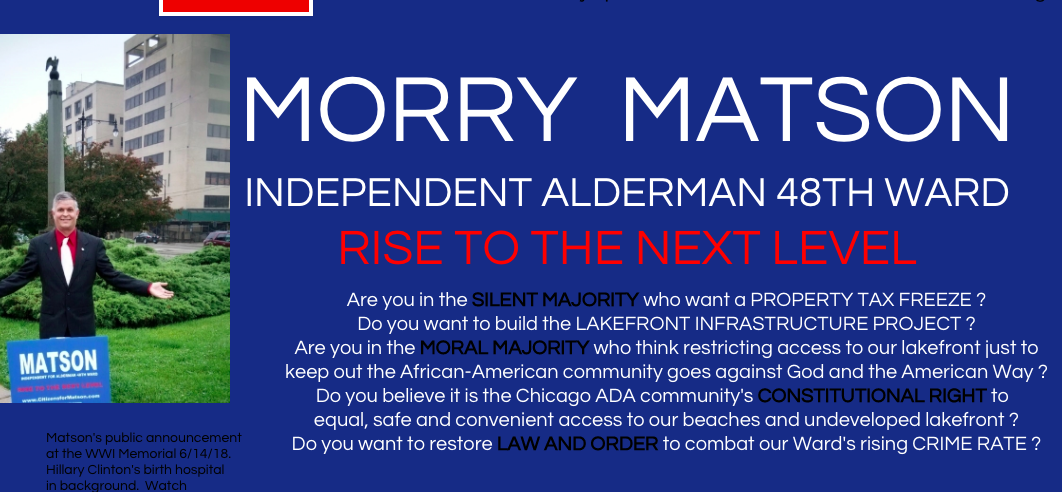 Hudson said her intention in posting about her experience was never to have Matson "stalked," but she did feel it was important to expose the behavior of he and the other manager — especially with the prevalence of other videos showing white people calling the police on people of color for perceived suspiciousness or minor infractions.
"I want people to be known, and when people say and do things that are problematic, I want there to be awareness — but I'm not trying to turn this into stalking," she said. "All I did was post my experience and post the video, and here we are."
Her post has since garnered thousands of shares, comments and reactions on social media, and Hudson said she's received an "outpouring of support" from friends, family and the public.
If presented with the opportunity to speak to either CVS manager again, Hudson said she has "nothing to say … because they've shown me who they really are."
To CVS and other corporations, she would encourage companies to do better vetting when it comes to its employees, otherwise, she's prepared to take her business elsewhere.
Matson did not return calls for comment.
"To CVS and other corporations … is [Matson] the face of CVS? Is this who CVS, as a business, wants to represent them? Because if so, I don't want to be your customer," she said. "I don't want to spend my money with you, I don't want to enter your stores, I am not your target market if this is who you put on the front line to greet me and to interact with me."
"At 53 years old, I'm tired of the dancing around; I'm tired of pretending it's one thing when it's really another," Hudson concluded. "Eventually, people have to choose: Which side of the equation are you on?"
CORRECTION: An earlier version of this story stated that Matson was a delegate during the 2016 campaign for President Donald Trump. While he does claim he was a delegate, an official list of Trump delegates does not include his name.