DOWNTOWN — Chicago loves pit bulls and German shepherds, but its real soft spot is for mutts.
Block Club Chicago analyzed city data to find out which dog breeds were most popular in Chicago. It showed Chihuahuas are more prevalent than golden retrievers, and though there's lots of love for small, apartment-friendly dogs — like beagles and terriers — the city's most common pups tend to be bigger.
The most popular of the pooches? Turns out, Chicagoans love mixed-breed dogs.
Aside from lovable mutts, Chicagoans most favor pit bulls, Labrador retrievers and German shepherds, according to data from the City Clerk's Office.
The data included almost 52,000 dogs registered with the city since August 2015, though not every owner registers their pooch.
See which breed is a favorite in your area:
Stacy Price, the executive director at PAWS Chicago, said the shelter has also seen many labs, German shepherds, Chihuahuas, pit bull mixes and hound mixes in the past year. The shelter tends to consider all its dog mixes because the employees don't know a dog's parentage.
Adopting a mixed-breed dog comes with many benefits, Price said: They can be less prone to the health issues associated with purebred dogs, and they're less likely to come from a puppy mill or "backyard breeder." It can also be rewarding to rescue a pup in need, she said.
"It's an amazing feeling to know this dog's life is entwined with yours and you helped saved them," Price said.
RELATED: These Are The Most Popular Dog Names In Every Chicago Zip Code (MAP)
People looking for an addition to the family should keep an open mind to mutts, Price advised. They might start their pet search by looking for a certain breed, Price said, but once they meet the right pooch they realize, "Oh no, this is exactly the dog for me."
"A lot of times people fall in love with a look, but once they meet the right personality they're like, 'German Shepherd who?'" Price said.
Top 10 most common dogs in Chicago:
1. Mixed breed
2. Pit bull
3. Labrador retriever
4. German shepherd
5. Shih tzu
6. Terrier mix
7. Labrador retriever mix
8. Chihuahua
9. Golden retriever
10. Goldendoodle
And for many Chicagoans, a dog's breed simply isn't that important when finding a new family member.
Tim Maier, 31, of Wicker Park, rescued his terrier mix, Nelson, three years ago. His family had already owned a terrier, so when they sought another pup they were looking for a similar dog but were open to other breeds. Their No. 1 priority, though, was adopting a dog in need.
"We knew we wanted to rescue a dog … so it's kind of a matter of, sure, we're looking and planning most likely to get a terrier, but if something else were to pop up that seemed like a good fit and needed a home we were certainly willing to go outside that," he said.
Katey Flynn, 36, of Humboldt Park, was of a similar mind when she adopted her dogs: It was important to her to rescue a shelter dog, so she looked for one that fit her and came across Billie Holiday, a bluetick coonhound mix. Coonhounds aren't very common in Chicago, but Billie was "an anxious mess and [Flynn] just wanted to bring her home."
That's exactly what Flynn did. And a few years later, Flynn again rescued a coonhound, Henry. Her main requirement then was just that Henry get along with Billie.
And Breed has never mattered much to Heather West, of Roscoe Village, who owns 4-year-old pit bull Mavis. West has had dogs all her life and always adopts larger, dark-colored pups like rottweilers and St. Bernard dogs because she worries they'd otherwise struggle to find homes.
"I wanted to get a pit for the same reason," West said. "There are so many of them here and a lot of people are just not gonna choose them. … I made the decision that I wanted to be one of the people that takes one."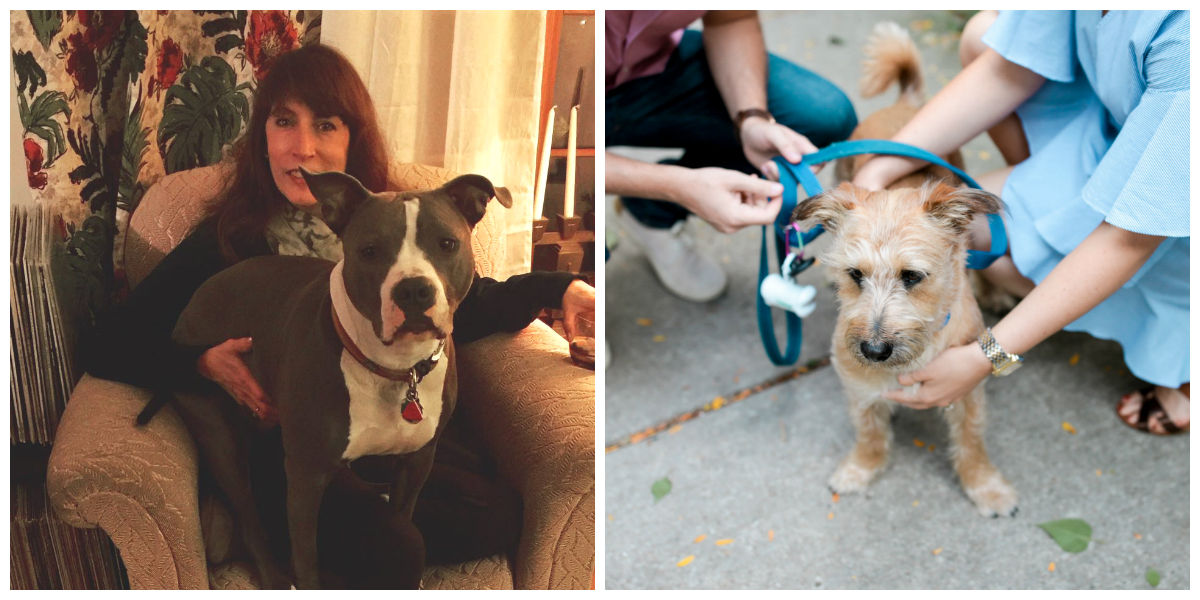 Other families looking for a pet can benefit from considering lifestyle factors like how often they're home, the size of their (human) family and how much energy a pooch will have, Price said. Shelters like PAWS can help those searching for a pup learn about the backgrounds and personalities of the dogs when families come in.
"One of the important things is actually going into any shelter or rescue with an open mind, not necessarily looking for a certain look but looking for a certain personality type," Price said.
A similar strategy worked out for Kelly Moran, 25, of Lakeview: She focused on finding a dog with a personality and needs that clicked with her own and ended up adopting a Belgian malinois, Mika. Though Mika's breed wasn't what Moran had thought she'd end up with, she knew Mika was right when the pup was engaged with Moran, looked into Moran's eyes and listened as she spoke.
"I knew that I wanted a dog that would be intelligent and trainable," Moran said. "I ended up getting a totally different mix than I had expected."
Moran's boyfriend, Chris Fowler, 30, of Lakeview, was able to rescue a dog he'd wanted since he was a kid — a German shepherd, Zoro — but that was just luck. Fowler had known Zoro and, when Zoro needed a new home, he stepped in to help the pup. In the end, Fowler said he didn't adopt Zoro because he was a German shepherd but because he was the right fit for Fowler.
"It really was just his temperament and that he was a dog in need of a home that made me step in," Fowler said.
West suggested people do research on breeds to make sure a new dog's needs can work with an owner's lifestyle rather than just grabbing "the cute one." Just as important to her is meeting a dog and seeing who that pooch is.
"Sometimes I feel like they adopt you. When you're visiting with dogs and considering them, in my experience … one might kind of shy away, one might run over and sit on your feet and stare at you," West said. "There's this moment when you're like, 'Aw, yes. This is my new dog.'"
Most popular dog breeds in each Chicago zip code:
| | |
| --- | --- |
| 60647 | Mixed breed |
| 60639 | Pit bull |
| 60707 | German shepherd |
| 60622 | Mixed breed |
| 60651 | Pit bull |
| 60611 | Labrador retriever |
| 60638 | Pit bull |
| 60652 | Pit bull |
| 60626 | Mixed breed |
| 60645 | Mixed breed |
| 60660 | Mixed breed |
| 60640 | Mixed breed |
| 60625 | Mixed breed |
| 60641 | Mixed breed |
| 60657 | Mixed breed |
| 60615 | Mixed breed |
| 60621 | Pit bull |
| 60636 | Mixed breed |
| 60649 | Mixed breed |
| 60617 | Pit bull |
| 60643 | Pit bull |
| 60633 | German shepherd |
| 60612 | German shepherd |
| 60624 | Pit bull |
| 60644 | Pit bull |
| 60603 | Goldendoodle |
| 60605 | Mixed breed |
| 60653 | German shepherd |
| 60609 | Pit bull |
| 60666 | (No registered dogs) |
| 60618 | Mixed breed |
| 60616 | Mixed breed |
| 60602 | Terrier |
| 60601 | Mixed breed |
| 60608 | Pit bull |
| 60607 | Mixed breed |
| 60661 | Mixed breed |
| 60606 | Labrador retriever mix |
| 60614 | Mixed breed |
| 60631 | Mixed breed |
| 60646 | Mixed breed |
| 60628 | Pit bull |
| 60827 | German shepherd and pit bull |
| 60630 | Mixed breed |
| 60642 | Mixed breed |
| 60604 | Beagle mix |
| 60656 | Mixed breed |
| 60655 | Labrador retriever |
| 60659 | Mixed breed |
| 60707 | German shepherd |
| 60634 | Mixed breed |
| 60613 | Mixed breed |
| 60610 | Labrador retriever |
| 60654 | Mixed breed |
| 60632 | Pit bull |
| 60623 | Pit bull |
| 60629 | Pit bull |
| 60620 | Pit bull |
| 60637 | Pit bull |
| 60619 | Pit bull |
Source: City Clerk's Office dog registration records, August 2015-Present