LINCOLN SQUARE — When customers walk into the newly opened Sweet Pepper restaurant, which replaced Papa Giorgio's pizzeria on Lawrence Avenue, co-owner Jose Navea knows he has some explaining to do.

"Do you know Venezuelan food?" Navea, a partner in the venture with wife Andrea Andrade, helpfully asks patrons as they scan the menu of South American fare.

The answer almost always is "no."

Venezuela used to be the "U.S. of South America," the place people from other countries moved to for a better life, Navea said.

"That's one of the reasons this delicious [Venezuelan] food wasn't known in the U.S.," he said — Venezuelans didn't emigrate.

Now, political instability and hyperinflation have forced many Venezuelans to flee their homeland, on foot in many cases, and they're bringing their culinary traditions with them.

If ambassadors like Navea and Andrade, both 30, have their way, the staple of their home country's cuisine — the arepa — will soon require no introduction.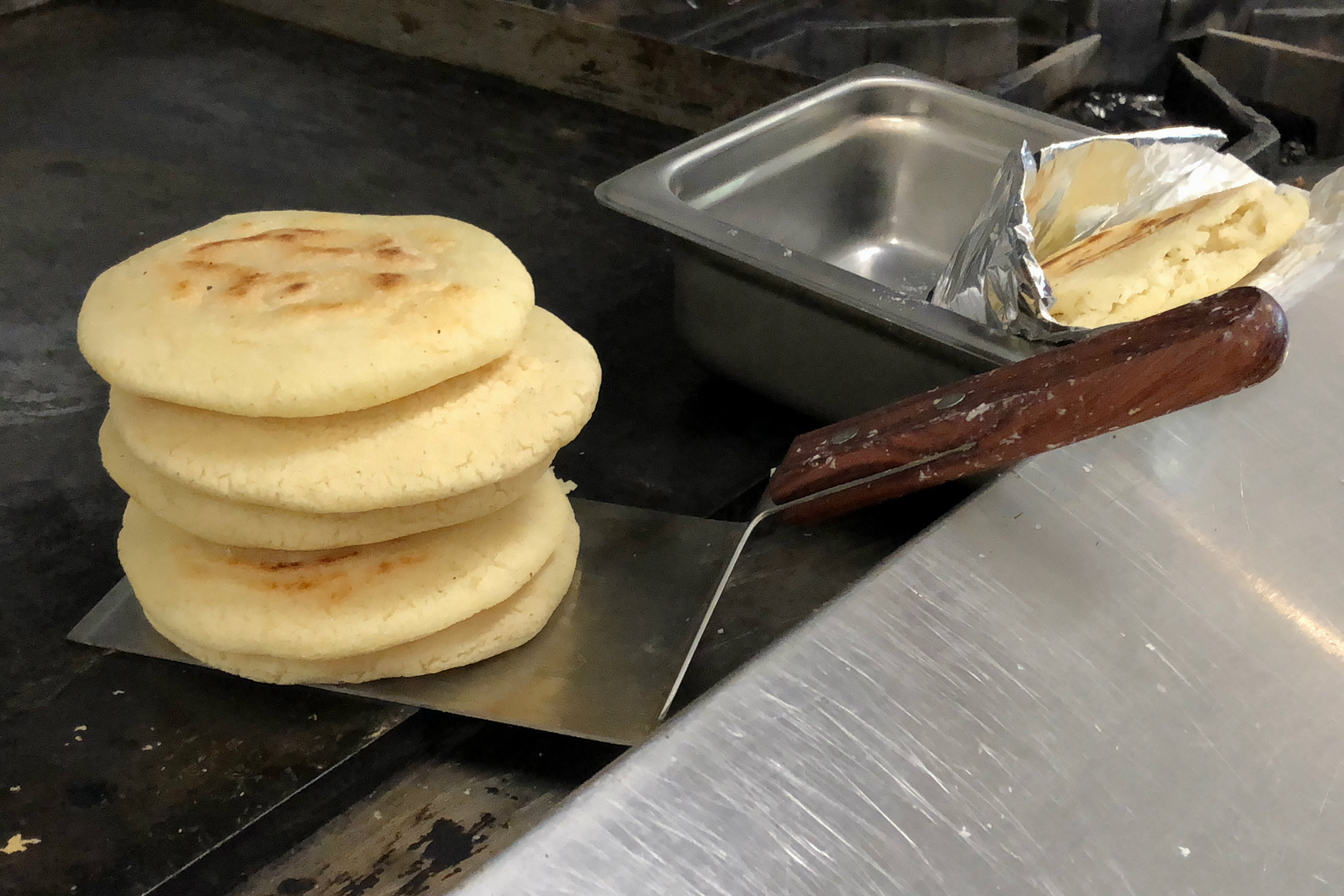 While arepas may still be a curiosity to most Americans, the little patties are to Venezuelans what tortillas are to Mexicans or pasta is to Italians.

"We love the arepa, we can't live without it," said Andrade.

"We eat arepas for breakfast, lunch and dinner. Three times a day, every day, for all your life. And you never get bored," Navea echoed.

Arepas are kind of like a lot of foods Americans are already familiar with: Shaped kind of like a pancake, stuffed kind of like a pita pocket, and made from ground corn kind of like a tortilla. But the point, Navea said, is that arepas aren't "kind of" anything. They are just … arepas.

"It's not a sandwich, it's not bread. We want to put the word 'arepa' on the same level as 'burrito,' 'taco' and 'sushi,' where people just know it," he said.

There are near limitless variations of the arepa. They can be sweet or savory. Grilled, fried or boiled. Made from yuca or plantain. Simply buttered or hollowed out and stuffed with pretty much anything. (Oh, and if you "gut" an arepa, be sure to save the scoopings, mix them with butter and enjoy a heavenly Venezuelan snack.)

At Sweet Pepper, 2604 W. Lawrence Ave., Navea and Andrade are serving the classic grilled version of the arepa, the one every Venezuelan child learns to make at the elbow of their abuela — a mix of salt, water and masarepa (a type of pre-cooked corn flour also used in empanadas and tamales).

"We want to make all of this friendly for anybody," Navea said of the decision to stick to the basics.

Patrons have their choice, Chipotle-style, of fillings and sauces, including the avocado-based guasacaca, which is kind of like Venezuelan guacamole, only it's not, it's … guasacaca.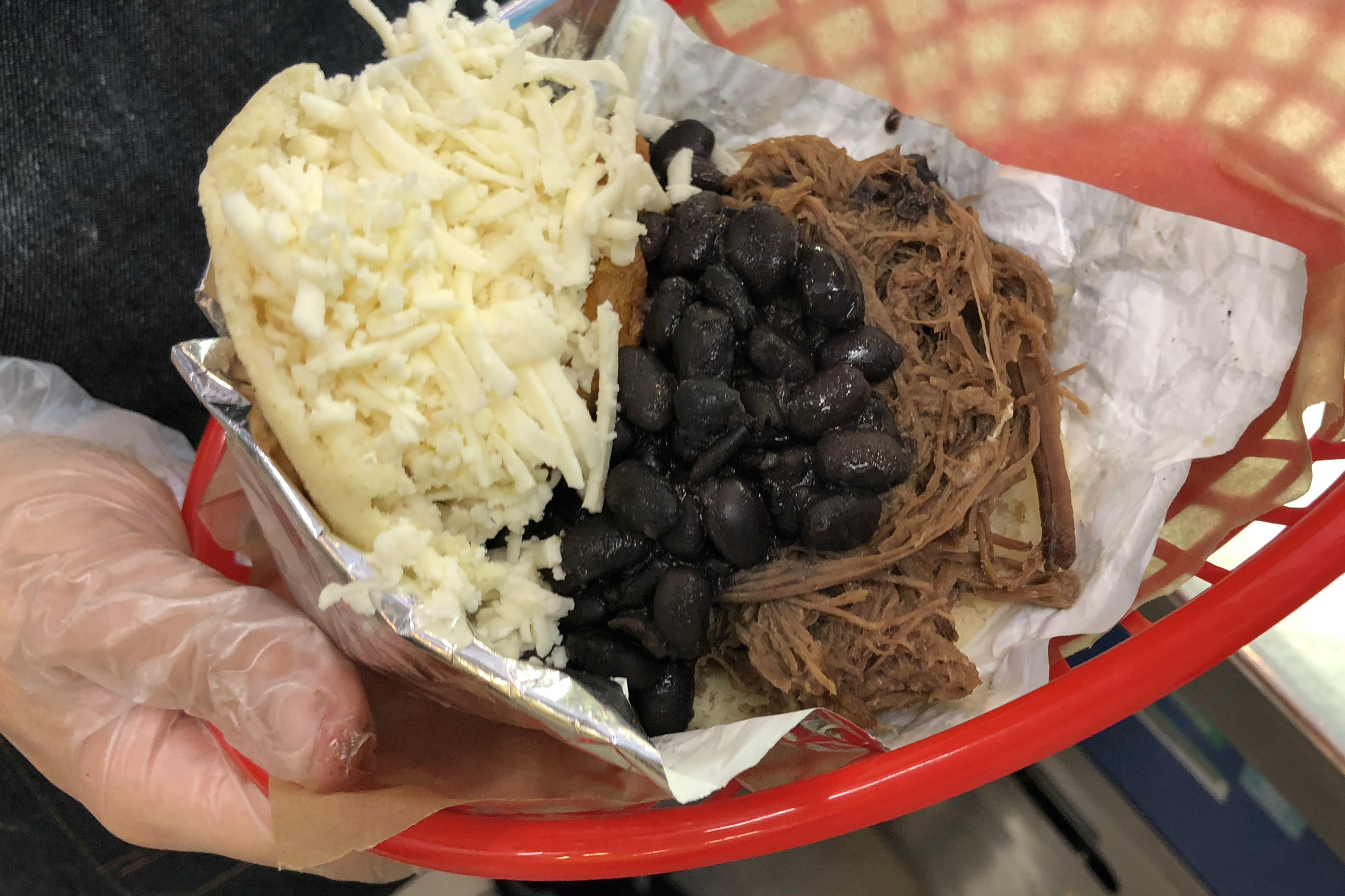 Though the couple said they eventually plan to add more Venezuelan dishes to the menu, for now they think the learning curve is steep enough. 

"Imagine we have 50 customers a day. I explain the same [arepa] process 48 times a day. Just imagine if I put four or five Venezuelan names on the [menu] board," Navea said.
Already, Navea has been stung by Yelp reviews that have dinged Sweet Pepper's sauces for not being spicy, when in fact Venezuelan food isn't highly seasoned, he said.
As a compromise, Sweet Pepper hasn't altered its recipes but now stocks bottles of sriracha, which customers can deploy to crank up the heat for an Americanized experience.
"You adapt to the people," Navea said. But also stay true to yourself.
A Piece of Home
For Navea and Andrade, Sweet Pepper is more than just a restaurant, it's a piece of home, a tangible link to the family and friends they left behind when they packed up their now 8-year-old daughter Shantal and left Venezuela three years ago.

The impossibly youthful looking couple — both have been mistaken for Shantal's older sibling — have been sweethearts since they were teenagers, when Andrade tagged along with a friend to a silly "Sweet 15" birthday party Navea was throwing for himself.

"Me and my friends were being clowns and being stupid," he recalled. "I think her first impression of me was, 'I hate this idiot'" — an assessment that drew a nod of agreement from Andrade.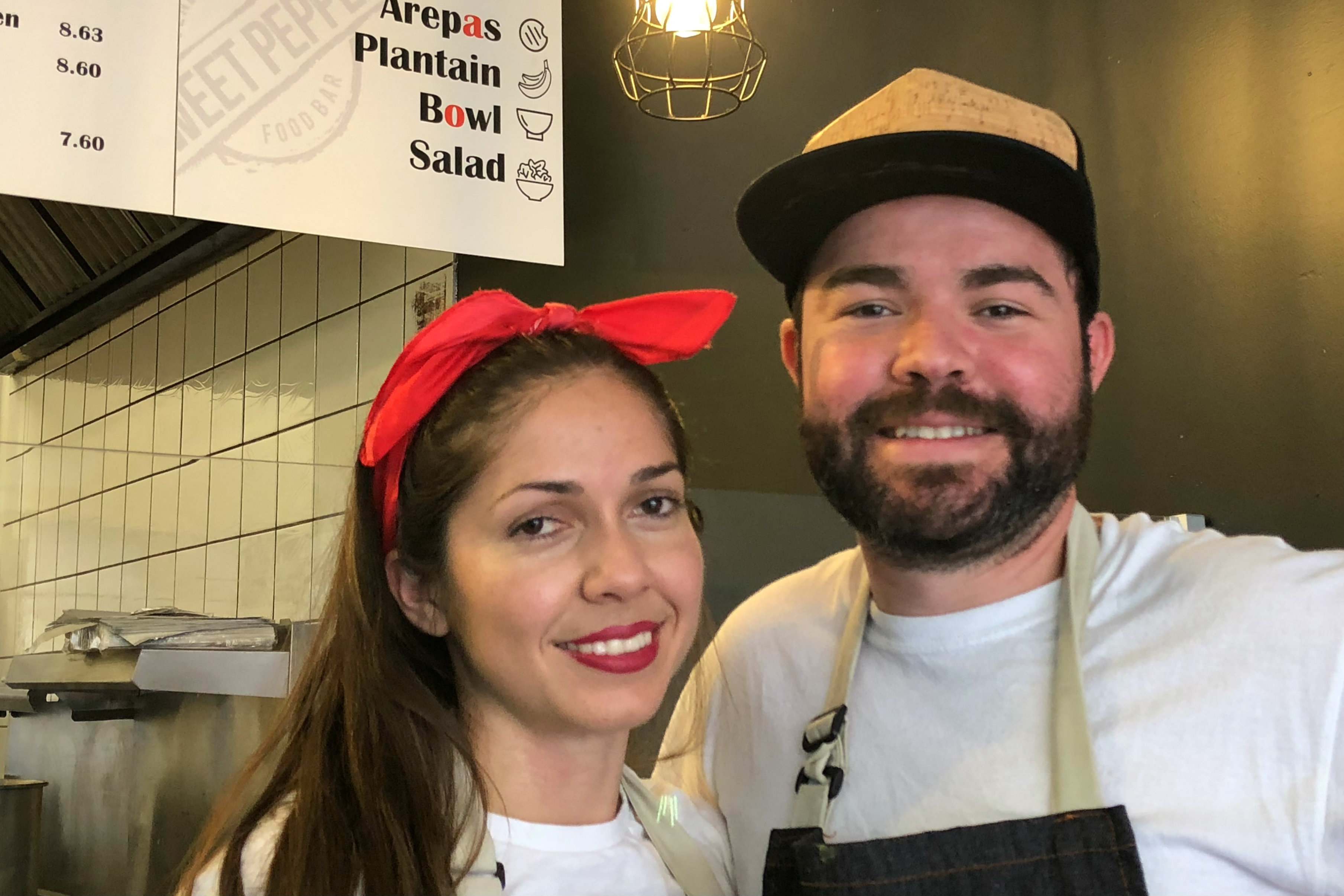 She revised her opinion when the two began studying together.

"He's a really nice guy behind all [the jokes]," she said.
Together they attended and graduated from the Colegio Universitario Hotel Escuela de Los Andes Venezolanos (College Hotel School of the Andes) studying restaurant management, hospitality and tourism, with an eye toward gaining skills that someday would give them the opportunity to work anywhere in the world, Navea said.

Someday came sooner than anticipated when Venezuela's political situation grew increasingly precarious and the economy went into free fall.

To illustrate the collapse of Venezuela's currency, the bolivar, Navea said: "We had a car we bought for 40,000 bolivares. One year later, we sold it for 350,000. Today, for 350,000, you can get a hot dog — if you can find it."

Americans' knowledge of the country is often limited to the four "C's": Caracas, crime, Chavez (Hugo) and crude oil. But Navea and Andrade paint a far different picture. 

The couple were born and raised in Merida, a city of 300,000 people nestled in the foothills of the Andes.

They describe a college town brimming with students, many of them attending the main campus of the highly respected Universidad de Los Andes Venezuela, among other institutions. Merida is also a magnet for tourists, with its picturesque setting, wealth of museums and parks, and mild temperatures that average 70 degrees most months of the year.

And then there's the food. Navea and Andrade talk of the farmers market in Merida, so big it would fill Soldier Field's parking lot. Creamy fresh cow's milk cheeses that spread like butter. Limes as big as avocados. Trees bursting with oranges and passion fruit, free for the picking.

This is the Merida, this is the Venezuela that Sweet Pepper celebrates.
Working Toward a Dream

With its harsh weather, Chicago ranks well behind Florida as a destination for Venezuelan immigrants.

"We never saw the seasons," Andrade said of life in Merida. "We learned about them in school, but we never saw them."

Yet Chicago is where Andrade's brother had landed after following a young woman, now his wife, he had fallen in love with while she was visiting Merida. Family ties proved a powerful lure, drawing Andrade, Navea and Shantal further north than they ever would have imagined.

As they settled into their new life, first in Albany Park and then North Park, Andrade found work as a nanny and Navea took a string of jobs including washing dishes and delivering pizzas. Entrepreneurs at heart, their plan was to save money and open their own restaurant.

"We tried to be like horses, with blinders on," Navea said.

He worked seven days a week and Andrade put in 12-hour shifts to bank as much cash as possible, as quickly as possible.

Ask them a good place to grab a drink, and they have no idea, having never ventured out. "We decided not to spend money," Navea said.

"It was hard, it was crazy. We were thinking, 'This is not going to last forever.' It's a motivation, you're working toward some [goal]," Andrade said.

A turning point came when Navea was robbed at gunpoint on his pizza route. Jumped by a couple of guys after dropping off a pie, he managed to escape unharmed and even wrestled the gun away from his assailant ("In Venezuela, we live ready," he said). Shaken, Navea quit the job that same night and began driving for Uber, which didn't necessarily feel any safer.

He tallied 1,400 nerve wracking rides. "I was so scared every day," he said.

But as he was picking up and dropping off fares, Navea was also becoming well acquainted with Chicago's neighborhoods and vacant properties available for lease.
"I was everywhere," he said. "My phone was full of numbers and pictures."
When he came across a Craigslist ad for a restaurant near Lawrence and Western, he emailed the address provided.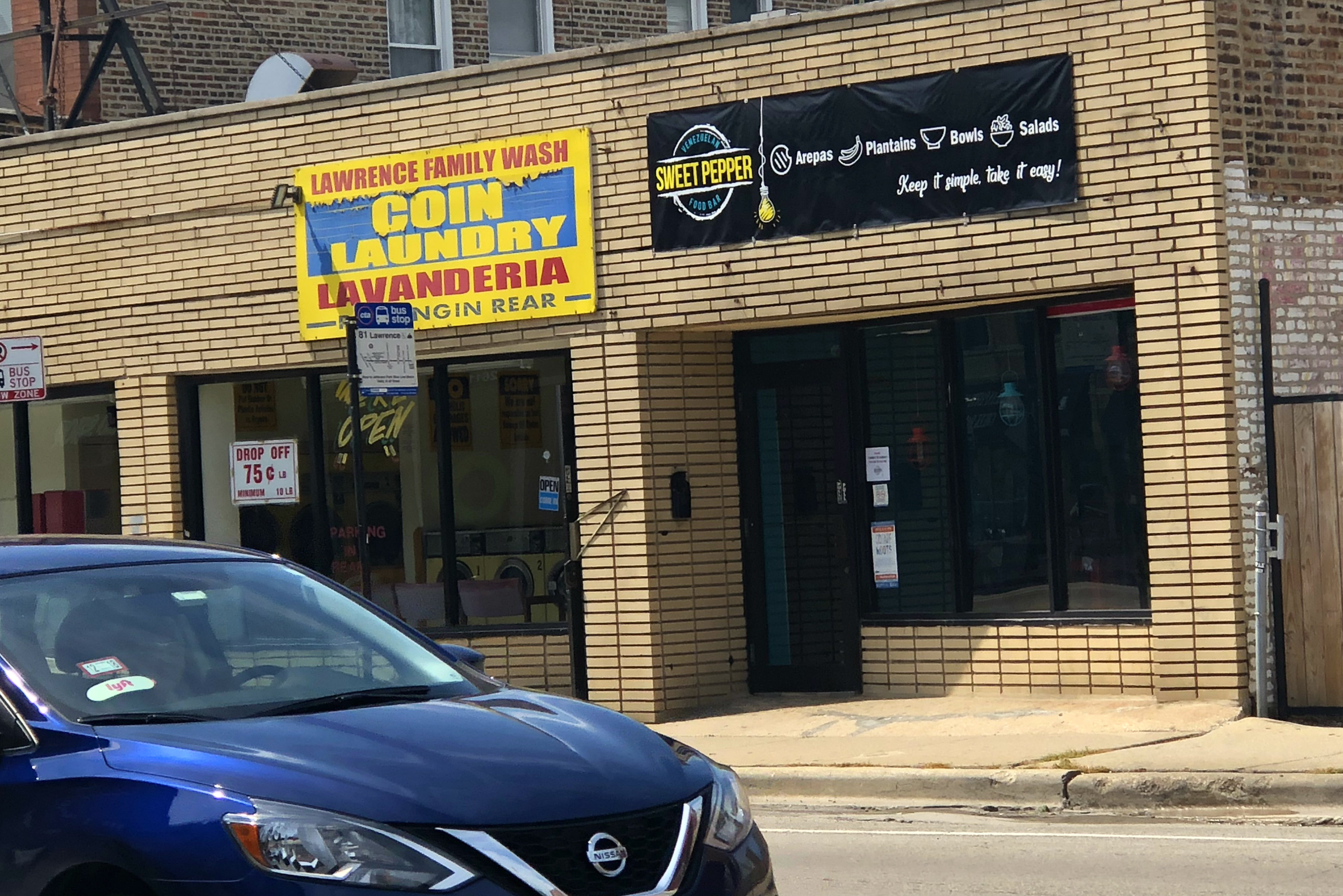 The recipient on the other end was Dave Miller, co-owner of the Baker Miller string of cafes.

Miller had snapped up the lease on the former Papa Giorgio's storefront when the pizza joint shuttered, recognizing the location as a prime piece of real estate on a under-appreciated stretch of Lawrence that receives significant foot traffic thanks to the nearby Rockwell Brown Line station.

An area resident as well as business owner, Miller has made it something of a personal mission to incubate enterprises he senses would benefit the neighborhood. His first experiment was to give a boost to "teen cobbler" Joshua Marin, who runs the Fix Your Kicks shoe repair shop on Western Avenue.

Sweet Pepper is Miller's second effort.

Aside from loving the restaurant's concept, which he praised as "easy to understand, delicious and affordable," Miller said he sees something of himself and his wife Meghan in Navea and Andrade.

"They aren't motivated by greed but just want to make a better life for their family. That sort of motivation, combined with their strong hospitality experience, is a winning combination," he said. "I believe they will succeed because they're truly hungry for it, experienced and authentic."

Navea and Andrade credit Miller for serving as an adviser, cheerleader and a bit of a guardian angel.
Three other prospective business owners had inquired about the lease. All had the full sum of money required; Navea and Andrade didn't.
"[Miller] said, 'I really like your idea. We'll figure it out,'" Navea recalled. 
"We wouldn't be here without him," Navea said. "He's been part of this dream."

No, Thank YOU

Andrade admits that she wasn't originally sold on the Lawrence storefront, which was a bit of a fixer-upper.
"I was thinking it was a lot of work, I was scared," she said. "But Jose is like a visionary person. He said, 'It's perfect.'"
"I told her, 'Don't look at it as it is now,'" he said. "I came home and said, 'I got the key and we need to go clean tomorrow.'"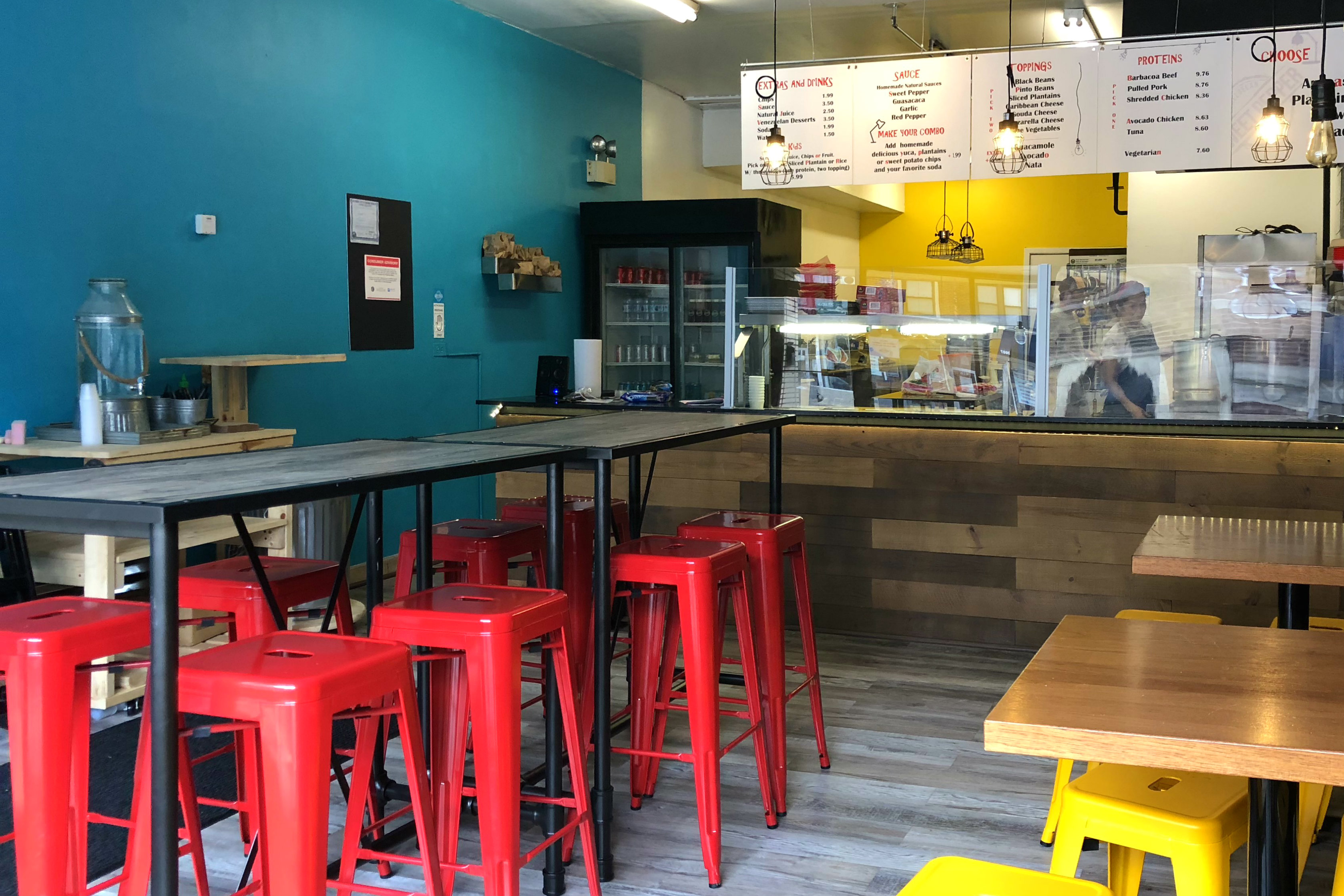 Indeed, once the butcher paper came off the windows, the couple revealed they'd not only scrubbed but totally transformed the place, with new floors, brightly painted walls and a welcoming counter. Would that be enough to woo curious eaters?
In the run-up to Sweet Pepper's mid-June opening, Navea and Andrade debated marketing strategies.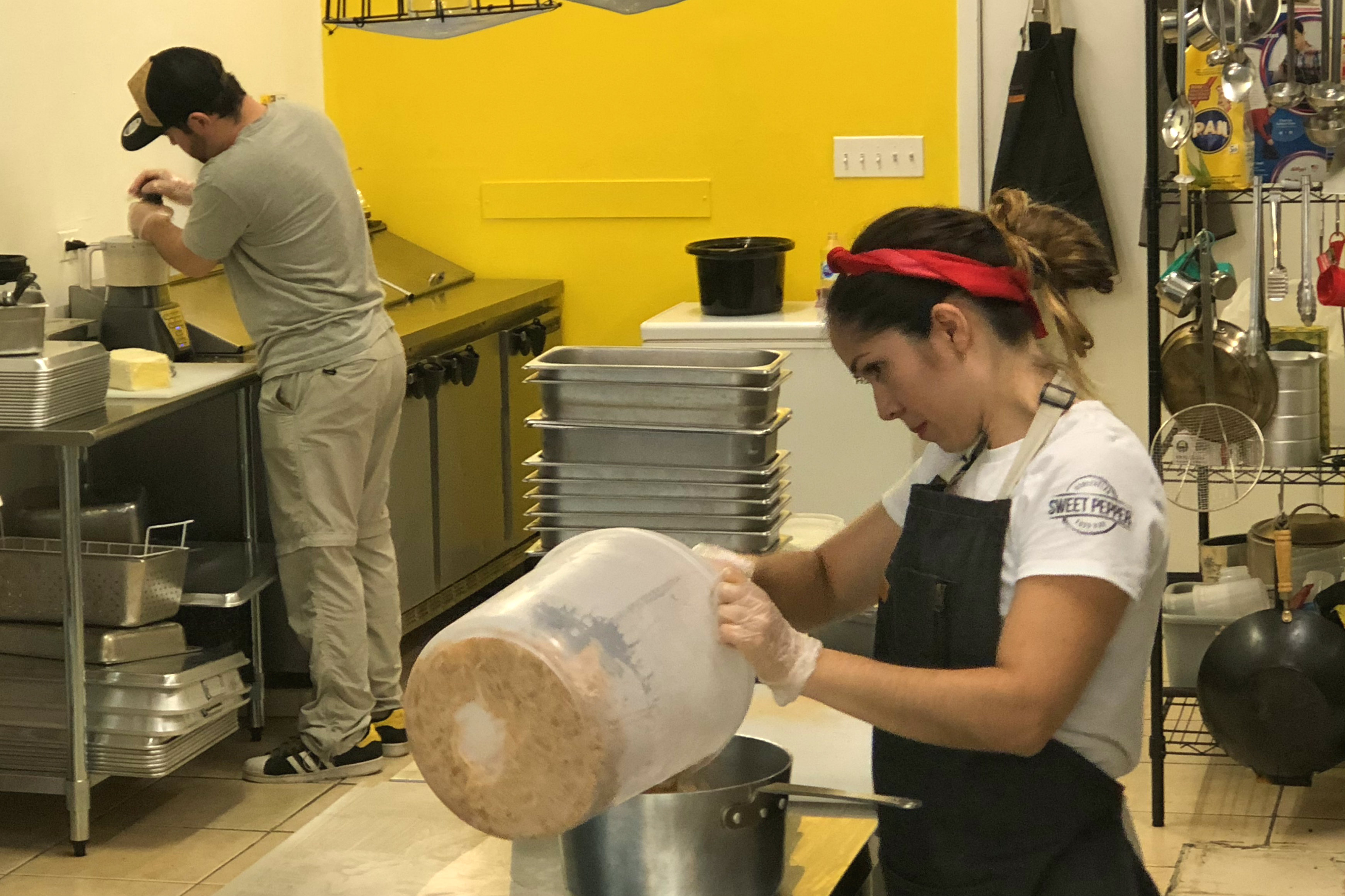 Turns out, they didn't need to do anything.

Should they pass out flyers at train stations? Give away free arepas for a day?

A couple of neighbors shared effusive posts on a community Facebook page and by Day Two of Sweet Pepper's grand opening weekend, Navea and Andrade were swamped with so much business they had to close early because they'd run out of food.

"We are still surprised," a grateful Navea said of the community's response. "Dave [Miller] told us this was a great location. Now I understand what he meant.

"We haven't had time to take a shower. We are so happy and so tired at the same time," said Andrade after pulling a string of 16-hour days. (At the moment, she and Navea are Sweet Pepper's only employees.)

"People just open the door and say, 'Hey, thank you for coming to the neighborhood,'" he said. "I'm like, 'It should be me thanking you.'"