CHICAGO – The average male Cook County government employee makes roughly $6,000 more than the average female employee, according to the Cook County Pension Fund's latest annual actuarial report.
Wage equity advocates said Monday the data should be used to determine whether there is gender discrimination in county employment, but a spokesman for President Toni Preckwinkle said the data do not illustrate "important legacy issues which undoubtedly contribute to the disparity."
"First, we are committed to a fair and equitable workplace, and that includes fairness and equity in salaries," Preckwinkle spokesman Frank Shuftan said. "We do not set salaries based on gender; rather, salaries are informed by job type and collective bargaining agreements with our labor partners."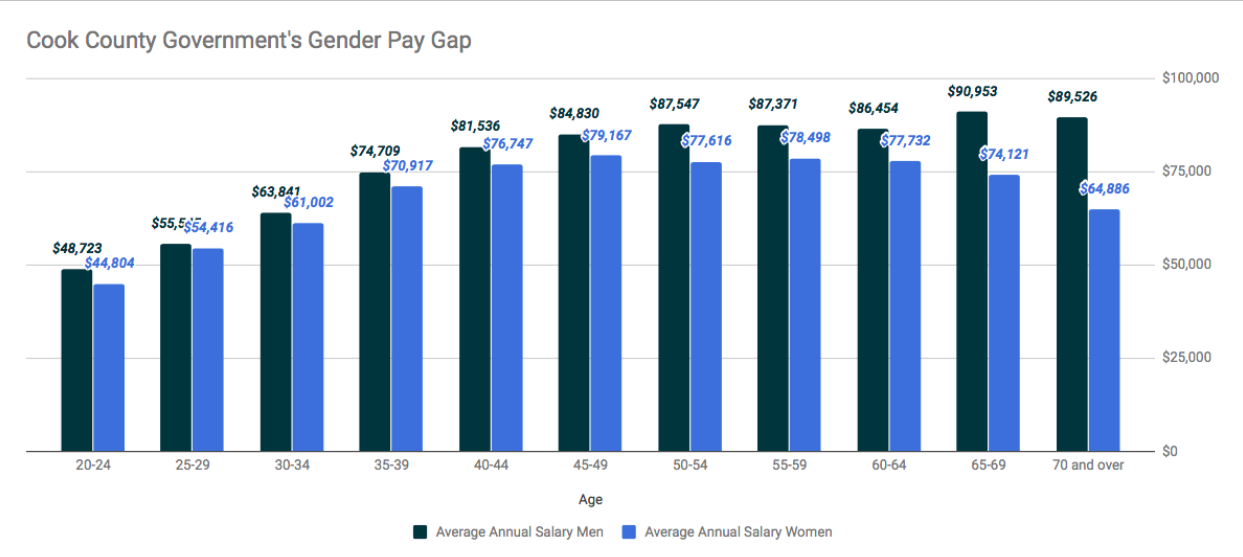 "For example, the largest variances are in the ages (roughly) of 45-69. Many of these staff members in these age ranges and were undoubtedly hired decades ago, when women in most workplaces faced a glass ceiling, or were hired into lower-paid job classifications," Shuftan added.
Regular cost of living adjustments and step increases would not erase the gap, he said.
Shuftan said the smaller gap for younger employees shows there has been improvement, and highlighted Preckwinkle's hiring of women in management positions and on her leadership team.
"The president's record on hiring and promoting women is second to none," Shuftan said.
But Melissa Josephs, the director of equal opportunity policy at Women Employed, called the numbers troubling, even when considering union contracts and different jobs at the county – ranging from clerk, to attorney, to surgeon or trade laborer.
"It definitely looks like discrimination to me, it's very blatant," Josephs said.
The differential between genders — the lowest is $1,129 for employees between 25 and 29 and is as high as $24,640 for employees older than 70 — is the most troubling, Josephs said.
"If women are earning less than men, anywhere from $5,000 to $10,000 a year over 50 years – and there are a lot of people that work in Cook County government for a long time – they're losing hundreds of thousands of dollars," Josephs said. "It's a problem."
Cook County Acting Human Rights and Ethics Commissioner Amy Crawford said no employee had made a complaint of wage discrimination on the basis of gender in her two years at the commission.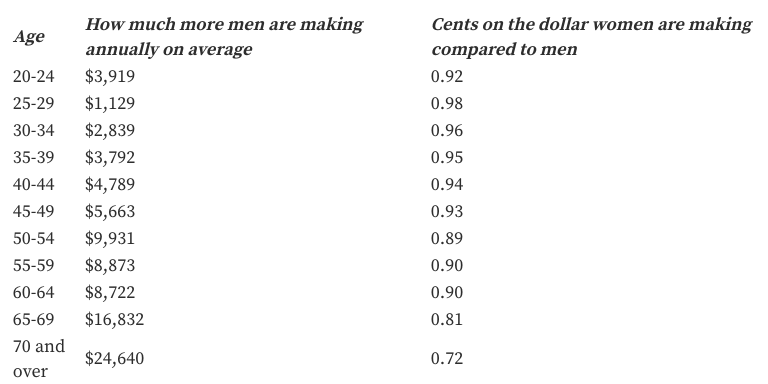 There are other venues for such complaints – including the state's Human Rights Commission, the federal Equal Employment Opportunity Commission and the city's Commission on Human Relations.
"What I would say is that the county should be examining the data behind these statistics to do some analysis as to what the discrepancy is all about," said Barbara Yong, a partner at the law firm Golan Christie Taglia and the founder of Equal Pay Day Chicago.
"Is it people who have, for example, more education or when they start, they have greater experience?" Yong said. "Or is it that after time they get promoted into more higher level management positions? More men than women get promoted. It's good that they have this, but without doing a deeper dive and examining why the men are getting paid more, it's difficult to draw conclusions."
The annual Equal Pay Day event is held in Daley Plaza, smack in the middle of where many county employees work.
"In government, at least, there is typically either pay grades or various classifications. So when you enter the workforce you tend to get paid similarly, it's not until after a while you see who gets promoted and who doesn't," Yong said.
Aside from the county taking a harder look at its own practices, women in county employment should take advantage of the fact that their colleagues' salaries and available pay scales are public information, Yong said.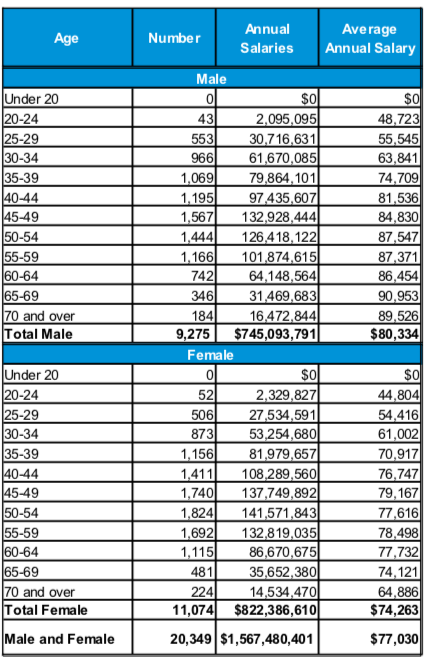 "Women need to investigate the positions that they're applying for, what it pays, and negotiate for a fair salary and to go ahead and apply for those promotions and those positions that do pay more," Yong said.
Beyond female employees advocating for themselves, Josephs said the county should be regularly auditing its hiring practices. Salesforce reviews its employee wages and bonuses annually, and has spent millions balancing unexplained pay differences for similar employees between gender and race.
Salesforce CEO Marc Benioff is "making a conscientious effort," Josephs said, "not trusting people below him to do the right thing. He's doing the right thing, he's a a high road employer… certainly Cook County government can do the same thing."
Get more in-depth, daily coverage of Chicago politics at The Daily Line.