WICKER PARK—  Chicago's next Hyatt Place — a brand targeting millennial business travelers —  is underway at the southeast corner of North and Ashland avenues in Wicker Park.
The forthcoming 99-room hotel at 1555 N. Ashland replaces a Shell gas station that was demolished in April. Construction on the long talked about project began in May.
If everything goes as planned, the seven-story Hyatt Place will open by Thanksgiving 2019, according to Nick Tanglis, a spokesman for owner George Nediyakalayil, who also owned the gas station.
"The optimistic target is Thanksgiving 2019. It's an 18-month project, we are trying to do it in 16 months," Tanglis said on Monday.
Nediyakalayil will operate Hyatt Place as a franchisee. According to travel industry site Skift, the Hyatt Place brand, which has more than 300 locations, appeals to millennial business travelers, who like the "attractive price point, social design of the lobbies, and a smart guest room layout."
A spokeswoman for Hyatt Place was not immediately available for comment on Monday. Tanglis confirmed the new hotel would be a Hyatt Place.
There will be 36 covered parking spaces available to hotel guests.
At a community meeting in 2016 hosted by Ald. Brian Hopkins (2nd), some residents panned the hotel's initial design. "It's like an office building in Schaumburg!" one man shouted.
Hopkins agreed with residents that the planned hotel looked "too suburban."
"It still doesn't look like it is at home in Wicker Park and Noble Square. It looks more suburban and we are trying to get away from that … It's still just not an attractive building by most people's standards" Hopkins told DNAinfo last April. 
The plan was first introduced in August 2015 and architect Ronald Vari was tapped by Nediyakayil to be the designer of the hotel. After the Plan Commission approved the project last April, Hopkins requested a different design after hearing negative feedback from residents.
Last week, Vari told Block Club he was no longer involved in the project. The new Hyatt Place architect is April Maifield with River North-based Legat Architects. Maifield said on Monday the exterior design of the project was completed by the previous architect prior to Legat Architects coming on board. Legat will be sharing final renderings in the coming weeks.
Some earlier renderings used to obtain the construction permit show a glass, brick and concrete building with a brown and clay earth tone exterior.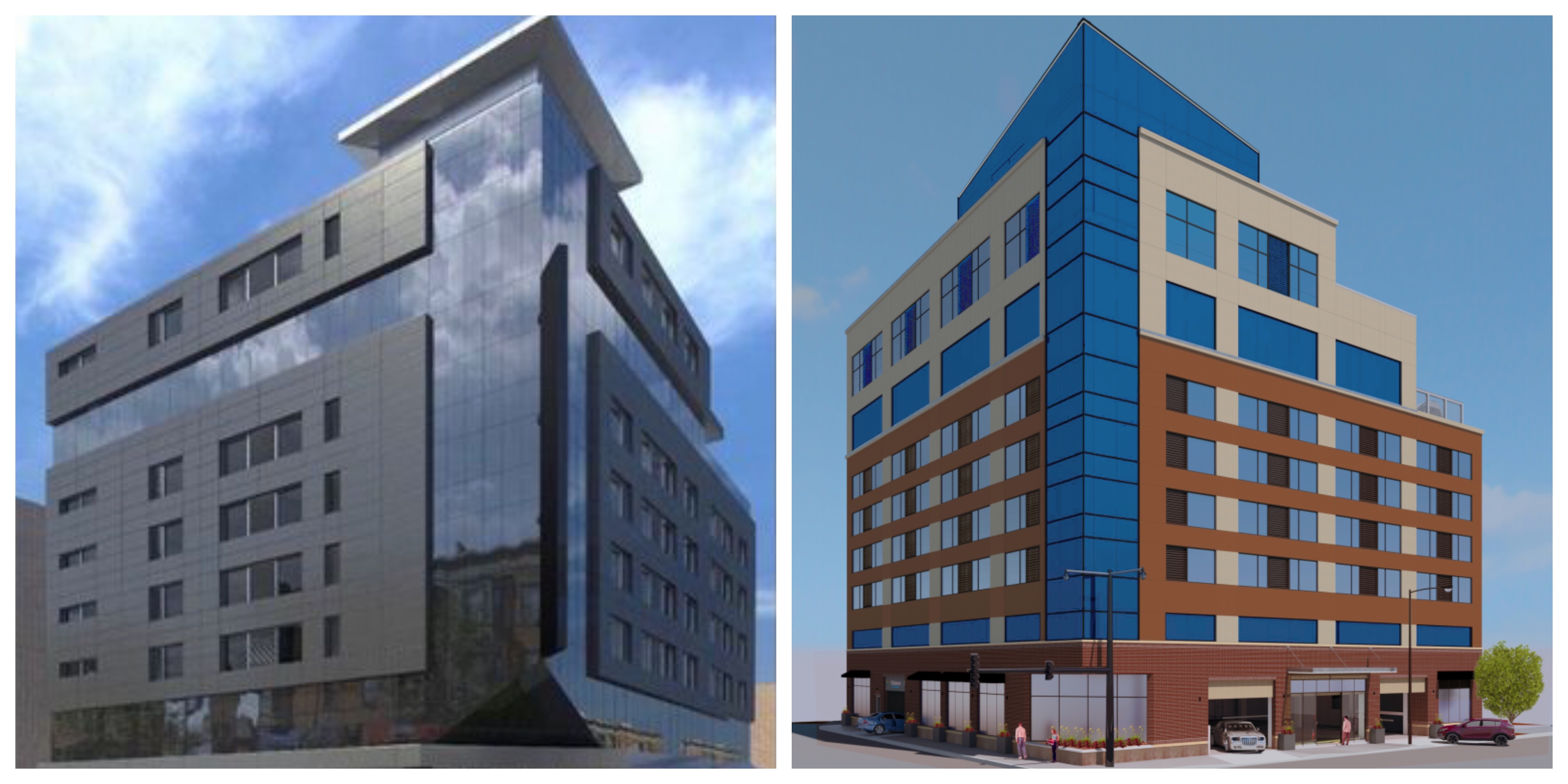 Once open, the hotel would be a few blocks south of Walsh Park, at the eastern end of the 2.7-mile-long Bloomingdale Trail that extends west to Bucktown, Logan Square and Humboldt Park.
The intersection is also about a half-mile east of Wicker Park's main hub, where the Northwest Tower and an adjacent building recently were transformed into the Robey and the Hollander, a pair of boutique hotels offering 89 rooms.