NORTH CENTER — When Chinese restaurant House of Wah Sun left its longtime home at 4313 N. Lincoln Ave. to move to Irving Park, neighbors wondered what would become of the small strip mall near Lincoln and Cullom avenues.
They can stop wondering: A new art gallery with an emphasis on local artists has taken over the space.
VibrantCast is an imaginative transformation of not only the former restaurant but also another vacant spot in the same plaza. The two spaces now house the "traditional" Vibrant Gallery, 4313 N. Lincoln Ave., and Fusion Gallery, 4319 N. Lincoln Ave., intended for multimedia exhibits and unique themes, according to the VibrantCast website. Its first event was held in late June.
The galleries showcase work by artists from around the city, including Lincoln Square and North Center.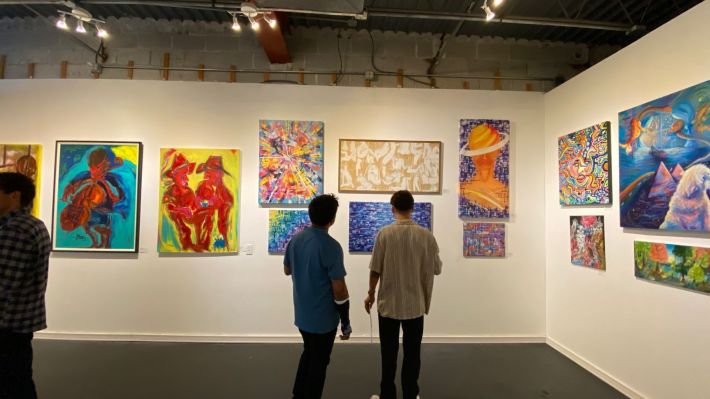 VibrantCast was founded by husband-and-wife team Steve and Elva Arend. Steve Arend said after 15 years working in the software development industry, he realized the importance of living a colorful life and pursuing your true calling — a lesson he said the couple especially wanted to pass on to their daughter, Danielle.
"We knew that she wanted to be an artist when she was little, and I wanted to make sure that she knew that it's OK to follow your dream," Steve Arend said. "We would always talk about how we want her to live that vibrant life … We're letting people know that it's OK to follow that dream of creativity."
Danielle Arend is one of VibrantCast's featured artists, and "vibrant" is a good word to describe the pieces on display at the collective, some of which incorporate pop culture. For example, artist Erick Ontiveros offers a creative take on the Chicago Bulls and Cubs logos.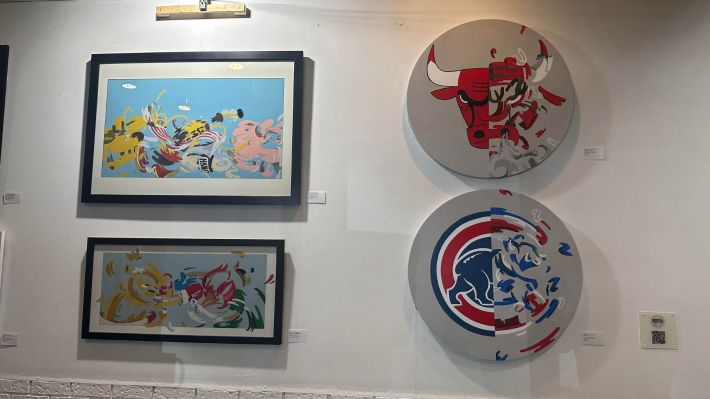 "These ideas of fusing different elements to create that emotional connection is really what we're looking for. That vibrant feeling is what we're trying to do here," said Steve Arend.
VibrantCast presents Friday Night Arts from 6-10 p.m. every Friday, where both galleries are open for visitors to meet the artists and experience their work. Future events will feature live music and poetry.
"What we want to do is create a way that the community knows that they can come here, look at some art, enjoy themselves, possibly purchase a couple. We want it to become a staple in the community," said Elva Arend, who grew up in Lincoln Square. "The feeling you're feeling here helps support the artists because a lot of them need that."
VibrantCast also offers a network for artists to join and connect with other local creative types. Artists can join on the VibrantCast website. For updates and details on future events at the galleries, follow VibrantCast's Instagram @vibrant.cast.
Watch our "On The Block" TV show on The U, CW26 and MeTV.
Listen to "It's All Good: A Block Club Chicago Podcast":