This story is part of a larger series by Block Club Chicago and the Illinois Answers Project. Read more about Chicago's rat battle here.
NORTHBROOK — A group of real estate companies managed by a north suburban woman has racked up more than $15 million in fines from rat-related tickets tied to hundreds of properties, many of them vacant lots, throughout the South and West sides of Chicago, an analysis of city and state records show.
The tickets were issued for such municipal infractions as uncut weeds, dumping and "providing rat harborage" by accumulating materials and junk.
All of these companies are registered to a single post office box in Glenview and managed by Suzie B. Wilson, of Northbrook, state incorporation records show. Those companies rank as one of the most egregious examples of how the city of Chicago routinely fails to collect after it tickets properties for rat-related issues.
RELATED: Why Chicago Is Losing The War On Rats
The companies tied to Wilson obtained many of these lots in the early 2000s after acquiring them with her husband through Cook County's tax and scavenger sales, according to interviews with government officials and an analysis of property records. Through these sales, buyers can take control of properties after property owners fall behind paying their property taxes.
While these properties are worth little individually, their values can escalate if the local real estate market improves where the land is located or if the land is needed for a project, experts say. The Chicago Transit Authority is suing one of Wilson's companies, claiming that a vacant lot in the Roseland neighborhood is needed for the Red Line extension project.

Wilson, who lives in an 8,000-square-foot home with marble and wood heated floors and an outdoor pool according to a real estate listing, declined to speak with reporters when they reached her at her home and by phone. Wilson's attorney declined to answer detailed, written questions.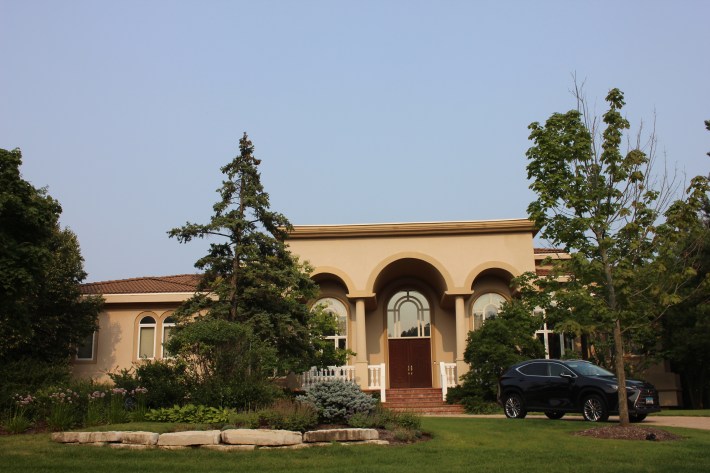 Chicago Law Department officials declined a request for an interview. In a statement, a department spokesperson said that over "several decades" they have taken actions against the companies managed by Wilson for "various public safety violations" and won judgments against them at the city's Department of Administrative Hearings.
City officials also said they filed liens on some properties, which can be used to take ownership in foreclosure proceedings.
Longtime municipal attorney Mark Sterk said that attempting to foreclose on the properties using liens is one of the city's best available options.
"But all you end up with is the property — that doesn't get you the dough," Sterk said. "Then you have to sell the property."
City finance data shows the tickets were issued to more than 800 addresses from 2010 through 2023. These properties are owned by nearly 30 companies managed by Wilson.
Lennox Jackson, whose firm Urban Equities Inc. develops real estate on the South and West sides of Chicago, said accumulating this amount of vacant land could boost one's net worth while generating little in expenses. There's no costs for insurance or upkeep, only the annual payment of property taxes, which would be low because the land is vacant.
"What is the long term plan for these lots? Are you waiting for someone else to come and pay you a higher value, so you enjoy a landslide profit?" Jackson said.
With names such as Dagny, Daisyland, Darcy, Darden, Debrox, Derby, Dion, Direct, Discount Inn, Distinctive, Dorchester and Dover I, these companies have paid about $75,700 of the debts to the city, or about less than one half of one percent of what's owed, according to city finance department records.
In 2013, when Wilson's companies owed just $3.2 million to the city, one of the companies she manages, Discount Inn, filed a federal class action lawsuit against the city. The lawsuit argued that it was unconstitutional for the city to fine the company for failing to cut the weeds on its vast network of empty lots.
Among other claims, the federal lawsuit alleged that the city's policy unfairly targeted milkweed, a food source for Illinois' official state insect, the monarch butterfly, and opened the door for "innocent horticulturists" to be punished. 
A judge later ruled against the lawsuit, a federal appeals court upheld the ruling two years later, and the tickets kept flowing.
One of the companies Wilson manages, Vivid LLC, owes $203,000 in unpaid tickets and is being sued by the Chicago Transit Authority in connection with the Red Line Extension Project.
The CTA filed the suit in February seeking ownership of a 3,100-square-foot vacant lot that Vivid owns in the 300 block of West 111th Street, which is in the footprint of the CTA's $3.6 billion project to extend the Red Line 5.6 miles south to 130th Street. The CTA can't agree with Wilson on the price of the land.
One of the companies managed by Wilson bought the property for $3,000 in January 2008.
Court records show that Wilson was previously sued twice by a Chicago resident, Tangie Woodson, who alleged that a tree growing out of one of Wilson's company's lots was damaging a nearby home that she bought with her mother in Englewood.
According to one of the lawsuits filed in Cook County, the damages cost about $35,000 to repair.
"We contacted these people and it seemed as though they dropped off the face of the Earth," the lawsuit states. "These owners chose to let us suffer."
A judge ultimately dismissed Woodson's lawsuits, which she filed herself, and she has since moved to St. Louis, Missouri. Woodson said in a phone interview that the ordeal drove her mother into a nursing home and now she is considering selling the house.
Across the Englewood neighborhood, Wilson's companies owe more than $8 million in fines issued to 379 addresses, city records show.
Despite the massive debt and legal proceedings, Wilson has managed to keep a low profile. Scant information about her, her companies or her significant portfolio of Chicago properties exists in the public record.
U.S. Circuit Judge Richard Posner, in his critical opinion about Discount Inn's lawsuit, wrote that the absence of information about the business in the lawsuit was an "oddity."
"Virtually all that we've been able to learn about the company is that it owns real estate in Chicago," Posner wrote in an opinion published in September 2015. "Discount Inn does not have a website, or a Dun & Bradstreet report, or more than a tiny handful of Internet references, none of which describes its business."
As for the lawsuit's claim that weeds are insulated from public control, Posner, now retired, called it "ridiculous." 
"It's not as if the plaintiff invented, planted, nurtured, dyed, clipped, or has otherwise beautified its weeds, or that it exhibits or intends or aspires to exhibit them in museums or flower shows," he wrote. "Its weeds have no expressive dimension. The plaintiff just doesn't want to be bothered with having to have them clipped."
Wilson does have a small record of contributing to politicians.
Campaign finance records show Wilson and her companies contributed about $37,000 to politicians, mostly based on the city's West Side with nearly half going to then-Ald. Ed Smith. Smith retired in 2010 and said he doesn't remember Wilson. Since then, Wilson has contributed $5,700 to Smith's successor in the 28th Ward, Ald. Jason Ervin, and Ervin's wife, Chicago City Treasurer Melissa Conyears-Ervin.
"As far as what she does day in and day out, I don't know," Jason Ervin said. "I've had conversations with her as part of asking her to make contributions, but not into any business or what she does, per se."
Contributing: Block Club reporter Mina Bloom
Watch our "On The Block" TV show on The U, CW26 and MeTV.
Listen to "It's All Good: A Block Club Chicago Podcast":