PORTAGE PARK — An illegal rave inside the closed Portage Theater brought hundreds of young people to Six Corners over the weekend for a short-lived party.
An electronic dance music after-party was held Saturday inside the theater at 4050-52 N. Milwaukee Ave., which has been closed since 2018, according to city officials and social media videos of the event.
Red Line Chicago, an underground collective that hosts dance parties in unsanctioned buildings and secret locations, shared videos of the Portage Theater rave on social media with a dubbed recording from the Fox32 Chicago news clip of the unauthorized party. The collective hosted a large EDM party on the same evening in Douglass Park before the Six Corners rave, according to social media flyers.
Representatives from Red Line Chicago did not reply to requests for comment.
The event, which had a stream of lights, DJs and professional sound equipment, was shut down by responding officers close to midnight, police said. A 34-year-old man was cited for operating a business without a license, police said. No arrests or injuries were reported.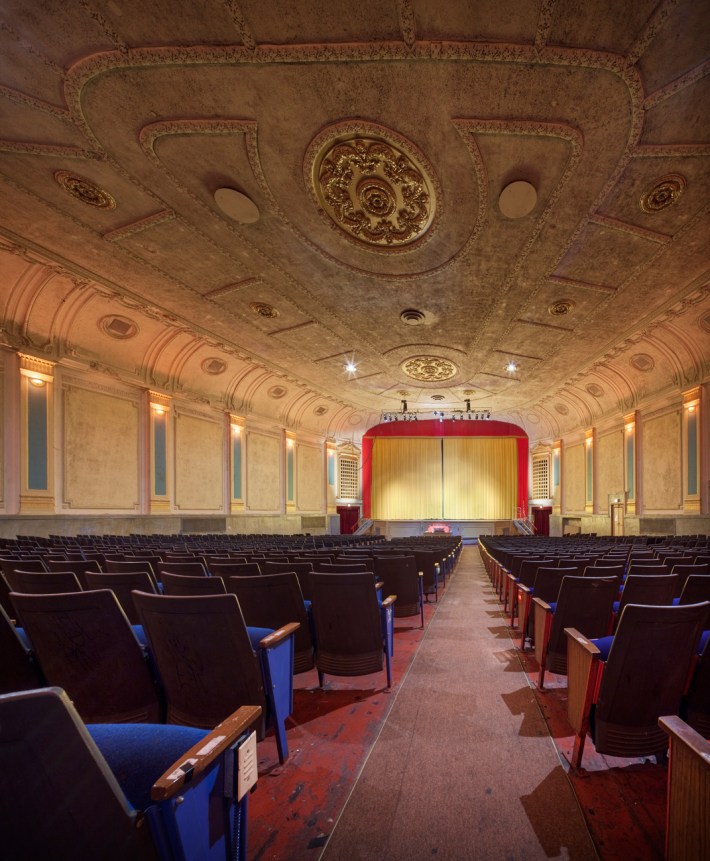 A nearby business owner, who asked to remain anonymous for safety reasons, was at his shop packing up when he saw hundreds of young people walking around outside Saturday, which concerned him since it was an unusual place for people to congregate at that hour, he said.
"There were kids coming to the front of the theater … but I had no idea what was happening inside," he said.
He said he did not hear any music or DJs from his shop. He called police out of concern for the safety of people inside the long-closed building, he said.
The historic theater is not up to city code and needs extensive repairs before it can be reused.
When officers arrived, a man was seen locking the front door to the theater, according to police and other reports about the party.
Elisa Sledzinska, a spokesperson with the Chicago Department of Business Affairs and Consumer Protection, said city business inspectors and police are investigating.
The theater has no active entertainment licenses. The city's Department of Buildings posted large yellow signs on the theater's box office windows saying entry into the theater is prohibited.
".. [O]nce the persons for hosting this event are identified, [the Business Affairs Department] will issue enforcement actions," Sledzinska said.
Reached by phone Wednesday, theater owner Manuel Gliksberg declined comment. Six Corners Chamber of Commerce officials, who rent the neighboring office space also owned by Gliksberg, said he is traveling and out of the country.
The apartments above the theater are owned by another management company, according to property records.
Gliksberg, who bought the theater and two adjoining storefronts in 2018, previously told Block Club he had hoped to restore the landmarked building with grant and city funding help. But he missed the deadlines to receive the Adopt-A-Landmark grant and now-expired funds from the Portage Park Tax Increment Financing district.
As of March 2022, he'd invested about $1 million in fixes to the building, including repairs to the exterior roof and rear façade, city records show. The extensive renovation will cost at least $10 million, he previously estimated.
Portage Theater closed as a cinema in 2001 after operating almost continuously since its debut in 1920. Gliksberg is the third person to take over the theater in the past two decades.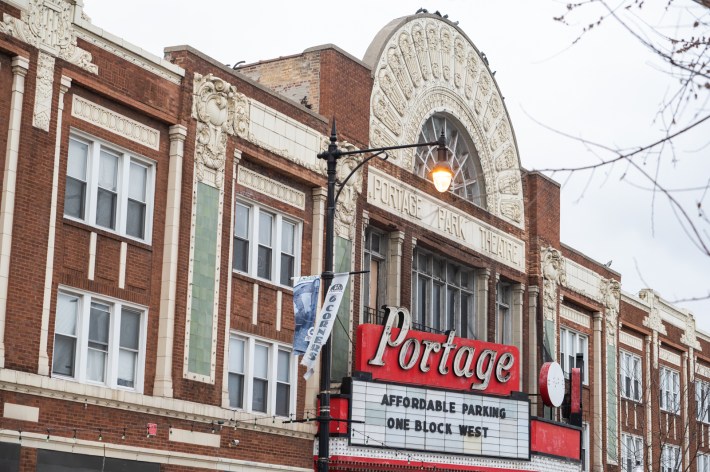 Saturday's unsanctioned party inside the closed theater — which has otherwise sat quietly on the block — joins a list of other illegal Northwest Side parties in storefronts in the last two years.
In February 2022, three people were shot after an argument broke out in an unlicensed Old Irving Park storefront that hosted a birthday party. Before that in January, the city shut down an illegal social club near Six Corners at 4827-31 W. Irving Park Road for operating without a license. In June 2020, the agency issued eight citations and four cease and desist orders to that storefront, Sledzinska previously said.
Northwest Side leaders have vowed to crack down on illegal parties after 19-year-old Meagan Bilbo was killed and two others wounded in a shooting outside an unlicensed Jefferson Park social club in December 2021, though city officials have said unlicensed parties have risen citywide since the pandemic.
Subscribe to Block Club Chicago, an independent, 501(c)(3), journalist-run newsroom. Every dime we make funds reporting from Chicago's neighborhoods.